Between raw and refined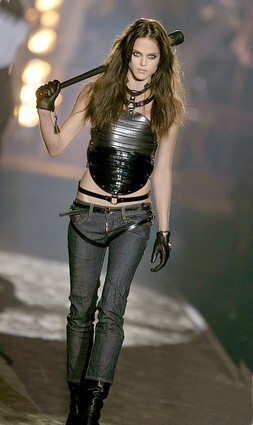 DSQUARED:
Fur and chain mail gone wild, with gold-studded gloves in hot pink adding a flash of color.
(Kirk McKoy / LAT)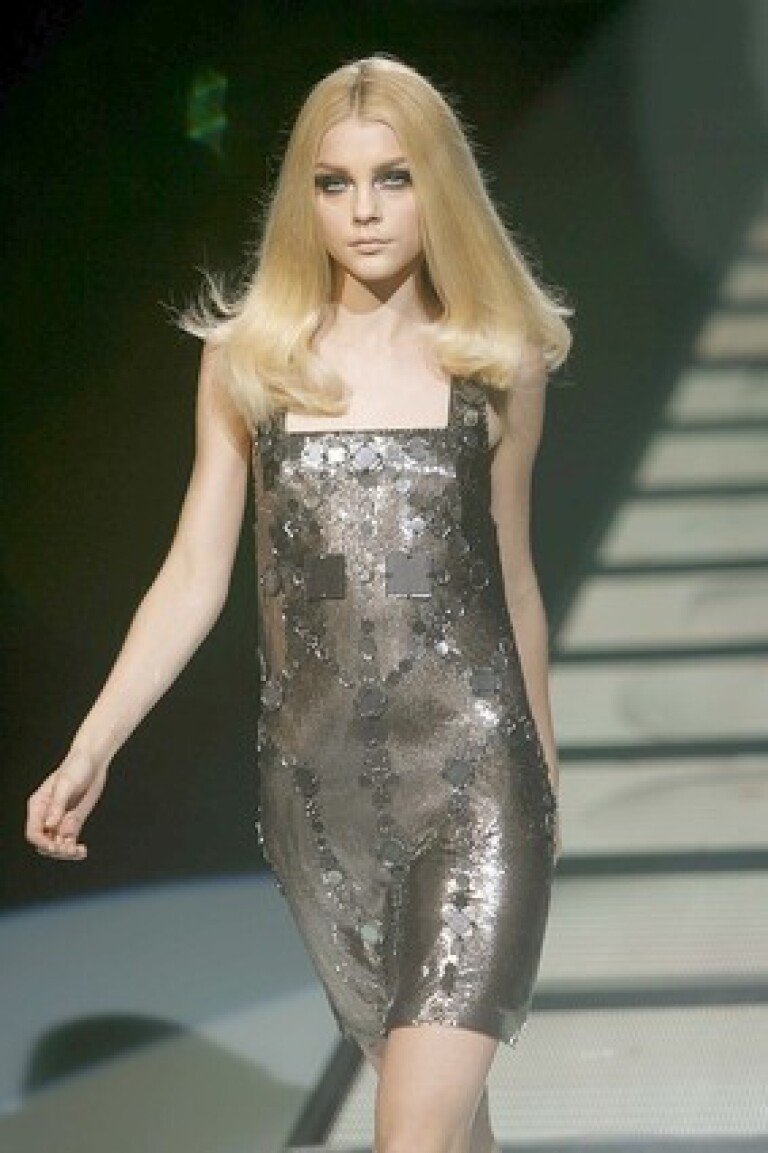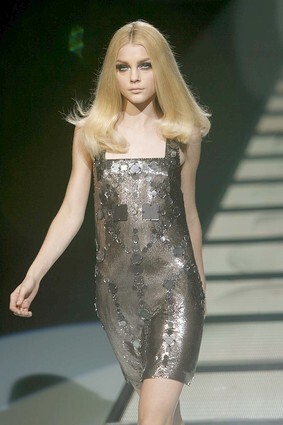 VERSACE:
A subtle take on the chain mail theme, with tiles artfully arranged in front.
(Kirk McKoy / LAT)
MOSCHINO:
A shiny trapeze coat with metallic gloves, a matte scarf and cream tights.
(Kirk McKoy / LAT)
VERSACE:
Pants topped by a fur chubby; model topped by a cozy hat.
(Kirk McKoy / LAT)
MISSONI:
A geometric knit dress accented by corset-like crosshatched strips of leather.
(Kirk McKoy / LAT)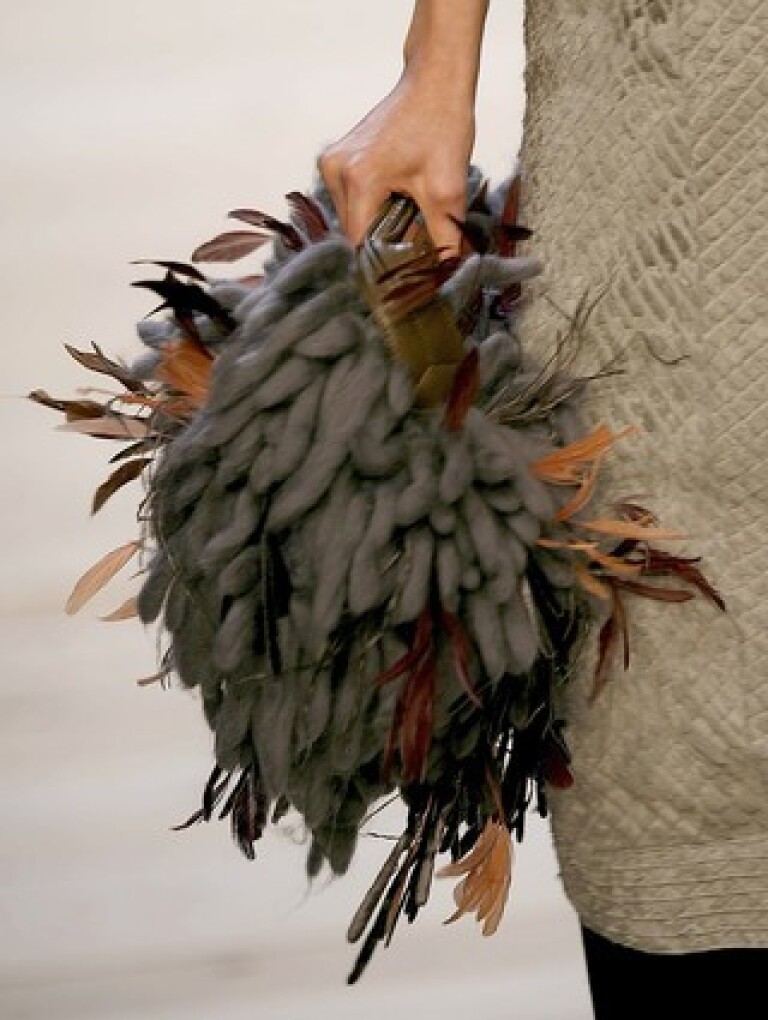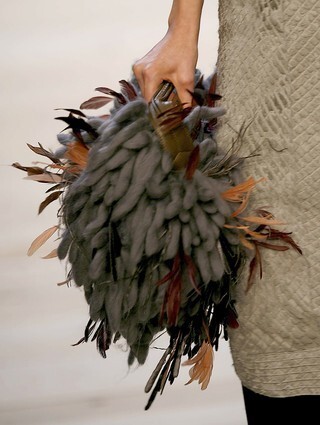 FENDI:
A characteristically wild shaggy bag.
(Kirk McKoy / LAT)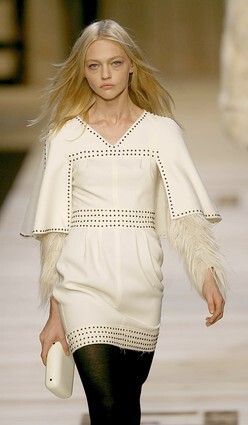 FENDI:
A creamy white dress with full sleeves and a nailhead design.
(Kirk McKoy / LAT)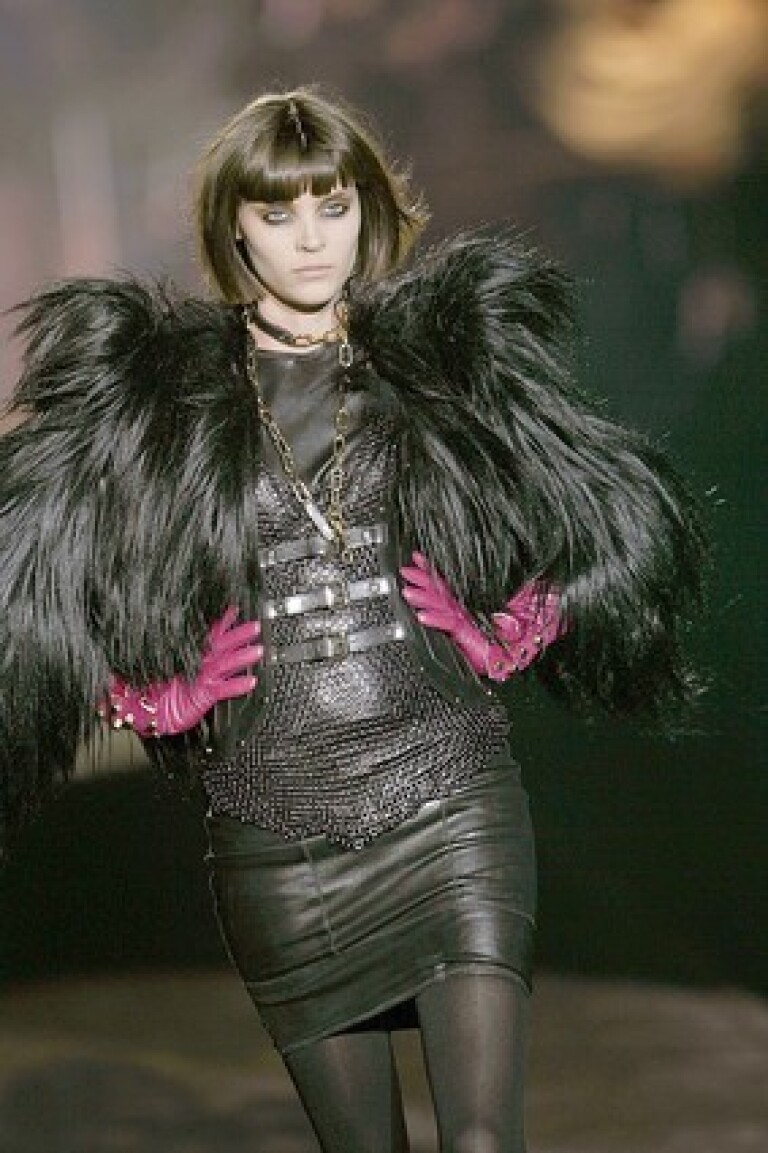 DSQUARED:
Fur and chain mail gone wild, with gold-studded gloves in hot pink adding a flash of color.
(Kirk McKoy / LAT)
Times Staff Writer
MILAN — Who ever thought we would be looking to Donatella Versace as the standard-bearer for good taste and pared-down sophistication? That's what it has come to here in Milan, where Fashion Week ended Friday with another S&M freak show, this time from DSquared designers Dean and Dan Catan.
Between their bondage girls in leather blinders, which seemed to suggest woman as horse, and the whip-wielding dominatrixes at Dolce & Gabbana earlier in the week, one had to wonder what they're putting in the water in this city.
Sure, eroticism is in the cultural spotlight, and the blinders could simply be implying that women are focused on where they are going (uh-huh), but it's absurd to suggest that anyone pay designer prices for a dress with a buckled leather harness or pumps with shiny ribbed heels resembling sex toys. You can get that stuff on Hollywood Boulevard for a steal.
I guess another way of looking at these leather-bound fantasies is as expressions of aggression, which was a potent theme on the runways this week. At its tamest, it appeared as a studded leather trench and gauntlet gloves at Burberry Prorsum, a fur helmet and shiny black vinyl dress at Marni, and aviator jackets at Gucci and Max Mara. At its most barbaric, it was the shaggy, long-haired fur coats in nearly every collection, including Fendi, DSquared and the up-and-coming label 6267. They were apparently goat, though they looked more like gorilla. The toxic colors, synthetic-looking knits and aggressively weird shag coats and clutch bags at Prada were also part of this dark vision.
At the opposite pole of fashion, we saw demi-couture, or clothing made using couture-like techniques, fabrics and silhouettes, such as cape backs and full volumes. Bottega Veneta's Tomas Maier crafted New Look suits with padded hips, some with raw fringe on them, while Moschino's Rosella Jardini sent out gold brocade swing coats and bubble skirts, which was too bad since the giant peace sign behind the runway raised hopes that she would have something more to say.
But it was Versace who was able to distill all these themes into something between raw and refined, or something that we might actually want to wear. She worked with the same bold color statements and controlled volumes that made Raf Simons' collection for Jil Sander the week's other standout.
Versace used couture techniques to achieve the bell and hourglass shapes that ran through the collection. But she was able to avoid the retro trap that Maier and others fell into by sticking to modern fabrications and a minimalist black-and-white color palette, punctuated with chemical tints she referred to in the show notes as "sulphur green, turquoise-litmus paper, and the cherry in alcohol solution."
She began with a confident black suit in a technical mix of shiny and matte fabrics, shaped through the waist with subtle horsehair padding to create the perfect female form. A sleek black halter dress hugged the torso like a corset, thanks to whalebone stitching, while a zip-front tube dress referenced the sporty trend that has surfaced here. Pants were lean, topped by a fur chubby or a shiny camel satin blouse.
Fall's favored embellishment, studding, was presented in a subtle enough way that you wouldn't feel cheap wearing it. Instead of using silver stud hardware on the surface, Versace inserted studs into the cloth on a tailored gray coat so that they became decorative textural pyramids.
A black, off-the-shoulder column gown with a single strap cutting diagonally across the shoulders and chain details at the waist hinted at the kinkiness that has grabbed designers this season but, perhaps because its creator is a woman, did not veer into poor taste.
Neither did a silver mesh sheath with tiles artfully arranged on the front, which was incredibly sexy when the model turned around to reveal a bare back. Metal mesh was incorporated into the waist of a plush ivory coat with fur cuffs, making for a nice juxtaposition of hard and soft.
For evening, silk plissé gowns were sculpted to the body as if by an Italian master, one in a smoky gray shirred at the waist, another in dark plum with chains sewn underneath instead of on top.
Versace may be having a minimalist, Medusa-free moment, but she hasn't given up completely on flash. One only had to look at the towering zip-front brogues on mirrored platforms and the powder puff of a white fur purse to know that. And that traffic-stopping red fox coat, hand-sculpted at the midsection, was just the kind of power piece for the new Versace woman — rich and in charge.
The 1920s have been a popular reference point this season in New York at Proenza Schouler, in London at Paul Smith and here in Milan at Missoni, where skirts came in a longer length, and geometric knit dresses brought to mind Russian constructivist graphics. Of course this is a house founded on knits, so long cardigans came space-dyed in shades of mustard, maroon, beige, dusty rose and storm blue and belted over the new, longer skirts or wide, fluid pants. The belts themselves were quite something — corset-like, crosshatched strips of leather, with three fastenings in the back.
Caped, chiffon dresses in painterly, pointillist prints were pretty and light. But as the show went on, it felt like everything but the kitchen sink. There was an Alaia-esque 1980s flippy skirt here, a fur bomber jacket worked with cable knit there. Missoni even had her bondage moment, wrapping silk gowns in ropes of beads. She could have used more focus, or at least an editor.
The skirts were back up above the knee at Fendi, where Karl Lagerfeld came closer than ever to making the house a legitimate destination not just for accessories and furs but for a full complement of ready-to-wear. He focused on the waist, belting jackets or fur coats over slim miniskirts. There were no gimmicky volumes or futuristic themes, just sophisticated clothes, from a caped black leather jacket and slim skirt to a creamy white dress with full sleeves, sprinkled with hammered gold nailheads.
Furs had a raw, almost tribal look, one coat with striped chinchilla on top and fox on the bottom, another in a skin resembling a Cy Twombly scribble. The sleeves of one jacket were dyed in a diamond pattern, while another came in a patchwork of leather and fur.
On the accessories front, wide cartridge belts with giant jewel buckles were chic, as were half-moon clutches. One was worked with colorful python skins, another with a thicket of feathers and fur, making it resemble a pet more than a purse. Then again, what is a purse if not a pet?
---
booth.moore@latimes.com
---