Elyse Walker knows what customers want, even if they never come in
The Antioch Street boutique is famous for Walker's attentiveness to clients and the mix of casual and designer. Here, a Roland Mouret blouse is paired with a Lanvin Love necklace, while customers wander the store.
(Ricardo DeAratanha / Los Angeles Times)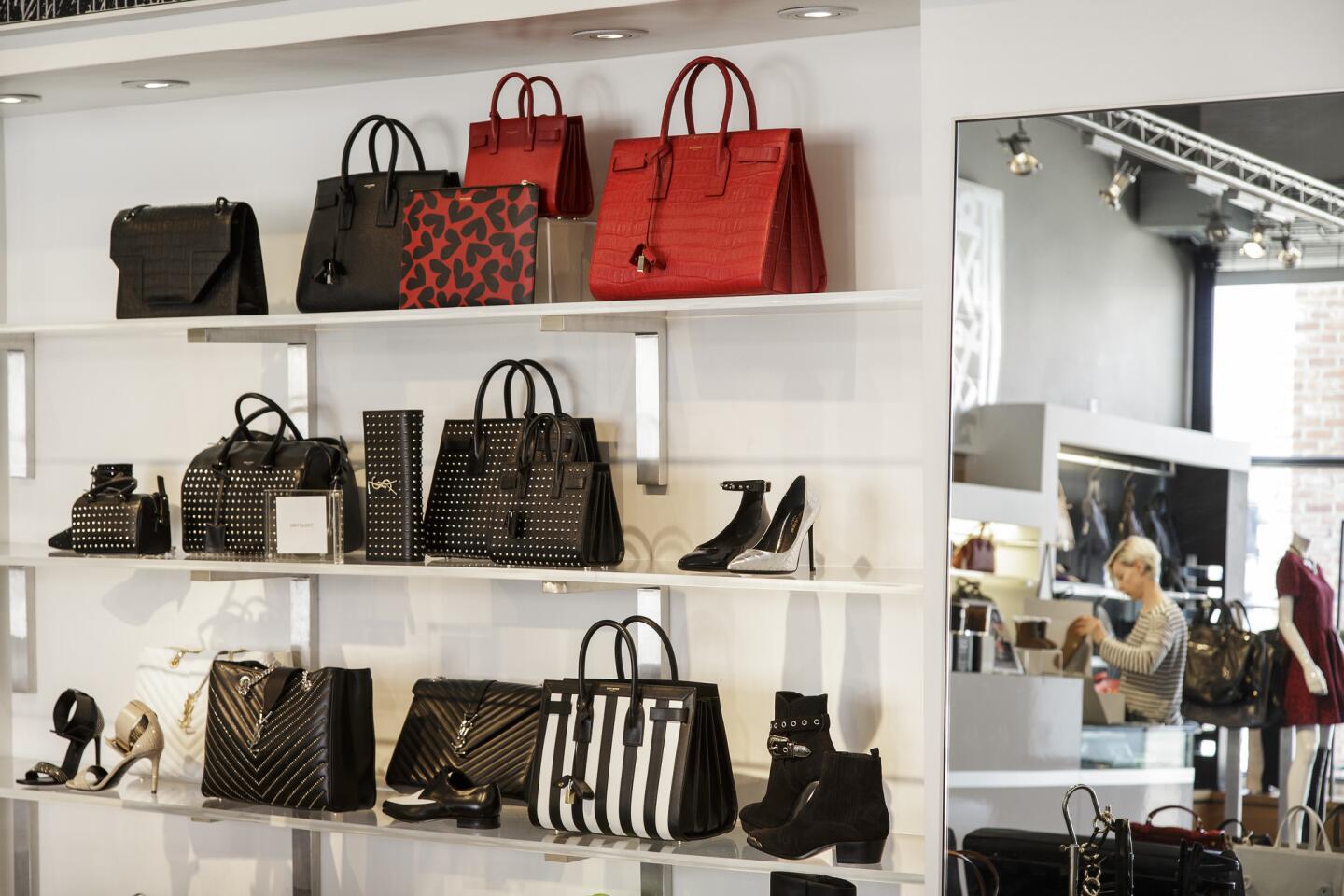 Saint Laurent bags and shoes are displayed. Walker is known to contact clients when something unique comes through her door, such as the Saint Laurent boots she placed into a client's hands before they were displayed at her boutique.
(Ricardo DeAratanha / Los Angeles Times)
A closeup of three studded Saint Laurent purses.
(Ricardo DeAratanha / Los Angeles Times)
Walker often incorporates leather jackets into her daily uniform and stocks a selection of the wardrobe staple at her boutique.
(Ricardo DeAratanha / Los Angeles Times)
Walker is moving into design with her new shoe collection, with three casual selections shown here.
(Ricardo DeAratanha / Los Angeles Times)
The shoes are "must haves" with "key pieces in a lot of colors," according to Walker.
(Ricardo DeAratanha / Los Angeles Times)
Walker's next project includes a foray into a ready-to-wear collection that's debuting this fall.
(Ricardo DeAratanha / Los Angeles Times)
For 15 years, Elyse Walker's Pacific Palisades boutique has been the destination for high-end designer fashion in a neighborhood where residents would rather cross the Gobi Desert than the 405.
But it's what Walker has been doing outside the store, using technology to create an omnichannel experience, that's taking the tradition of the plugged-in L.A. retailer-to-the-stars into the future.
Walker can sell a pair of $2,300 Saint Laurent boots without ever having to put them on the floor, just by sending a text message to a well-heeled client. She can blow out $4,600 Stella McCartney lace jumpsuits before they've even been unpacked from the box by posting a runway photo to her Instagram account with the hashtag #Everydayisarunway.
Launched two years ago, her e-commerce site, Forwardbyelysewalker.com, is poised to hit $100 million in sales this year. She's also dipping her toe into design with a namesake shoe collection that's currently wholesaling worldwide and, new for fall, the Perfext ready-to-wear and accessories collection.
"Our plan is to make must-haves, not a big collection, but key pieces in a lot of colors," she says. "The first group is all about fringe."
Walker grew up in retail, working from age 14 in her parents' Capretto shoe stores in Scarsdale, N.Y., and Manhattan. After graduating from Columbia University, she opened her own Capretto boutique on Madison Avenue in 1987. Then in 1995, her husband's job brought them to the West Coast, where they settled in Pacific Palisades.
"I was very surprised when I came to L.A.," says Walker, 47, whose personal style is edgy, her daily uniform usually consisting of jeans, boots, a leather jacket and lots of layered jewelry. "I had never seen cool multilabel stores like Planet Blue, Madison and Fred Segal. It really was a new genre, and it really inspired me."
Recognizing the need for a high-end store on the Westside, she opened her 800-square-foot boutique on Antioch Street in 1999, selling clothing by L.A. labels such as William B, Katayone Adeli and Velvet.
Growing respect
Since then she has expanded the store four times. Today she has 6,500 square feet divided into three boutique spaces that flow into one another. The entry-level contemporary department has casual T-shirts, sweaters and jeans by Raquel Allegra, Isabel Marant, Monroe and Frame, and most prices are under $500. The high-end designer area carries $7,650 fur-trimmed sweaters by Missoni, $2,360 biker jackets by Barbara Bui and $6,000 J. Mendel gowns. And the shoe store offers $595 sneakers by Golden Goose, $1,995 Moschino bags, $1,025 stilettos by Aquazzura and more.
"She's bridged the gap between casual and designer," says Dierdre Roffoni, owner of the Findings Showroom in downtown L.A. who has known and done business with Walker for nearly two decades. "It's not intimidating. You start out buying all the basic brands on the contemporary side, and once you've learned to trust her, you begin to dabble in designer. And before you know it, you're a customer for life. A lot of department stores are trying to do what she does, but they have dinosaur infrastructures. She has a lot of flexibility."
The store feels like one part high-fashion closet and one part sorority house, with jars full of candy on offer, rolling racks holding looks earmarked for specific clients and cute salesgirls trying on clothes and Instagramming photos of themselves all day long.
In addition to serving the woman who wants to buy a fun pair of flip-flops or a T-shirt on her way to the beach, Walker caters to a who's who of Westside celebs, including Julia Roberts, Kate Hudson and Kate Beckinsale. "When I want to shop for everything from cozy to couture, Elyse Walker is my first and last stop," says Jennifer Garner.
But the store has never been a paparazzi hotspot like Kitson or Tracey Ross.
"I remember when Lisa Kline had her store on Robertson, she had to put down special shades all the time because of the paparazzi," says Walker. "Jessical Biel was in here the other day, but we didn't call it in [to the photo agencies]. You've never seen us in People magazine. We've never once called in a celebrity shopping here. If my store was on Sunset or Robertson, maybe. But that goes against the grain of the Palisades."
Building trust
Walker prides herself and her sales staff on the ability to build and maintain client relationships. For example, when Walker goes on buying trips to Europe, she keeps specific customers in mind.
"Certain names come up in every showroom. This one is a size 0, and this one is a size 10. This one is in Malibu for the summer and will need this, or this one will need that because it's so hot while she's in Miami."
Back in L.A., merchandise is often delivered to shoppers, so they can try it on at home and decide whether to purchase.
In store, the experience is also hands-on. "To get a customer to come into the store, you have to make them feel like they're getting a foot massage," says Walker, who lives in Venice with her husband, David Walker, a commercial real estate investor, and their two sons, Ryan and Kevin, who are in college.
"I remember being there one Saturday morning and seeing a woman on the floor of the dressing room complaining about her cramps," Roffoni says. "Elyse just kept bringing her outfits to try on for hours, and by the time she left, it was with $50,000 worth of merchandise."
That level of personal service translates to social media. Walker and her staff regularly post new pieces or whole looks on the store's Instagram account, which has 25,000 followers, and see them sell out before lunchtime. Indeed, she estimates that up to 30% of her store's business is now done without anyone ever setting foot inside the door.
"We're just warming up as far as figuring out how we can use technology at retail. Everyone is," says Walker. "The fact that you can get merchandise, Instagram and sell it without even talking to a customer because they text you is less than a year old. And the fact that I have customers who feel like they can text me is great." (About 100 clients have her cell number.)
Two years ago, rather than launching her own online business from the ground up, Walker partnered with two L.A. tech entrepreneurs who were already involved in the fashion space. Michael Mente and Mike Karanikolas, co-owners of Cerritos-based fashion e-tailer RevolveClothing, teamed with her on her online site, which sells a high-end and contemporary mix similar to that in her Pacific Palisades store. "It's a great partnership," she says. "They are the infrastructure. And they've been through all the growing pains."
"She had a deep fashion experience and a vision of what women want to dress like around the world, representing that L.A. lifestyle that is more relevant now than ever," Mente says of Walker. "From an industry perspective, she is really well known. From a customer perspective, her name is growing. Going forward, we're going to do more partnering with brands on capsule collections and events, and more sponsorships during fashion weeks. We want her voice to get bigger."
Walker is excited about the potential of online retail. "If we get a great bag, we can sell four or eight of them in store," says Walker. "We can sell 100 of them online."
Elyse Walker
Where: 15306 Antioch St, Pacific Palisades
When: 10 a.m. to 6 p.m. Monday through Saturday, noon to 5 p.m. Sunday.
Information: (310) 230-8882 for the boutique, (866) 434-3169 for www.forwardbyelysewalker.com
Follow me on Twitter: @booth1