Stylish backpacks make a return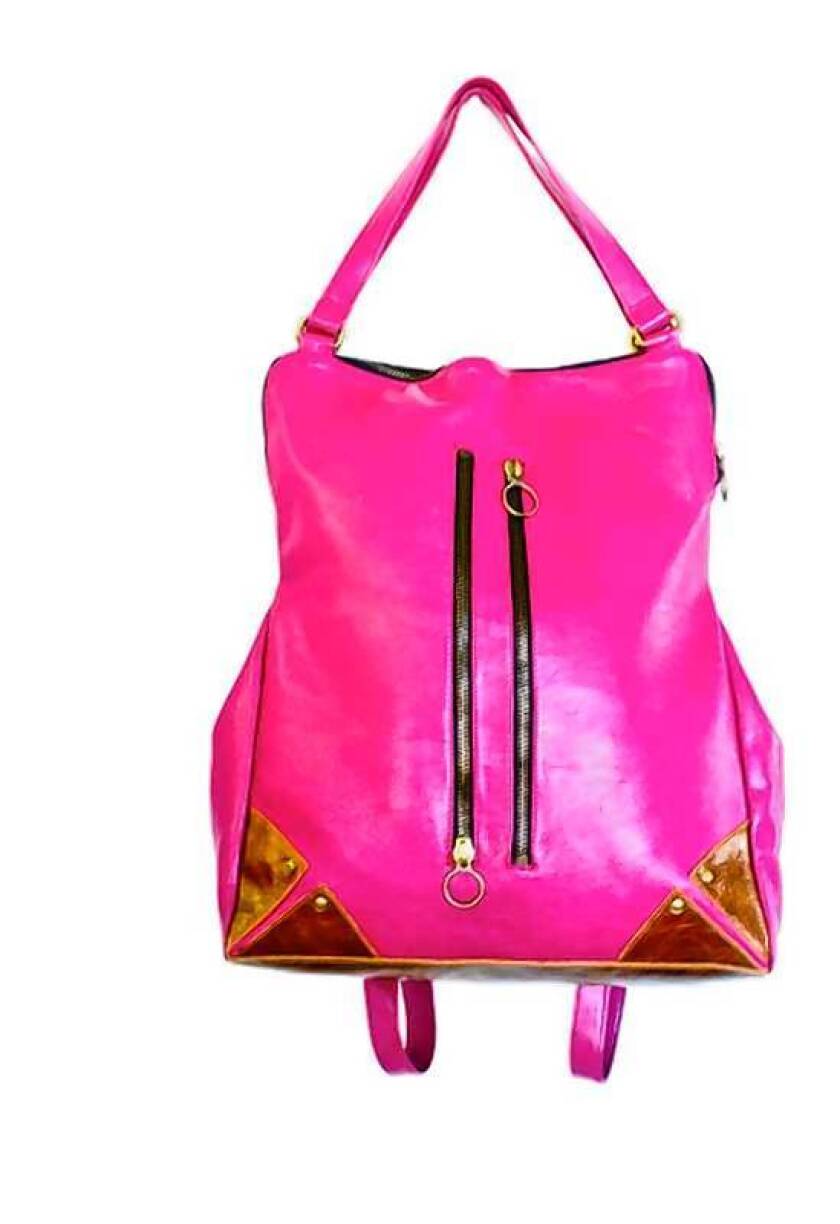 Los Angeles Times
In the early 1990s, the mini-backpack was a fashion "must-have." Most coveted was French designer Agnès B.'s black cotton "Lolita" sack (reimagined briefly during a limited-edition 2010 collaboration with Opening Ceremony) and Prada's more structured black nylon bag with outside pockets and silver buckles (which also reemerged briefly in December 2010).
For about 20 years since, backpacks have gone the way of every other oversaturated fad, disappearing into the backs of closets and clustering on EBay, rejected in favor of oversized hobos, clutches and small cross-body purses.
Now, these double-strapped packs are returning to reclaim their place on women's backs in the company of other '90s fads, such as cropped tops, high-waisted floral-patterned jeans and denim jumpers. "I see [backpacks] getting more luxe," says Kristen Lee, owner of well-curated L.A. boutique TenOverSix, which, for fall, is carrying backpacks by Fjällräven (for both kids and adults), Patrick Ervell (with intricately woven straps), Baggu and San Francisco's Joshu+Vela in canvas. "They are '90s referential, but cleaner and nerd[ier] ... worn high and tight in leather or canvas with highly detailed straps."
Many of the new backpacks have a more geometric rectangular shape with clean lines, à la European schoolchildren's bags, and on-trend notes including neon colors, woven patterns and lambskin leather. Prices range from less than $50 to almost $4,000. As school comes back into session, we found some we think are at the head of their class.
Baggu Backpack
$34
This inexpensive Baggu Backpack, in neon yellow and, for fall, polka dot (among other shades), is made from recycled 16-ounce cotton duck with adjustable shoulder straps. Baggubag.com.
Fjällräven Kanken Classic
$75
The Scandinavian brand reads more utilitarian than fashion at first glance, but hipster design buffs (including celebrities such as Justin Timberlake, Orlando Bloom, Maggie Gyllenhaal) are suddenly going crazy for the Kanken Classic (a style launched in 1978 as a kid's school bag that has become a Swedish staple in the vein of Levis or Converse in the U.S.). Shop.tenover6.com.
MK Totem's Boho backpack
$350
Garrett backpack
$450
This urban-meets-bohemian line, launched in 2010, is reissuing its original signature Boho backpack, above, in September. And in January, its new Garrett backpack, below, is slated to go on sale in bold colors like magenta, royal blue, persimmon, lavender and black. It can moonlight as an oversized tote with straps that retract. Mktotem.com.
Jadetribe's Nicole backpack
$374
Founder Kimberly Hartman, who buys her sustainable handwoven textiles from village women in Laos, introduced her first backpack a year ago and is now releasing the Nicole, made of 100% hand-woven, organically dyed cotton with ultrasuede lining and leather detailing. Jade
tribe.com.
Longchamp Paris:
Veau Foulonné backpack
$660
The belle of Longchamp's fall backpack assortment is part of the Veau Foulonné collection, which launched this spring. This season, the bag comes in mocha, cognac, black, burgundy and night blue. Longchamp.com.
Alexander Wang Marti backpack
$850
This slightly slouchier option with exterior zippers is a convertible backpack and shoulder bag in buttery lambskin. It will be available in black for fall 2012 and, for resort 2013 (in stores this November), in citrus and vine. Alexanderwang.com.
Prada nylon backpack in navy
$850
Prada hasn't abandoned its classic nylon backpack. This fall's choicest incarnation is full-size, not a mini, in navy. Prada.com and select stores.
The Row drawstring backpack
$3,900
This super-high-end, sleek option from the Row (Ashley and Mary-Kate Olsen's line) is made in Italy from calfskin leather with adjustable straps, gold-toned hardware and a leather drawstring at the top. Barneys.com.
---