Bridal wear: It's a vintage throwdown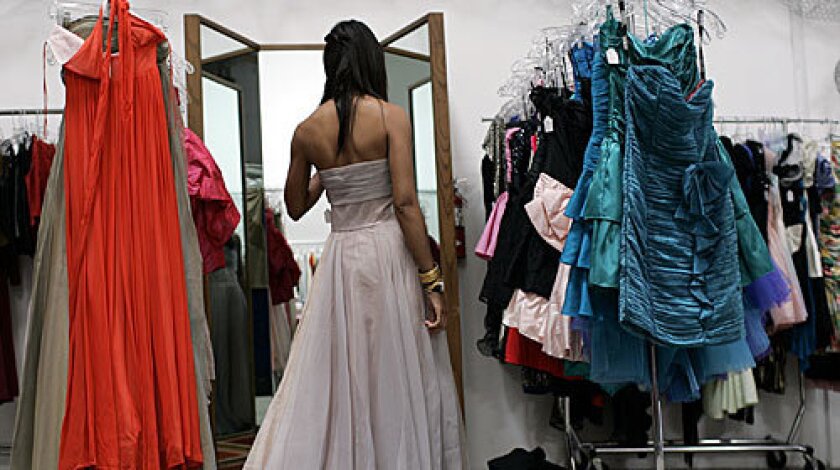 A sapphire blue tent, peacock feather head wear and bright flashes of hot pink flowers -- the wedding of 31-year-old fashion designer Wells Butler to Oliver Nathan this July will be a showstopper. "We didn't want to do anything too cookie cutter," said Butler of her eclectic, bohemian-inspired wedding theme. That goes for their rehearsal dinner as well, which will be a casual picnic on a sprawling lawn at Saddlerock Ranch in the Malibu Hills -- the same grounds where Butler and Nathan will marry the next day.
For the picnic, Butler wants a memorable ensemble, but she doesn't want to spend a lot of money. So, we put her up to a $100 challenge to see if she could find her perfect pre-wedding-day dress on a budget of $100 or less.
Butler chose one of her favorite vintage spots, Shareen Vintage, located in an industrial warehouse on the outskirts of downtown L.A. The prices there are reasonable -- most dresses go for less than $60 -- and there was a seemingly endless supply of the fluid styles she was seeking. In short order she amassed a whole rack full of candidates.
"I want something long so I won't have to worry about sitting on the ground or picnic bench," Butler said, "and also something flowy that I can wear with flat sandals. Heels will sink into the lawn."
Her first choice was a pale pink, strapless dress with a ragged chiffon hem -- true fairy princess for just $48. The light-colored bodice had a few stains that could've been rendered invisible by dyeing, but having to part with the pastel color was a deal breaker for Butler. Back to the rack. Contender No. 2 was a departure from her original vision, but the bright fuchsia color of a short, strapless cocktail dress appealed. Ultimately, it was too short and not right for the occasion, but Butler plans to rent it for a friend's wedding later this summer.
On to an $88 pale gray, strapless gown with a tri-color paneled inset on the skirt. Its whimsical vibe spoke to her -- "I love how I feel in it," she said -- and its long, sweeping skirt and pale, dusty colors fit the bohemian aesthetic. But Butler was concerned the style might be too similar to her Lazaro wedding gown, and she wanted something that would stand apart.
That brought her to a poppy-colored halter dress with floor-length skirt. It would be perfect for a sunset picnic in the Malibu hills. And the best part? The dress was a rental, meaning that the cost for a week is 20% of the retail price. Grand total: $45. "I love it because it's sexy but still has that boho vibe because of the fabric and length," Butler said. "I can see wearing it with flat, gold gladiator sandals and gold bangles."
She already has a good start on the bangles. She was wearing an armful of bright gold bracelets given to her by her best friends. At her Indian-themed bridal shower, her friends followed a tradition in which each guest gives the bride-to-be a bangle and whispers a wish for her as she places it on her wrist.
That wish for a stylishly frugal send-off to her wedding? Granted.
---