'In the Steps of Trisha Brown,' and the L.A. festival where dance and film collide
The West Coast premiere of "In the Steps of Trisha Brown," the film exploring the groundbreaking choreographer who changed the world of contemporary dance, will be tinged with more than a little sadness Saturday night.
Screening just a month after Brown died at age 80, "Steps" takes a behind-the-scenes look at the rehearsal process leading up to the first performance of Brown's 1979 work Glacial Decoy by the National Opera Ballet of Paris. The film will play as part of the Dance Media Film Festival, which promotes dance through film screenings and performances this weekend and April 29-30.
The festival culminates in a free screening and dance concert on the Santa Monica Pier featuring rising L.A. troupe Jacob Jonas the Company and others.
Dance is a "universal language," says Tonia Barber, the festival's director, "because we all have our interpretations of the body. It speaks to all ages, all groups."
Now in its 16th year, the festival has seen much change, not the least of which is the effect of technology, said Barber, a dancer turned filmmaker. She started running the festival six years ago and remembers combing through hundreds of submissions.
"The ones that had the most funding, you could tell right away this film has a budget to work with," Barber says. "Now everyone has production value. You can get a GoPro or drone with not so much money these days."
This year's festival features more than 30 films, including narrative shorts that showcase choreography made expressly for the camera. Dance documentary screenings include "Mr. Gaga," a look at the life of famed modern choreographer Ohad Naharin. A family day will spotlight animated dance films.
Lisa Kraus, one of the choreographers in "In the Steps of Trisha Brown," spoke to The Times about what it meant to restage Brown's influential work.
---
How did you get involved in the film?
I first started working with Trisha Brown in 1976. I became a part of her company and helped create the dance that's being taught in the film and that was in the year 1979. When it came time to teach it to another company, the Paris Opera, I was invited many years later in 2003 to go and teach them, which was very exciting to do. We repeated that again in 2013. The filming in 2013 is what you see.
The most popular stories on the Los Angeles Times website right now »
As a former dancer in her company, what did it mean to reprise that work, especially in light of her recent passing?
Dancing that piece was one of the highs of my dancing life. It's a very demanding, full throttle, fearless kind of dance that is also terrifically precise. It's a really interesting balance of being able to be wild and being able to be tremendously accurate in terms of both space and relationship and time. It feels very much like it's in my soul.
In term's of Trisha's passing, I think all along for the last few years those of us who really loved her and loved all of her output, it's been a heartbreaking time. [The film] is one slice of her work; there's so much more for people to experience and at the same time, it's a very good time for people to get to know what her work has been about. And why it's so valued.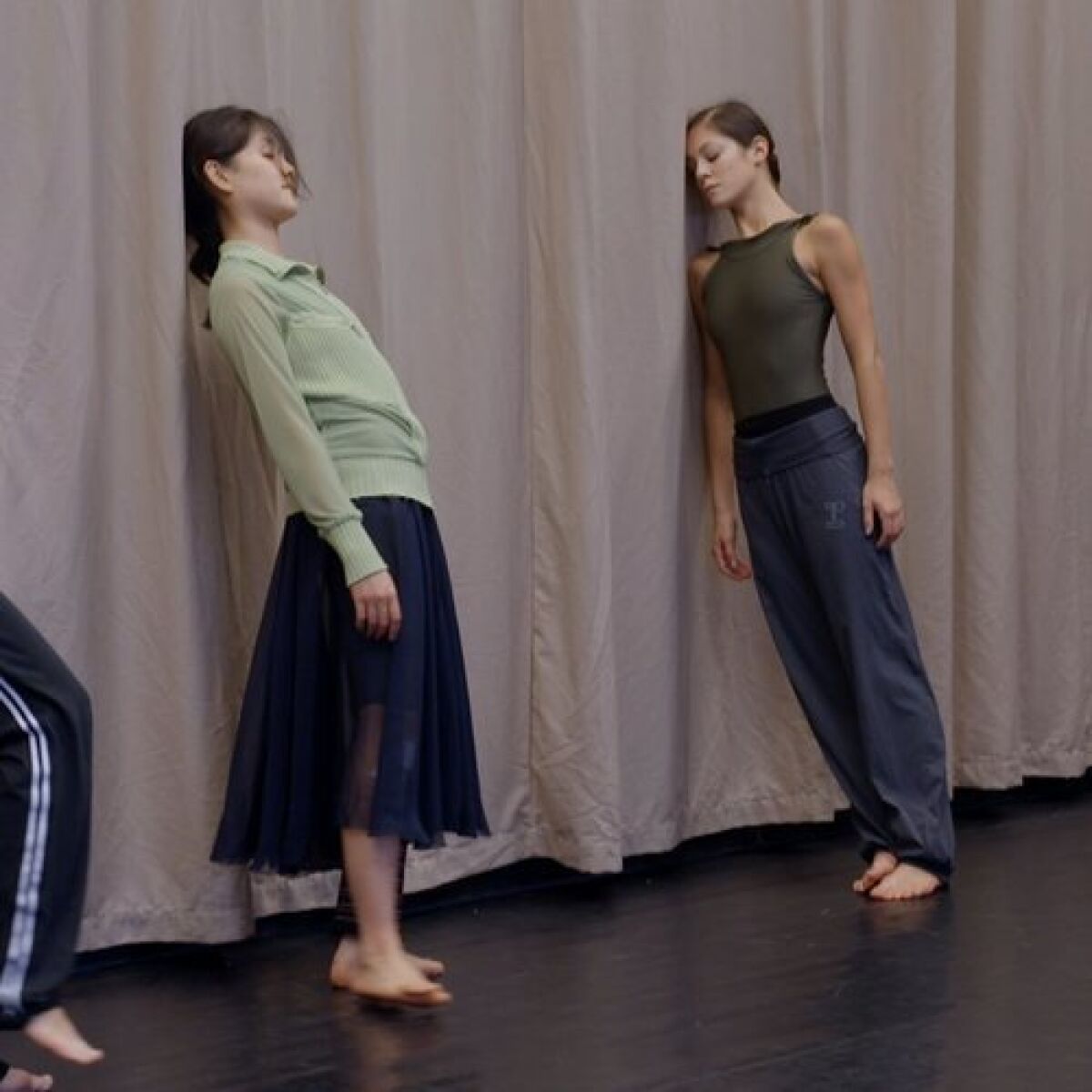 It's a very demanding, full throttle, fearless kind of dance that is also terrifically precise.

— Lisa Kraus, choreographer
How did you update the piece for modern times? Or was it more a direct translation?
That whole question of how you work with material made on one body and translate it to other bodies, you try to understand what's most important in the dancing, what wants to be conveyed through the dancing.
If you're a ballet dancer, you're used to holding yourself in a certain way. You're used to relating upright in a particular way. When you learn to work with the kind of movement that Trisha chose to do, you have to recalibrate all of that. You want to get the essential material in the bones so that it's muscle memory. They're really feeling it rather than thinking it.
Did you have creative input in the filmmaking process?
When the film was being shot, Carolyn and I both thought it was going to be part of a much larger film about Trisha and the company. We thought we were one small piece of the film. I think it helped us relax a lot. I don't know that we really weighed in in any particular way.
What is the importance of film in the dance world?
Dance is incredibly ephemeral. It doesn't travel all that easy. For that particular dance, you have to bring a whole company, send them out on tour and have a theater that can afford it. It's complicated. Film is easy. It makes it easily accessible.
I personally think there's aspects of Trisha's work that are not that easy to comprehend unless you have a little bit more guidance in identifying what's going on. To allow people to have a close-up view with additional information that helps them understand what they're seeing. I think it's very valuable.
Information on the festival: www.dancecamerawest.org/schedule
follow me @makedaeaster
---
UPDATES:
For The Record
11:40 p.m. April 27: This article misstates one of Lisa Kraus answers. In response to a question about how it feels to reprise Trisha Brown's work, she said, "It feels very much like it's in my cells," not "It feels very much like it's in my soul."
---