At 24, Jacob Jonas hashtags his dance company into the spotlight
The nine dancers in Jacob Jonas the Company sit in a semi-circle on a rehearsal floor and poke gentle fun at the company's artistic director and namesake.
"He kind of didn't know what he was doing at the time," says Anibal Sandoval of Jonas, who was 21 when he founded the company. "There was an innocent — I don't want to say ignorance — but an ambition that was so raw."
Sandoval stops and looks at Jonas, now 24, who is cracking a sly, intense smile, waiting to see where Sandoval plans to take this train of thought.
"He looked at a mountain and thought he could climb it, but he had no gear with him and he was just like, 'I'm gonna do it,'" finishes Sandoval, shaking his head affectionately.
Jonas is indeed doing it, making a name for himself with energetic shows that combine disparate movement disciplines including breakdance, acrobatics, modern dance and contemporary ballet. The company will appear at the Wallis Annenberg Center for the Performing Arts in Beverly Hills on Friday with four pieces, two of which are world premieres, and one short film directed by Jonas and shot at the Getty when the museum was closed.
This is quite a feat for a former SoCal skateboarder who began dancing at 13 with a street performance troupe in Venice called the Calypso Tumblers. More to the point, it's an accomplishment that makes other, more seasoned dancers ask: How did he do that?
Jacob Jonas the Company rehearses for an upcoming show at the Wallis. Jonas looks on as dancers rehearse a physically grueling piece where they run and jump continuously for minutes.
(Robert Gauthier / Los Angeles Times)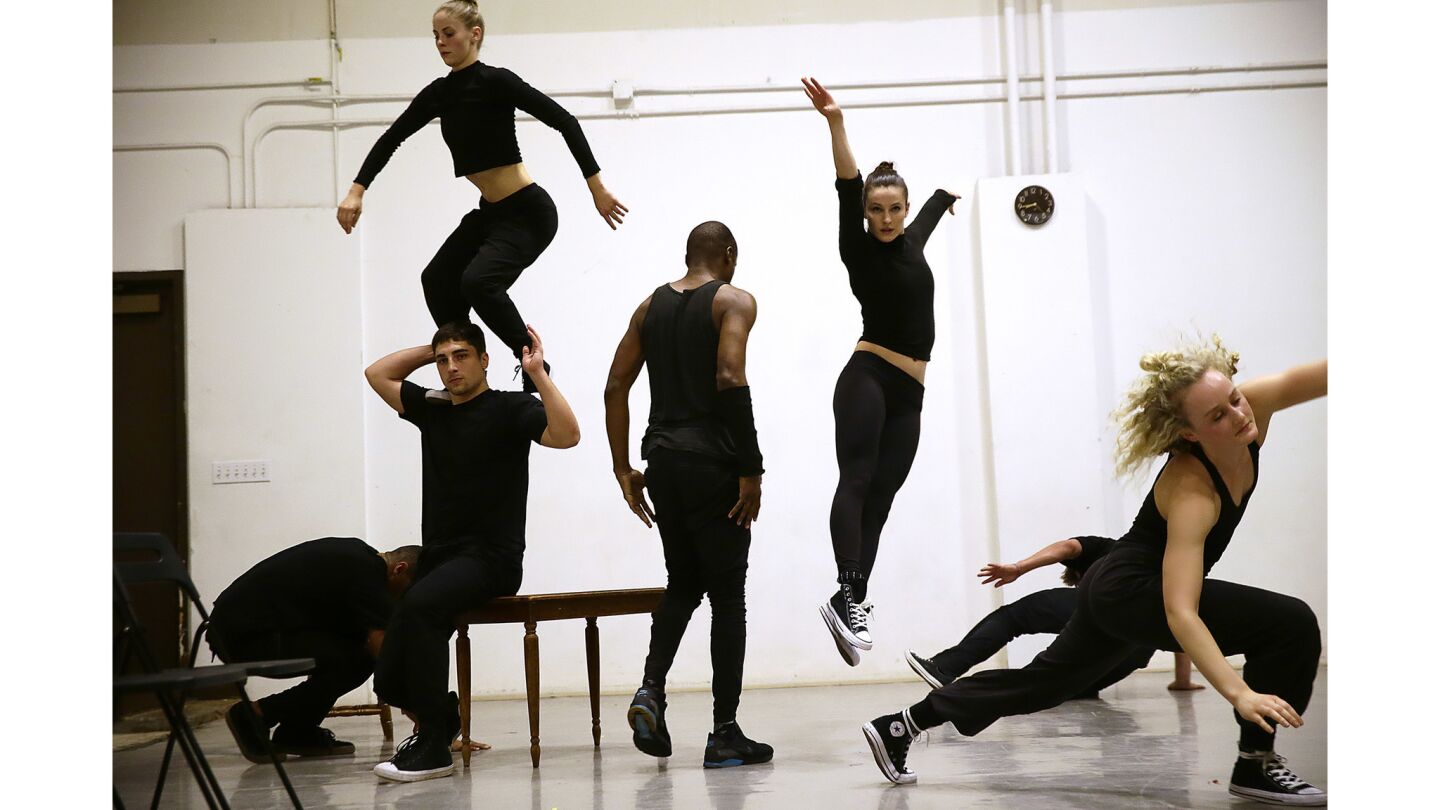 Jacob Jonas the Company rehearses for an upcoming show at the Wallis. Jonas, seated on the table, is an up-and-coming choreographer who combines classical ballet with breakdancing and acrobatics in order to create a distinctively 21st century brand of dance with a robust social media presence.
(Robert Gauthier / Los Angeles Times)
Jacob Jonas the Company rehearses. Dancers, left to right, are Charissa Kroeger, Brooklynn Reeves, Marissa Labog, Kimberly Bridgewater, Nic Walton, Jacob Jonas, Jeremy Julian Grandberry and Jill Wilson.
(Robert Gauthier / Los Angeles Times)
Jacob Jonas looks on as dancers Jill Wilson and Nic Walton rehearse a duet.
(Robert Gauthier / Los Angeles Times)
Jacob Jonas the Company rehearses for a show at the Wallis. From left to right are Jeremy Julian Grandberry, Kimberly Bridgewater, Lamonte Goode, Jil Wilson, Jacob Jonas, Marissa Labog, Anibal Sandoval, Bryooklyn Reeves, Nic Walton and Charissa Kroeger.
(Robert Gauthier / Los Angeles Times)
Artists fail when they aren't able to make their art a brand.
— Jacob Jonas
Jonas has managed to elevate his company's profile in a short period of time. His first full-length piece of choreography, "In a Room on Broad St.," which will be reprised at the Wallis, was presented in 2014 by Ailey Citigroup Theater in New York to glowing reviews.
Jonas took that encouragement and ran with it, quickly introducing his company to the youth market via an immersive social media campaign, #CamerasandDancers, which called on photographers and dancers to gather flash-mob style at partnering cultural institutions such as the the Getty, the Hammer Museum in Westwood or the Los Angeles County Museum of Art in order to collaborate. The resulting images were then disseminated via the participants' online platforms to what Jonas says were millions of people.
Jonas is as much a businessman as he is an artist, and he's proud to tell you so. He laments the fact that universities teach students how to make art but not what to do with it.
"Artists fail when they aren't able to make their art a brand," says the choreographer and dancer, who is lean in an almost feline way, with thick muscles that propel him into lithe motion at the slightest provocation. "We want to be at the intersection of dance and fashion — of dance and advertising. How do we get dance to a wider audience?"
With a wider audience, Jonas reasons, comes the kind of financial support that dance needs to sustain itself and rise to the level of music, television and film when it comes to commercial visibility.
Dance is probably one of the most undervalued art forms in society "in terms of how it's set up as a profit model," he says.
At 24, Jacob Jonas hashtags his dance company into the spotlight.
Part of his solution is to incorporate film, photography, other visual arts and music into his work in unexpected ways.
Another strategy: The company is egalitarian and fairly diverse. The dancers are white, black, Asian and Latino, gay and straight, ages 23 to 40. Each person was handpicked by Jonas, who sought out specialized skills. Nic Walton, for example, describes himself as someone who mainly did flips.
Now, however, Walton can do much more, thanks to his development alongside other dancers. He calls the company his family, which was Jonas' goal when he cofounded it with his girlfriend, Jill Wilson, and lighting designer William Adashek.
Jonas says he came from a broken home and describes himself as "lost" when he started hanging out on the Venice boardwalk, idolizing the Calypso Tumblers. Company member Lamonte "Tales" Goode was a part of the Tumblers at the time and remembers Jonas as a "chubby kid who wanted to be down with us and learn tricks and be cool."
It was less about the moves and more the sense of belonging that originally inspired Jonas, he recalls. School wasn't his thing, but he craved education.
"Movement felt like a language I could pick up," Jonas says. "It was a language that I spoke and I wanted to get better at it."
As with any language, meaning is crucial, and Jonas seeks to inject as much of it as he can into his choreography. His dances are based on a feeling or a lesson.
A piece premiering at the Wallis called "fly" seeks to mimic the motion of — and the emotion evoked by — a heartbeat monitor as it flatlines. During rehearsal the dancers run in jagged lines across the stage and their movement becomes increasingly erratic until they fall into a straight line and march, displaying the final, delicate flutters of life.
A duet featuring Jonas and Marissa Labog, "Obstacles," embodies the struggle of a friend of Jonas' who suffers from cystic fibrosis. We hear Mallory Smith talking about her travails while Jonas' body serves as a constant foil to Labog's efforts at forward motion. Every time she makes a few triumphant leaps, a stoic Jonas carries her sobbing back to where she started.
"I would say I'm the most fearful of how people would feel if I were to die," says the woman in the soundtrack, and later, "An obstacle is something that comes up and threatens to redirect your path."
Dancer Charissa Kroeger says the drama of Jonas' choreography is one of its most appealing traits.
"Some creators go about their work based strictly on emotion," she says. "Jacob starts with a concept and approaches it through physicality, and the physicality brings out the emotion. It's energetic rather than portrayed."
Jonas says he doesn't aim just to dance energetically, but to live that way too.
That explains his early success, says cofounder Adashek, who had his own film production company when Jonas first approached him.
"The way he talked about dance and the company made me think that he didn't know how hard it was going to be," Adashek says. "And he wasn't going to take 'no' for an answer. So where we are now — performing at the Wallis and doing work at this level — it doesn't surprise me at all, because I knew that he saw this happening all along."
♦ ♦ ♦ ♦ ♦ ♦ ♦ ♦ ♦ ♦
Jacob Jonas the Company
Where: Wallis Annenberg Center for the Performing Arts, 9390 S. Santa Monica Blvd., Beverly Hills
When: 8 p.m. Friday
Tickets: $29 to $79
Info: (310) 746-4000, www.thewallis.org
ALSO:
Benjamin Scheuer and a life told in heartbreaking song at the Geffen
Backstage with the smallest cast members of 'The King and I'
Black dance legend, 85, has a message not all kids want to hear
Casting announced for national tour of 'Hamilton'
---
Get our daily Entertainment newsletter
Get the day's top stories on Hollywood, film, television, music, arts, culture and more.
You may occasionally receive promotional content from the Los Angeles Times.