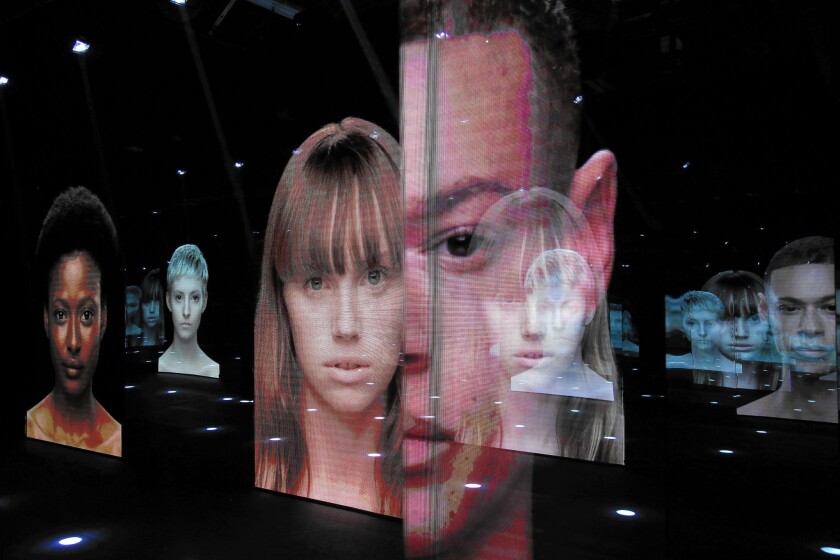 Los Angeles Times Fashion Critic
Straight from the fashion capital of the world to the entertainment capital of the world, Louis Vuitton has brought its spring 2015 runway show from Paris to L.A. as a pop culture experience for all.
There is no product for sale at the gallery-like space on North Highland Avenue, just a free, immersive exhibition intended to give visitors a glimpse into the time-traveling vision of designer and self-described sci-fi enthusiast Nicolas Ghesquière, who became artistic director of Vuitton's women's collections in November 2013.
The exhibition, titled "Series 2," features seven rooms with displays that shed light on the process behind Ghesquière's luxe-meets-lava-lamp women's spring ready-to-wear collection, which originally debuted on the runway inside the silvery, new Frank Gehry-designed Fondation Louis Vuitton museum during Paris Fashion Week in October 2014 and just hit the racks at the newly renovated Louis Vuitton boutique on Rodeo Drive last week.
Visitors enter next to an outsized red neon sign of an LV inside a circle, modeled after the monogram seal initially used by trunk maker and house founder Louis Vuitton in 1854 and revived as a logo by Ghesquière after his arrival. In the next room, a trippy, mirrored dark space pierced by beams of otherworldly light replicates the atmosphere inside the show space. Just as it was at the runway show, a chorus of talking faces welcomes you to "the ship that serves as an incubator … and the house that wants to explore the ability to travel to any part of the universe without moving," dialogue that was inspired by the beginning sequence of David Lynch's 1984 sci-fi film "Dune."
"Fashion shows are amazing, but they are for a small amount of people," Ghesquière, 43, said during an interview at the Chateau Marmont on Thursday, just hours before the exhibition's star-studded opening party, attended by Catherine Deneuve, Jennifer Connelly, Michelle Williams, Rosamund Pike, Charlotte Gainsbourg and other celebrity friends of the house. "I wanted to create something interactive and technological that also speaks to Vuitton."
The two-week exhibition comes amid several other luxury players announcing plans to stage major events in the celebrity hub of Los Angeles. On Feb. 20, Tom Ford is to host his fall 2015 runway show here two days before the Oscars. And on May 9, Dior plans to bring its Cruise 2015 runway show to town.
But Vuitton's strategy is more consumer-facing. "Series 2" follows "Series 1," a similarly conceived exhibition staged in Shanghai and Tokyo last year about Ghesquière's first runway collection.
Vuitton seems to be aiming to bring the blockbuster entertainment value of a runway show to brand enthusiasts and would-be customers in a way that's more intimate than watching it live on a computer screen. And in a time when some luxury brands spend as much money staging a 12-minute fashion show as some Hollywood studios do producing a film, it makes sense to try to capitalize on the experience by bringing it to life closer to home.
"If you could pry open the mind of a house and peek inside, that's what this is," said Michael Burke, chief executive of Louis Vuitton.
In the exhibition, there are hologram projections of the iconic trunk, the building block of Vuitton's global business. Heritage pieces — including Greta Garbo's LV monogrammed shoe trunk, circa 1926, with a leather tag inside indicating where it was purchased (Bullocks Los Angeles) — are juxtaposed with Ghesquière's modern designs, including retail hit the Petite-Malle, a hinged box clutch shaped like a tiny trunk.
"You walk through and have different experiences where the product is highlighted, but also the emotion of this new phase for Vuitton," said Ghesquière, who is based in Paris, but has always had an affinity for the L.A. area, from the art galleries in West Hollywood to the Space Mountain ride at Disneyland.
A fun house hall of mirrors features all 48 looks from the runway coming at you from every angle on a continual loop. And a replica of the show's backstage space, rolling racks, clothes steamer and all, is surrounded by a panoramic fresco of the pre-show frenzy, shot by famed photographer Jean-Paul Goude.
Some of the runway samples are here, including the white vinyl crochet mini-dress that opened the show, a cherry red eel skin dress, vivid floral velvet blouses and pants out of the "Partridge Family" era, and denim patchwork go-go boots with sculpted wood block heels, all of which helped to cement the '70s as the season's biggest runway trend.
"The Vuitton wardrobe is functional. I want to make fashion statements, but not like before," said Ghesquière. "It would be a mistake to say Vuitton is all big or Vuitton is all black. It would be too superficial. What I'm interested in doing is building consistency."
OK, but eel skin … functional? There was a definite "so-bad-it's-good" appeal to that, Ghesquière explained.
"That's the Vuitton way.... I love that game of transformation of something that's not supposed to be super luxurious into something that becomes desirable. I'm not scared to play with real and artificiality. I find it quite interesting," he said.
For exhibition visitors looking to take home a piece of Vuitton, the monogrammed Dora handbags are off limits. But there is a souvenir room, with free stickers depicting fun household items (hair dryers, lipsticks, headphones, takeout food) after a print used on white denim in the spring collection.
The idea for the stickers came from the luggage labels that were often affixed to Vuitton's trunks in the golden age of transport. "I wanted to project that idea into today, and while I was on a trip to Japan, I noticed that kids there were putting stickers on everything," the designer said. "And I started putting them on everything too, including my agenda.... It seemed really right to make these stickers. It's gimmicky, but in a good way … Vuitton is pop too. And I didn't want to forget that."
The grand scale of the exhibition is a reflection of Vuitton's global and cultural reach, and how much has changed for Ghesquière since his former job, 15 years designing the more niche luxury brand Balenciaga, where he experienced more critical than commercial success.
"I experienced beautiful things with Balenciaga. It was a heritage of couture … and the scale was different sometimes by choice, and sometimes by non-choice," he said. "But what I learned is that I always knew I wanted to talk to more people.... And no shame for being more commercial, no shame for simplification of the clothes. And no shame for embracing a brand where ready-to-wear was not a priority but is becoming one. My DNA is still there."
The through-line of heritage fused with futurism underscores how Ghesquière's vision for Vuitton differs from that of his predecessor, Marc Jacobs, who was the creative director at the brand for 16 years, during which time he presented highly theatrical, but highly changeable collections. Where Jacobs introduced ready-to-wear at Vuitton, previously known only for leather goods, and put the house on the fashion map, Ghesquière is taking it to where it needs to go. His touch has already boosted sales growth at Vuitton and helped parent company LVMH post stronger-than-expected fourth-quarter sales. Burke credited Ghesquière's ability to balance the "commercial and image" aspects of the business. "That's authenticity," the chief executive said.
"I feel I've found my place," said Ghesquière. "There is a lot of pressure, but I'm very calm. There are so many people around me with amazing talent. When they present things to me, the level of achievement is something where I can react and build off of it. In my past, I was the craftsman, now I'm giving more direction. I don't feel alone."
::
Series 2
Where: 1135 N. Highland Ave., Los Angeles.
When: 10 a.m. to 6 p.m. daily through Feb. 22
Information: 866-Vuitton, louisvuitton.com
---