Frame knows its denim is fit for Melrose Place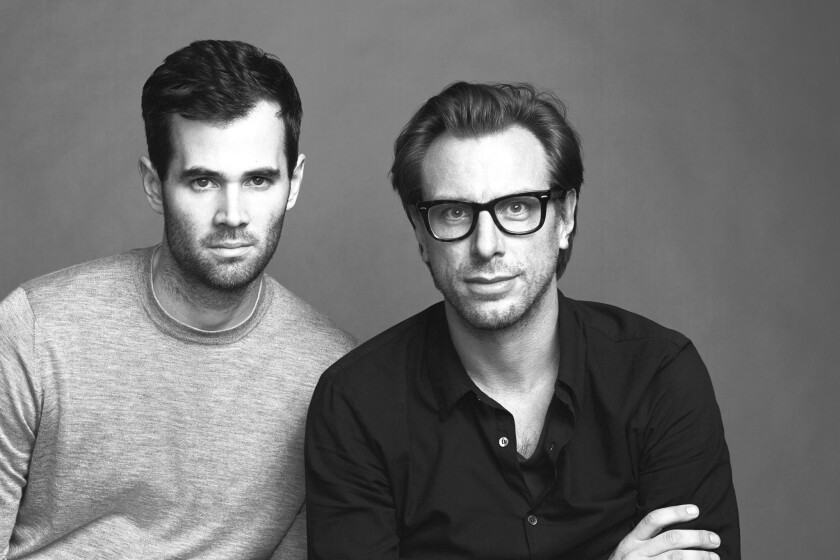 Swedes Erik Torstensson and Jens Grede shook up the saturated denim industry in 2012 when they started their label Frame, but one pair of $200 skinny stretch jeans called Le Skinny de Jeanne changed everything for their young brand.
The style was worn by models Miranda Kerr, Karlie Kloss, Rosie Huntington-Whiteley and other fashion influencers who helped turn the Los Angeles-made Frame into a thriving multimillion-dollar fashion business selling denim and ready-to-wear pieces for men and women.
And on Thursday, the label, which has its headquarters in Culver City, opened its first brick-and-mortar store on Melrose Place in Los Angeles.
In addition to Frame, Grede and Torstensson have a stable of a dozen separate fashion and creative companies, including operations specializing in public relations, art direction, talent brokering and brand management, all of which fall under their umbrella company, Saturday Group. Through Frame, the duo has created elevated wardrobe essentials that are synonymous with the model-off-duty aesthetic and sold at more than 650 retailers worldwide.
On a March visit to L.A., Torstensson and Grede, who live in London, sat down to talk about their brand. The two agreed the road to Frame's success was more organic and unassuming than it was a drive to create the next great denim company, though that's exactly what happened.
"When we started, there was no master plan," Torstensson says. "We just started with skinny jeans in the perfect blue. That was the idea in the beginning, but there was also a bigger idea. We want to provide chic essentials for women around the world and now men as well. So, when we thought about the brand and the woman and how she lived and who she is, it was always to have a full wardrobe in mind. The idea of the Frame lifestyle was kind of there from Day 1."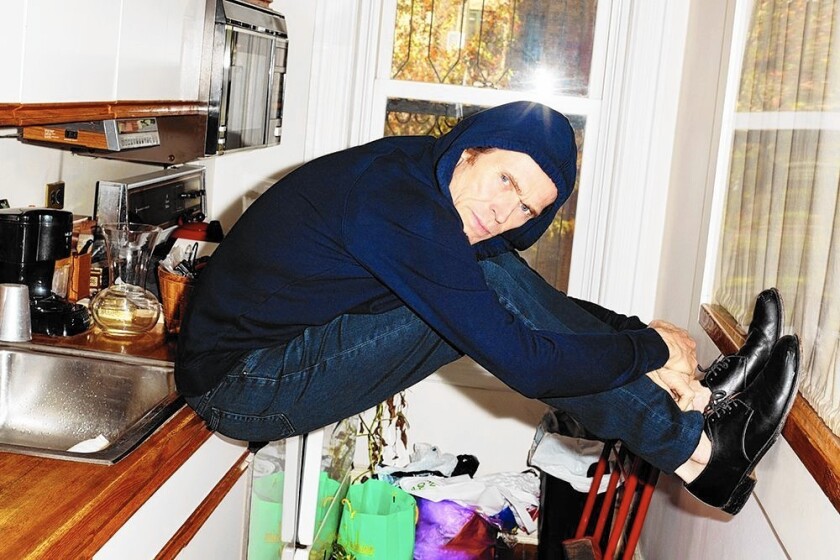 This lifestyle, while rooted in denim, has been rounded out during the last four years to include cashmere sweaters, T-shirts, leather and suede jackets and silk blouses, all with Frame's French-cool-meets-California-ease aesthetic.
"We definitely have a European, maybe more French, point of view," says Grede, "But then, we channel it through a California ease of dress. It's in the contrast where it becomes interesting."
Blending European and American style tastes appears to come easily to Grede and Torstensson. They are often jet-setting to and from project locations and their offices in London, New York and Los Angeles, and at least once a month, they travel to their Culver City office and to downtown L.A., where the denim is made, for fittings and design and production meetings.
"This is the home of the brand," says Grede. "We produce our denim here because the best people in denim live in Los Angeles."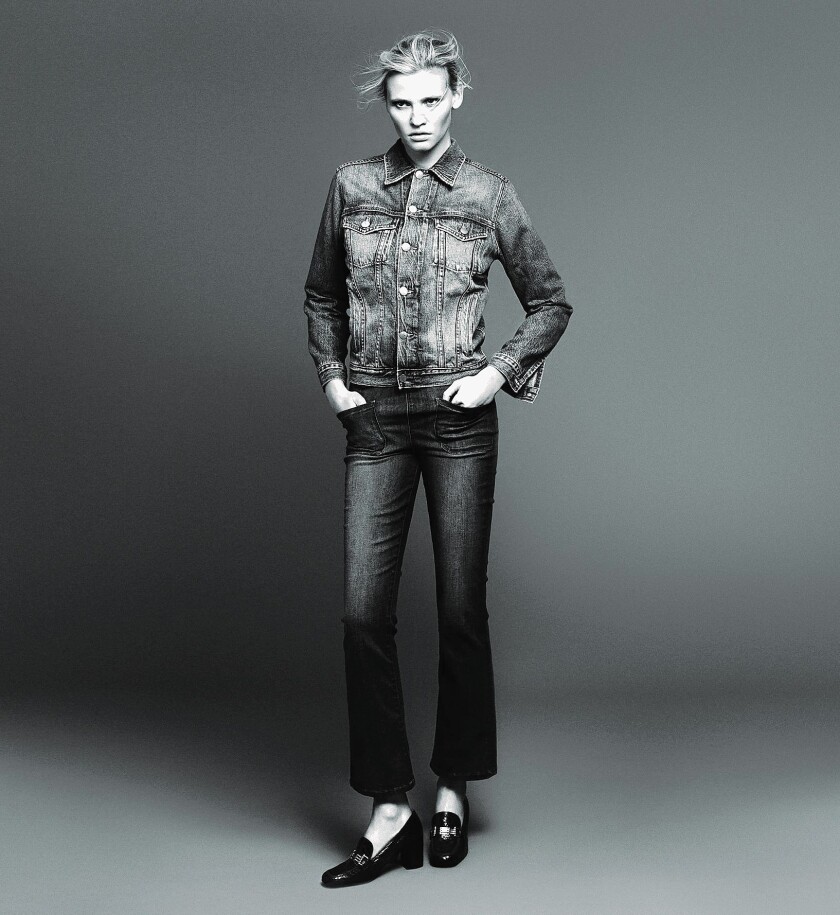 According to Grede and Torstensson, opening their first store in Los Angeles was a no-brainer, and the new space on Melrose Place was designed to reflect the SoCal landscape surrounding it.
"When you do a store, you should do it close to where you are so you can oversee it and develop it and learn from it," says Grede. "L.A. just seemed like the most natural place. I don't think we even considered anything else." Architect and fellow Swede Christian Halleröd designed the Melrose Place store. The 1,550-square-foot space's overall look is a mix of California woodwork and natural light, thanks to large windows, blended with a scaled-back Swedish aesthetic.
"It has a Big Sur influence with a lot of wood, natural materials and nice big windows as we wanted the light to speak for itself," says Torstensson about the inspiration for the store. "It's a mix. Everything should always be a mix between London and L.A., like it says on the [Frame] label."
Grede says that in addition to carrying the label's full range of goods, the store will be a testing ground for new products, styles and cuts exclusive to L.A. "This will be our platform and place to experiment and have that conversation with our customer," he says. "That's what we're most excited about — to try new and unexpected things."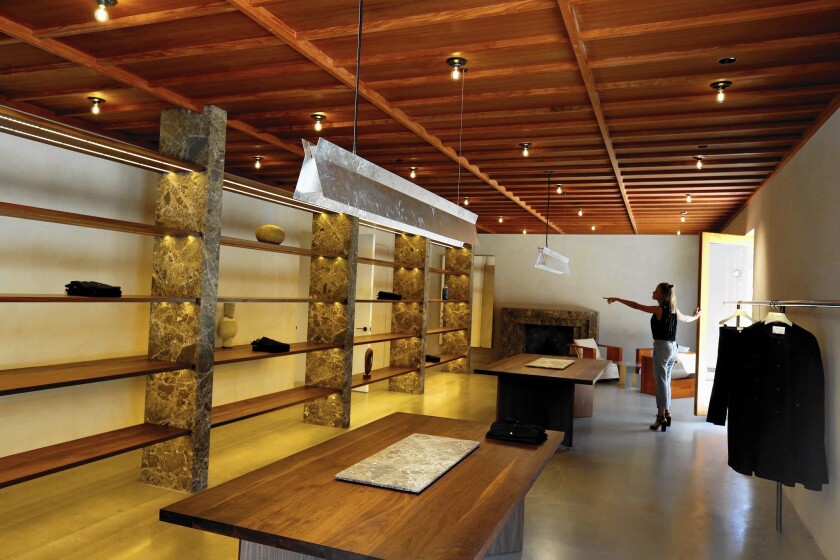 The duo says they are planning to open a store in New York by this summer and they eventually would like to open a second L.A.-area store, this time on the Westside. With their robust celebrity following and Grede and Torstensson's ability to add a cool factor to their line, having the second L.A. store might be perfect for their fans and customers.
"We would love to do a store on the Westside, Venice or even Brentwood, if the right space came up," says Grede. "I think [Los Angeles] is like two different cities on each side of the 405."
---