Urban wilds or great outdoors, Aether aims to be out and about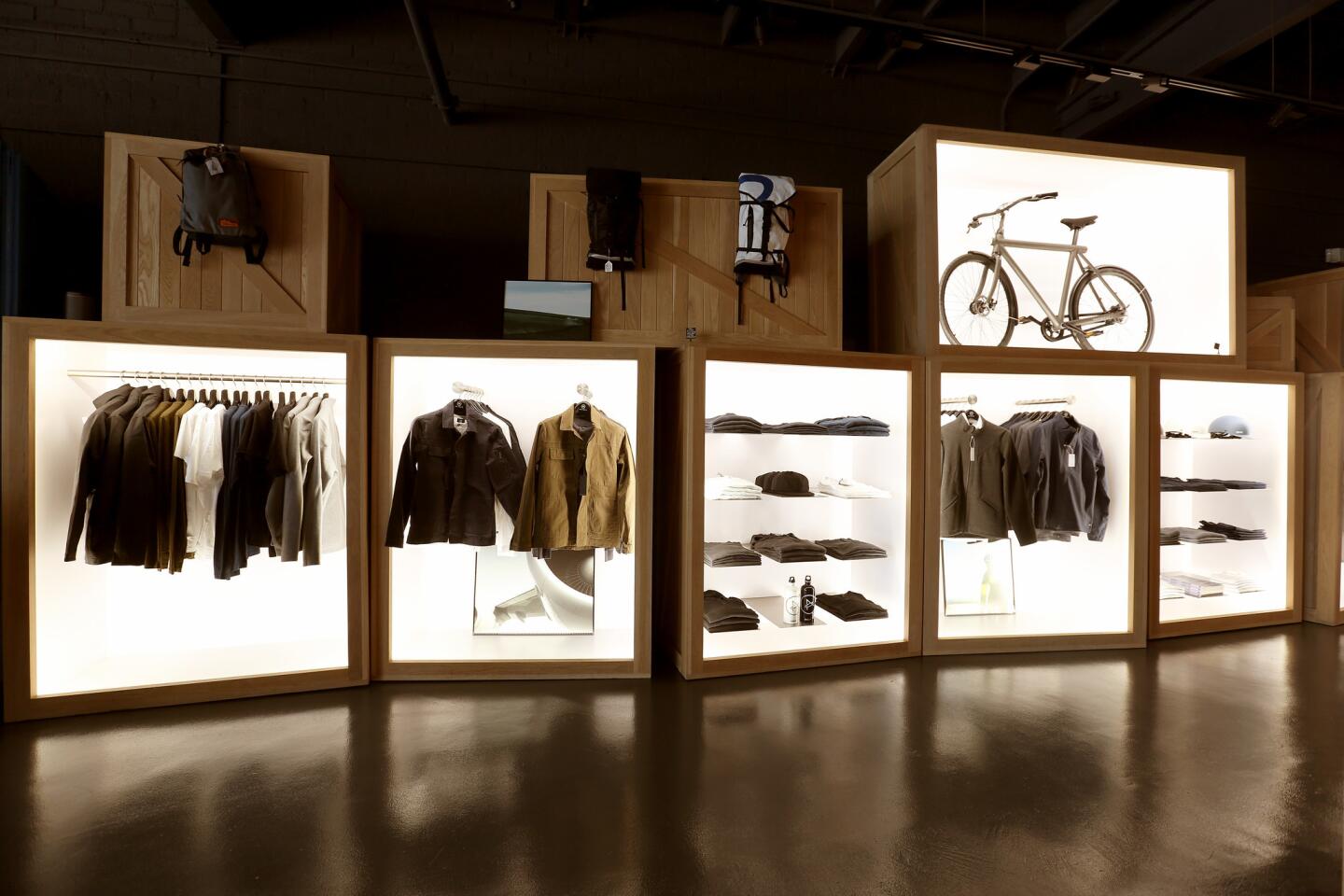 Luxury performance wear as fashion, Aether is an L.A.-based brand founded in 2009. We catch up with Jonah Smith and Palmer West to talk about their business at their La Brea Avenue flagship.
(Kirk McKoy / Los Angeles Times)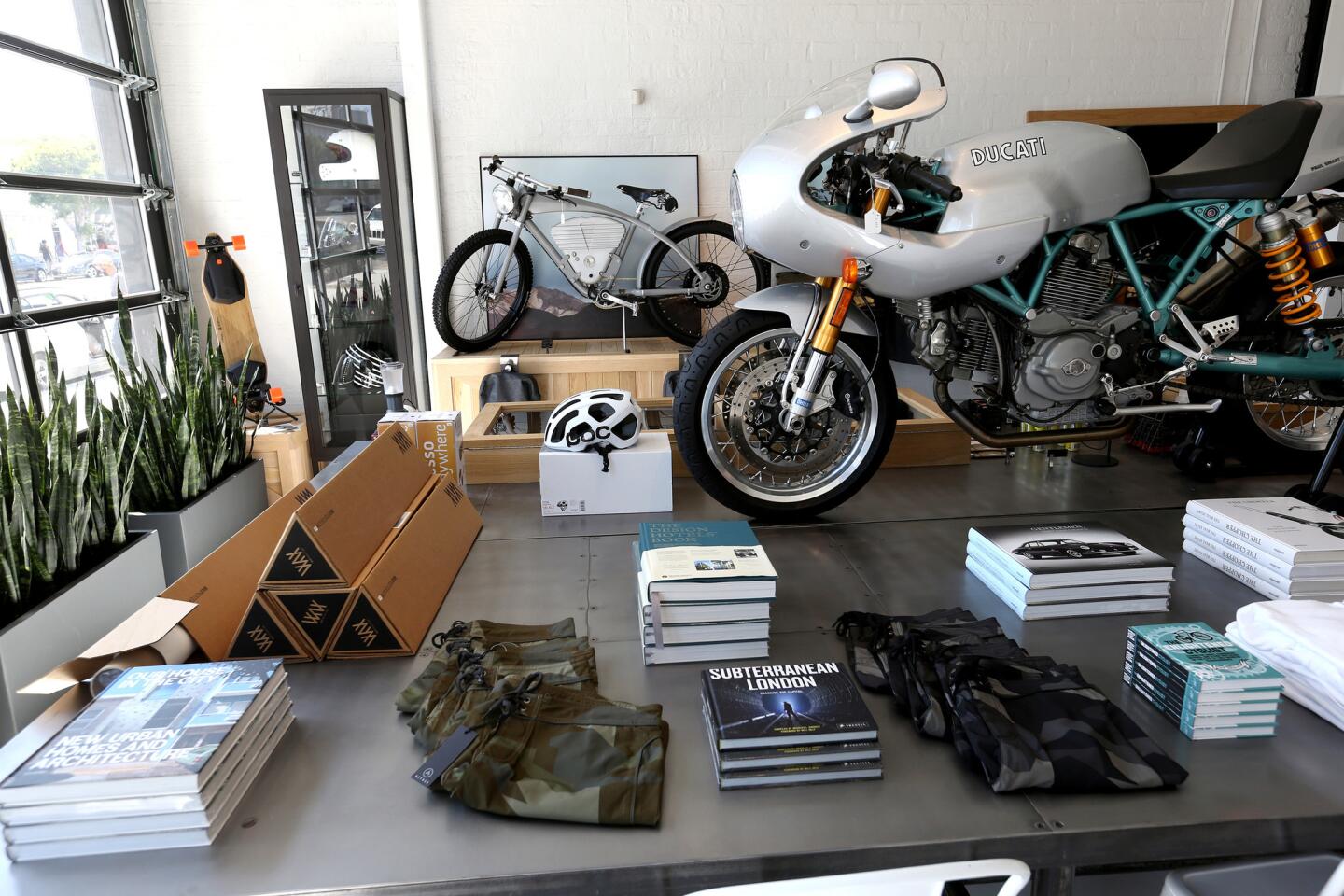 A $22,000 Ducati and in the rear a $6,100 electric bicycle inside Aether.
(Kirk McKoy / Los Angeles Times)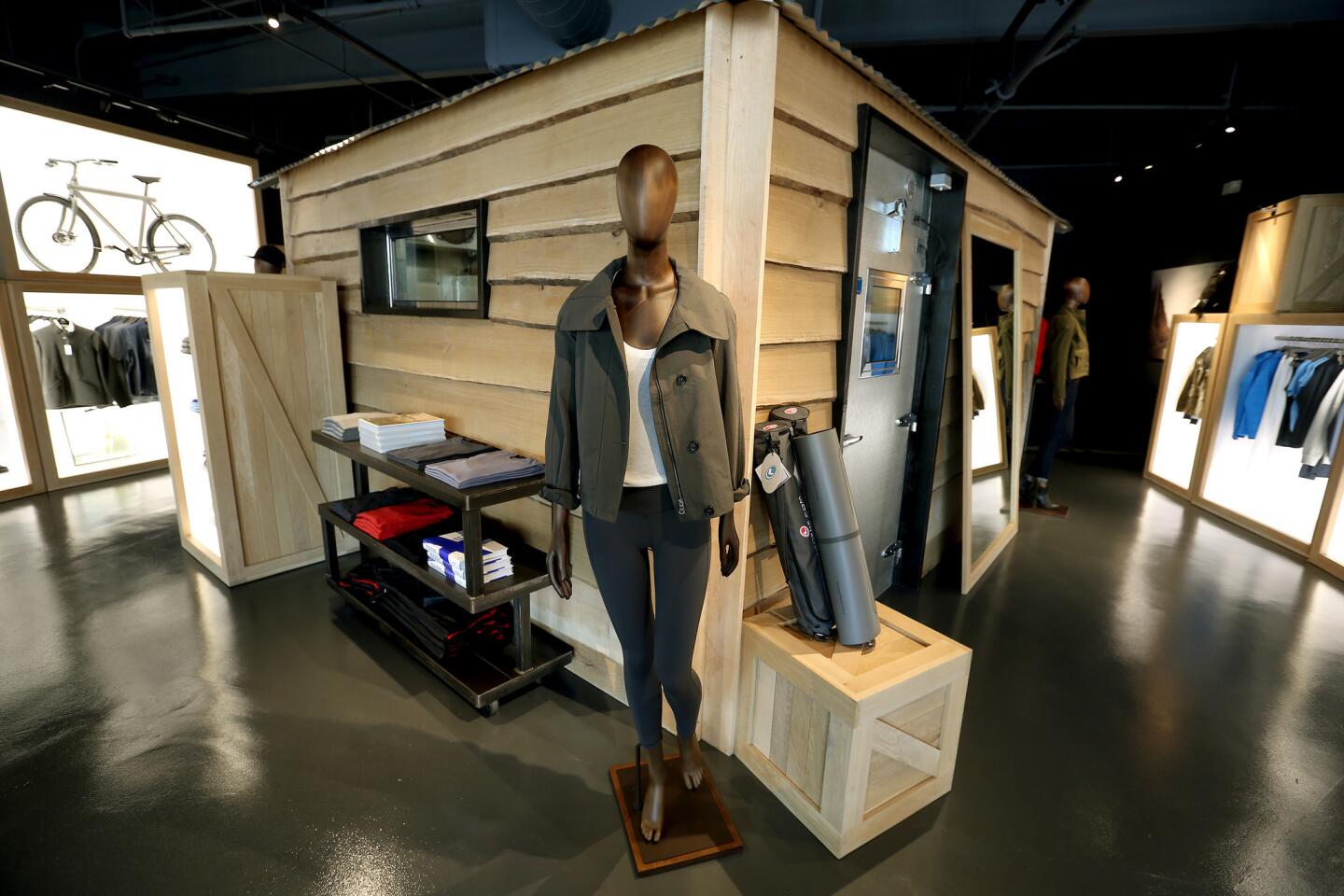 Aether features a freezer in the store for customers to try out the cold weather gear in a cold climate.
(Kirk McKoy / Los Angeles Times)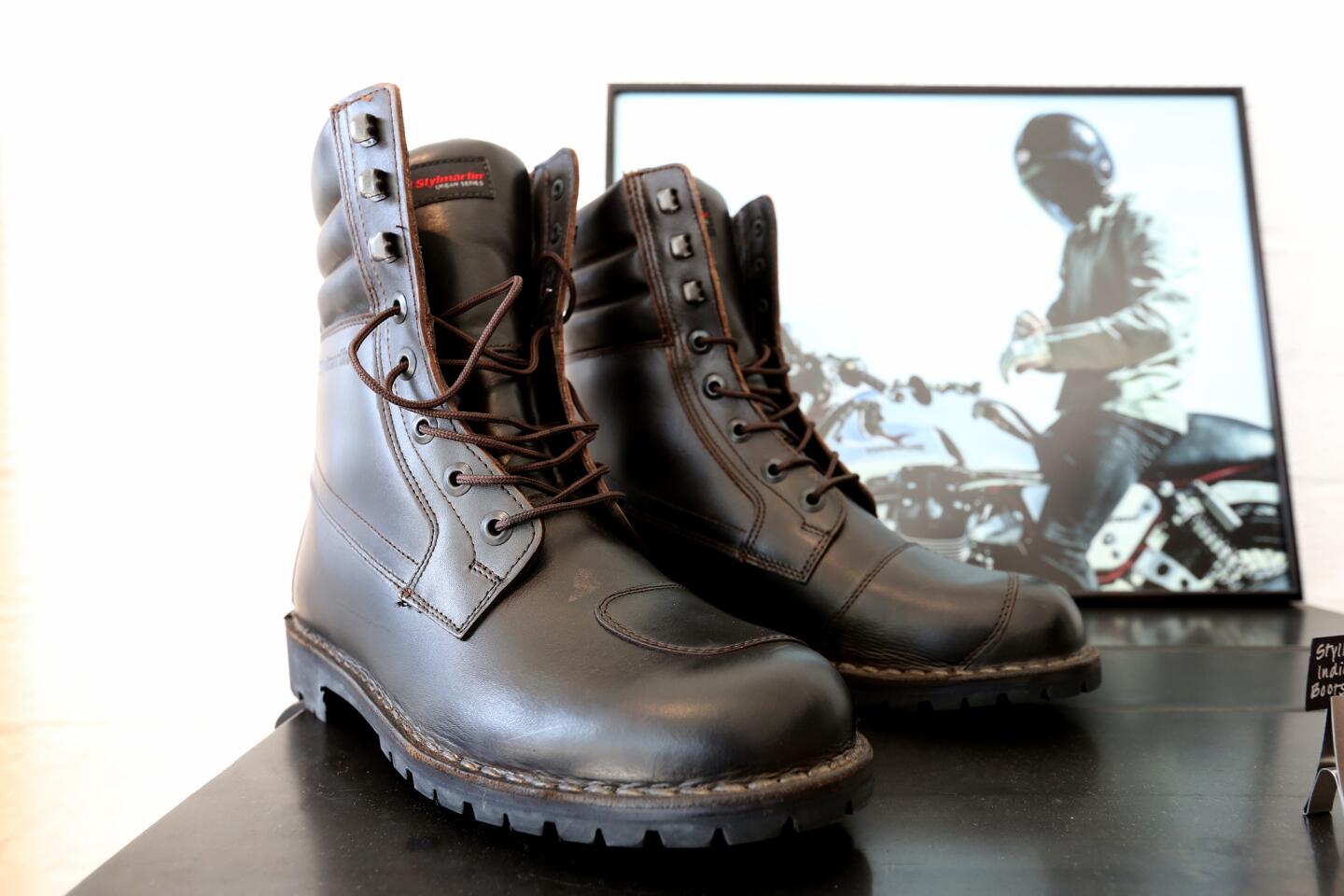 On display are a pair of $295 Slymartin Indian boots.
(Kirk McKoy / Los Angeles Times)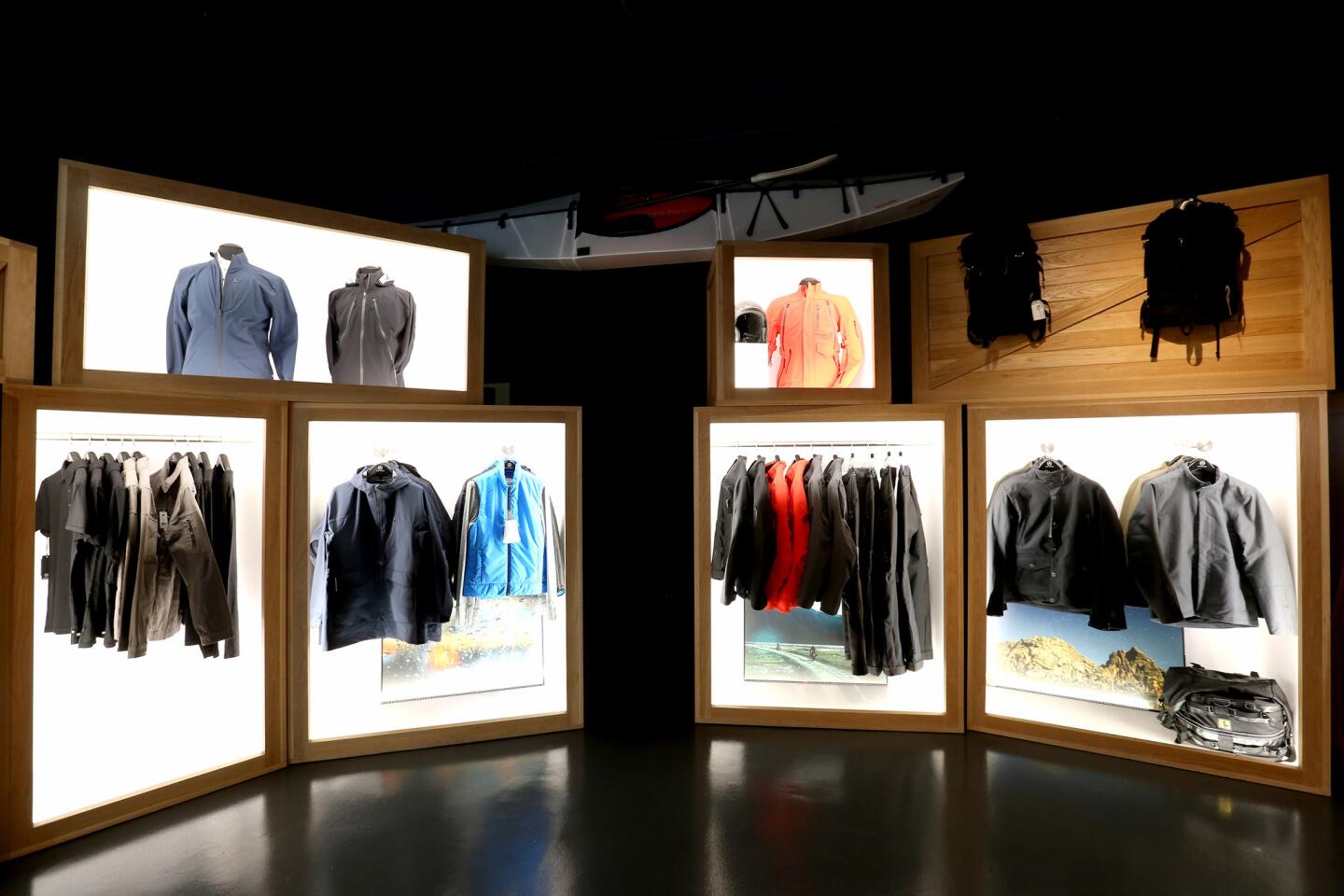 The clothes at Aether are on display in wooden shipping crates.
(Kirk McKoy / Los Angeles Times)
High-end sportswear flagship store Aether.
(Kirk McKoy / Los Angeles Times)
Exterior of Aether on La Brea Avenue.
(Kirk McKoy / Los Angeles Times)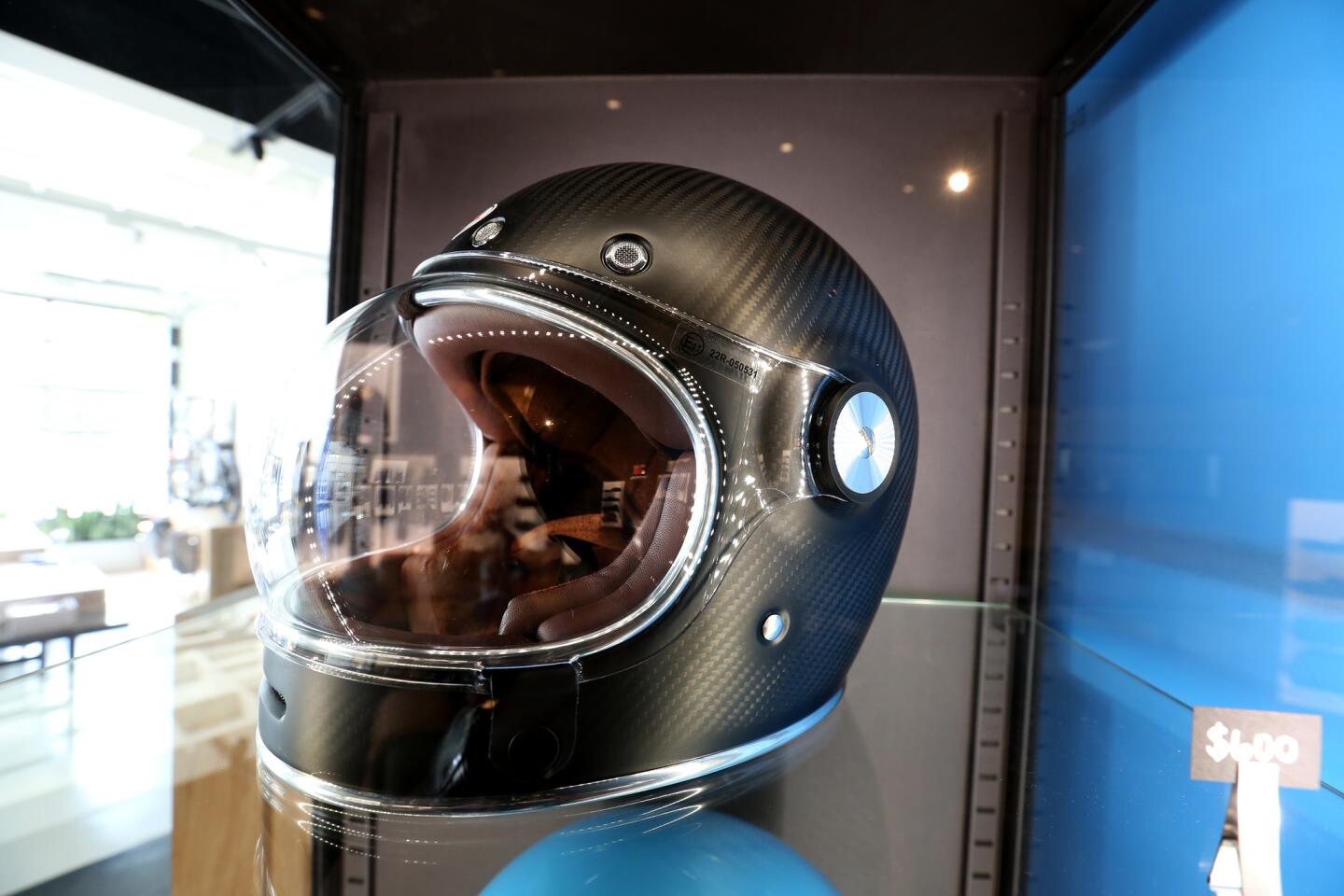 A $600 bubble-faced Bell helmet.
(Kirk McKoy / Los Angeles Times)
Jonah Smith and Palmer West at their La Brea Avenue flagship store.
(Kirk McKoy / Los Angeles Times)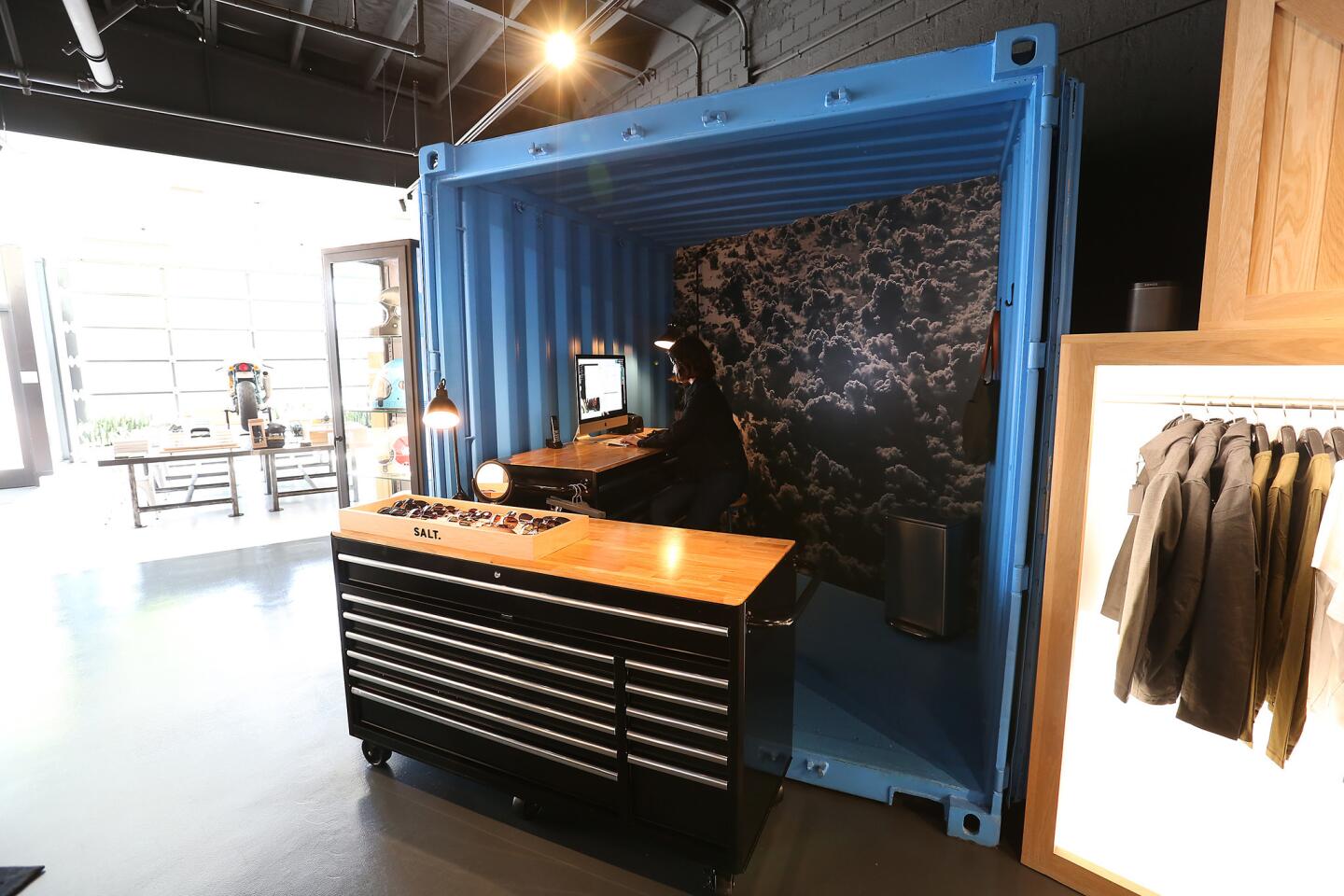 The checkout counter has a blue shipping container as a backdrop.
(Kirk McKoy / Los Angeles Times)
Los Angeles Times Fashion Critic
Aether Apparel is the rare outerwear success story from L.A.
Sick of ski wear that screamed logos and neon hues, former filmmakers Jonah Smith and Palmer West set out to make winter coats sophisticated enough to wear in the city. What started six years ago with six men's jacket styles has since evolved into a range of men's and women's performance gear and off-duty athleisure for mountain, motorcycle, gym and street. Smith and West are on their way to having a luxury sport lifestyle brand to rival Moncler, Belstaff, the North Face and Patagonia — and they've done it while avoiding the cliché Polar fleece
Their bread-and-butter is clothing for the cosmopolitan urban dweller, but what they are really selling is the weekend warrior dream. The Aether (pronounced ether, and meaning the upper air) brand ethos is built around the founders' own work hard-play hard, adventure-based lifestyle. So, whether they are taking their Fusion pants skiing on the fiords of Norway or their Expedition jackets on a group motorcycle ride from Milan to St. Tropez (with a private chef in tow), Smith and West are documenting their adventures and gear in photos for their Aether Journal in print and online.
Their new Aspen store, opening this month, is their fourth, adding to locations in New York, San Francisco and L.A.
The L.A. flagship on La Brea Avenue has a walk-in freezer, chilled to 9 degrees for coat testing, and a curated selection of man toys, including a $19,850 Ducati motorcycle, a $1,500 electric skateboard, a $2,000 folding kayak, a $174 axe and books on subjects such as subterranean London and container architecture.
"We're about design, architecture … espresso — embracing living in the city," says Smith, 43. "Because you can live in the city, have a real job and escape on the weekends."
The clothes appeal to gear heads who like to know what's under the hood and to the more fashion-minded who are looking to stand out by blending in.
"I travel the world a lot, and they are always the first items I pack," says Jonathan Ward, chief executive and lead designer at Icon Trucks in Los Angeles, an outfit that hand-builds vehicles costing around $150,000 to $300,000. "These days, it seems like you either have commoditized, high-volume, focused brands or artisanal niche creators lacking resources. Both involve so many compromises. Aether has managed to carve out a unique space."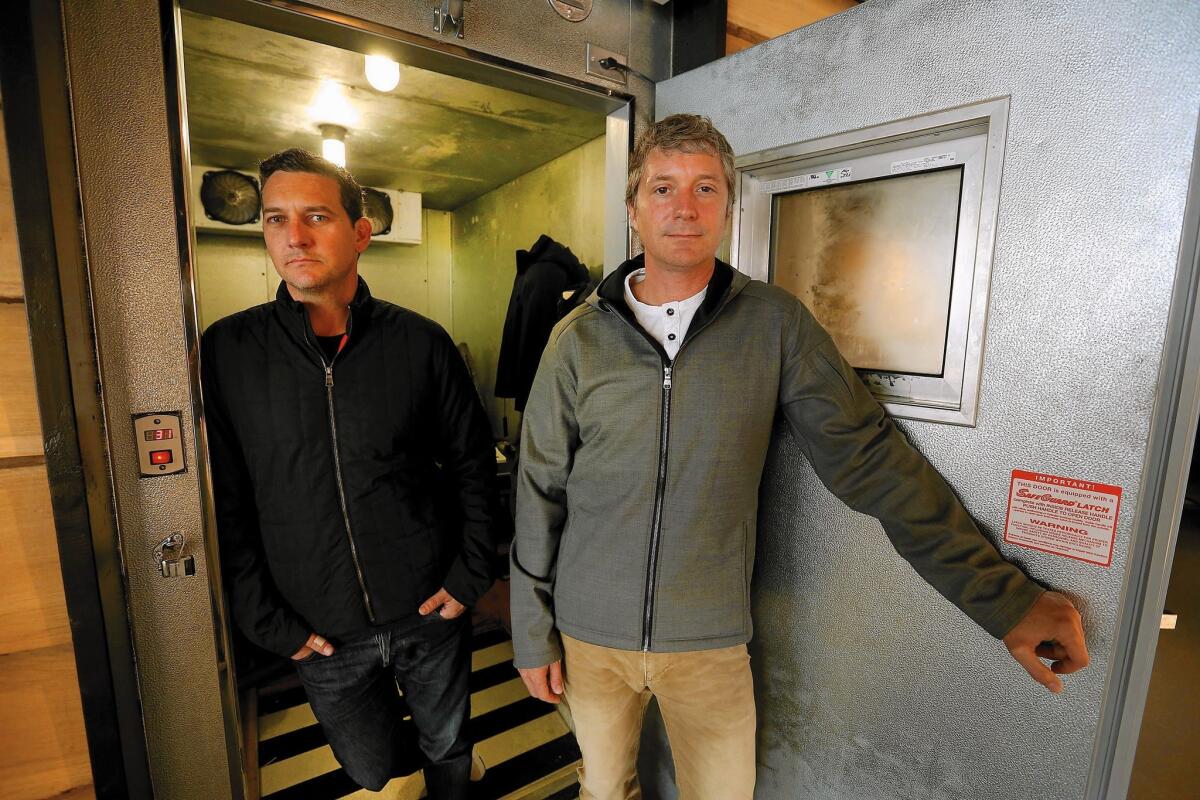 David Fischer, chief executive and founder of Highsnobiety.com, has been following (and wearing) the brand since 2010. "Aether entered the high-end sportswear category at a time when it basically did not exist yet," he says. "High quality performance materials meet minimal and timeless design, as well as subtle branding. … The outcome is the uniform that city nomads need nowadays."
In stores now for men, the camo-printed Alto jacket is a modern take on the English quilted field jacket, and the Nimbus jacket is a 3-in-1 weather system with a waterproof charcoal wool exterior that gives it a dressed up look. The Eclipse quilted leather moto jacket (designed in collaboration with Italian motorsport brand Spidi) is handsome enough to go to dinner but fully armored for rough riding. (The padding is removable.)
For skiing, the Fusion Shell is distinguished bycolor blocking, an ergonomic fit and a hood big enough to fit over a helmet. For lounging, quilted detailing elevates the Hybrid Hoodie to something special. And a no-stitch, welded-seam design on Aether's Oceanic board shorts prevents chafing while giving the shorts the versatility to go from surf to shop.
For women, the Capsule down parka with a hidden hood is pillowy soft but not so puffed that it isn't flattering. The Merino Half-Zip, curve-hugging ribbed sweater is '70s retro-good. Drawstring Everyday Pants come in a refined knit twill, making them stylish enough to wear with heels, and merino leggings are the ultimate base layer for Descent ski pants designed to make your rear end look good.
"We make activity-based things," Smith says. "Our mentality is: Can you do whatever you're trying to do and still go to work or dinner?"
Aether prices go from $45 for a tank top to $1,195 for a leather moto jacket. But most jackets are in the $395 to $695 range. Every piece has a lifetime guarantee.
Smith and West have been sharing an office for 20 years, first as film production partners, working on such indie titles as "Requiem for a Dream" and "Religulous," and eventually transitioning into the apparel business.
"Walking through stores we couldn't find things that spoke to us from an aesthetic standpoint as well as a fortitude standpoint," says Smith. "They were either very high fashion or super outdoor. We didn't want to be in either of those clubs."
They took 18 months to develop the first six prototype jackets. "It was funny getting started. Here's Jonah and I, who cannot operate a sewing machine or draw, trying to convince designers and production people that we had a vision," says West, 42.
The technical specs had to be solid — think sonic welded seams, three-layer Japanese nylon engineered to be both waterproof and breathable, and RECCO reflectors to bounce signals back to rescue teams — but the jackets also had to look good.
"We'd all been trained that if something is going to keep you warm and dry it had to be really over-branded and scream to you that it's technical," West says. "We're trying to let you be you."
Their concept resonated with independent retailers such as Scoop and Louis Boston, which wholesaled Aether for the first four years. The brand launched women's wear in 2012. Then Smith and West took their business on the road — literally, with an Airstream trailer pop-up shop that traveled to L.A., New York, Dallas, Boston, Seattle and beyond. The "mobile word-of-mouth machine" (a 34-foot trailer gutted and redone by French designer Thierry Gaugain) convinced them that they had enough customers to open their first brick-and-mortar store in San Francisco. For that space, Gaugain, used three shipping containers, designed a glass-encased cantilevered lounge and a belt-driven "dry-cleaner" style conveyor system. The L.A. store, also designed by Gaugain, has a similar, utilitarian traveler-inspired vibe.
The company is headquartered on Melrose Avenue and has 22 employees. Though they wouldn't share sales figures, Smith and West say Aether has been experiencing 30% to 40% growth in sales year over year. In 2016, they plan to open more stores — Seattle is in their sights. They are also expanding their apparel range, getting into more colors and categories. But don't expect sneakers and jeans from Aether any time soon — or a fleece, unless they find "a fabric that elevates it."
"I don't know if you really want to buy everything from one company anymore," says Smith. "People want to be individualized."
West agrees. "We're not trying to be Dockers. We need to have a point of view for the designs."