What's in Alana Hadid's closet? The busy fashion maven takes us on a style tour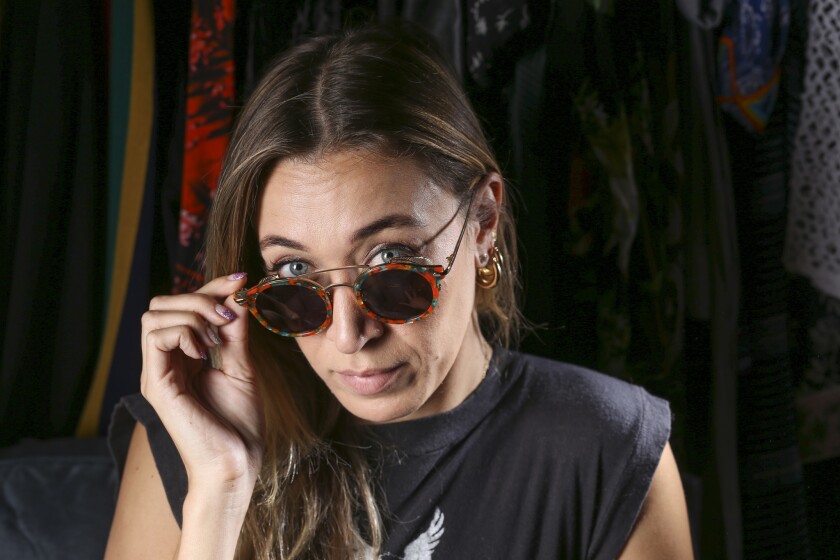 Alana Hadid's 162,000 Instagram fans may pale in comparison with her supermodel half-sisters Gigi and Bella, who respectively count 36.1 million and 15.2 million followers and hold contracts with Tommy Hilfiger, Maybelline, Max Mara, Nike, Reebok, Dior Beauty and more.
Yet their 34-year-old sibling, who describes her style as "a solid mix of vintage and current fashion … eclectic, unique and a bit androgynous," is busy creating fashion labels — another Hadid brand — all of her own.
For the past four years, Hadid has worked as a personal stylist at Curve boutique in West Hollywood, but she walked away from that pursuit earlier this year to focus on her many business ventures.
Hadid, wearing an array of local brands — Citizens of Humanity jeans, a Raquel Allegra sweater, red snakeskin-embossed studded Rodarte booties and jewelry by Jacquie Aiche, invited us into her closet, a converted bedroom in her West Hollywood apartment that houses her gowns as well as other clothes arranged by color and style, to talk fashion and her latest business moves. (A sign above the adjacent bathroom reads "By Appointment Only." Noted.)
---
The classic white tee
Hadid stumbled into the launch of online T-shirt company Current Moji (currently on hiatus) in April 2015. The classic white unisex tees, embellished with cheeky emoji logos such as "Trophy Wife" and "Weed Doctor" ($35 each), took off after Gigi Hadid posted a selfie donning the "Chillin" style at the Coachella music festival on Instagram.
"I don't want to discount it, but I think my sister only had a million followers at the time," Alana Hadid said. "We got a lot of orders from that. And it continued on its own, but we weren't expecting to launch. We really didn't have a choice. Thank God my boyfriend designs websites."
Eyewear daddy
Last February, Alana Hadid debuted Hadid Eyewear in partnership with her father, Mohamed, and 37-year-old sister, Marielle (their mother is Mohamed Hadid's first wife, Mary Butler).
"My father is obsessed with sunglasses. If you look at social media, you'll see that he's wearing them all the time, and I've always loved and collected them. So it seemed like a natural progression," said Alana Hadid, who admits to having at least 200 pairs in storage.
"We have a good friend [Andy Bilinsky of lensabl.com] who has been in eyewear for a long time so it jelled quickly. It kind of scoffs in the face of $300 to $400 sunglasses because our product is substantially made with high-end acetates and metals for $149 to $169. What's the point of making them out of the realm of possibility for people to buy multiple pairs?"
Manufactured in China, the seven styles are inspired by family members: the Captain for Mohamed, Frequent Flyer for Alana, the Runway for Marielle and the Nomad for 18-year-old model and half-brother Anwar; Gigi and Bella's styles could not be disclosed because of potential conflicts with their contracts.
"Classic aviators and round frames look good on any face," she said. "Make sure to smile and make a few expressions when you try on glasses."
Unisex denim jackets
On Oct. 30, Hadid introduced the La Detresse line of four unisex denim jackets ($385-$440), made in downtown L.A. in collaboration with fellow Curve fashion stylist, Emily Perlstein.
"It's every iteration of denim from raw to completely distressed, dyed and washed, based on different vintage jackets that I love. I like the idea of making things that can easily be shared by men and women," said Hadid, who also has a handbag line in the works, due out next spring.
And in a potential move to democratize her A-list moniker, one of Hadid's La Detresse jackets has the phrase "Famous Last Name" hand-embroidered on the back.
For fashion news, follow us at @latimesimage on Twitter.
ALSO
Alana Hadid, half-sister of Gigi and Bella, launches an eyewear line with their father Mohamed
Platt Boutique Jewelry and Kit Vintage bring clothes and jewelry together in Fairfax district; DTLA Ritz-Carlton offers spa services with a chocolate twist
Hermès sets up a laundromat-style scarf pop-up at Westfield Century City; Max Mara to bring 'Wrapped in Luxury' exhibit to Beverly Hills
---