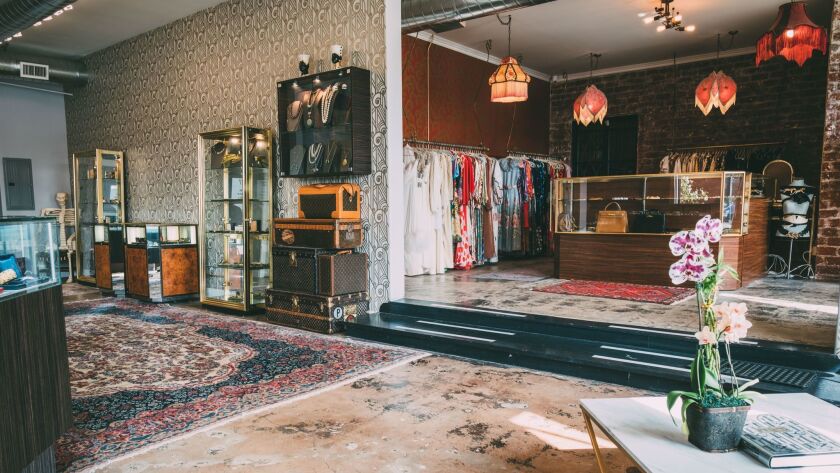 In its previous incarnation, Platt Boutique Jewelry in West Hollywood featured a couple of racks where jewelry store founder Larry Platt's wife, stylist Robyn Goldberg, displayed some vintage clothing she had sourced. So when people came in to browse through Platt's Art Deco and Victorian baubles, they had an option to look through Goldberg's Gucci and Yves Saint Laurent tops and dresses under her marquee, the Kit Vintage.
In a new Fairfax district space — at 2,000 square feet twice the size of the original — jewelry, clothing and handbags share equal billing.
"They definitely feed off one another," Platt said. "Now, we also have people coming in specifically for the clothing." The store opened earlier this year, and had its official grand opening on Oct. 24.
Platt's line of antique jewelry stretches back to the 19th century, while the designer labels at the Kit Vintage span about 1940 to 1970. Platt said all things vintage remain on trend.
"Especially in Los Angeles, where everyone wants what nobody else has," he said. "And the vintage world has had new life breathed into it because of social consciousness. People like the idea of things being recycled."
Clothing prices start at $100 and the jewelry at $500.
The Mighty Co.
Since their launch in May of last year, the fitted jackets from the Mighty Co. — think racer, bomber and biker styles — have been so popular that the brand's founder, visual artist Jessie Willner, decided to open a brick-and-mortar space.
"I wanted something that feels like one giant dressing room for girls to try on the jackets," she said about the pale pink and cool gray marble space. "Our studio is in the back so we can offer customization on site."
The focus remains exclusively on jackets. "People like to hold on to their jackets," she said. "I loved the idea of something in fashion that felt more permanent."
Willner sources her fabrics from Europe, including the French mill that produces for Chanel, and she makes all her pieces in Los Angeles. Bowing this month are her resort offerings, which were inspired by "metallic things and bright colors mixed in with more subdued colors." Key looks include a reversible silk bomber that is a combination of hot pink, red and blue and a '70s-influenced racer in pale and dark blue emblazoned with stars.
The 3,200-square-foot space is shared with Los Angeles men's clothing brand Bordo and creative production company NYLA.
---
This story originally said all pieces from the Mighty Co. are made in Los Angeles. Some products are made in Los Angeles, while others are made elsewhere.
---
The Great
In each of their previous lookbooks, designers Emily Current and Meritt Elliott featured their models in vintage-inspired ankle boots, and as a result, were besieged with inquiries from fans of their women's label, the Great.
In September, the Great launched its first shoe, a vintage-inspired ankle boot in artfully worn leather and in colors such as black, cognac and cordovan (a rich Bordeaux). The sturdy Boxcar boot is a fitting accent to the billowing dresses and Nerd jeans that the Los Angeles-based brand is known for. The boot is a precursor to a full shoe line that will bow next spring.
The Ritz-Carlton
On the beauty front, the spa at the Ritz-Carlton hotel in downtown Los Angeles is appealing to chocoholics by making the indulgent ingredient a core feature of a limited-edition series of treatments.
In a collaboration with chocolatier Valerie Gordon, the spa in mid-October unveiled offerings such as the Chocolate Peppermint Pedicure, which uses a lavender-chocolate scrub made with 100% pure organic cocoa oil; and the Chocolate Spice Organic Facial, which uses a mud infused with cinnamon and sage. For the Chocolate Glow Body Ritual, clients are slathered with a chocolate-creme mask.
Treatments are available until the end of the year, and are priced from $95 to $185, which includes a box of edible treats.
Please consider subscribing today to support stories like this one. Already a subscriber? Your support makes our work possible. Thank you. Get full access to our signature journalism for just 99 cents for the first four weeks.
---