For some, a trip down the Golden Globes red carpet begins with a visit to the Albright Fashion Library
Smart stars get their red carpet glamour on for a thousand bucks at the Albright Fashion Library, a sartorial fantasyland of vintage and contemporary gowns for rent in Beverly Hills. Longtime stylist Irene Albright and her glam squad help nominees l
As far as libraries go, the one that former stylist Irene Albright has opened in a glass-walled mansion on a cul-de-sac atop Beverly Hills' Trousdale Estates neighborhood is as glamorous as it is useful.
Known as the Albright Fashion Library LA, the venue doesn't lend a single book. Instead, in-the-know stylists, celebrities and other fashion-loving consumers can rent more than 7,000 items from high-end designers and labels, including Tom Ford, Saint Laurent, Alexandre Vauthier, Gucci and Elie Saab that filled the many rooms of the roughly 5,200-square-foot space.
In the days preceding this year's Golden Globes (scheduled to take place Sunday evening), the rental house has been welcoming clients for personalized appointments — about 10 a day — to sift through rainbow-colored racks of gowns, drawers brimming with bracelets, rows of purses and stacks of shoes. A flat fee of $1,000 covers the rental of a dress, a pair of heels and a purse to wear to an event. Like at a posh boutique, visitors can sip on complimentary coffee, tea and bottled water under sparkling chandeliers, while stopping to pet Albright's bulldog, Gus, between fittings to find the perfect outfit.
Among the many beautiful things to try on during a recent visit were an '80s-inspired green silk dress from Alessandra Rich's current fall/winter collection that reveals subtle sexiness with an asymmetric cutout across the chest and a side slit, and a delicate Delpozo gown, pleated from pastel orange silk and chiffon that originally retailed for $6,400 and was recently selected by stylist Law Roach for Anne Hathaway to don in an ad campaign. Albright's accessories include embellished T-strap heels by Alberta Ferretti, a crystal choker from Alexander McQueen and a mother-of-pearl clutch by Emm Kuo. The shoes range in size from 6 to 12 and the dresses run between 0 and 10. (Sorry, guys, you'll have to rent your tuxedo somewhere else; the library currently focuses on looks for the ladies.)
"A lot of these gowns, you can't find anywhere else," said John Koglikowszki, creative director of the library's offshoot creative agency. "We spend $2 million a year on new inventory."
Opened in 2015, Albright's L.A. library stocks about a third of the number of items stored in her New York location, which was launched 29 years ago. The other point of difference is that "L.A. is built on glamour and fantasy," Albright emailed from India. "It's a bit more rock and roll sexy and edgy."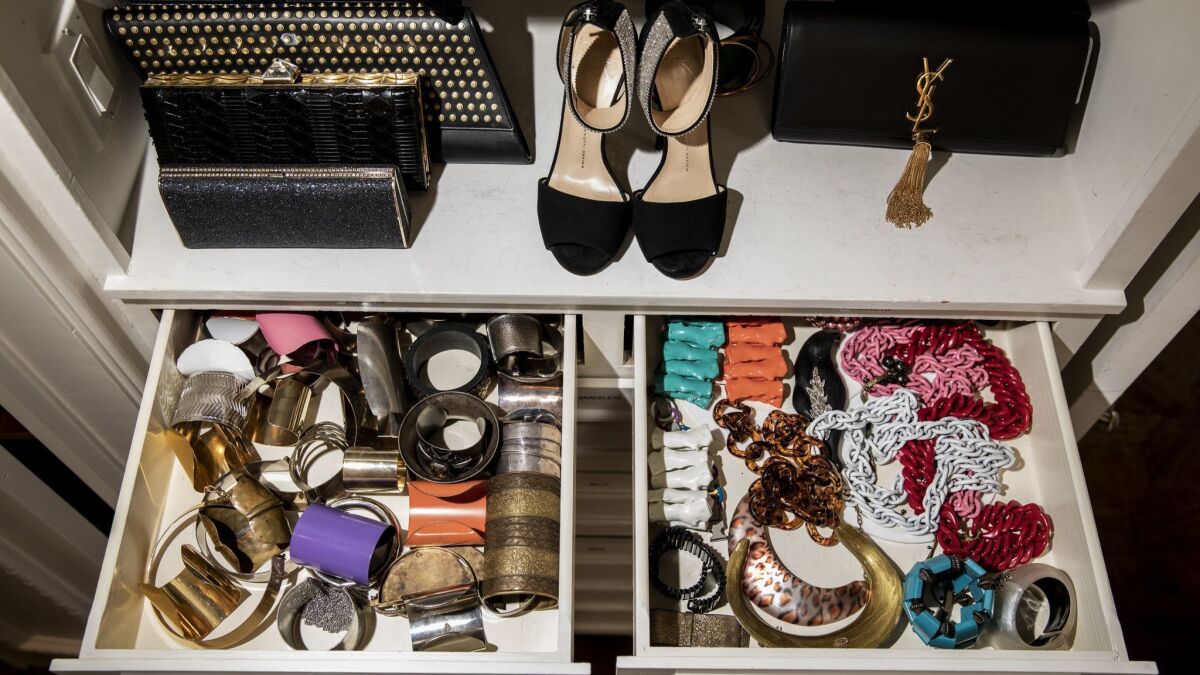 Based on what Koglikowszki and showroom director Kelsey Norris have helped clients pick for the Golden Globes, the trends for the red carpet at the Sunday awards ceremony are leaning toward asymmetrical shapes, structured silhouettes and sheer fabrics. "It's not boring at all," Koglikowszki said. "If anything, [the attitude is] more and more like 'I'm going to be experimental and different and fun.'"
Soon, women will be able to wear Albright's own designs on the red carpet. In collaboration with London-based designer Satyam Abhishek Advani, she's refreshing classic tailoring with gems and chiffon.
"The collection I'm creating is all about light," Albright said, adding that the inspiration is apt because, after all, "I was drawn to L.A. because of the brilliance of the light."
Albright Fashion Library LA, open by appointment only, 620 Cole Place, Beverly Hills, (424) 274-3510, albrightla.com.
---