Allbirds opens a pop-up shop featuring footwear and specialty food and home goods at Grand Central Market
Tim Brown, a British-born former professional soccer player from New Zealand, noticed an opportunity in the footwear market for minimalist, nonperformance sneakers. So he reinvented a simple lace-up tennis shoe in soft New Zealand wool and launched a Kickstarter campaign in 2014 that quickly raised $120,000.
An investment round a year later attracted an additional $2.25 million, with contributions from Jeff Raider and David Gilboa, co-founders of affordable eyewear brand Warby Parker.
By then, Brown had partnered with Joey Zwillinger, a business-savvy friend working in the biotech industry. He also upgraded the shoes with a super-fine merino wool spun into fabric by the 153-year-old Italian woolen mill Reda, which supplies to luxury brands, including Tom Ford and Giorgio Armani.
"There's this evolution in branding," Brown said during a recent interview. "When you look back at Ralph Lauren and Tommy Hilfiger, they were all about logos and marks and almost an emblem of a lifestyle. I think the new types of brands, the Everlanes and the Warby Parkers [and us], don't have overt markings. We're more about community and story and product innovation."
In March 2016, the direct-to-consumer, San Francisco-based Allbirds brand officially debuted with its Runner style ($95, www.allbirds.com). (The label's men's and women's shoes are manufactured in South Korea.) Months later, another round of funding brought in $7.25 million from Maveron, a fund backed by former Starbucks chief executive Howard Schultz.
Now the business is dipping its toes into bricks-and-mortar spaces. In May, a flagship Allbirds store debuted in San Francisco, and starting today, an Allbirds pop-up shop, in partnership with three Los Angeles brands, will be open in Grand Central Market on Broadway in downtown L.A. through July 31.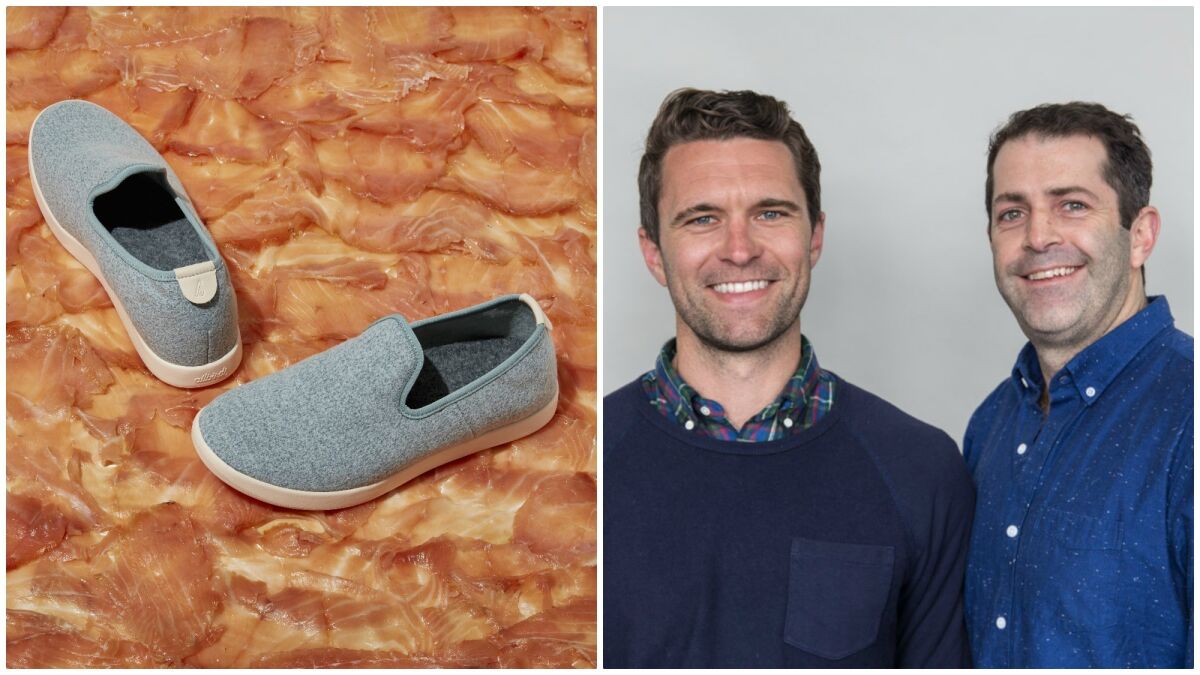 Creating a comfort zone
Allbirds' cozy, machine-washable sneakers, designed to be worn without socks, have been donned by Ryan Gosling, Emma Watson, Matthew McConaughey and wife Camila Alves and others. Affordable and devoid of branding hoopla, the shoes appear to beg for a label such as "normcore," the style lexicon referencing generic-looking basics with hipster appeal.
"There's always a bunch of buzz- and trend-words around the narrative of a new style emerging," said Brown, who lives in San Francisco. " 'Anonymous luxury' and 'athleisure' are others, but I think what's going on is something greater. It's a fundamental shift in the way that we work and the way that we play, and comfort is the big driver. You no longer have workwear and homewear. You have stuff you wear all the time."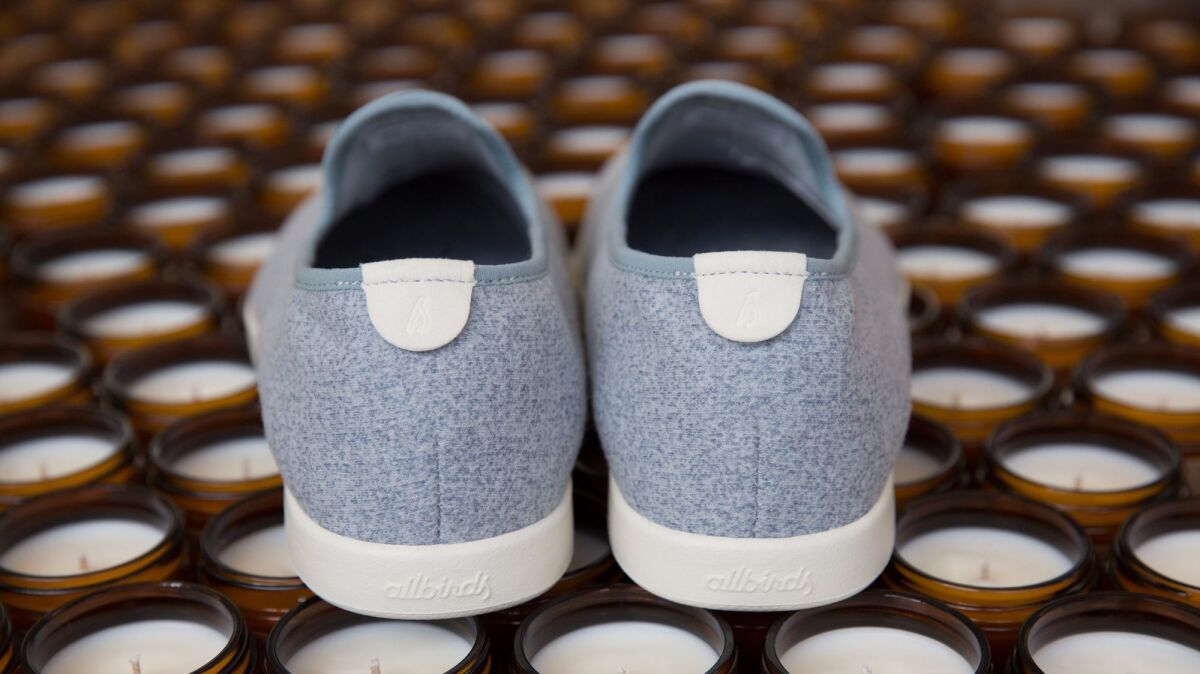 Making the L.A. connection
For the Los Angeles pop-up, Allbirds teamed up with P.F. Candle Co., Grand Central Market vendor Wexler's Deli and wood furniture and accessories business Boyce Studio to create three limited-edition versions of its slip-on Lounger shoe ($95), which debuted in April.
The pop-up will also offer three collaborative products. Allbirds teamed with P.F. Candle Co. on soy candles inspired by lake air, wildflowers and herbs in the Otago region of New Zealand — it's the area where Allbirds sources its wool — with notes of moss, sweetgrass, vetiver, cedarwood and honey ($18).
The candles are joined by Allbirds and Boyce Studio's paint-splattered, bleached maple planters ($32) and Allbirds and Wexler's Deli's New Zealand Ora king salmon cured with Maori bush herbs (and smoked over Manuka wood) served on a bagel with a side of potato salad or coleslaw ($13).
Brown said Allbirds enjoys working with nonfashion partners. It has had similar pop-up shops in San Francisco (a collaboration with an ice cream brand, floral shop and cafe) and in Wellington, New Zealand (with a craft brewery, chocolate brand and coffee maker). There also are plans for an upcoming location in New York's SoHo neighborhood this fall.
"Comfort, great design and natural materials are the three things at the core of what Allbirds is all about, and these brands are looking at the world in the same way that we are," Brown said. "As we look to go into new cities with retail, we love the idea of doing it with businesses that share our values."
Fashion Videos
For fashion news, follow us at @latimesimage on Twitter.
ALSO
The trendiest shoe of the summer comes from SoCal skate parks, not New York runways
John Paul DeJoria, billionaire co-founder of Paul Mitchell hair-care brand, shares his 'Good Fortune' and more
The DTLA Louis Vuitton X Supreme pop-up shop has popped down — at least for now
---