Al Pacino, Quincy Jones receive honors at American Icon Awards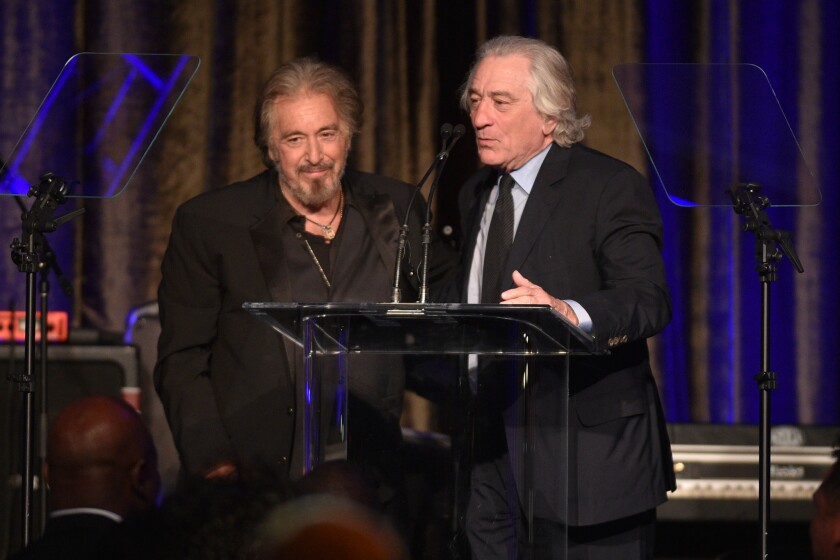 Hollywood's elite came together Sunday for the first American Icon Awards, which honored actor Al Pacino, former pro boxer Evander Holyfield, music legend Quincy Jones, humanitarians Jonathan D. Fischer and Christine Avanti-Fischer and NFL veteran Devon Still.
Held at the Beverly Wilshire Hotel in Beverly Hills, the black-tie gala fundraiser raised thousands of dollars for three children's charities, St. Jude Children's Research Hospital, Autism Movement Therapy/Autism Works Now! and Ignited.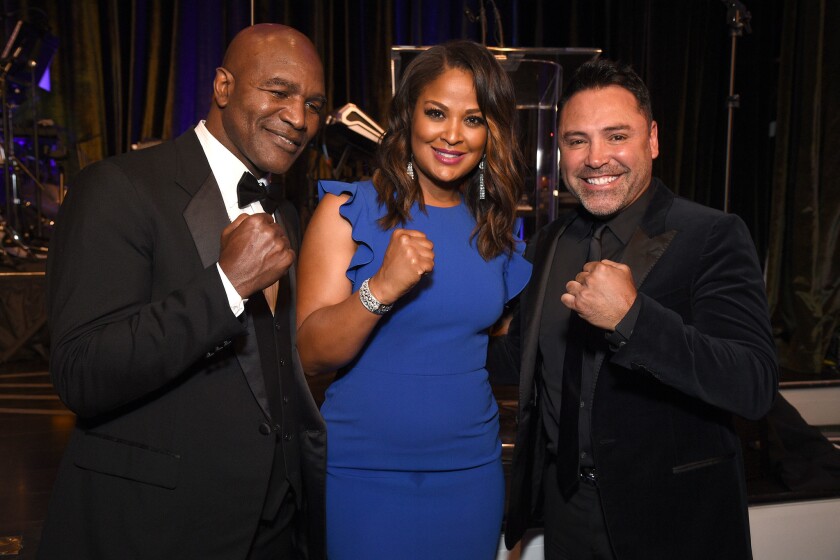 Other celebrities in attendance were Sylvester Stallone, David Foster, Katharine McPhee, Naomi Campbell, Oscar de la Hoya, Laila Ali, Joe Mantegna, Wendi McLendon-Covey, Phil Donahue and Marlo Thomas, Matteo Bocelli, Jackie Cruz and Sebastian Maniscalco.
The background
The awards gala was the brain child of Joseph Clapsaddle, a veteran nonprofit fundraising and Hollywood event producer.
"Having spent my career working in entertainment and with nonprofit organizations in separate ventures," Clapsaddle told The Times, "I wanted to combine them to affect change, developing a high-profile awards show, which would focus on recognizing and honoring individuals who have made and continue to make significant leadership contributions as well as being a positive influence and inspiration to society."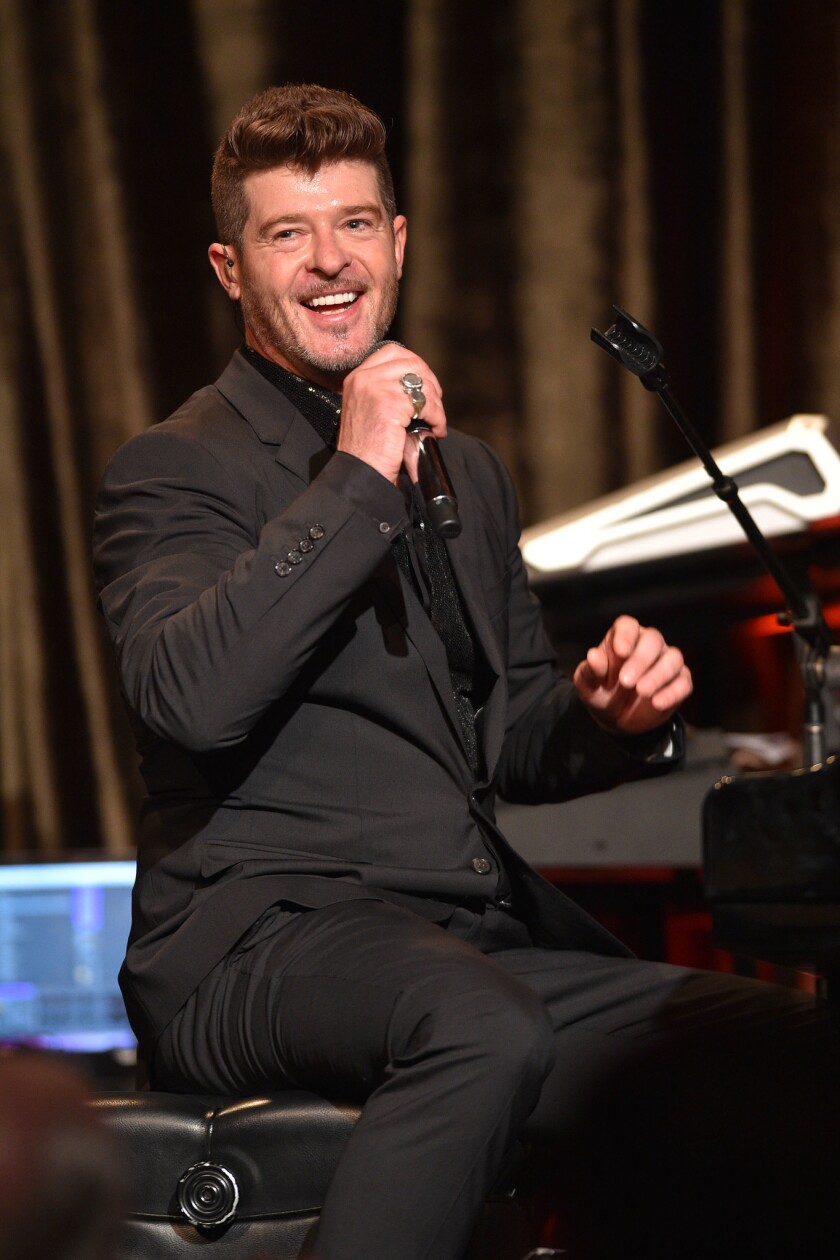 Clapsaddle asked Pacino to be the event's first icon honoree, especially because of Pacino's work with St. Jude.
Between live and silent auctions, corporate sponsorship partners, and ticket sales, the fundraising efforts yielded a great evening. The live auction alone raised almost $100,000. (So far the event has raised more than $500,000.)
During the event, singer Robin Thicke entertained guests with a few songs.
"To me, an icon is someone who creates and inspires individual, original greatness, brings people closer together, and makes the world a better place," Thicke said. "Quincy is all that and more, and I was honored that he asked me to be a part of his special evening!"
The Pacino moment
Pacino was emotional watching his film montage tribute before being presented with his award.
"This has been, of course, the warmest of evenings," he said. "I felt at home and the charitable aspect of what was going on was enormously encouraging. You could feel the love. … There was philanthropy in the room, and to know that goes on and to see it upfront is especially relevant. … The hope was palpable, and I loved that."
Then he added: "As time goes on, we simply have to see that is our main force in life: giving all the help we can when we can for those less fortunate."
The entire event appeared to have an overwhelming effect on the veteran actor.
"I'm glad my daughters were there with me, it kept my knees from buckling. You go through life, especially when working, and you're not aware of yourself, you're just not. Then you get all this attention in one night and it's startling. So you try to live in the moment."
Onstage, Pacino's lifelong friend Robert De Niro presented Pacino with the award. The actors appeared together in "Heat," "The Godfather Part II," "Righteous Kill" as well as the upcoming Netflix film "The Irishman."
"Bob is a great artist and a dear friend — that combination just makes it easier for me — because I'm an innately shy person," Pacino said. "When I'm in a public situation and don't have a character to play, I have a tendency to get a bit tongue tied and have a difficult time expressing myself. So if God willing, there's another event like this, I will make sure I have someone who can write a speech for me!"
The quotes
During his loving comments about Pacino, De Niro still managed to get in a few barbs directed at President Trump.
"You didn't think you were gonna get away without a … Trump moment, did you!?" De Niro said. "The individual who currently purports to lead America is not worthy of any tribute — unless you think of his impeachment and imprisonment as a sort of tribute. Now that's how you can make America great again."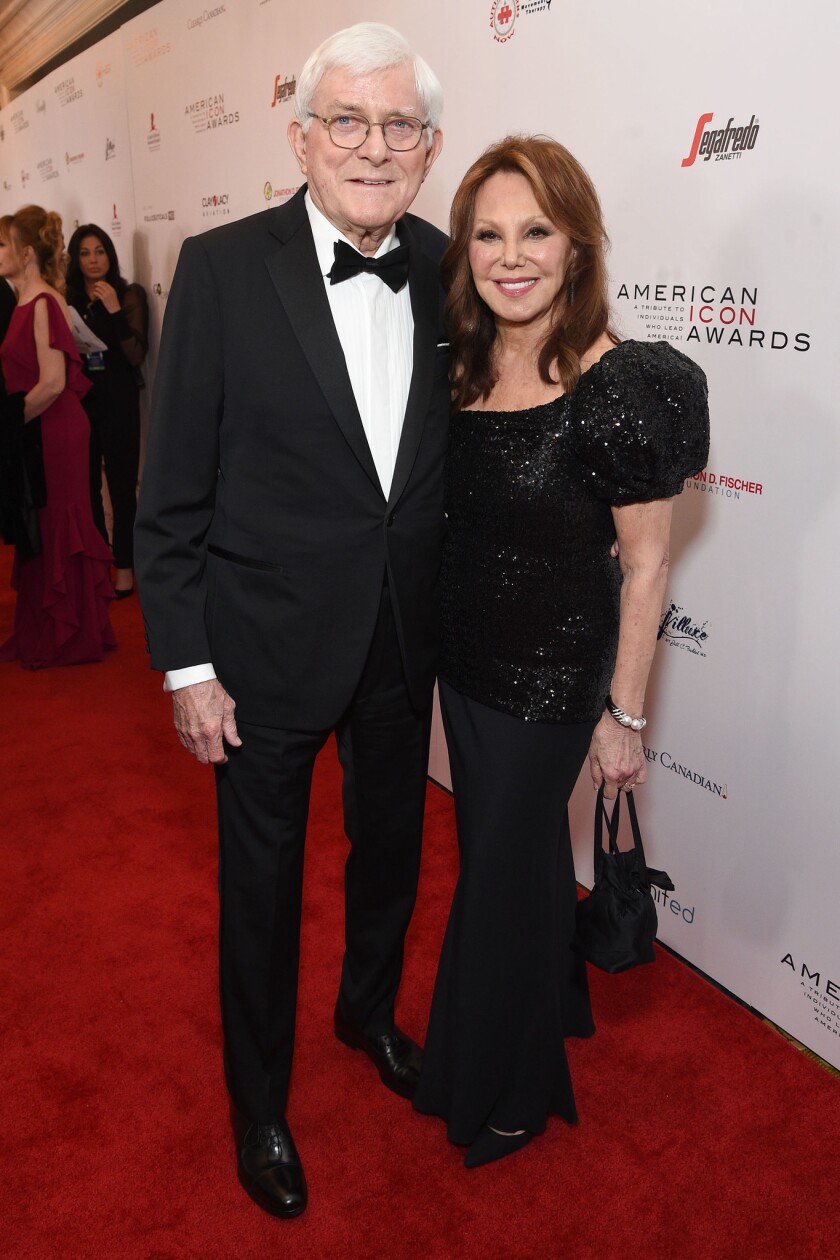 Another moment of note was in Thomas' rousing speech in which she addressed the many impressive breakthrough achievements of St. Jude, the charity research hospital her father, comedian Danny Thomas, started in 1962.
"All of this was accomplished by a group of first-generation Americans who wanted to thank this country for opening its arms to their parents," she said, "men and women who arrived on these shores with all of their belongings in cloth sacks and the dream of a new and better life in their hearts. If that doesn't prove what immigrants bring to this country, I don't know what does."
On the carpet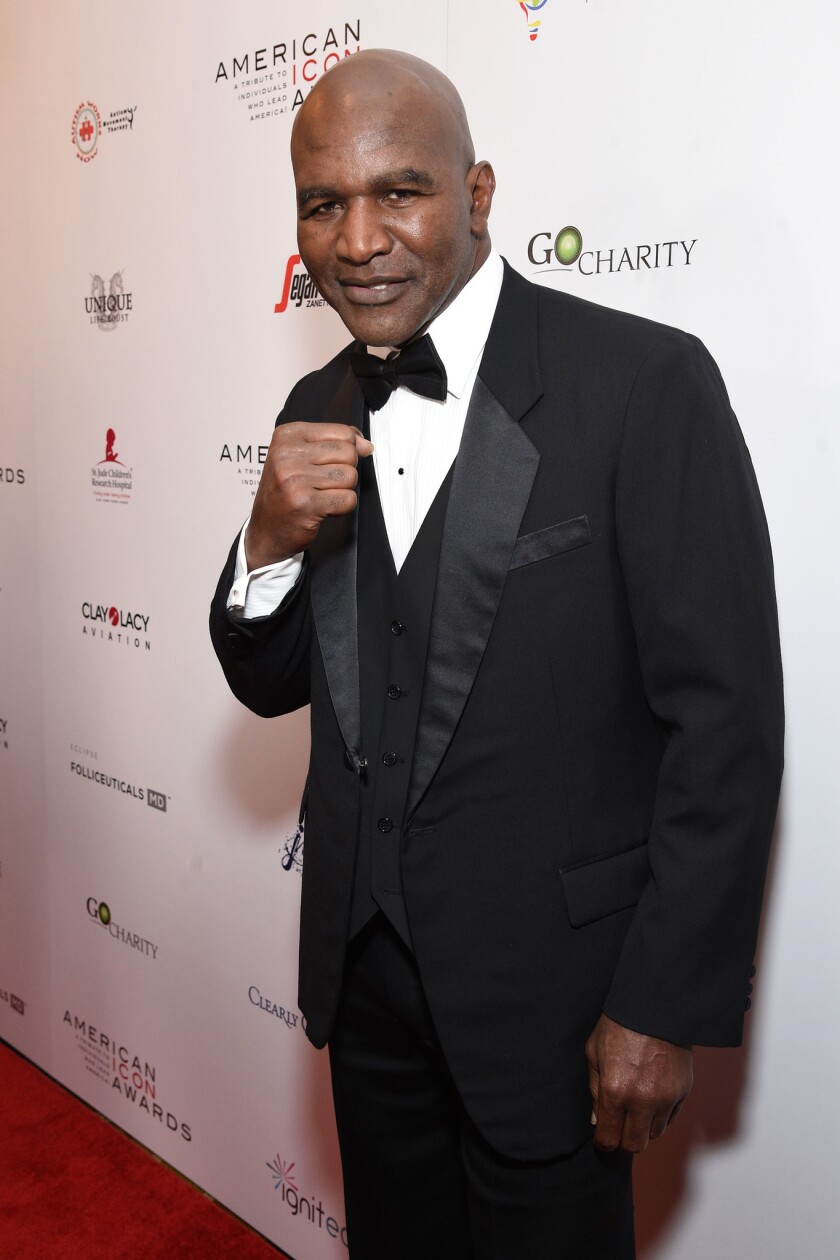 Boxing legend Holyfield said he was touched to receive the award and happy that Ali and de la Hoya were on hand to support him.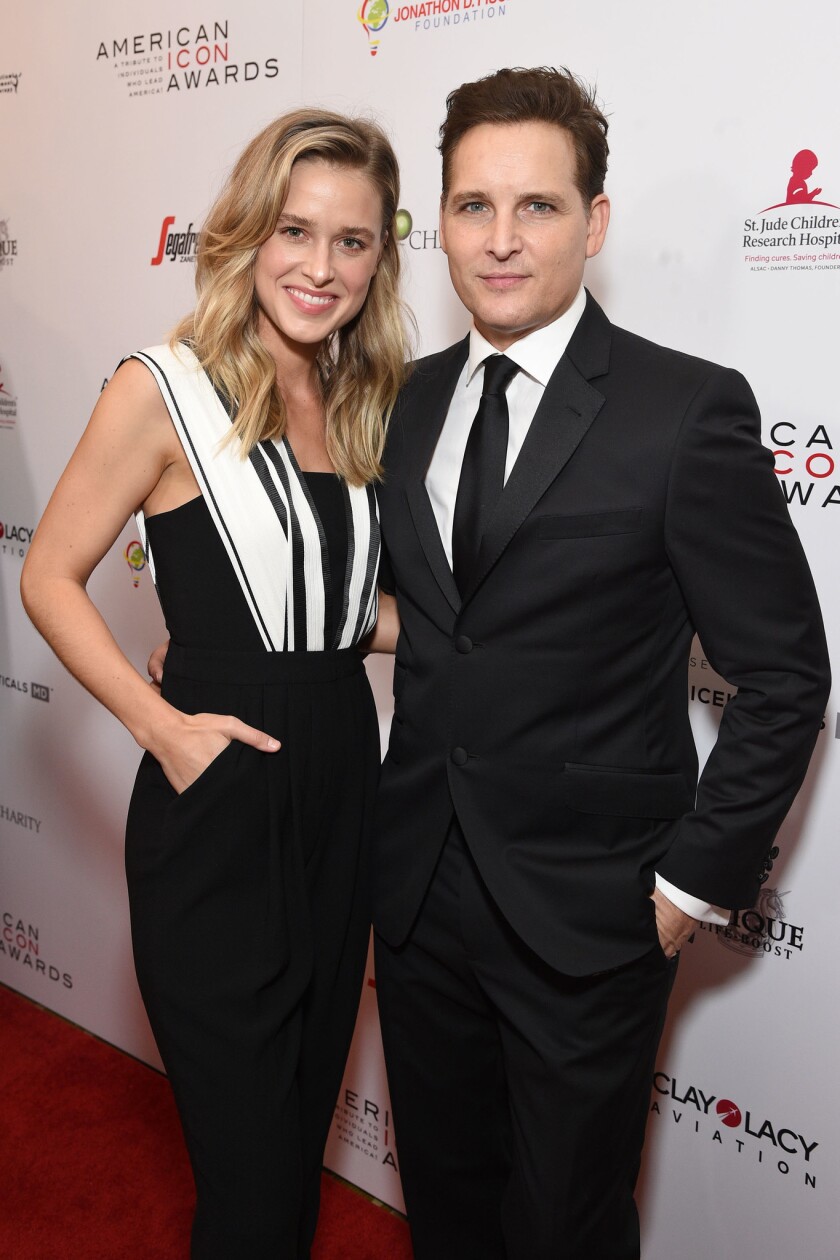 "It's incredible to have my career saluted at the American Icon Awards — what an exceptional honor," Holyfeld said. "I am very grateful for the recognition. I would never be where I am if I didn't have people looking out for me. To be an icon is to be the best of the best yet conscious of where you came from. This is what has always inspired me to give back."
On the red carpet, other celebrities talked about how the honorees have inspired them.
"If you look at the work Al Pacino did, spanning his whole life, it's legendary," said actor Peter Facinelli. "Take just three of his roles, 'Dog Day Afternoon,' 'Scarface' and 'The Godfather.' Al has that rare ability to transform into other people, taking the viewer on a journey, and it's so fun to watch. You never know what you are going to get."
Facinelli described Pacino as a "warm, generous, giving" man. "Behind all that glamour and glitz," he said, "he is so grounded and is transparent about his life. He has nothing to hide. He is who he is. I love having conversations with him."
For fashion news, follow us at @latimesimage on Twitter.
---