Apiece Apart founders bring their sophisticated and minimalist cult women's line to SoCal pop-up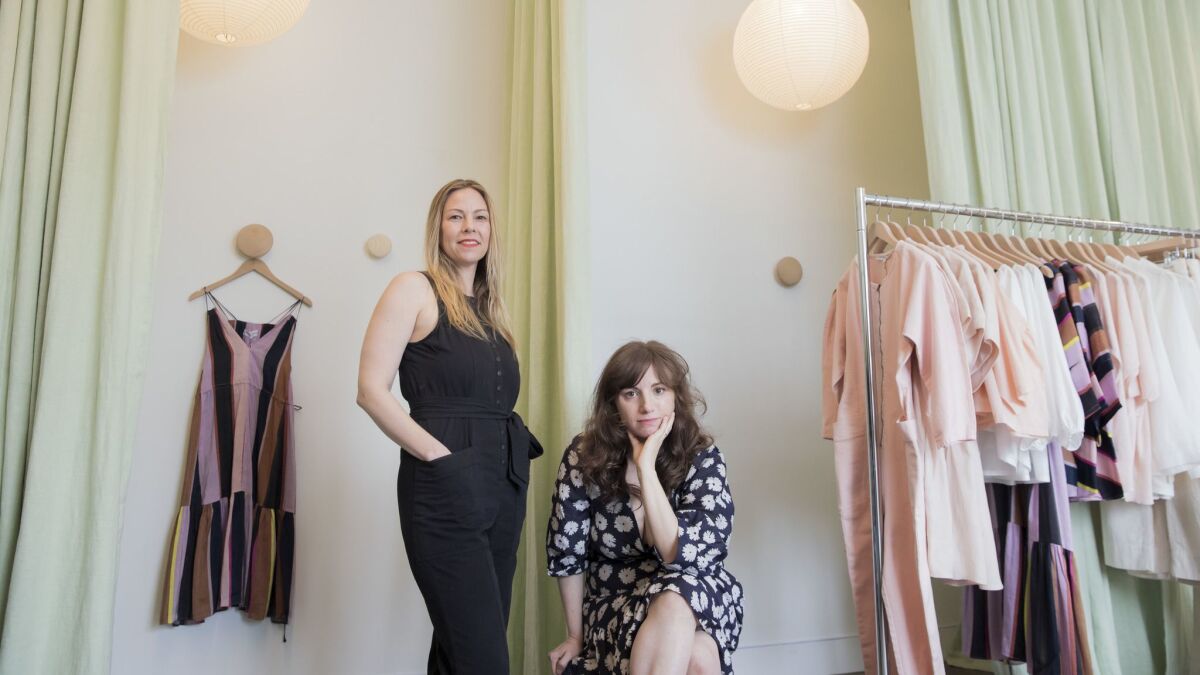 On a road trip through the stark landscape of West Texas in celebration of their 30th birthdays, best friends Laura Cramer and Starr Hout found the inspiration for Apiece Apart, their much-loved women's line out of New York of sophisticated, minimalist mix-and-match wardrobe basics. Ten years and one bricks-and-mortar space later, the designing duo has ventured west once again, this time to mark another milestone with their inaugural California pop-up shop in Venice.
Perched on a trending stretch of Lincoln Boulevard behind a can't-miss bubblegum pink door, the charming, 400-square-foot space is under the same roof as Linus, a locally based line of modern-meets-vintage bicycles.
"It sounds odd that we're sharing a bicycle store, but it's weirdly perfect," said Hout, who coincidentally rides a Linus bike as her mode of transportation from her home in Brooklyn to the fashion label's studio in Manhattan. "They are so beautiful and elevated."
Open through September, Apiece Apart's airy, temporary home (1817 Lincoln Blvd., www.apieceapart.com) echoes the feminine sensibility of its SoHo-adjacent New York location, which opened in 2015. At the Venice pop-up, you'll find the brand's pre-fall collection rendered in stripes and earthy tones alongside beach-ready straw hats, espadrilles and woven baskets brimming with soft shawls. Simplicity, said Hout, is one of the original tenets of the brand.
"The women who come to us want to feel comfortable. They want to feel interesting, and they want to feel cool," said Hout, gesturing toward form-flattering offerings ranging from the cropped high-rise Merida pant ($295) to the Hyacinth Pom Pom sweater ($450) hand-woven by women in Peru ("Sourcing is very important to us," said Cramer) and the Isla wide-leg jumpsuit ($395), a bestseller from the start. ("It does all the things we set out to do," Cramer added. "It's comfortable. It's easy, and anyone can fit into this. My 90-year-old grandmother, Peggy, wears it. She's my style star.")
During a store visit earlier this spring, those pieces were next to an edited selection of accessories and home goods including delicate gold earrings from Echo Park jeweler Kathleen Whitaker and California-based photographer Leslie Williamson's "Interior Portraits" tome. Calming oils by local perfumer Emily L'Ami of Bodha Modern Wellness were on display alongside her all-natural L.A. Woman fragrance, a scent she created in honor of Apiece Apart's West Coast arrival and 10th anniversary. "These should be nice things you can add on to your life," said Hout of the curation of goods.
"L.A. is a really inspiring place right now," added Cramer about the duo's decision to set up shop in the Golden State. Plus, "the aesthetics here relate to our core aesthetics, which stem more from the desert and the American Southwest," she said.
Indeed, the bohemian-tinged pieces captured a casual elegance aligned with the seemingly effortless style of the California woman — a source of inspiration for the co-designers, who have photographed sartorially savvy Angelenos such as photographer and artist Jeana Sohn, Moon Juice founder Amanda Chantal Bacon and doula Erica Chidi Cohen for Apiece Apart's website and the label's annual printed gazette. The portrait series debuted in 2014 as a platform for women to tell their stories in a compelling way.
"It's not about Apiece Apart," Hout said. "It's about the women wearing it."
Since starting their label, Cramer and Hout, who met during a master's-level computer programming class at New York University, said they see Apiece Apart as an opportunity to be of service, uplift other women and keep fans of their brand looking good.
"It was inspired by our mothers' and grandmothers' wardrobes," Cramer said. (She's a mother of two, while Hout has a son.) "There was this inter-generational idea that felt really great to us, and we weren't seeing it in the marketplace."
The friends said they always had a shared passion for fashion and design but didn't always see it as a viable career until their fateful journey. Hout was working as a stylist and had her own short-lived namesake clothing line, while Cramer was pursuing a career in advertising and marketing in Austin, Texas, and New York.
"It was just a coming of age, where we just said, 'Let our deepest passion reign.' That becoming has been a part of our storytelling," said Hout, who like Cramer, had a day job to fund the brand during its infancy.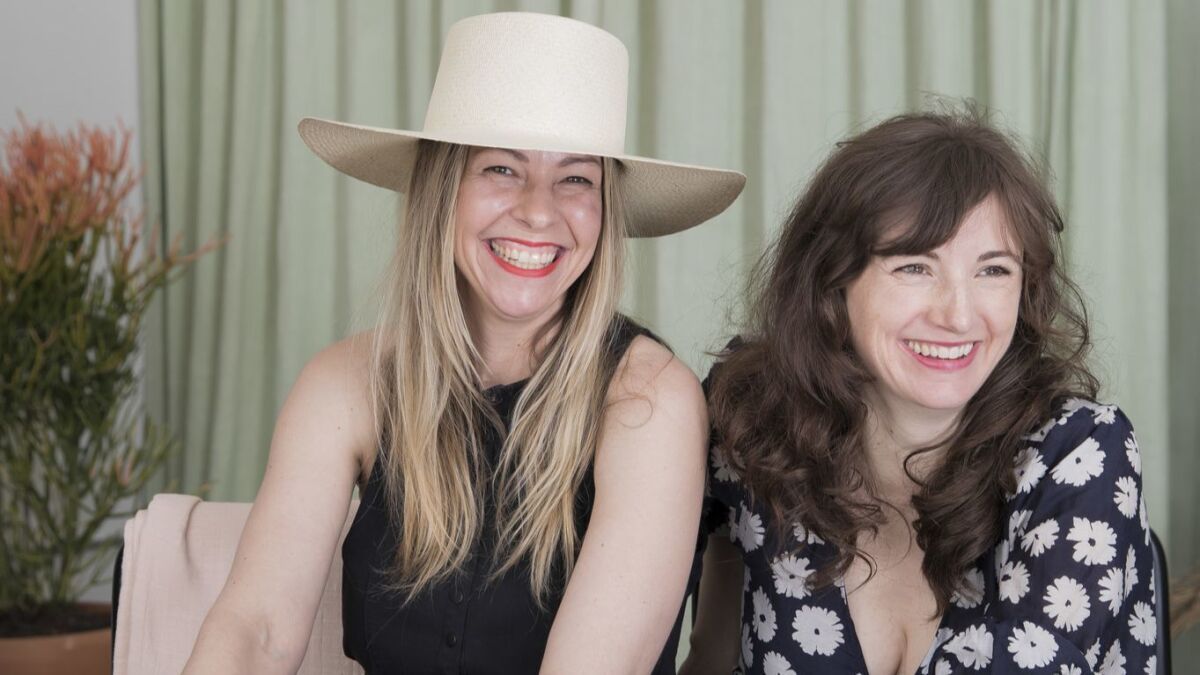 For the duo, having a store presence also has been essential to the mission of Apiece Apart. The New York location has given the label's founders a chance to connect with their clientele.
"People had said, 'Don't do it. Just invest in your e-comm, brick-and-mortar is dead,' and it has been the opposite," said Cramer, noting the success of the New York store. "It shows our whole dynamic, our whole story of what we have been trying to say, where we get to feature these other brands in our midst."
"It's not the 'Laura and Starr Show,' and it never was," Hout added.
For fashion news, follow us at @latimesimage on Twitter.
---