Costumes from 'GLOW,' 'Outlander,' 'The Crown' are on display at the TV costume exhibition at FIDM
If you take a stroll through the latest "Art of Television Costume Design" exhibition, which is open to the public through early October at the FIDM Museum in downtown Los Angeles, you'll likely notice two things: One, it continues to be a major time for women in Hollywood; and two, the 12th annual exhibition is dominated by costumes from shows from streaming services and cable channels.
With its displays from such Emmy-nominated series as Amazon Studios' "The Marvelous Mrs. Maisel," Netflix's "The Crown" and Starz's "Outlander," the exhibition is a showcase for dynamic female characters. Underscoring this are items from Netflix's "GLOW" and "Unbreakable Kimmy Schmidt" and Comedy Central's "Broad City," all part of the 100-plus costumes from 24 shows featured in the exhibition, which is presented by the Television Academy and the Fashion Institute of Design & Merchandising and open to the public through Oct. 6.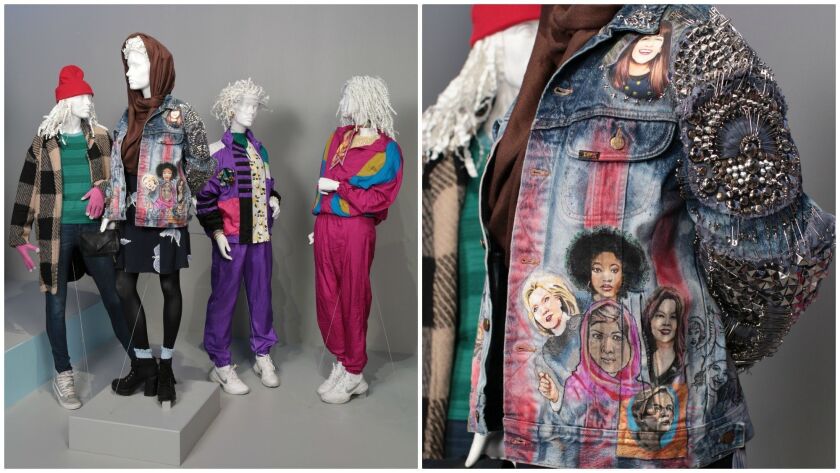 Designer Nick Verreos, co-chair of the fashion design program at FIDM and a spokesperson for the institute's museum, said the strength of female characters on television today is an overarching exhibition theme. "This is a moment where powerful women have a voice," Verreos said, though he was quick to mention that the focus on women wasn't necessarily a conscious choice made by the exhibition's curation committee.
However, the overall costume selection is a reflection of the times, he said. "What's happening in society and in the world of politics, that's influencing TV shows and the writers and what they produce," Verreos said. "And therefore, it's also influencing the costume design."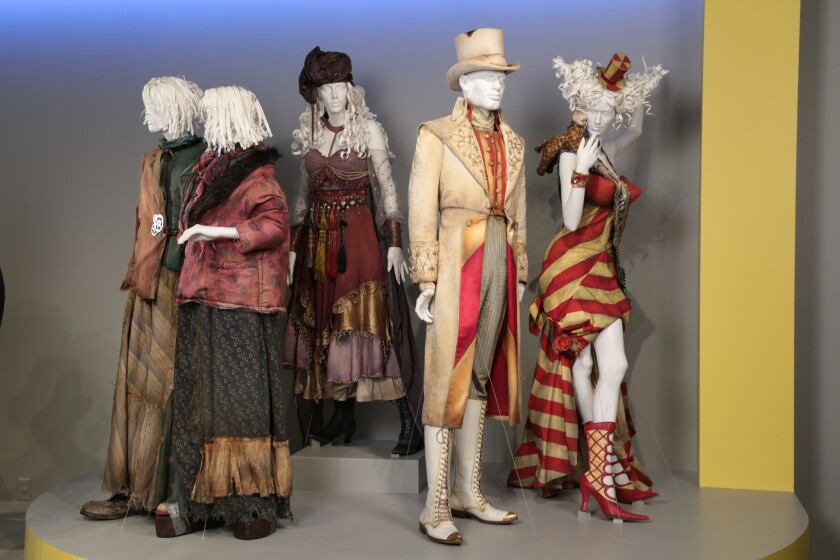 Also, Verreos said it's a particularly exciting time for work on the small screen. "Television really has become the new motion picture," he said. "I know people say, 'The '50s and '60s — that was the golden age of television,' but in fact, I think we're having a resurgence, a rebirth of another golden age." He said the quality of the content also extends to the intricate costumes seen on numerous shows. "I don't know if the budgets are getting better," he said, "but it sure looks like it."
With this being Emmys season, the exhibition gives visitors an up-close look at costumes worn by their favorite TV heroes and villains. "There's something for everyone," Verreos said.
The "Art of Television Costume Design" is composed of six galleries organized by "Leading Ladies" (where fans can view pieces from "Game of Thrones," "Godless" and "GLOW"); "Adaptations" (featuring costumes from "The Alienist," "A Series of Unfortunate Events" and "Genius: Picasso"); "On Location" (pieces from "Westworld" and "The Chi"); and "Spoof and Satire" (costumes from "The Orville" and "Santa Clarita Diet").
Along with a handful of period costumes, the exhibition also features an array of contemporary looks from shows such as Freeform's "Grown-ish" and E!'s canceled series "The Arrangement."
"A lot of people, when they think of costume design, they think of 'Marie Antoinette' or something more period like," Verreos said. "We love to feature contemporary [costumes] to educate the public that, in fact, the majority of costume design doesn't involve period."
An example is costume designer Debra Hanson's "Schitt's Creek" display, which includes designs from fashion brands such as Comme des Garçons, Givenchy and Isabel Marant. There's also costume designer Staci Greenbaum's "Broad City" studded jean jacket emblazoned with feminist icons including Supreme Court Justice Ruth Bader Ginsburg and singer Beyoncé. The piece, worn on the show by actress Ilana Glazer, was custom-made by Greenbaum.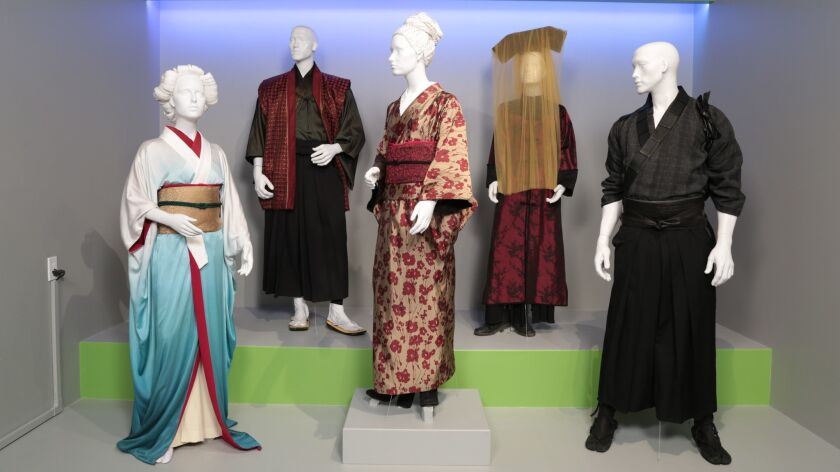 Other key exhibition costumes include a white fur coat by costume designer Michele Clapton and worn by Emilia Clarke's character Daenerys Targaryen during Season 7 of HBO's "Game of Thrones" and Japanese kimonos custom-made by costume designer Sharen Davis for Season 2 of another HBO series, "Westworld." Also, there's costume designer Paul Tazewell's looks for "Jesus Christ Superstar Live in Concert," which include a Rick Owens-inspired, crystal-studded tank top with moto jeans foiled in silver and rhinestones worn by Brandon Victor Dixon, who played Judas in the NBC production.
"Art of Television Costume Design" exhibition, FIDM Museum & Galleries at the Fashion Institute of Design & Merchandising, 919 S. Grand Ave., Los Angeles. The exhibition is free to the public, and will remain open through Oct. 6. Museum hours are 10 a.m. to 5 p.m. Tuesday through Saturday. www.fidmmuseum.org
For fashion news, follow us at @latimesimage on Twitter.
---