Atelier & Repairs gives a second life to the fashion pieces we dump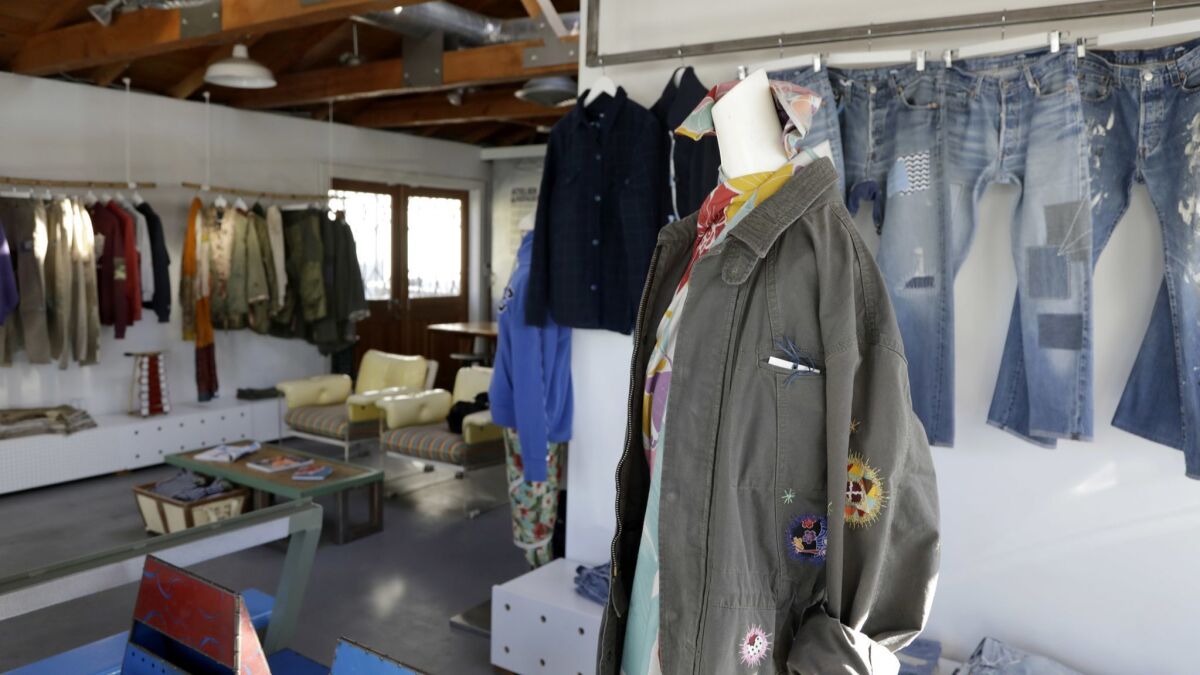 On a leafy street off Melrose Avenue, past trendy fashion boutiques, a bungalow with large picture-frame windows can easily catch the eye with its colorful mural evoking a deconstructed Mondrian painting. The Beverly Grove space could be mistaken for an art gallery, but what hangs within the white walls is Atelier & Repairs' one-of-a-kind fashion made from discarded garments that have been fixed, modified and zhooshed with bright stitching and vivid patches.
"It's not a basic brand," said Maurizio Donadi, the Vernon-based company's creative director, relaxing in one of the store's artsy armchairs constructed from Lucite and butter-yellow, patent-leather cushions. "There's a wanting to be, by choice, creative."
Atelier & Repairs also gives its own spin to sustainability. Holding up a white shirt that was once a classic button-down, Donadi then goes through the steps that gave it a second life.
"We made a kimono collar. We made it short-sleeved. We put a lot of tonal patches here," he said, flipping to the back, "because there were probably holes and stains."
At $325, the open-front jacket is a breezy style, suitable for a modern bohemian. For customers preferring traditional silhouettes, Atelier & Repairs also offers chinos, jeans, denim jackets and sweatshirts, all in unisex sizes.
"We are a creative solution for world excess," Donadi said. Lamenting the enormous amount of clothing and textiles produced in the fashion industry, he added: "There is enough to use for decades."
Donadi has followed an unusual trajectory through fashion, which has taken him from steel work in his native Italy to overseeing the openings of hundreds of Benetton stores to making executive decisions at A/X Armani Exchange, Levi's XX and Polo Ralph Lauren.
He has adopted the motto of a department store he had visited in the Deep South in the 1980s. "We're here to surprise and delight our customer," he said.
"Retail has become very predictable. … We have a responsibility to entertain our customer," Donadi said.
Thus, the store's theme is changed every few months with new installations. When Donadi opened the shop last June, he highlighted camouflage by demilitarizing army uniforms with floral fabrics. Subsequent displays included $495 indigo jackets inspired by constellations and $685 ponchos assembled from Woolrich fabrics.
Atelier & Repairs, which has an atelier in London, is also creating wall tapestries, priced at $2,000 each, for clients such as luxury retailer Lane Crawford in Hong Kong.
Donadi's store has become a destination for fashion insiders, including Bruce Pask, the New York-based men's fashion director at high-end department stores Bergdorf Goodman and Neiman Marcus. Because the majority of Atelier & Repairs items are crafted from recycled materials, the shopping experience, he said, is "more of this fun kind of exploration: try one on and see which fits the best." Plus, he added, Donadi's store stands out because "his work plays to people's emotions. People walk in and fall in love."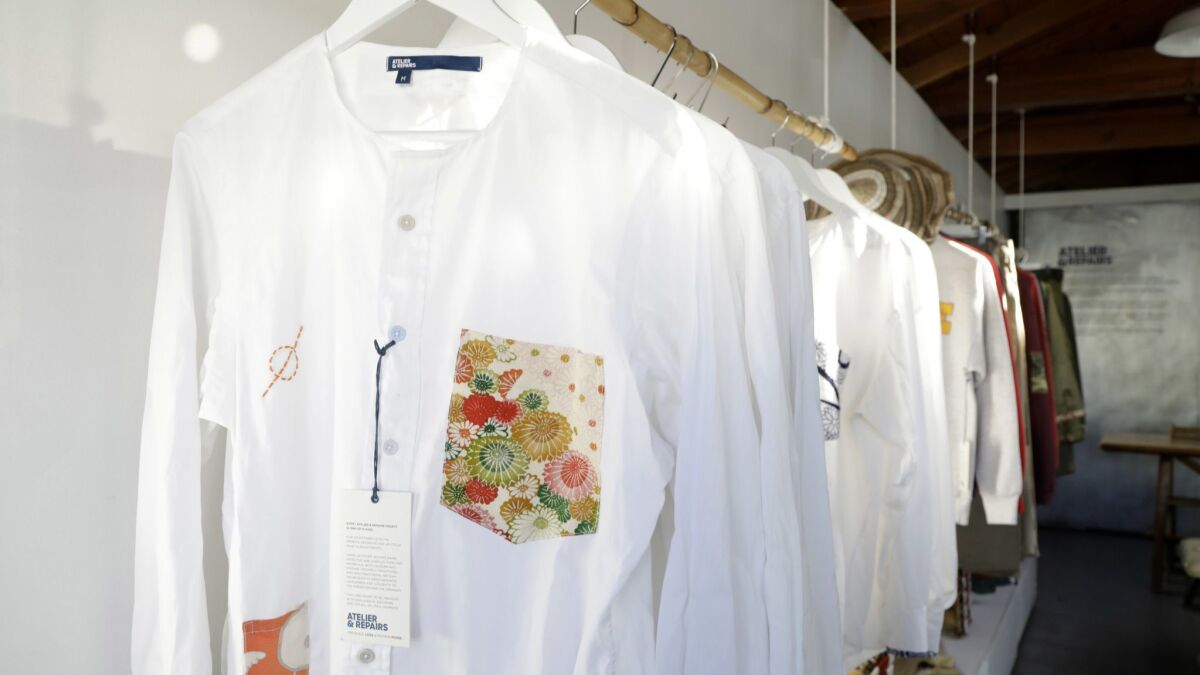 Patricia Billings, a 54-year-old book publisher who recently moved to New York from West Hollywood, is one of the besotted. Her trove from Atelier & Repairs includes six scarves, 10 pairs of jeans and a couple of white shirts. Donadi's team also repaired some of her beloved belongings that had fallen apart from frequent wear, such as a maxi-dress made in Ghana by Osei-Duro, which she described as "busted on the butt."
Priced from $50 to $275, the transformation fees can cost as much as a new garment. Still, she said, "You're investing in an idea of no waste and supporting artistry."
Donadi said that, rather than tracking sales growth, he measures success by the tons of garments that Atelier & Repairs diverts from a landfill and regenerates into new fashion. Having repurposed 6 tons last year, he is aiming for 8 tons this year.
"Of course, it needs to look good," he said. "It needs to surprise and delight also."
Atelier & Repairs, 710 N. Edinburgh Ave., Los Angeles, (323) 424-4844, atelierandrepairs.com
For fashion news, follow us at @latimesimage on Twitter.