Comme des Garçons and Balenciaga take the layered look to extremes at Paris Fashion Week
Layered-on runway looks from Comme des Garçons, left, and Balenciaga, right. Both brands presented their fall/winter 2018 collections during Paris Fashion Week.
(Thibault Camus / AP Photo (left), Monica Feudi (right))
Layered-on looks from the fall and winter 2018 Balenciaga runway collection, presented on March 4, 2018, during Paris Fashion Week.
(Monica Feudi)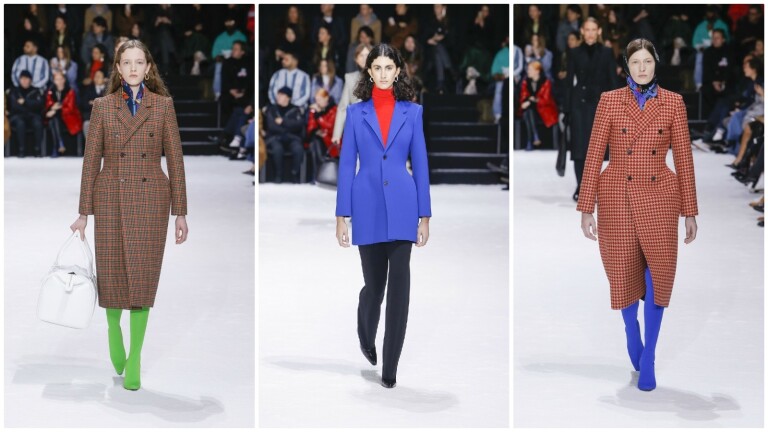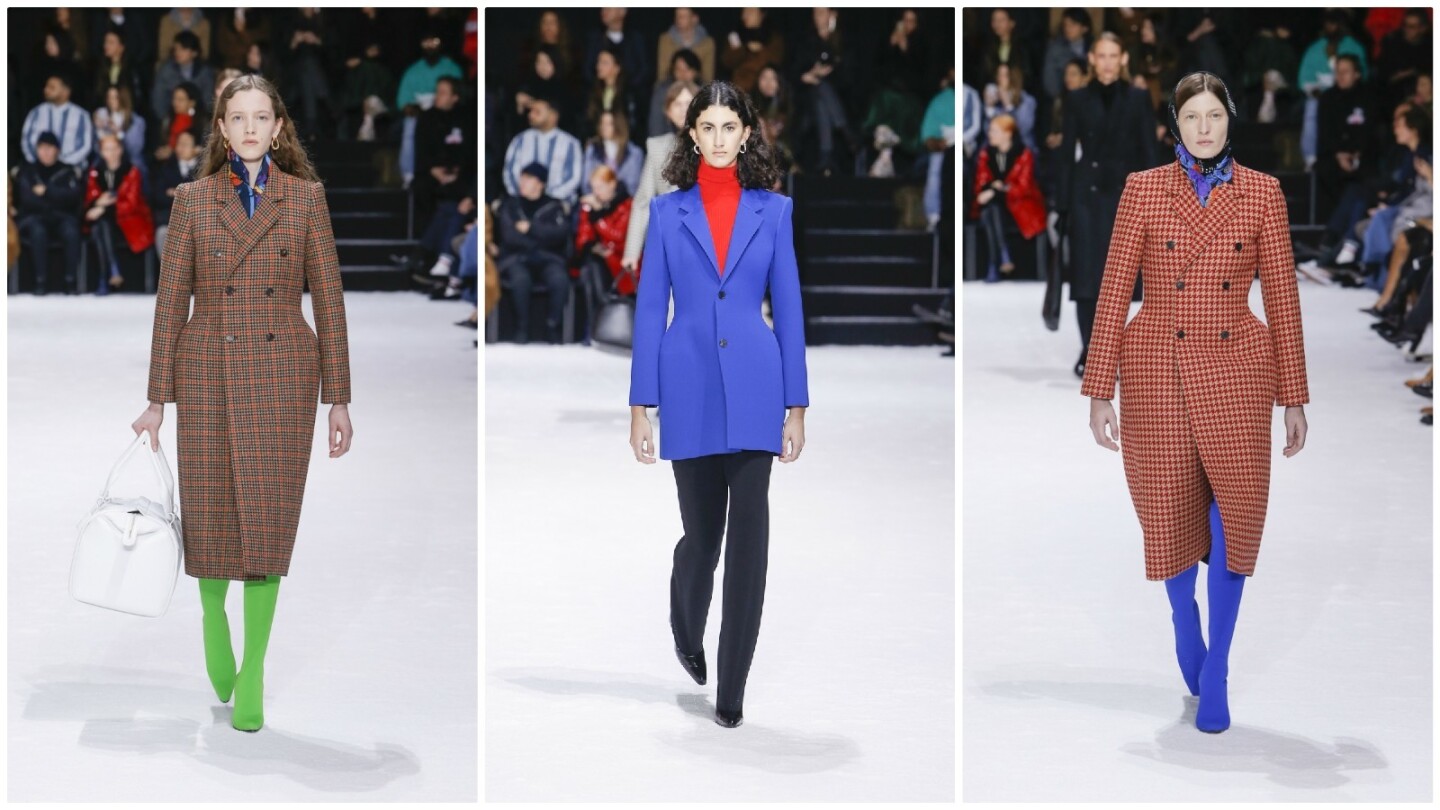 Some pieces in the Balenciaga collection were padded with lightweight foam and molded to the shape of each wearer's body.
(Monica Feudi)
The Balenciaga show was staged around a immense, graffiti-covered "mountain" backdrop which the show notes said was intended to echo "a snow-boarding paradise."
(Adam Tschorn / Los Angeles Times)
Looks from the fall and winter 2018 Balenciaga collection including one of the pieces (far left) being sold to benefit the World Food Programme.
(Monica Feudi)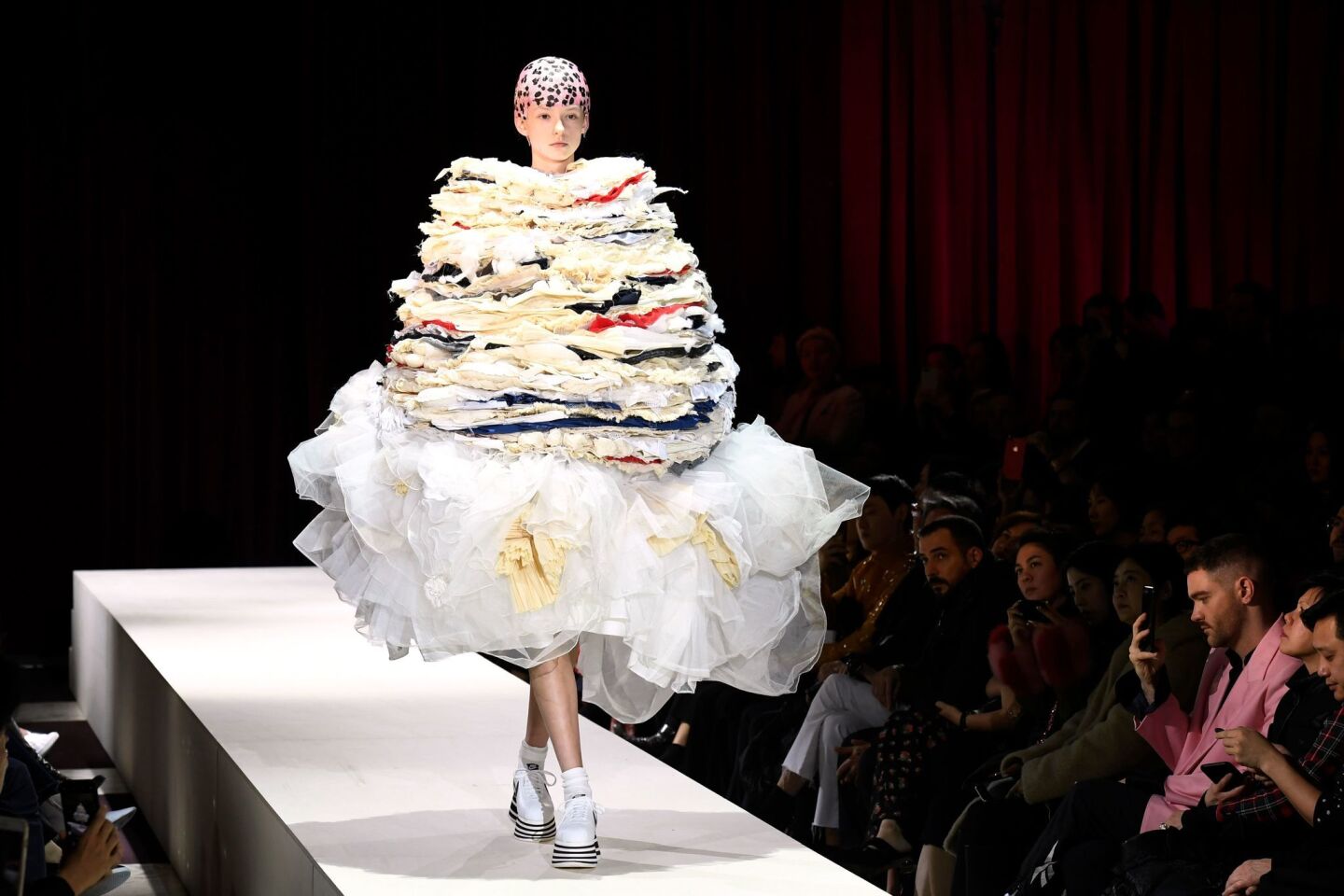 Fabric stacked like flapjacks in a look from the fall and winter 2018 Comme des Garçons runway collection.
(Bertrand Guay / AFP / Getty Images)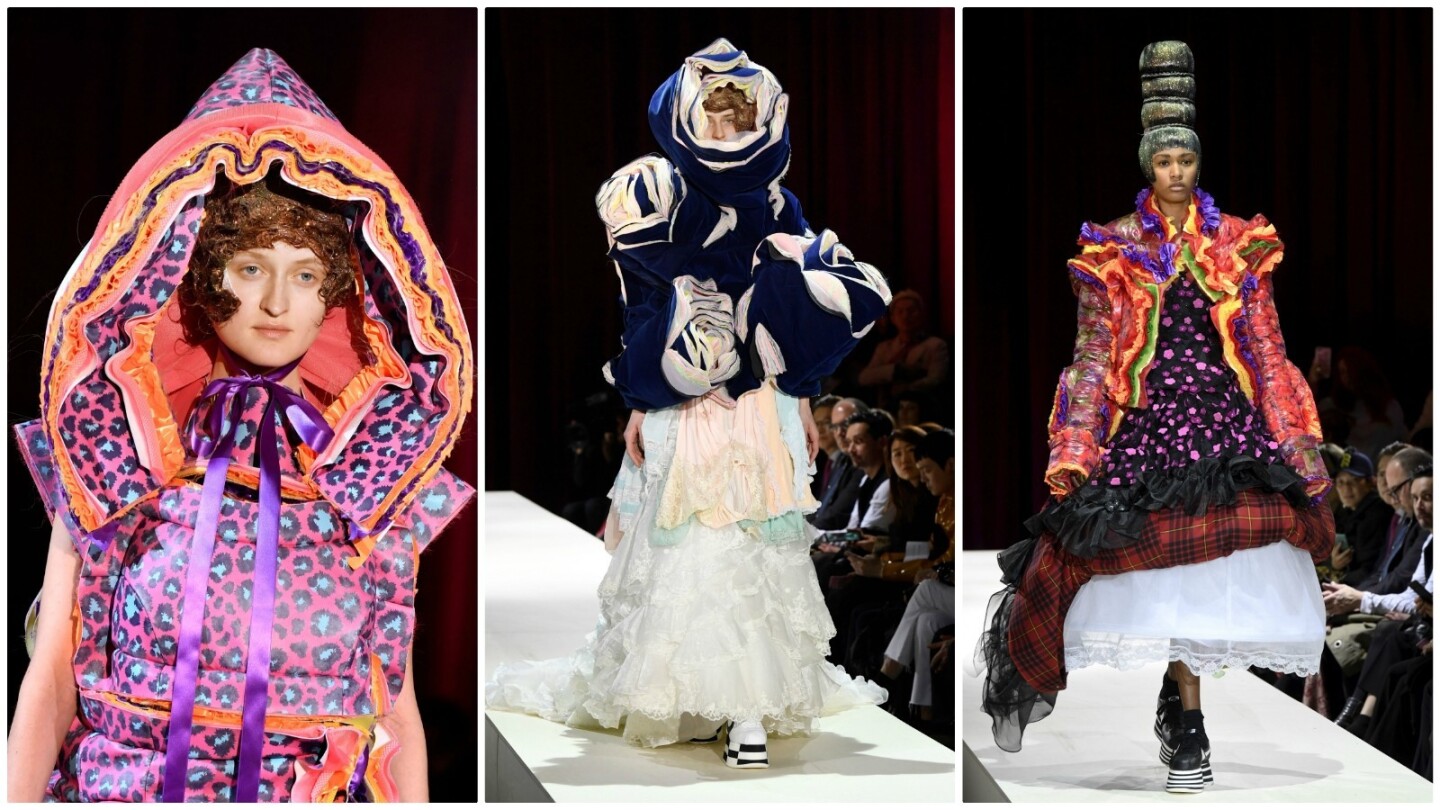 Looks from the Comme des Garçons collection presented on March 3, 2018, during Paris Fashion Week.
(Bertrand Guay / AFP / Getty Images)
Some of the Comme des Garçons looks including this one were designed to look like other garments had been layered over top.
(Bertrand Guay / AFP / Getty Images)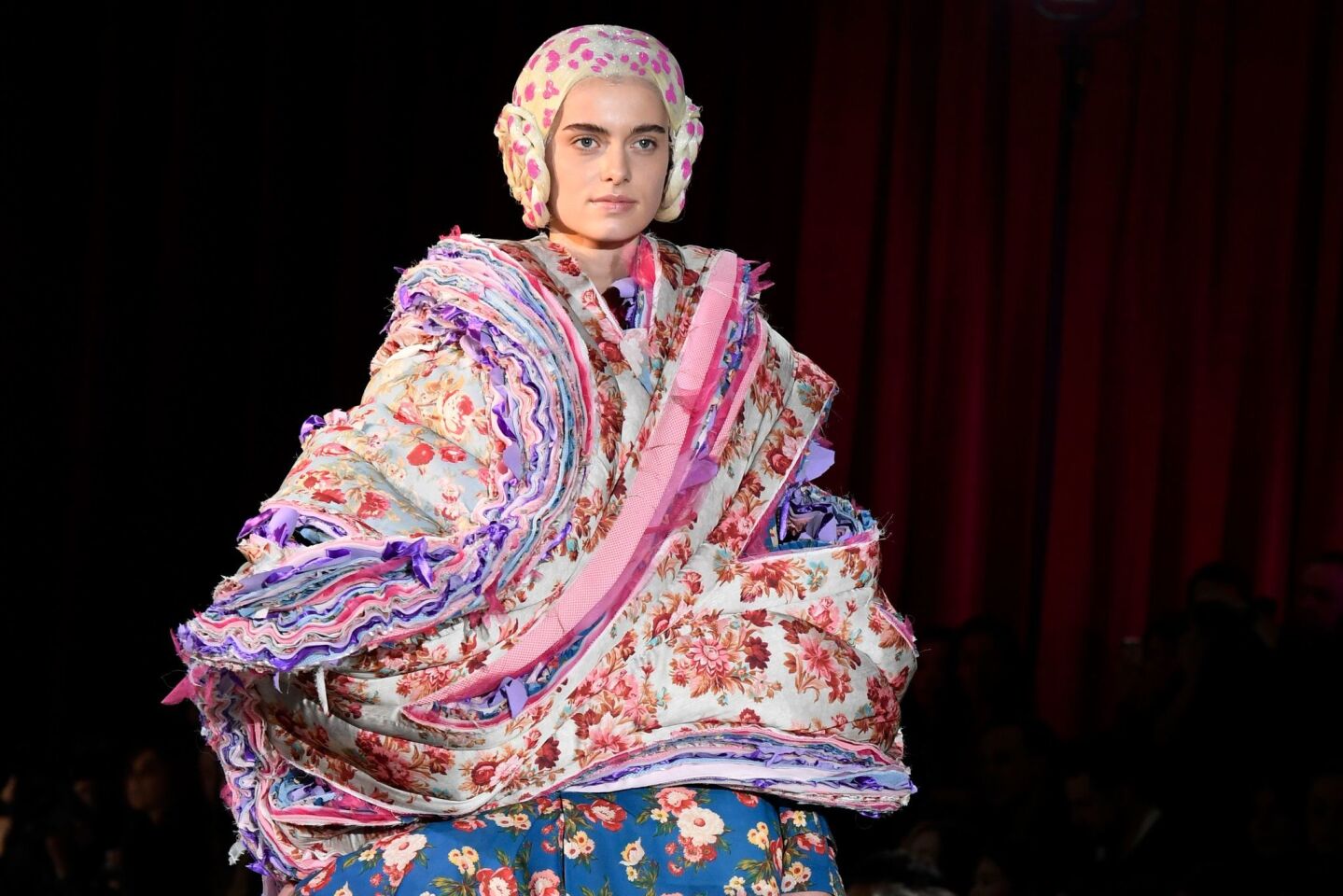 Another layered look from Comme des Garçons.
(Bertrand Guay / AFP / Getty Images)
Reporting from Paris —
Two labels showing collections here this week – Comme des Garçons on Saturday and Balenciaga on Sunday – have played with the notion of layering in a big way.
At Comme des Garçons, Rei Kawakubo seemed to have designed the collection the way a painter prepares a canvas with successive layers of paint, adding and scraping away until their vision emerges. Only Kawakubo's paint was actually different-colored fabric, which was layered together like the thin leaves of a puff pastry or a mille feuille dessert and then rolled up to resemble flower blossoms or used to create outsized, body-obscuring garments.
Some looks took a different approach by layering entire garments — dresses, lingerie and what might as well have been the entire contents of a sock drawer — on top of ball gowns. And a few appeared to simply consist of flat layers of fabric stacked up like flapjacks with a model in the middle. I've stopped trying to make sense of Kawakubo's Comme creations a long time ago and might not have even given this beautiful but confounding collection a second thought but for a collection that came down the Balenciaga catwalk the following afternoon.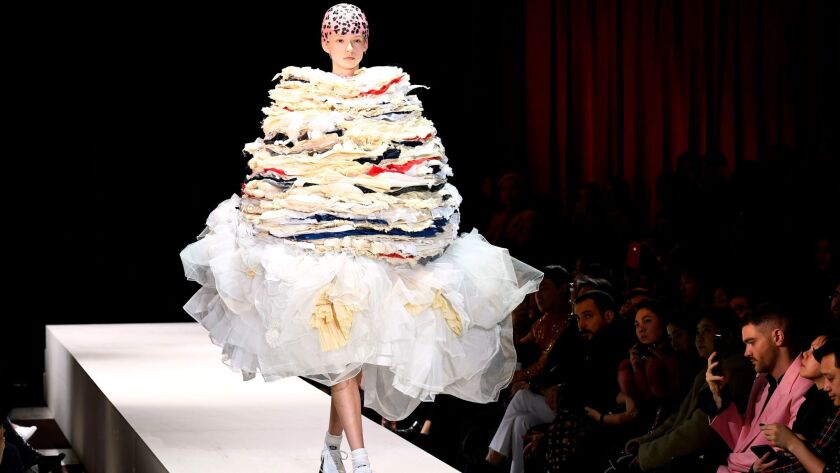 The collection, which marked a unification of the men's and women's lines (they'll be presented together going forward), included a show note from artistic director Demna Gvasalia that read, in part, "The collection is conceived as a building of layers, against a mountain backdrop, which echoes a snow-boarding paradise. The idea of dressing for extreme weather develops in the progressive adding of layer on layer, beginning with close-to-body shapes and finishing with volumes, which are fused together from up to nine pieces of outerwear." That's nine — count 'em, nine — resulting in silhouettes nearly as exaggerated and bulky as anything that came down the Comme des Garçons runway.
The outer layers were easy enough to see — a jean trucker jacket over a plaid button-front shirt over a pullover hoodie over another plaid shirt over a turtleneck for example. However, there was a serious layering situation going on below deck as well.
Using 3-D body-scanning and digital fittings, jackets and coats with corset-like shaping at the hips were precision-molded to fit the models who wore them. The distinctive Basque jacket shape was created by bonding lightweight foam to the tweed and velvet fabrics.
This layer joins another close-to-the-skin layer that has been a signature of the label for several seasons now — the form-fitting, leg-and-stiletto-encasing leggings, joined here by an above-the-belt line version that appeared to create a single garment that covered the entire upper torso from the neck down to — and including — the fingertips.
There were a couple of less-than-obvious layers ladled into the mix as well. One was a charitable element — several sweat shirts and T-shirts in the collection bore the logo of an international hunger-fighting humanitarian group called the World Food Programme; some with the organization's slogan, "Saving Lives, Changing Lives" on the back. According to a post-show announcement by the house, funds from the WFP-branded products will help feed those in need. The purchase of a hat, for example, translates to 20 packets of high-energy emergency biscuits, while buying a windbreaker would provide a kitchen setup that could feed 100 families.
Another layer involved Speed Hunters, a name splashed across what appeared to be concert tour T-shirts. While no mention of it was made in the show notes, fashion-industry trade paper WWD reported that Speed Hunters was the name of a fictional boy band, an idea ginned up by Gvasalia as part of the collection's soup-to-nuts total pop-culture snowboarding-influenced collection.
And, finally, there was one final head-scratching meta layer I'm not quite sure exactly what to make of, and it involves a phone number that was spray-painted like graffiti on the show's mountain-like backdrop and screen-printed in a can't-miss-this fashion across the chest of several looks. Given the tie-in with the WFP, I'd assumed it was a number affiliated with that effort. (It wasn't.)
Dialing the number +33 156 528 799 (if you're curious, be forewarned, it's a number in France) connects one with a robotic female voice that announces in English, you've reached "the new Balenciaga hotline" before proceeding to ask a series of questions including your gender, shoe size, educational level, favorite season of the year, body weight in kilograms, hair color and the like. After 20 questions, the survey ends and the voice on the other end of the line offers an assurance that "all data will be erased."
Designers have gotten the press to do a lot of silly stuff during fashion week (walking through a room full of popcorn at Calvin Klein last month comes to mind), but getting diligent fashion journalists to play a round of 20 questions with a robot in the middle of a busy Paris Fashion Week?
Well, that borders on genius.
For more musings on all things fashion and style, follow me at @ARTschorn.
---