Gucci takes inspiration from the Chateau Marmont for resort 2019 capsule collection
In keeping with the rock-star aesthetic that Gucci has embraced under creative director Alessandro Michele, the brand's resort 2019 collection includes a Chateau Marmont logo capsule line.
For the record:
1:55 PM, Nov. 01, 2018An earlier version of this story said the Chateau Marmont would celebrate its 80th birthday next year. It will celebrate its 90th birthday in 2019.
Michele, a regular guest at the hotel, posted an image on his Instagram feed in July 2016 of the Chateau's fountain decorated with Pan, god of the wild in Greek mythology and the hotel's mascot. And now the character is getting more exposure thanks to the new Gucci capsule.
Already featured on the hotel's laundry bags and cocktail swizzle sticks, the Pan character is heavily on display in the 18-piece Chateau Marmont collection ($550 to $7,200; available at Gucci boutiques in Beverly Hills and South Coast Plaza in Costa Mesa and gucci.com). Those items include T-shirts and sweatshirts, a track jacket, a wool blazer, a trench, a broderie anglaise dress, a riff on the brand's Jackie hobo bag, and a drawstring tote inspired by the aforementioned laundry bags.
Since opening in 1929, the Sunset Strip hotel has been known as a celebrity destination. Hollywood elite including Rita Hayworth, Marilyn Monroe, Jim Morrison, Robert De Niro, Johnny Depp, Madonna and Leo DiCaprio have all checked in to the West Hollywood spot. So have fashion photographers Annie Leibovitz, Bruce Weber and Helmut Newton (who died after crashing his Cadillac as he was leaving the hotel), as well as designers including Stephen Sprouse, Tom Ford, Christian Louboutin and Michele. A go-to for the fashion crowd, the Chateau is constantly abuzz with showroom presentations, parties, dinners and events such as the CFDA/Vogue Fashion Fund show.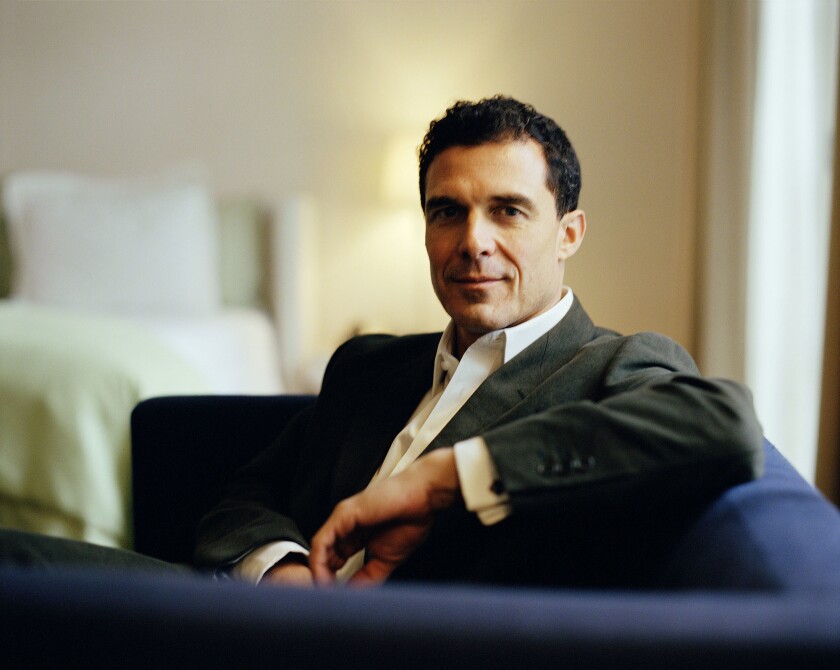 "I know the fashion industry fairly well and I don't quite know anybody like Alessandro other than Karl Lagerfeld," said hotelier André Balazs, owner of the Chateau Marmont since 1990, in an exclusive conversation with The Times about the hotel's first official collaboration beyond some T-shirts, hoodies and bathrobes that his friend Sprouse casually made for the hotel in 1991 — a decade before Sprouse partnered with Louis Vuitton. "We wouldn't have even considered it with other designers, but because of Alessandro's attitude and taste and sophistication, and our friendship, it was very comfortable.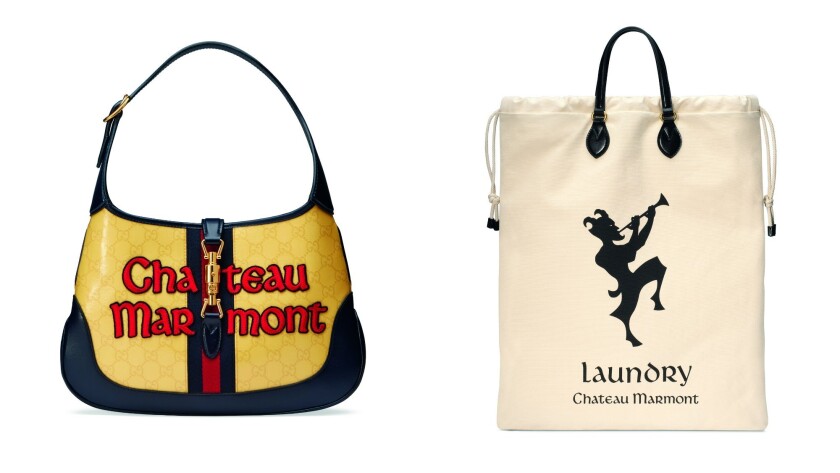 "Alessandro reached out to me, and said, 'Do you mind if I use the Chateau laundry bags in this show?' " Balazs said. "I said, 'Yeah, sure, absolutely. Do it. Then his team called and said, 'Do you have any other graphics to work with?' When I bought the Chateau, we went into the archives and pulled out everything. Before logos existed, you had your name, your reputation, and the appropriate typefaces for a formal occasion, for guest cards and letterhead or for labeling a commercial laundry bag. With that came characters that helped imply the attitude and meaning of a place. We were in the process of stepping up our own branded collection, so we shared everything with Gucci. What started as a laundry bag flung over a couple models' shoulders bloomed into a multi-piece collection and a formal contractual arrangement."
The Chateau Marmont capsule line continues Michele's commercially savvy use of iconic pop culture references that broaden the luxury label's appeal. Gucci's spring 2017 menswear included Donald Duck appliques and prints; the fall 2018 collection incorporates logos of Hollywood film studio Paramount Pictures and Major League Baseball teams including the Dodgers; and Mickey Mouse handbags are coming for spring 2019.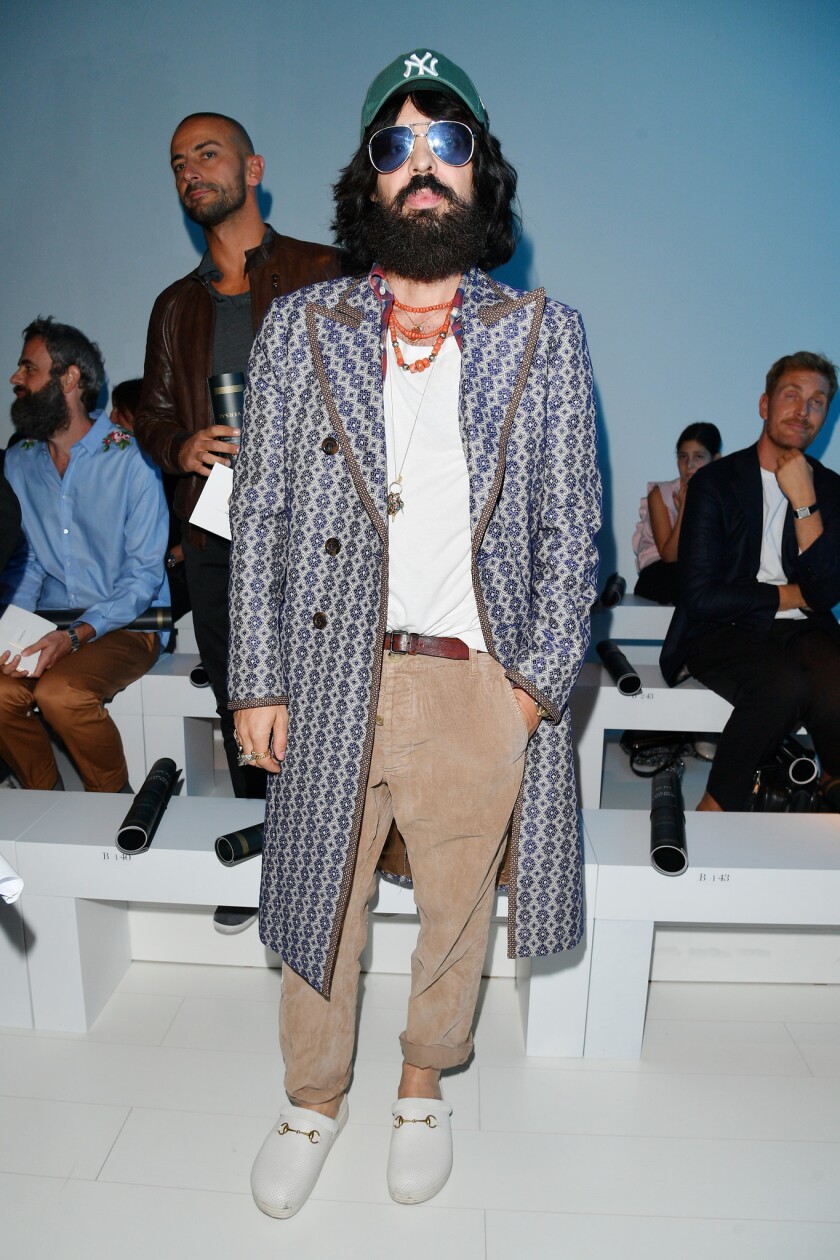 The choices also offer a glimpse into Michele's personal life. He watched Donald Duck cartoons as a child, and his glamorous mother worked as an assistant to a film executive. And he often sports a Yankees cap. (Michele wasn't available to comment for this story.)
"It's Alessandro's stock-and-trade to ferret out iconic places, people and trends that resonate emotionally and somehow weave them into garments that otherwise would have no meaning," Balazs said. "And the Chateau holds a unique place in people's hearts and souls across so many bandwidths. I created the Pan character as a substitute for the hand-drawn image of the hotel on our stationery that is the most often knocked off and illegally used, and I think it embodies the spirit of the Chateau, because you check in, and God knows what enfolds after that! There is an atmosphere of safety and comfort and privacy. Alessandro, like many creative people, responds to the ethos that makes the Chateau unique in a city that, one could argue, has no center."
When Balazs attended the Gucci resort show in Arles, France, last May, he donned a 1967-era Chateau Marmont logo bomber jacket from the archives that he owns in eight different colors.
Since Balazs took the reins, the hotel has offered its own branded line of swimwear, T-shirts and other items available for guests to purchase. Balazs told The Times that numerous new designs are in the works, including the aforementioned bomber jacket, a tank top that Lou Reed used to wear in the 1970s and more. (During the phone interview for this story, Courtney Love texted Balazs to tell him that one of the new T-shirts was "cool.")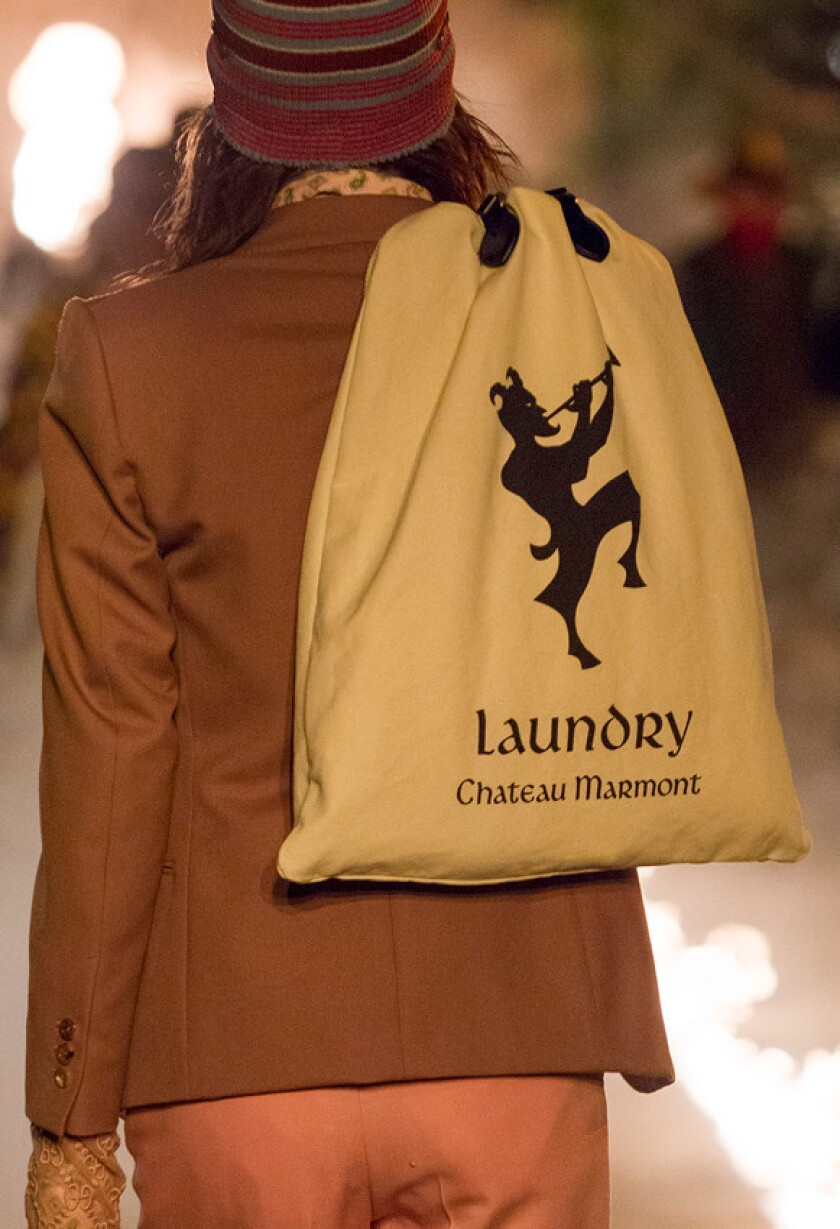 Balazs said a book and documentary film about the Chateau will be released next year in celebration of the hotel's 90th birthday on Sunset Boulevard. For Balazs, the anniversary is a special one.
"L.A. is one of few modern cities that is so spread out that it can take hours to traverse it from one end to the other," he said. "There is no 'there' there, and that creates a certain emptiness. I stayed at the Chateau for extended periods in the late '80s when I was opening B.C. nightclub on Sunset Boulevard and discovered that it had a DNA that is an antidote to that loneliness. It's a family. It's a home in a strange land. The employees know who you are."
For fashion news, follow us at @latimesimage on Twitter.
---