"We're all parents here on stage. … We have a lot kids between us, so we thank each and every one of you for what you do," said Dave Grohl, who opened the biennial Children's Hospital Los Angeles gala on Saturday with his 11-time Grammy-winning band Foo Fighters.
The band had returned to L.A. from its tour just the night before but managed to bring the crowd to its feet from the first note.
Jesse Tyler Ferguson of ABC's "Modern Family" came on stage quickly thereafter to emcee an evening that ran the gamut from belly laughs to tears as the hospital raised an astounding $5.5 million, thanks in part to a last-minute $1-million gift from honoree Jimmy Kimmel and his wife, Molly McNearney. The money will be used to support pediatric medical care and research.
In addition to Kimmel, retired Dodgers announcer Vin Scully was honored for his support of the hospital and its initiatives, along with longtime supporter Hasbro, the toy and game giant, which provides charitable grants, product donations and employee volunteers at events throughout the year.
The setting
In keeping with the theme From Paris With Love, the Event Deck at L.A. Live was transformed into a Parisian streetscape, replete with can-can dancers, multiple Champagne outposts and glamorous, on-site portraiture being shot.
Once inside the dining hall, long tables with floral arrangements, chandeliers and Philippe Starck-esque table lamps set the mood for a meal prepared by Wolfgang Puck.
The crowd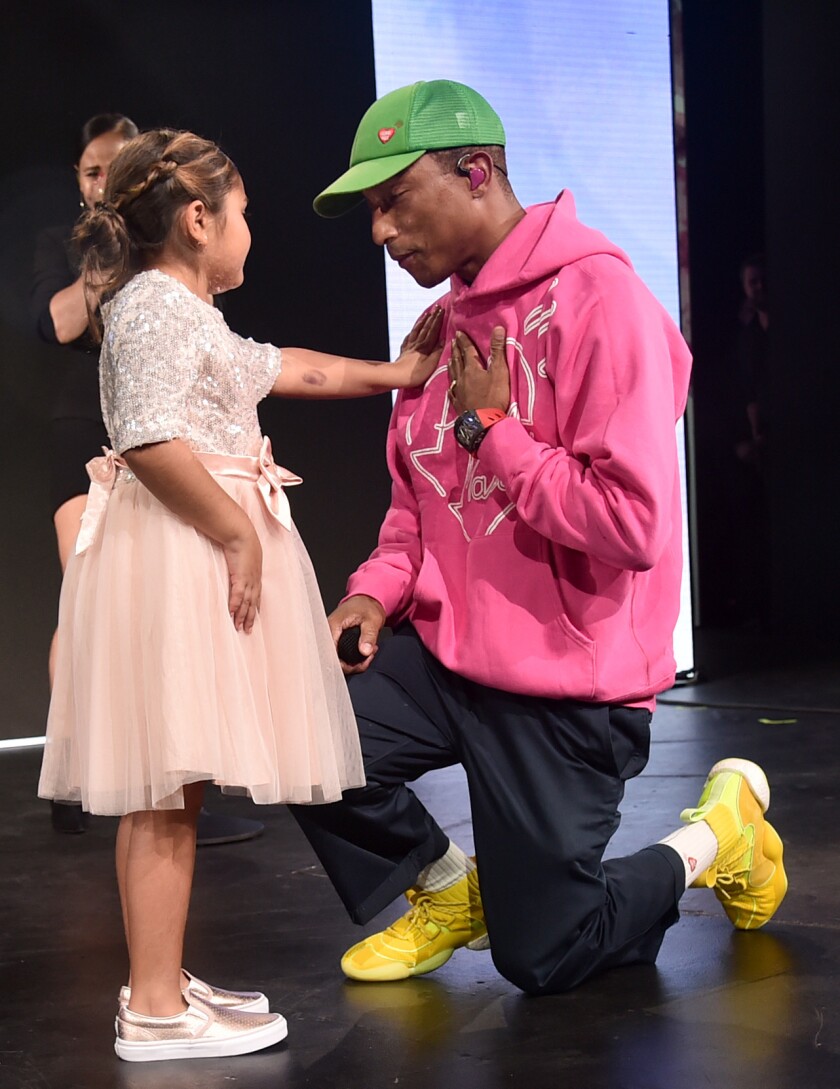 The honorees and presenters were joined by Heidi Klum, Lake Bell, Josh Gad, John Stamos, Teri Hatcher, Megan Henderson, Nikki DeLoach, Jamie-Lynn Sigler, Daisy Fuentes, Richard Marx, Mark Hoppus, Malin Akerman, Italia Ricci, Robbie Amell, Alex Meneses, Colleen Ballinger, Live Nation Productions' Heather Parry and Jeff Shell, chairman of NBC Universal Filmed Entertainment Group.
The scene
A very sparkling crowd of hospital supporters, doctors and a rowdy contingent of nurses peppered the gala and appeared excited about the evening and the cause as well as the in-progress Dodgers playoff game unfolding halfway across the country.
The program
First among the Courage to Care Award presenters was fervent Dodgers supporter Mary Hart, who strode to the podium (in a striking blue gown, no less) to announce the score to wild cheers before speaking about Scully, who spent nearly 70 years with the team.
Next, Dr. Vaughn A. Starnes, co-director of the Heart Institute and founder of the Division of Cardiothoracic Surgery at Children's Hospital Los Angeles, lauded the Kimmel family for its "bravery and sense of purpose" during Billy Kimmel's health challenges.
"One of the best parts of my job is getting to know our brave young patients and their families and helping them fight formidable odds," Starnes said. "Often they come to us when they've been told by other centers that nothing else can be done — and the Heart Institute offers them help. One of those families that I've come to greatly admire is the Kimmel family. They've taken their own personal experience and shared it with the nation, and in doing so, changed the conversation about health care."
As for Kimmel, who made no bones about wearing his emotions on his sleeve, he quickly donned sunglasses so "you won't see me crying."
Kimmel said of Children's Hospital Los Angeles, his voice breaking with emotion: "So many children, from so many financial backgrounds are cared for so beautifully and with so much compassion. We can never repay them, but we're going to try."
Grammy-winning singer and producer Pharrell Williams concluded the evening with a set that included his hit songs "Get Lucky" and "Happy." Williams danced onstage with 9-year-old Children's Hospital patient Eliana Georges, who basked in the moment with her favorite singer, whispering in his ear and sharing a heartwarming embrace.
For fashion news, follow us at @latimesimage on Twitter.
---