Q&A: Chloe and Halle Bailey on their personal style, getting ready for their Coachella debut and Beyoncé
Sibling sirens Chloe and Halle Bailey released their debut LP, "The Kids Are Alright," last month. The title track opens with the declaration, "We don't really care about the trends you like to follow." Indeed, when it comes to both music and fashion, these teenage sisters thrive in a lane all their own. The new album blends heavenly harmonies with streetwise features from rappers GoldLink, Joey Badass and Kari Faux. And their look flits from rococo one day to bohemian the next.
In 2013, the Sisters Bailey — better known as Chloe X Halle — went viral covering Beyoncé's "Pretty Hurts." One of their millions of awed YouTube viewers was none other than Beyoncé herself, who went on to sign the girls to her Parkwood Entertainment label. Soon after, she included them in both her "Lemonade" visual album and her Formation World Tour.
The sisters, who released their mix tape "The Two of Us" in 2017, have performed for former First Lady Michelle Obama, contributed a song to the soundtrack for "A Wrinkle in Time" and emerged as sitcom stars. They proved themselves to be a pair of first-rate scene stealers when "black-ish" spinoff "grown-ish," launched on the Freeform cable channel in January. Not only do they deliver wry one-liners as straight-talking series regulars Jazz and Sky, they also wrote and performed the theme song to the show, which stars Yara Shahidi.
As their careers have skyrocketed, the fashion world has taken note of the Bailey sisters. Chloe, 19, and Halle, 18, have starred in campaigns for Asos, Rodarte and Ivy Park. They've been featured in Paper magazine's Beautiful People issue, posed for Teen Vogue and InStyle, and walked as runway models for Dolce & Gabbana in Milan.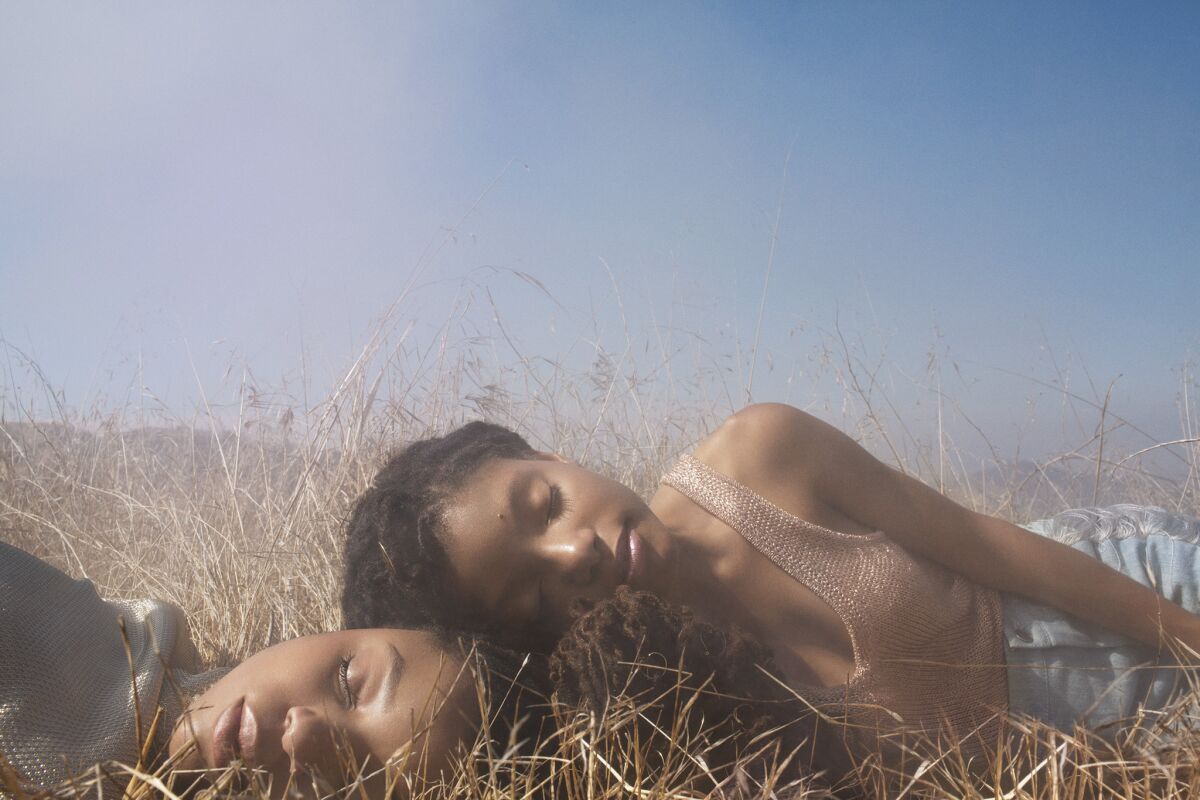 With every red-carpet appearance, they deliver something unexpected and unforgettable, whether they're in menswear-inspired Louis Vuitton mini-dresses, vibrant Missoni separates or print mashups by Kenzo. They're never matchy-matchy, yet always perfectly in sync. Their looks convey a fondness for bold color and eclecticism, not to mention the constant creativity with their natural hair.
We caught up with the L.A.-based R&B duo while they were in New York prepping for a performance on "The Daily Show With Trevor Noah." They were sweet and simpatico as they chatted about their style influences (Halle loves Zoë Kravitz), fashion highlights (Chloe flipped for Opening Ceremony's show at Disneyland) and, of course, their upcoming performances at the Coachella Valley Music and Arts Festival.
---
The world first got to know you as young girls covering songs on YouTube, wearing T-shirts and yoga pants. Now you're transforming into rising style stars. How does that feel?
Chloe: It's been pretty cool evolving our style. It's been so much fun experimenting with clothes that are comfortable but speak to what we feel inside.
Do you each have your own distinct style?
Chloe: When we're not in the public eye, I'm in sweats and sneakers, and my hair's down. … I feel like our styles are the same as who we are as individuals. We're the same, but there are also little things that make us different.
Halle: I love wearing flowy stuff because it feels like I can just move around everywhere and at the same time be pretty. It's a bit more boho.
For the past few years, you've been working with celebrity stylist Zerina Akers. What's that relationship like?
Chloe: We love Zerina because we've built this bond. She's like our sister and she knows our personalities to a T. We always feel like she makes us look cooler than we actually are.
Where do you find inspirations for looks you want to try?
Chloe: I'll have my little mood board through the bookmark tab on Instagram, and we'll always send pictures back and forth and references to whatever we're feeling that day. We never like to keep it the same, ever. Style-wise on Instagram we love [former Teen Vogue editor] Elaine Welteroth. She's always killing it with her white boots!
What was the first fashion moment that had you saying, "Watch out, world, I'm grown now," to use a line from the "grown-ish" theme song?
Chloe: We love Rodarte. I remember we wore their outfits for the VMAs [in 2016]. Now we have a really great relationship with the two of them [sisters Laura and Kate Mulleavy], and we love their sister bond and how they work together.
Halle: When we were walking for Dolce & Gabbana, that was one of the moments where we felt, like, "Oh! This is, like, a fashion thing! This is cool!"
On the red carpet you're always taking fashion risks, but they're never risqué. Do you think about the impact your looks have on your young fans?
Chloe: We never do anything that we feel uncomfortable doing or something that doesn't reflect who we are inside. Honestly, we just go with the flow and do what makes us happy, and I'm just so happy that girls around the world think it's cool.
You've also shown the versatility of natural hair. Have you always been Team Natural?
Chloe: My sister and I have had locks all our lives. Our mom would do our hair or we would do it. We still do our own hair a lot of times and keep up the maintenance. But we do have these really great hairstylists, Kimberley McAllister in L.A. and Nigella [Hair Studio] in New York. We just love having fun and adding new things to our hair and curling it in different ways.
When you're at home in L.A. where do you like to shop?
Chloe: A lot of my favorite pieces have come from the flea market on Melrose [the Melrose Trading Post]. I'll find these really cute staple pieces there. I really love looking for bomber jackets and platform boots and sneakers because you can always throw them on and elevate your look.
Halle: They have so many cute little stands there that sell gems. I also love Free People. I think they have the coolest stuff.
That bohemian vibe ties right in with the whole "festival fashion" aesthetic. Are you gearing up for that?
Halle: We are so excited to go to Coachella. This is our first time and, of course, we're going to embrace those festival outfits.
Can you give us an idea of what you'll be wearing onstage?
Chloe: I think it'll be a surprise.
As far as performing live, you seem to prefer comfort over style. True?
Halle: It's great to have both, but our main priority is comfort because we're moving and having fun on the stage, and we like to stay cool when we're jumping around.
Which performers are you looking forward to seeing?
Chloe: I think I can speak for my sister here. We're very excited to see the Queen Bey's performance. She always gives a wonderful show, every single time.
For fashion news, follow us at @latimesimage on Twitter.
---