Paris Fashion Week goes to the prairie at Chloé and Isabel Marant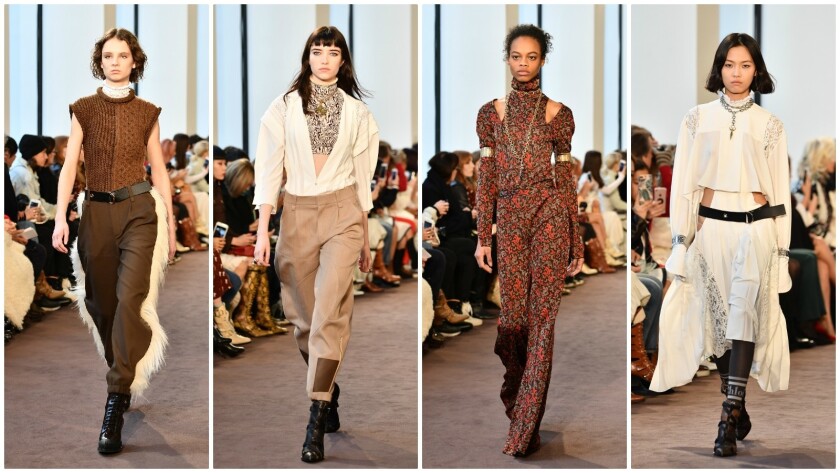 Reporting from Paris —
The Paris Fashion Week collections that came down the runway here on the first day of March were, inspiration-wise, all over the map, from Paco Rabanne's plethora of paillettes and chain mail (one of the loudest collections we can recall; the clothes on the catwalk sounded like car keys rattling around in a Pringles can) to Rick Owens' plaid and padded Sisyphus collection that unspooled to the '50s show tune "Baubles, Bangles and Beads" (and, for the record, contained nary a bauble, bangle or bead).
But two collections, Chloé and Isabel Marant, keyed into a similar western/prairie vibe that included metal-tipped, cowgirl-worthy boots; shirts with westernwear-inspired contrast yokes and piping details; and a rodeo-roundup's worth of fringe.
At Chloé, some of that vibe came from the prairie-dress silhouette carried over from Natacha Ramsay-Levi's debut collection for the house last season, some unbuttoned down to the navel and worn over turtleneck crop tops resulting in inverted triangles of bare skin just above the belt line and exposed skin at the belt line as well as flashes of skin at the shoulders or at the hips (thanks to circular cutouts bisected by a wide black leather belt).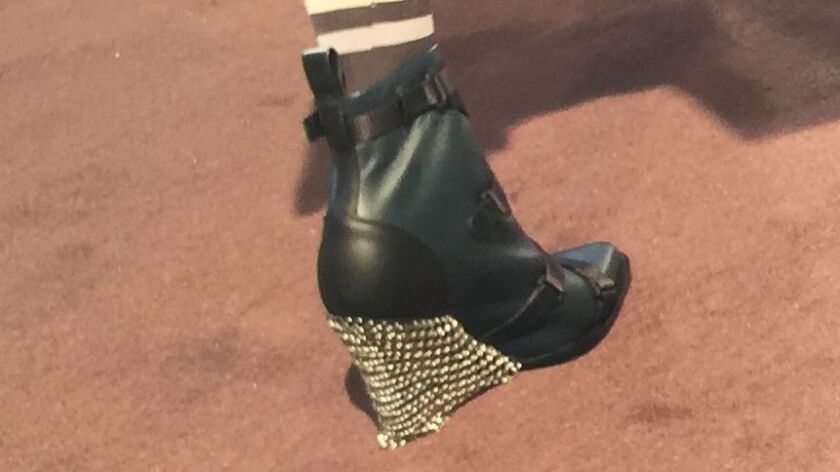 For all the bits of exposed skin elsewhere, the deep V necklines seen throughout the collection managed to plunge precipitously without being too revealing. (However, the wide lapels in busy patterns on many of the open-necked shirts gave the looks a '70s disco feel that felt like a disconnect to the rest of the collection.)
There were other horsey references in the mix, specifically jodhpur-inspired trousers; a range of pieces trimmed in fur in a way that evoked a horse's mane; and some short boots with heels accented in metalwork — metalwork that wouldn't be out of place on a cowboy's dressiest belt buckle. There was also a delightful pair of short boots on which the heel was covered with free-hanging chain mail that appeared to shimmy and dance with each step.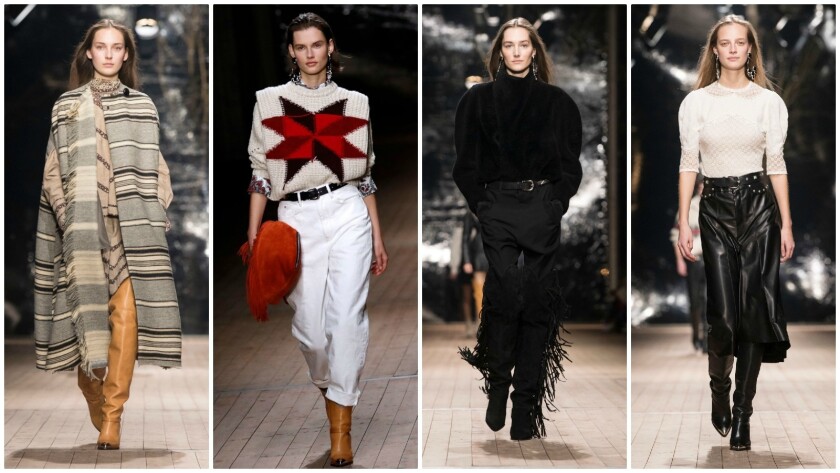 A few hours later in a tented space in the Tuileries Garden, Isabel Marant's eye-catching cowboy boots — particularly the steel-toed, thigh-high version in slouchy black or brown leather — might have stolen the show altogether but if not for the strong collection of Southwestern-inspired, striped-blanket dresses, tops, trench coats and ponchos she paired with them. Other notable pieces included a brown, buttery leather dress that fell to mid-thigh with a feminine ruffle (in leather) running diagonally across the skirt and western-shirt details (a contrast-stitched yoke and pearlized buttons) on top and geometric quilting designs that made their way onto snuggly coats and sweater vests. Marant also showed her men's collection at the same time and a version of that leather shirt sans skirt was in the mix.
Rounding out Marant's rodeo on the runway were leather-fringed tops, jackets and bags, cowhide-covered coats and various permutations of the prairie dress; some paisley-patterned and cinched with black leather belts, others in white with lace insets at the neck and midriff.
While there's certainly nothing novel about mining the American West for fashion inspiration (hello, Ralph Lauren), there was something about it being interpreted through the lens of these two French labels that made it appear fresh, fun and, most important, like just the kind of thing women might be looking to lasso at retail in the fall.
For more musings on all things fashion and style, follow me at @ARTschorn.
---