Listed on the invitation as "Dave Chappelle said he might come," the comedy legend made good on his word, turning up to perform a 30-minute set at the Cool Comedy Hot Cuisine benefit for the Scleroderma Research Foundation.
"Even if there's a modicum of a chance Dave Chappelle is going to show up somewhere, I'll be there," said Darren Criss, expressing his admiration for the comedian, as the Emmy-winning actor arrived at the Beverly Wilshire Hotel at in Beverly Hills.
Later, during a spirited auction, Criss proved he wasn't joking. After Chappelle agreed to add his signature to John Mayer's autographed guitar, Criss raised his bid to $25,000. (He won the auction.)
The event
Spearheaded by actor, comedian and TV host Bob Saget, the fundraiser on Thursday featured a trio of comedians: Chappelle, Ken Jeong and Ray Romano. John Stamos ("Fuller House") assisted Saget in the auction; and celebrity chefs Susan Feniger and Mary Sue Milliken created an intriguing dinner of Border Grill tapas, Peruvian tuna poke, short rib pinwheels, chicken-stuffed rigatoni and chocolate cupcakes.
The crowd
Joining Saget were TV legend Norman Lear, comedian Jeff Ross, B.J. Novak ("The Office"), Macaulay Culkin ("Home Alone"), Josh Peck ("Drake & Josh"), Ben Feldman ("Superstore"), Jonathan Silverman ("Weekend at Bernie's"), Peri Gilpin ("Frasier"), Asha Blake ("America Now"), Candace Cameron Bure, Soni Bringas and John Brotherton from "Fuller House," and onstage was the Dick Bright Orchestra.
The scene
In an auction that preceded the comedy, high bidder Culkin offered $10,000 for another guitar — this time, Taylor Swift's autographed guitar. "The check is in the mail," Culkin said as he took possession of the instrument.
Lear bought a TV package for $10,000, which included set visits to "Superstore" and "Fuller House," VIP tickets to "Jimmy Kimmel Live," and a behind-the-scenes studio tour, all of which the iconic producer then gave to 12-year-old scleroderma patient Wyatt Wright, one of the night's speakers.
Mayer paid $25,000 for a Feniger-prepared private dinner for 10, before stepping up to the microphone to offer his own guitar to the highest bidder. "This is my personal guitar.… You can see me in a YouTube video playing it," said the seven-time Grammy winner, "absolutely real deal." He then remained onstage to play guitar as additional contributions came in for the cause.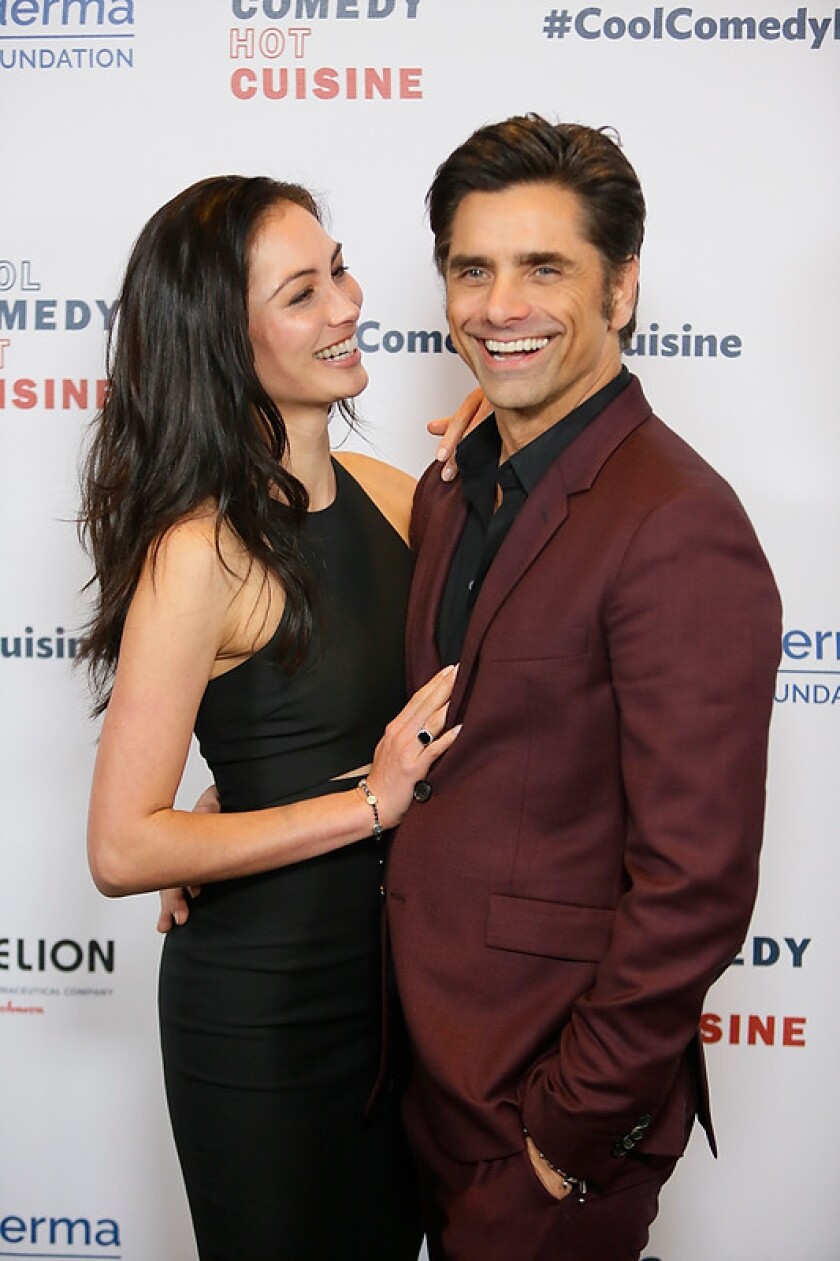 The show
"I used to be a … doctor at Kaiser … Permanente," Jeong told the audience, "and then I said, '… I'll be naked and famous in a movie.' " He then added, "And that is what makes America great."
Romano joked about his wife, sons, sex and communication between couples, while Chappelle touched on topics, including politics, the opioid crisis, suicide and sexual orientation. (None of it was publishable here.) But before wrapping up, he gave a shout-out to Saget by telling him, "You make me want to make my life meaningful."
The quote
After explaining that he'd lost a friend and, later, a sister to the autoimmune disease, Saget said, "We are here to celebrate and to help and to laugh and to care about all the people who are affected by scleroderma."
The numbers
Tickets for the 500 guests cost from $500 to $2,500, with tables ranging up to $75,000. Presented by Actelion Pharmaceuticals, the event raised $750,000 to help find promising treatments and a cure for the disease.
Ellen Olivier is the founder of Society News LA.
For fashion news, follow us at @latimesimage on Twitter.
---