The real Dana H. meets 'Dana H.' during the play's opening night
The moment "Dana H." ended at Sunday's opening-night performance, the audience rose to give Deirdre O'Connell a standing ovation. Starring in the title role, O'Connell played Dana Higginbotham, a hospice chaplain taken captive by a dangerously unstable, mentally ill ex-convict and held hostage for five months.
For the record:
3:20 p.m. June 4, 2019In an earlier version of this story, the last name of writer-director Steve Cosson was misspelled.
Then, to everyone's surprise, the real Higginbotham joined her onstage.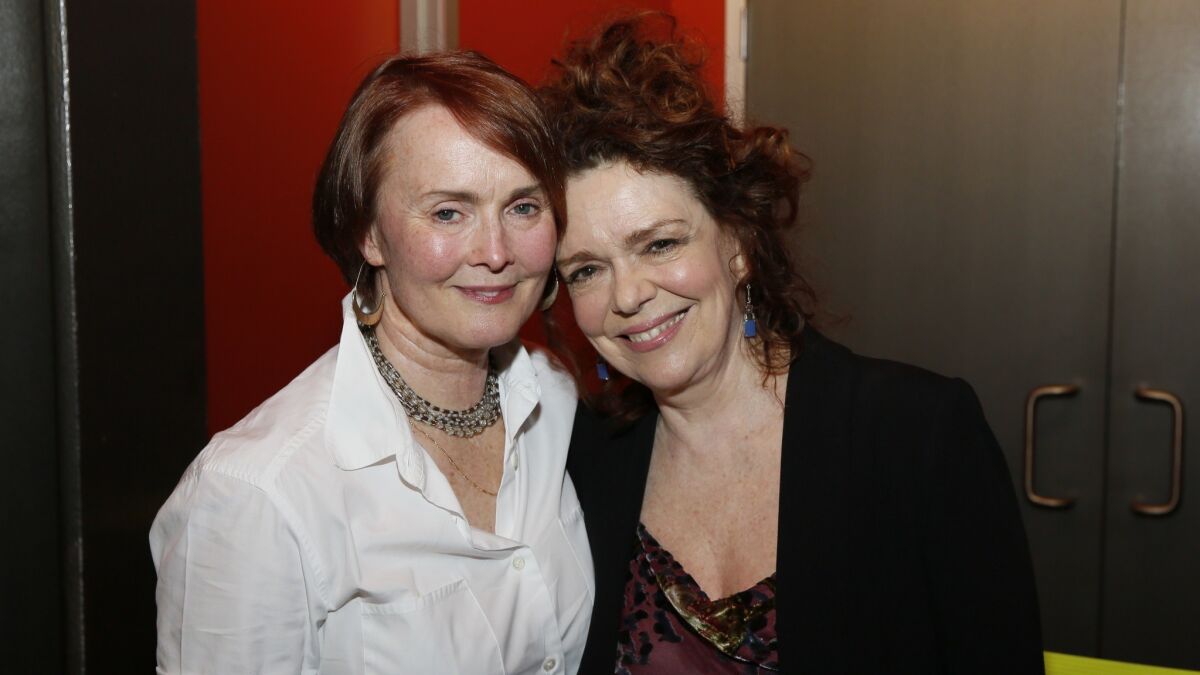 The event
"Dana H." by Lucas Hnath had its world premiere Sunday at the Kirk Douglas Theatre in Culver City. Following the play, the audience joined O'Connell, Hnath, director Les Waters and the rest of the creative team for drinks and hors d'oeuvres in the lobby.
The play
Adapted from taped interviews with writer-director Steve Cosson, O'Connell lip-syncs to Higginbotham's voice-over as she recounts her ordeal, which began after helping a patient in a psych ward turn his life around. She is then taken against her will on a journey through motels throughout Florida and endures physical abuse and threats of further violence until she is finally able to escape.
The playwright
Hnath is the award-winning playwright of "A Doll's House Part 2," "The Christians" and "Hillary and Clinton," the last of which is currently on Broadway.
Higginbotham is his mother.
The crowd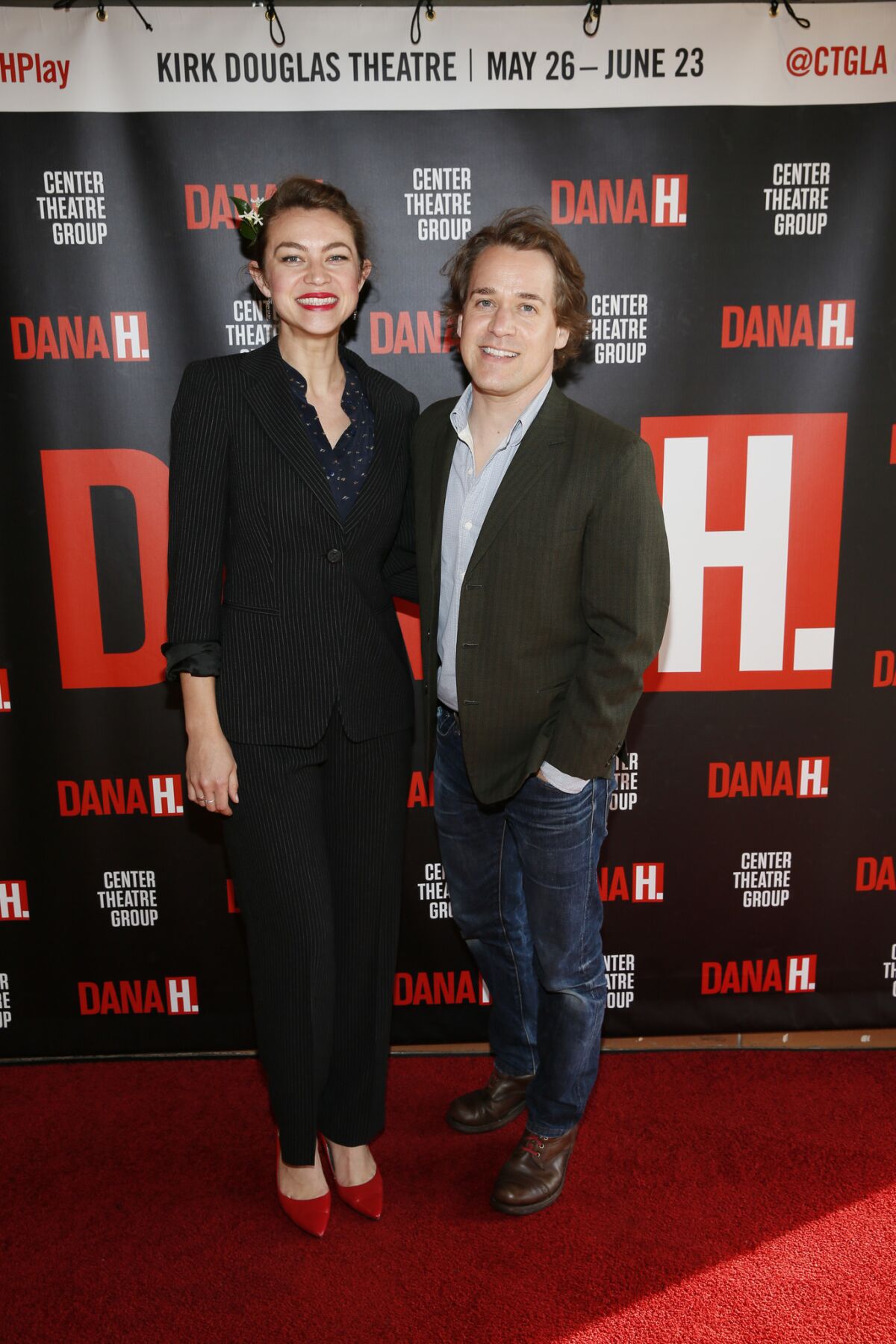 Celebrating the play were actors Laura Innes ("ER"), Elvy Yost ("Mildred Pierce"), T.R. Knight ("Grey's Anatomy"), Ryder Bach ("Frontier Guard"), Mia Barron ("Law & Order True Crime") and Larry Powell ("Mother's Milk").
The quotes
In a private conversation during the reception, O'Connell said she'd only just met the real Dana H. the previous night when Hnath's mother came to see the performance. "I'd never met her. I'd never talked to her," O'Connell said. "It was a terrifying thing to do the show for her, but she came backstage. And she gave me a vote of confidence. The fact that she wanted to actually come up on stage tonight was such a testament to Lucas' work."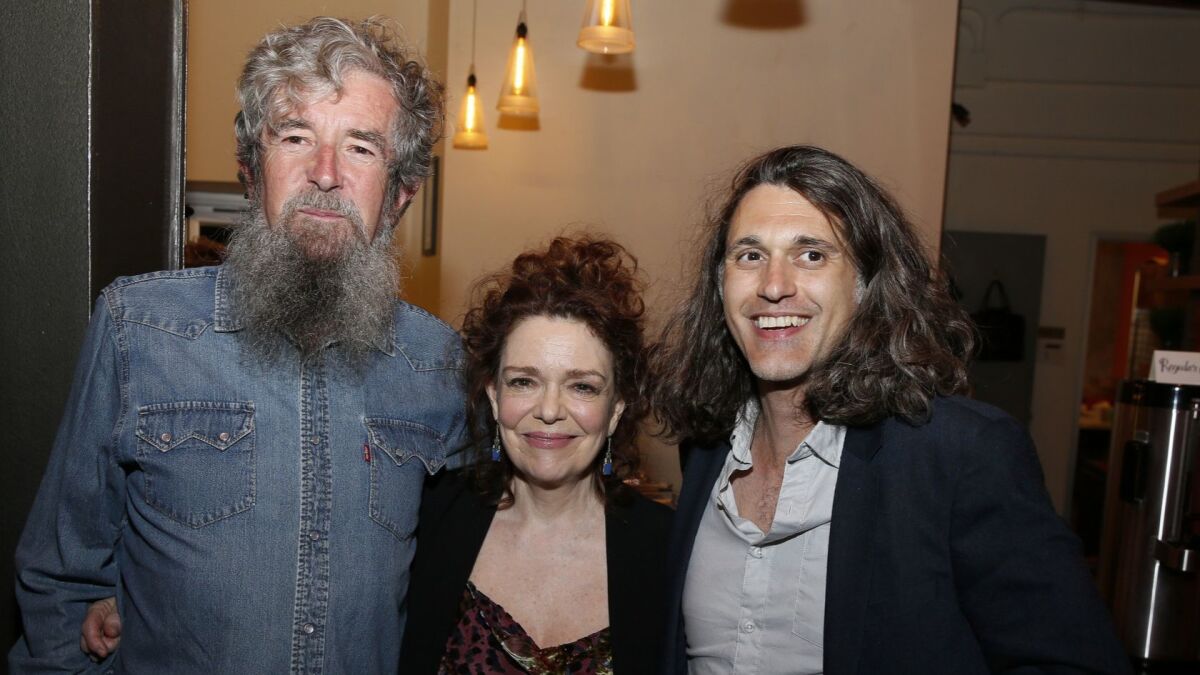 As for learning to lip-sync the lines, O'Connell likened the process to a "neurological reboot," saying, "I had to learn the role the old regular way on the page and then I had to learn [to lip-sync]. It's a different way of thinking. It's not just learning somebody's rhythm but also the way their mind works. So, I would learn the lines and then I would try to learn the other. And then they would literally erase each other in my mind."
Continuing, O'Connell added, "I feel like my job right now as a person is to listen to music every day and dance around my apartment and watch funny things on Netflix to try to keep myself buoyant because the role does drag me to the darkness every day. But there's also something extremely uplifting. … Having that kind of violence happen to you isolates you … and I'm hoping this is helping usher [Dana H.] back into the world and maybe helping other people out in the world."
"Dana H.," was originally commissioned and developed by the Civilians in New York and Goodman Theatre in Chicago.
=====
'Dana H.'
Where: Kirk Douglas Theatre, 9820 Washington Blvd., Culver City
When: 8 p.m. Tuesdays-Fridays, 2 and 8 p.m. Saturdays, 1 and 6:30 p.m. Sundays; ends June 23 (call for exceptions)
Tickets: $25-$79 (subject to change)
Info: (213) 628-2772 or centertheatregroup.org
Running time: 1 hour, 15 minutes (no intermission)
---
Get our L.A. Goes Out newsletter, with the week's best events, to help you explore and experience our city.
You may occasionally receive promotional content from the Los Angeles Times.