Q&A: In an Instagram world, artist David Downton continues to draw fashion and Hollywood's top stars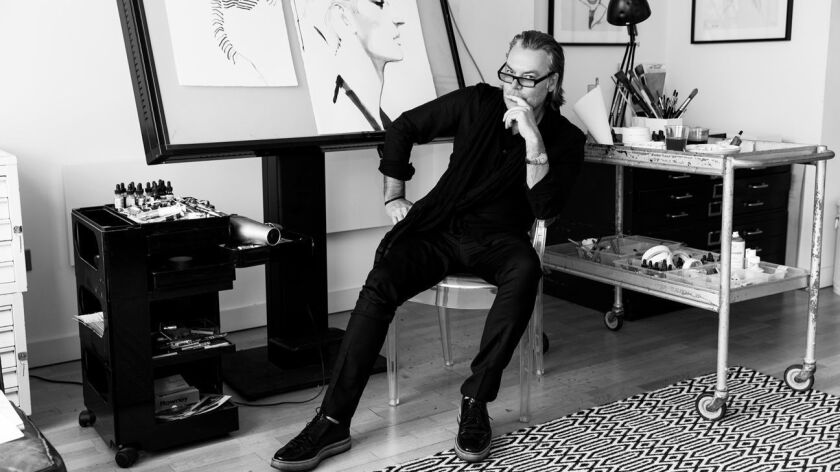 David Downton has drawn some of the world's most stylish women, such as Cate Blanchett and Linda Evangelista, several enduring fashion icons, the likes of Carolina Herrera, Diane von Furstenberg, Michael Kors and Zac Posen, as well as numerous A-listers, including Lady Gaga and Rachel Weisz.
Still, the London-based portraitist has a list of potential subjects that he said he's always pursuing. Such as?
"And I'm not saying who they are," Downton said during an interview earlier this spring. "Although someone I'd love to draw is Tilda Swinton. But I haven't asked her yet."
The artist was in Los Angeles in May to inaugurate his first exhibition in the city. It's a yearlong showing that began in late April at upscale L.A. design store Minotti at 8936 Beverly Blvd. On the walls of the store, as well as those of Minotti's sister retailer, Mass Beverly, a couple of doors down, hang Downton's work. The pieces include a striking portrait of Elizabeth Taylor with lavender eyes, creamy porcelain skin and a mane of glossy black hair. And there's a rendering of supermodel Karlie Kloss, encased in a tight black bustier, her head coyly tilted to one side.
Downton was also in town to do a private commission and had plans to travel to Paris for the couture shows and Rome for another project.
But before his next adventures, he sat down to chat about his fascination with Los Angeles, drawing from the front row and the might of Instagram.
Do you enjoy being in Los Angeles?
The energy here is different. Everyone has an idea or someone you should meet. When my book [2015's "Portraits of the World's Most Stylish Women"] came out two years ago, I did launches in Rome, Dubai, Paris. But I didn't do Los Angeles, and that was a big thing for me.
Who have you drawn recently?
Thandie Newton and Gillian Anderson were two. I have the best job in the world as artist-in-residence at [London hotel] Claridge's and have drawn quite a few men, like the milliner Stephen Jones.
What's the process like for your work?
It's a meeting across the drawing board. It's almost like a dance. Often, you don't know them. Yet it's like a romance, and when you are with them, only they will do. You have them for however long they have to give. With very famous people that can vary between 40 minutes and a day. If it's a private commission, people ask me what they should wear. I tell them, "What do you want to see?" They are going to be living with it. Some of them love getting dressed up because it's part of the ritual and they want to commemorate a moment in these clothes. And if it's somebody I really want to draw, I pursue them until they say yes.
Now, who has that happened with?
Charlotte Rampling. She was one of the first I wrote to. Eventually, I met her at an event and I decided to ask her directly. She said, "Are you the David Downton who has been sending me all these letters?" I asked her, "What should I do?" She said, "Write to me again." Four years later, Vanity Fair commissioned me to draw her in Paris. She said to me, "Everything happens when it's supposed to."
What makes you want to draw someone?
It's really about how they are in life and in a room. It's the personality. A drawing is much more about a sense of style. It's about wonderful faces. I don't know exactly what it is, but I know it when I see it. I know when I have to do the pursuit.
What's it like sketching the runway shows?
It's a nightmare. I don't do it very much anymore. You miss too much. I like to draw at rehearsals or a fitting when the model is still. But at the show, you miss too much. I once did a drawing of Kate Moss' arm and none of the dress. It was a wonderful elbow.
Do you use technology in your work?
The best thing I never did was to learn technology. I thought 10 years ago that I should because the whole world was passing me by. But it would have meant that I'd be tethered to a screen. I deliberately never learnt a thing. Except for Instagram. It's the best social thing. I have a friend who doesn't email anyone anymore when he's in town. He just posts a picture from the airport and waits for invitations. My friend [hat designer] Philip Treacy is staying at my hotel, which I never would have known if he hadn't seen me on Instagram. The people who are hosting me in Rome found me on it. I've had very well-known people tell me that it's the only place where they are in charge. You're the writer, star, art director, editor and audience of your own life. I'll just never take a photo of a meal, out of a plane window or my foot on a beach.
Already a subscriber? Thank you for your support. If you are not, please consider subscribing today. Get full access to our signature journalism for just 99 cents for the first four weeks.
Fashion Videos
For fashion news, follow us at @latimesimage on Twitter.
---