It's Valentino in the topiary and Zoe Saldana on the guest list at Lotusland's Avant Garden gala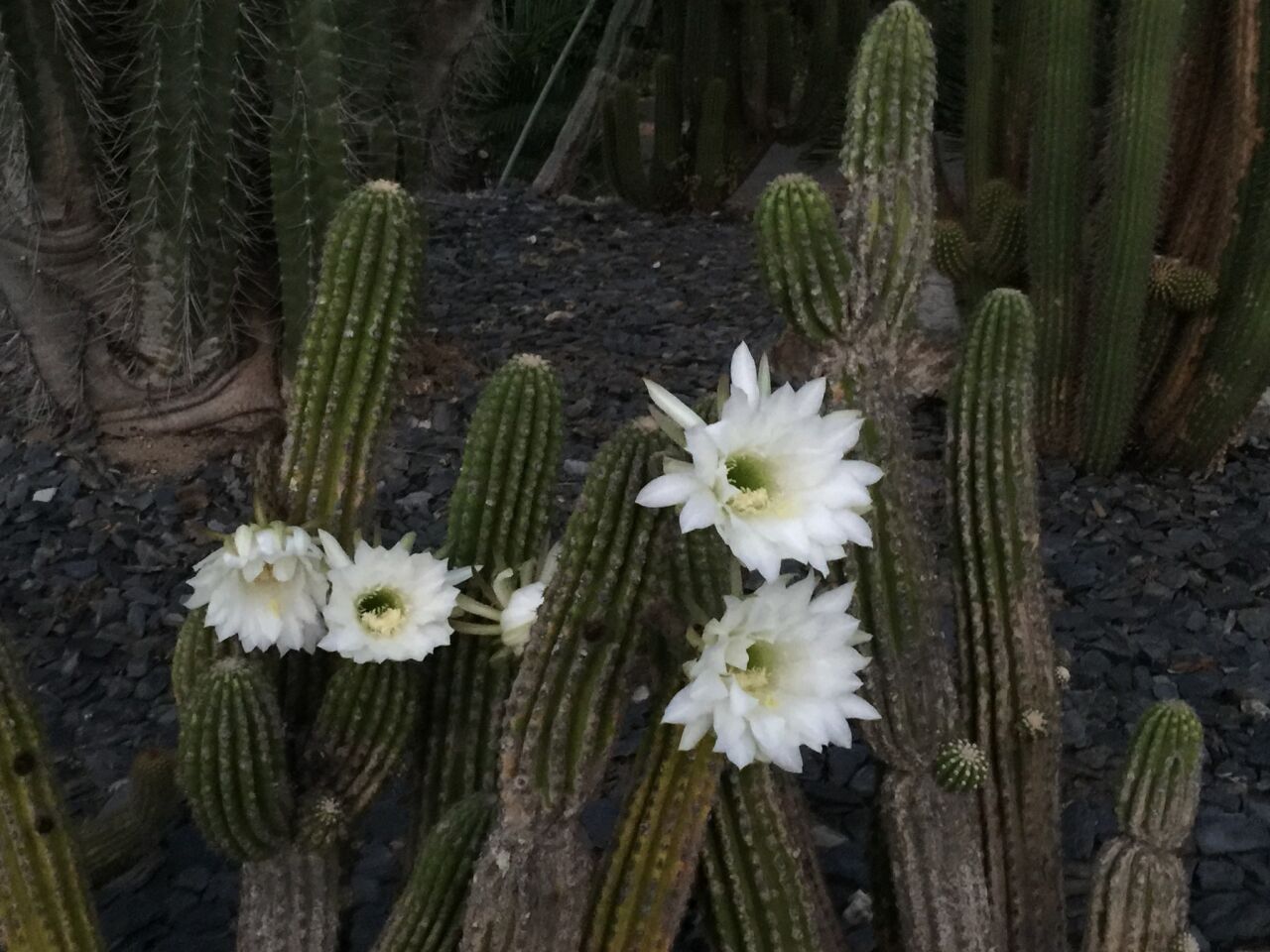 An inhabitant of the cactus garden blooms as if on cue for the annual Lotusland fundraiser in Montecito, Calif.
(Adam Tschorn / Los Angeles Times)
Japanese stone lanterns called ishi-doro flank the walkway out of the 2017 Lotusland gala.
(Adam Tschorn / Los Angeles Times)
Montecito's Lotusland was in full bloom Saturday night, the botanical garden's expansive green lawn filled with 500 folks in floral-themed finery and eye-catching designer dresses who had turned out for the nonprofit's annual "Lotusland Celebrates" fundraising gala.
This year's "Avant Garden"-themed event included fashion house Valentino as a sponsor, actress Zoe Saldana as a special guest and a robust live auction that had raised nearly $147,000 before the dessert dishes were cleared.
As in past years, the money raised at the soiree (now in its 22nd year) will help fund the operations and programs at the 37-acre property, which was created over the course of 43 years by Polish-born opera singer Madame Ganna Walksa. (When she died in 1984, the socialite, who had been married and divorced six times, left it to the Ganna Walksa Lotusland Foundation, which relies on charitable donations for a third of its funding.)
Bold-faced names spotted wandering through the various themed gardens (a water garden on the site of the original estate's swimming pool, for example, is filled with lotuses and water lilies, and an extensive cactus garden bristles with more than 300 different species) included model / polo star (and according to Vanity Fair readers, the world's second-most handsome man) Nacho Figueras, fashion designers Brian Wolk and Claude Morais, accessories designer Kendall Conrad and style bloggers / digital influencers Aimee Song, Chriselle Lim and Garance Doré.
Five of the gardens included gorgeous gowns from designer Pierpaolo Piccioli's fall 2017 collection for Valentino, mostly displayed on mannequins with a few Valentino-clad live models perched precariously on boulders amid the towering columnar cactuses. Also wearing an eye-catching fall 2017 Valentino gown was the brightest star in the evening's constellation, Saldana, the "Guardians of the Galaxy" and "Avatar" co-star who had recently explored the gardens during a cover shoot for C Magazine's summer 2017 issue.
We were curious if she'd found a plant, flower or corner of Lotusland that she particularly enjoyed. "I love the roses because they're so beautiful," she said, "but there's this one area where the gardening is done in such a way that it becomes this [hedge] maze. I'm obsessed with English gardening so I really enjoyed that." (We're not 100% sure, but she seemed to be pointing toward the boxwood maze at the lower end of the topiary garden.)
She credited stylist Petra Flannery, who was also at the event, with picking out her gown for the evening. "She's an amazing stylist," Saldana said. "She knows me and knows the mood I may be coming in [to an event] with. And she knows how to push her clients to try different things but [in a way that] you never lose your voice in the outfit that you're wearing — so that it's still you."
Speaking of which, Saldana seemed close to losing her voice — literally. "I've been hoarse for this entire year," she said with a laugh when we mentioned it. "I have three kids and I'm in two sci-fi movies." (She recently announced that she's going to be trying to give millennial Latinos a louder voice through a new digital media company called BeSe, which is expected to launch before the end of the year.)
Helping pull all the fashionable pieces together for the fundraiser was the event's first-ever honorary chair, Jennifer Smith Hale, C Magazine's founder, editorial director and chief executive officer, who not only hails from the area and serves as president, publisher and editorial director of Santa Barbara Magazine, but has deep roots with the event itself.
"I've been coming here since I was a teenager, and it's something I plan my summer travel around. I've only missed one in the last 15 years," she said. "It's such a magical garden and it's very important to my family."
And, thanks to efforts by movers and shakers including Smith Hale, Saturday night's garden party raised roughly $400,000 to keep the lights on — and the flowers blooming — for another year.
For more musings on all things fashion and style, follow me at @ARTschorn.
ALSO:
Lotusland in Montecito has beautiful and tranquil grounds
Dolce & Gabbana & 'Giselle': SCP soiree celebrates Teatro alla Scala Ballet Company
Menswear forecast for spring/summer 2018: Striped and relaxed, with stormy weather on the way
---