Diane von Furstenberg, creator of the wrap dress, is a champion for women's causes. What else does her future hold?
Fashion designer and philanthropist Diane von Furstenberg speaks about the influences and inspirations on her womanhood.
On an overcast afternoon last month, a day before Diane von Furstenberg's annual Oscars luncheon for female nominees in all categories, the fashion designer and philanthropist didn't appear concerned about the gloomy L.A. weather.
While the main house of the gated Beverly Crest estate she shares with billionaire husband Barry Diller was being readied for guests, Von Furstenberg, who was accompanied by one of her employees, sat down in an oversized lounge chair in a spacious room in the guest house.
"Hollywood is very exciting right now," she said, naming Reese Witherspoon and Kerry Washington among those to watch. "And there are a lot of women who are in charge. … Would you believe that no one ever had the idea of honoring women [nominees] in all categories?"
On this occasion, though, what was more surprising was strictly sartorial.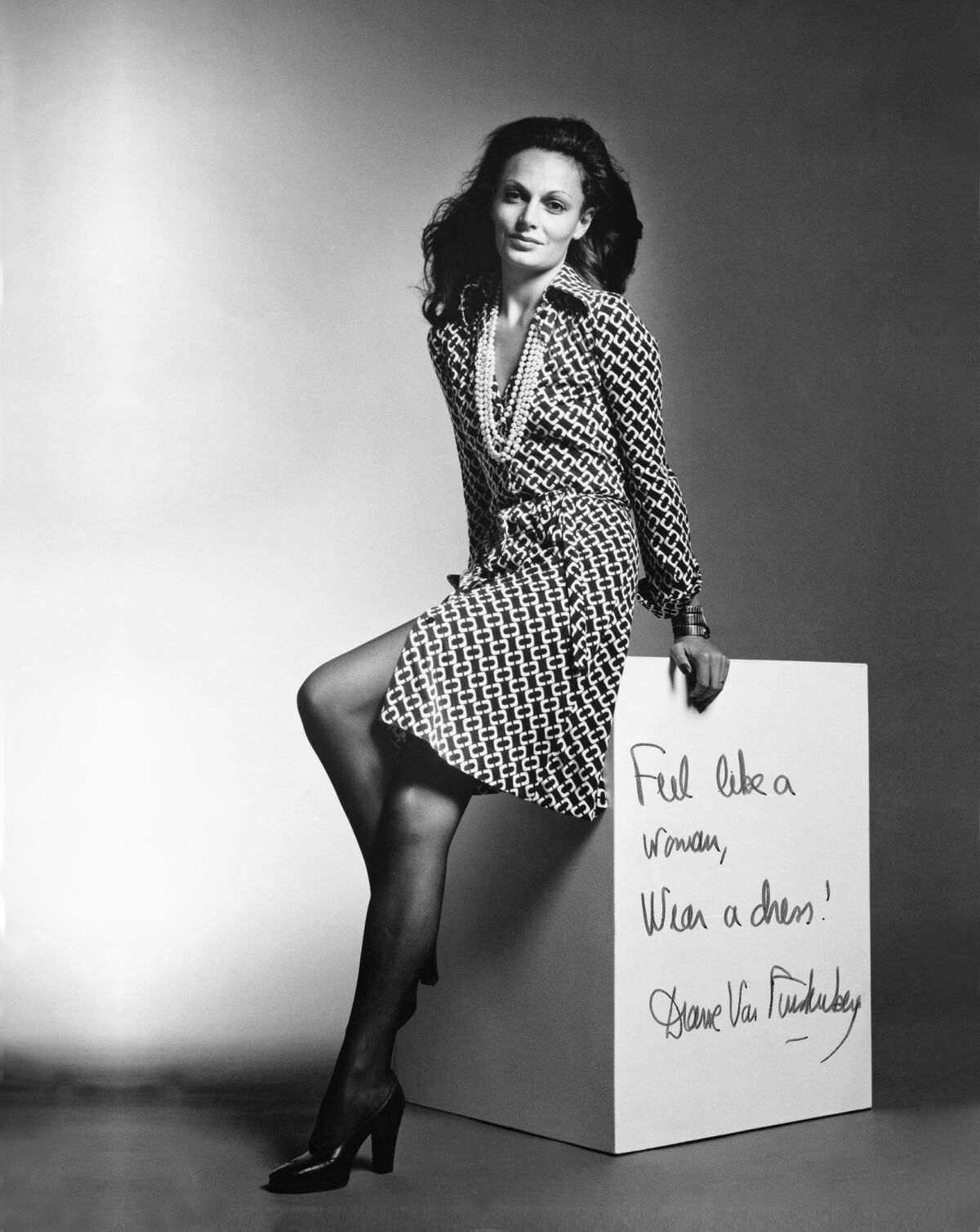 Von Furstenberg, who started her eponymous label in 1972, wasn't dressed in one of her brand's signature wrap dresses — a frock she introduced to the masses in 1974. The dress style became so wildly popular that 40 years later it was the star of the exhibition, "Diane von Furstenberg: Journey of a Dress," at Los Angeles County Museum of Art. (That exhibition space is now becoming the Academy Museum of Motion Pictures for which Von Furstenberg is a member of the board of trustees.)
Instead, the designer, who has lived a colorful journey during the past 71 years (just read her 2014 book, "The Woman I Wanted to Be," for more), wore a statement T-shirt that read In Charge.
"In charge means to know who I am and to be in charge of my life, to make things happen enough to put somebody else in charge," she said. "I've never met a woman who was not strong."
Von Furstenberg, whose social media messages often end with "Love Diane" (it's also the name of one of her perfumes), was wearing the black tee to promote her next major affair, a four-day series of panel discussions and inspirational moments, which started Thursday, in time for International Women's Day, at her company's studio in New York. (Think of something along the lines of conversations on "The Oprah Winfrey Show," not a fashion talk.)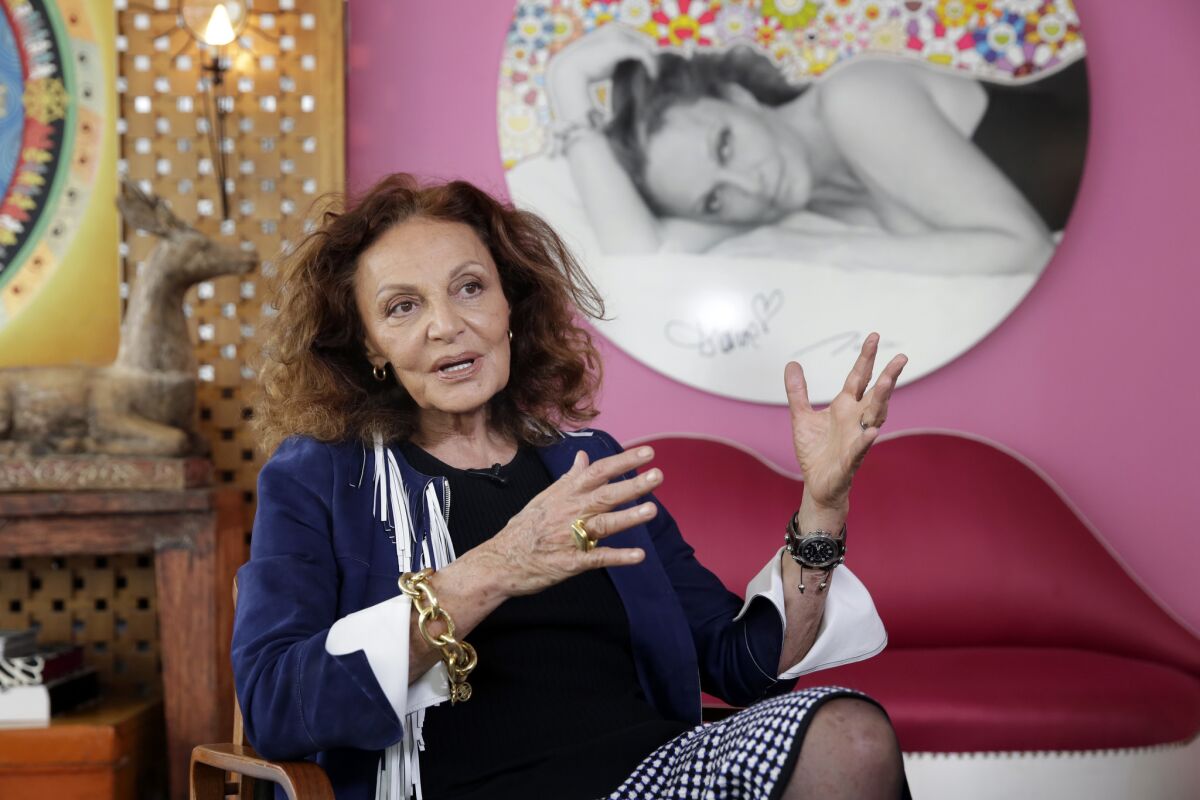 "And the theme is women in charge," said Von Furstenberg, who finds inspiration in her mother's story. "First of all, my mother [a Holocaust survivor] always told me that it was a privilege to be a woman. So in my family, it was always an asset to be a woman, and I always was proud to be a woman. And it was very much part of my genes and my education.
"I did not know what I wanted to do," Von Furstenberg continued, "but I knew the kind of woman I wanted to be. I wanted to be a woman who's in charge of her life, who's independent and, you know, who was driving her life — designing her life. I'm lucky I became that woman because of a little dress, a little dress that I designed when I was 22 years old."
Certainly fashion has been a major part of her life, but so has being a champion for women's rights and equality. Von Furstenberg said she's looking forward to the upcoming DVF Awards, which were first given out in 2010 to honor the work of inspiring women. Each honoree receives $50,000.
This year's DVF Awards, which could be particularly poignant in this #MeToo and Time's Up era, are set for April 13 at the United Nations in New York. Voting for the People's Voice Award, which will be given to one of four nominees, is open to the public at www.DVFAwards.com until March 25.
This year's nominees are collectively involved with increasing the number of women running for elected office; survivors of human trafficking; refugee children; and foster children. (Georgie Smith, co-founder of L.A.-based A Sense of Home, is one of the nominees.)
"We give money and exposure to women who have had the strength to fight, the courage to survive and the leadership to inspire," said Von Furstenberg, who's also president of the Council of Fashion Designers of America. "That has been incredible. It's mostly given to women who are not very well known but who do amazing work."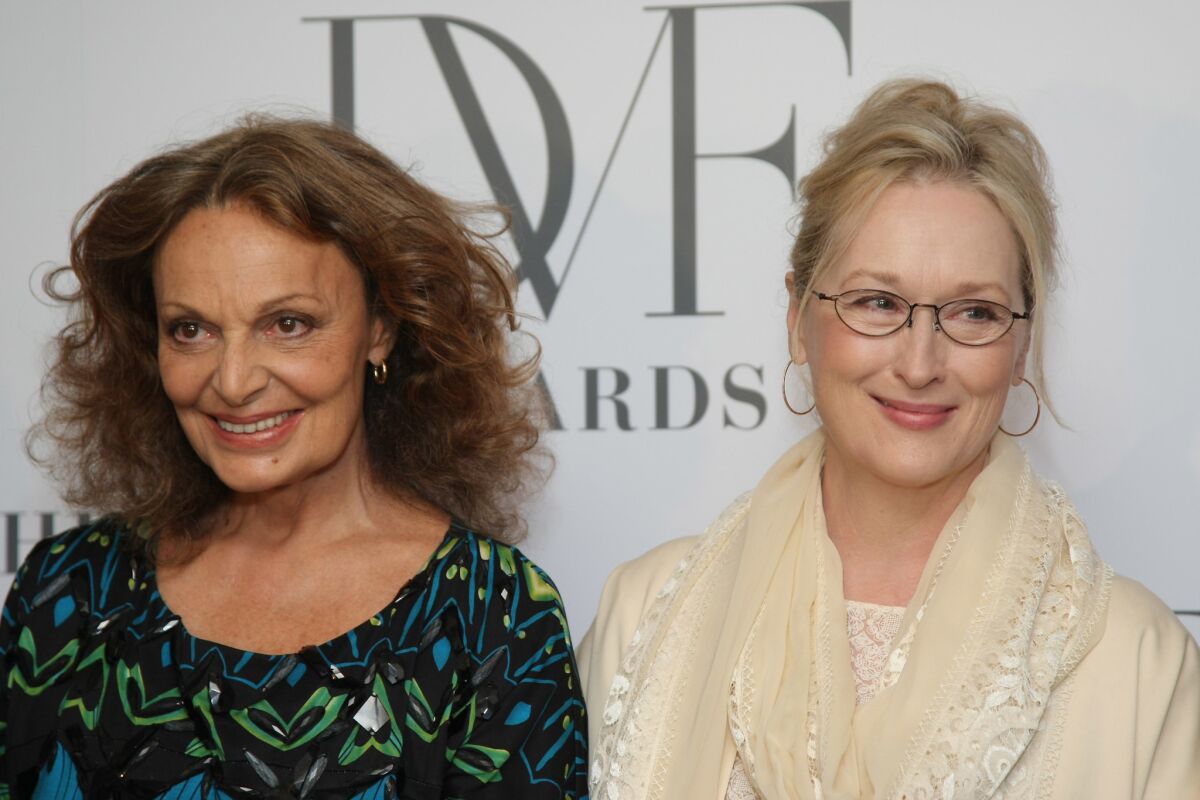 Although she has been fortunate to be her own boss, the fashion designer has had the type of life that most Hollywood showrunners would salivate over, including the comeback of her fashion label in the late 1990s. But she does understand the hardships and the abuse that people face daily.
Concerning the #MeToo and Time's Up movements, Von Furstenberg said, "It's not right to make women — or men, by the way — feel like meat. I think it's about owning your dignity and owning yourself and knowing you don't have to swallow it.
"I grew up in the generation that if you were as a woman you took it for granted that every month you'd have your period and constantly you'd get groped and abused and taken advantage of," she said. "That was just part of what you do when you are a woman. …
"I was lucky I only had three bosses before I started to work for myself. And I would say that all three bosses kind of abused me," she went on. "I think what is happening with #MeToo and all of that is great. I think it is overdue, and I think that now that it is unleashed, it will not go back again."
As for her own path, Von Furstenberg said she's at a different point in her story. Just last year news reports surfaced that she was considering selling a stake in her fashion house.
Days later, Jonathan Saunders, who was DVF's chief creative director and said to be bringing renewed energy to the brand, made his own announcement. He was leaving DVF. The label, with more than 110 stores worldwide, brought back Nathan Jenden as creative director, the position he held for a decade until 2011. (Also, Talita von Furstenberg, Von Furstenberg's granddaughter who has been called the label's new muse, is featured in DVF's fall 2018 campaign.)
Von Furstenberg said she's still pondering what would be best for the legacy of her fashion house and what the future DVF brand might look like. She said she wants to make DVF "a nice, tight jewel" so she can "put it in good hands and let it go."
That might give her more time for philanthropy — or perhaps write another book. ("I want to write a book about designing your life," she said.) Calling herself the "godmother of the Statue of Liberty," she said she's working to help open a museum on Liberty Island in New York Harbor scheduled for next year, and she's involved in a documentary about that famous statue.
Despite wondering about the road ahead and the changing ways people shop today, there's one thing she's absolutely certain about right now.
"We know that that wrap dress can be interpreted in a million ways forever," she said. "I've always had a relationship with the wrap dress because I have sold tens of millions of them. … It was proper yet it was sexy. Someone once told me, 'It's the dress that the guys like you in, and his mother doesn't mind.'"
Her timeless wrap dresses certainly will go on, worn by women now and women of the future.
"I always joke it was not me who created the dress, but it's the wrap dress who created me," Von Furstenberg said.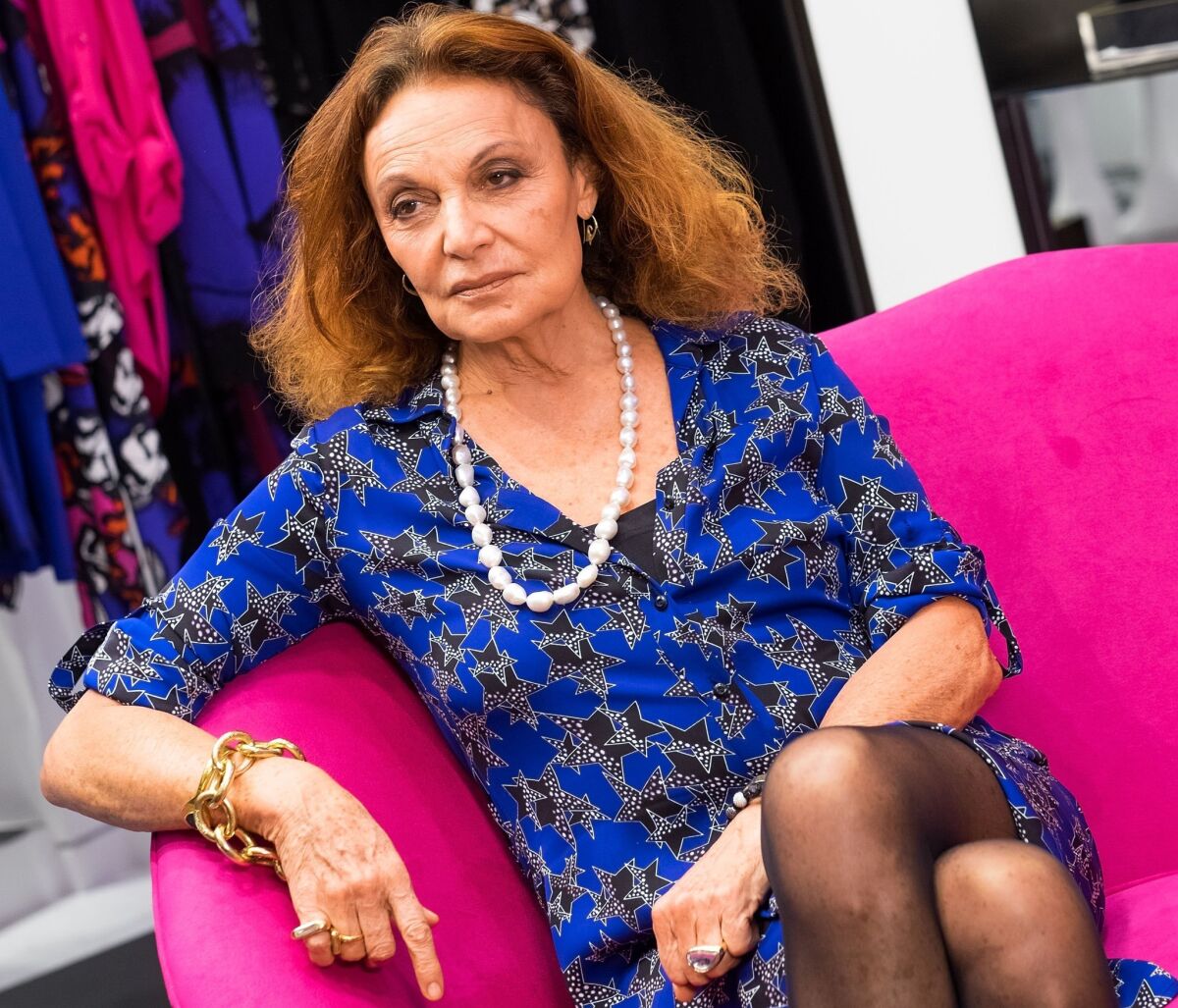 Follow me on Twitter at @marquesharper.
---