Bella Hadid and Peter Philips celebrate the release of the new Dior Backstage collection
If beauty addicts were searching for clues about spring trends at Dior Beauty's party at Delilah in West Hollywood on Wednesday night, the message from model Bella Hadid was clear — anything goes.
Two days before, at the Metropolitan Museum of Art's Met Gala in New York, Hadid unveiled a sleek pixie hairdo that bewitched fans as much as the cutouts on her black Moschino gown.
At Delilah, where she was co-host for the party with Peter Philips, Dior Makeup's image and creative director, Hadid had a high ponytail and wore a sheer black bodysuit under indigo tie-dyed track pants.
Hadid and Philips celebrated the release of Dior Backstage's spring/summer 2019 collection with party guests including actresses Billie Lourd, Melissa Benoist and Mackenzie Foy, social media influencers Camila Coelho and Amanda Steele, and makeup artist Daniel Martin.
In addition to the existing 40 waterproof foundation shades, the line introduced a face and body primer, an eye palette featuring amber neutrals, and a face palette that offers colors to give glow and glitz.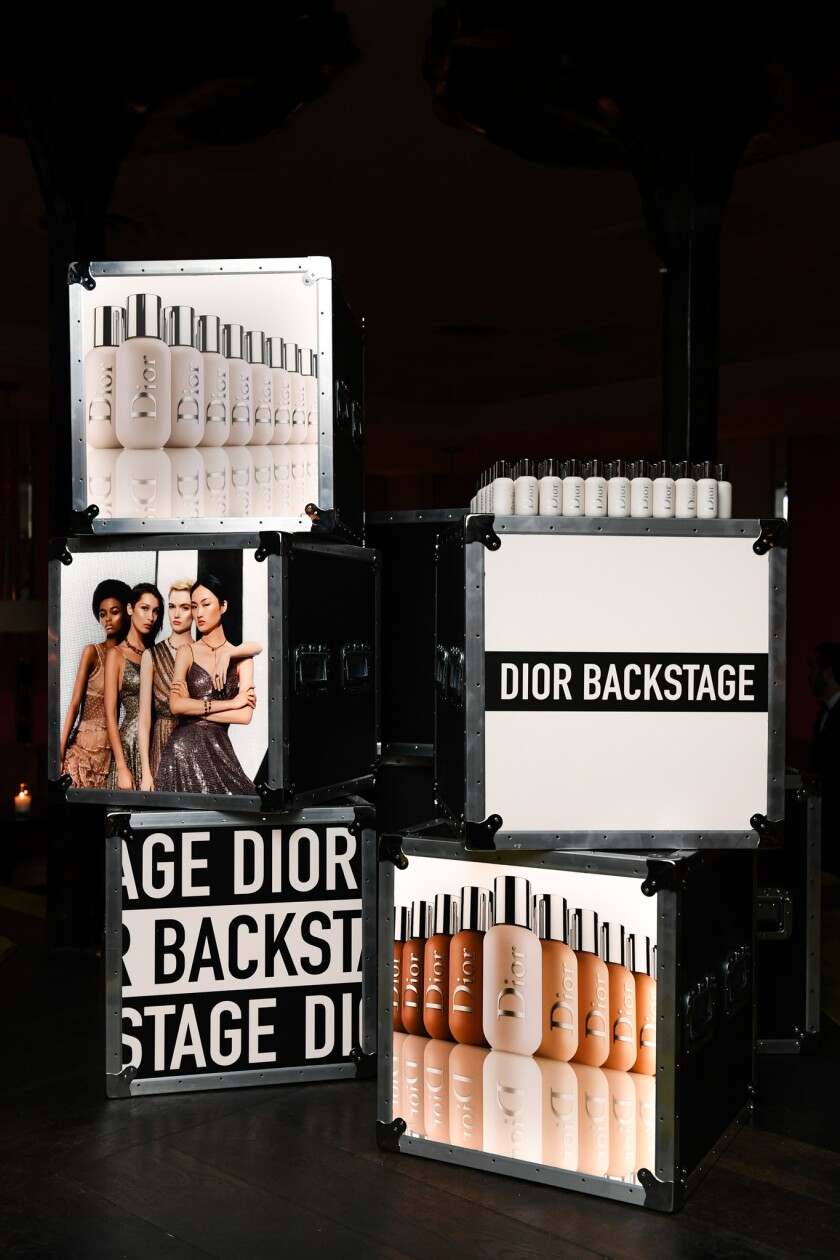 The face and body primer can flatter both genders. At Monday's Met Gala, groomer Amy Komorowski used it on "Bodyguard" actor Richard Madden to help "make sure his skin looked healthy, glowing and a bit dewy," she said.
Dior plans to release the primer and other new items in June, but makeup mavens can get a jump-start in experimenting with them at Dior Backstage's pop-up shop, which opened Thursday for a 10-day run at 313 N. Rodeo Drive in Beverly Hills.
Designed to resemble the backstage of a runway show, the space is "very interactive," Philips said. Despite the professional look of the cosmetics packaged in clear cases, he said, "The products are so easy to apply and so easy to wear that it's almost like having a makeup artist helping you in your bathroom.
"Makeup should be fun," he added. "Everybody can create their own runway."
Skai Jackson, the 17-year-old actress from Disney Channel shows "Bunk'd" and "Jessie," subscribed to Philips' philosophy. She started experimenting with makeup when she was 13. "But not like foundation or anything," she said. "I would do eye shadow and mascara."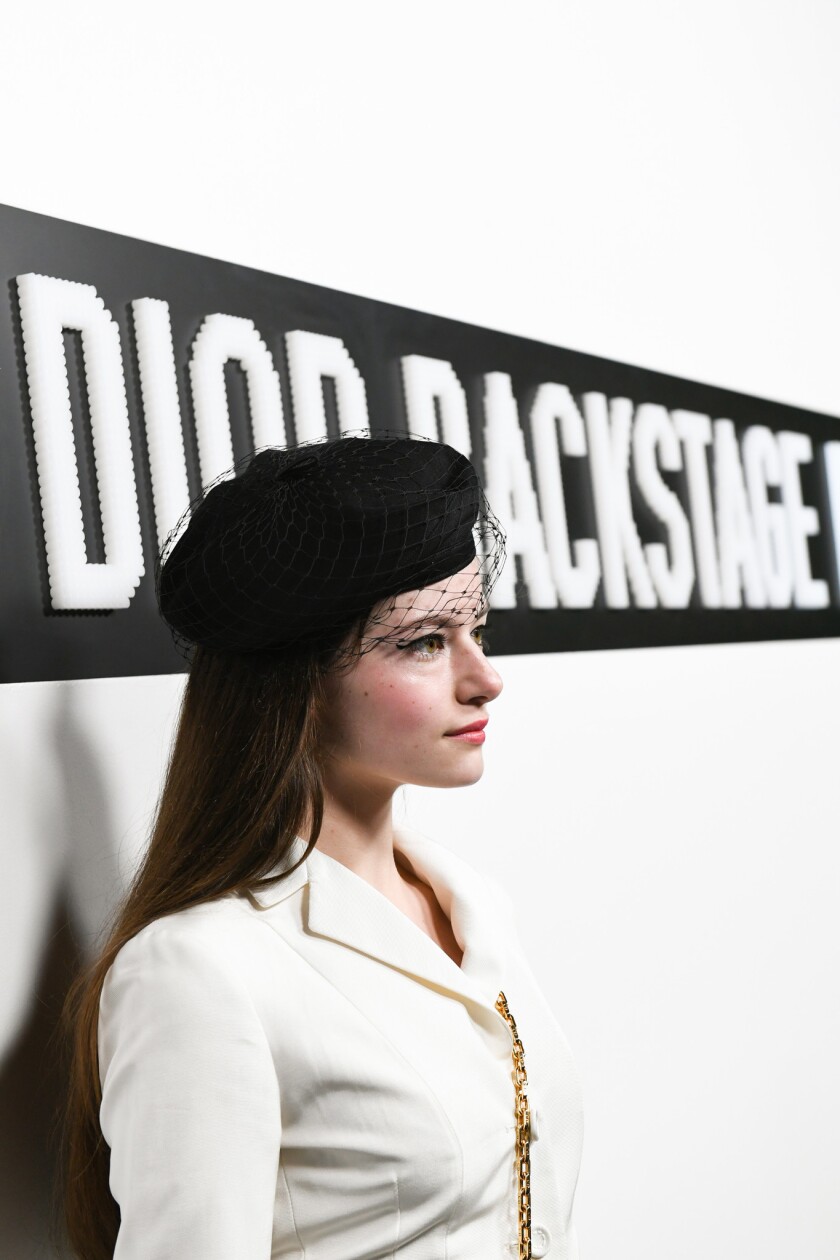 Upholding a motto of "less is more" for spring, she complemented her metallic Dior T-shirt dress with the warm shades and highlighters from Dior Backstage's new palettes. "I like that [the makeup] just looks natural," she said. "You can build it up, build it down, do whatever you want to do with it."
Actresses Ella Balinska and Sabrina Carpenter did the same, wearing the new colors from Dior Backstage on their photogenic faces at the party. Meanwhile, other party guests hammed it up for a professional photographer in a blacked-out room printed with the brand's logo in big white letters.
As DJ Justin Scott played hip-hop beats, waiters in white tuxedo jackets passed out chunks of braised beef on silver spoons as well as vegetable spring rolls and sliders. Guests were served cocktails such as the "Backstage Mule" and "The Blurry One."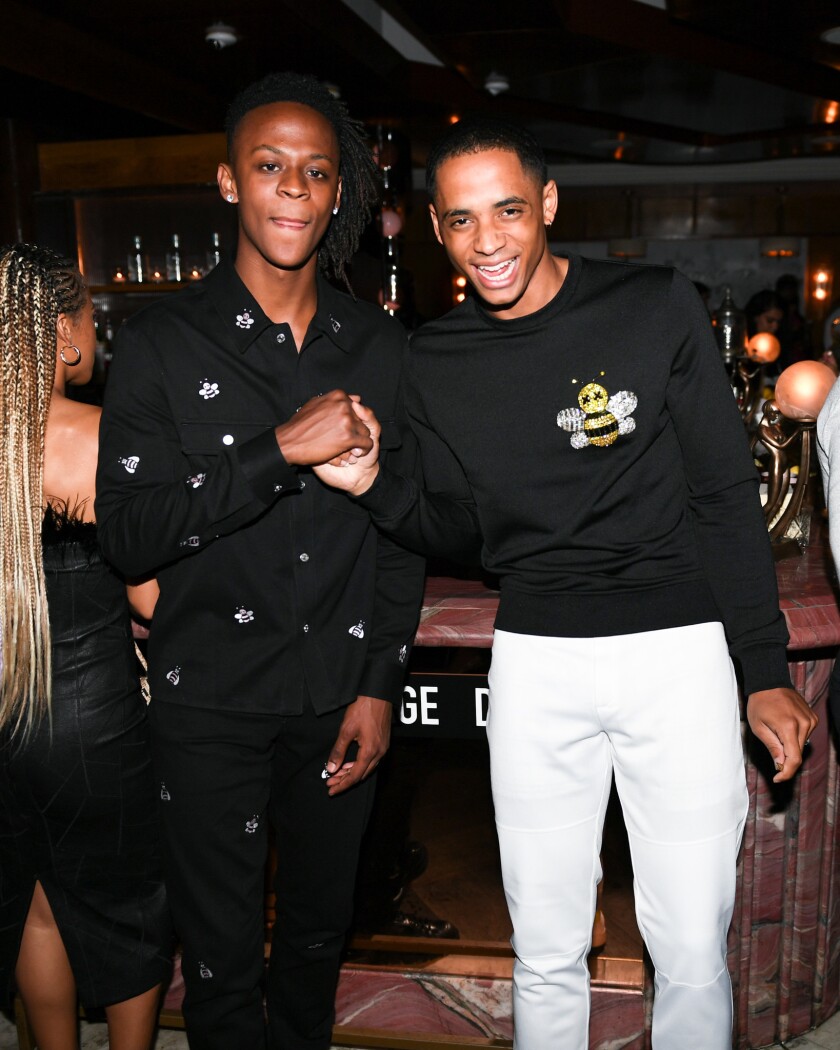 Facing a platter of paper cones filled with fries, Hadid giggled with an octet of pals squeezed into a booth next to the DJ. Her whirlwind week continued with an early call time on Thursday. She left the party after an hour but not before posing for selfies with fans and giving actress Jaime King a quick hug.
Dior Backstage Beauty, 313 N. Rodeo Drive, Beverly Hills, diorbackstagela.com
For fashion news, follow us at @latimesimage on Twitter.
---