At Paris Fashion Week, it's a '60s 'Youthquake' at Dior and an '80s-era strong shoulder at Saint Laurent
Reporting from Paris, France —
For fall and winter 2018, Dior's artistic director — and an unapologetic feminist — Maria Grazia Chiuri looked to the turbulent 1960s for inspiration, using a venue plastered with colorful collage-like images of fashion magazines from the decade (Elle, Harper's Bazaar and Vogue, among them) as the backdrop for a collection that was patched together, colorful and '60s-centric.
The show notes cited the 50th anniversary of 1968 specifically as an opportunity to "revive an era when the rules of fashion were turned on their head," as well as the September 1966 picketing of a Dior boutique by miniskirt-wearing protesters whose signs read, "Mini Skirts Forever," and Diana Vreeland's coining of the word "Youthquake" in January 1965 (a full 52 years before it was dubbed Oxford Dictionary's 2017 word of the year).
The specific year(s) aside, what Grazia Chiuri and company were trying to tap into was the era's seemingly swift shift from top-down fashion dictated by the fashion houses and the glossy magazines to fashion that started bubbling up from the street as personal style (think embroidered jeans, hand-knit pieces and whole garments cobbled together from patches of fabric). Put aside just for a moment the fact that this just-gotta-be-me approach to style is being put forth by one of the planet's most recognizable luxury brands.
So it comes as no surprise, that patchworked pieces were the stars of the fall and winter runway collection at Dior, turning up in colorful patchworked knee-length coats, roomy high-waisted trousers, dresses with delicate lace collars paired with wide leather belts sporting chunky "D" belt buckles as well as backpacks and knee-high boots, most with whimsical feather-stitch embroidery over top. More patchwork, or at least patchwork patterns, turned up in a range of denim pieces including coats and high-waisted trousers.
Versions of the sheer tulle tops from previous collections made an appearance; the latest ones embellished with shoulder pads decorated with needlepoint-like designs. Also, tulle skirts came embroidered with floral vines or in plaid patterns that were paired with plaid menswear-inspired jackets or leather biker jackets.
Slouchy sweaters with intarsia knit protest-chic designs were sprinkled throughout, including a peace sign on one and the French slogan, "C'est non, non, non et non!" on another (translation: "It's no, no, no and no!"), and many looks were given an extra dash of retro flair thanks to tinted sunnies, suede newsboy caps and strappy bags with woven fringe and metalwork detail.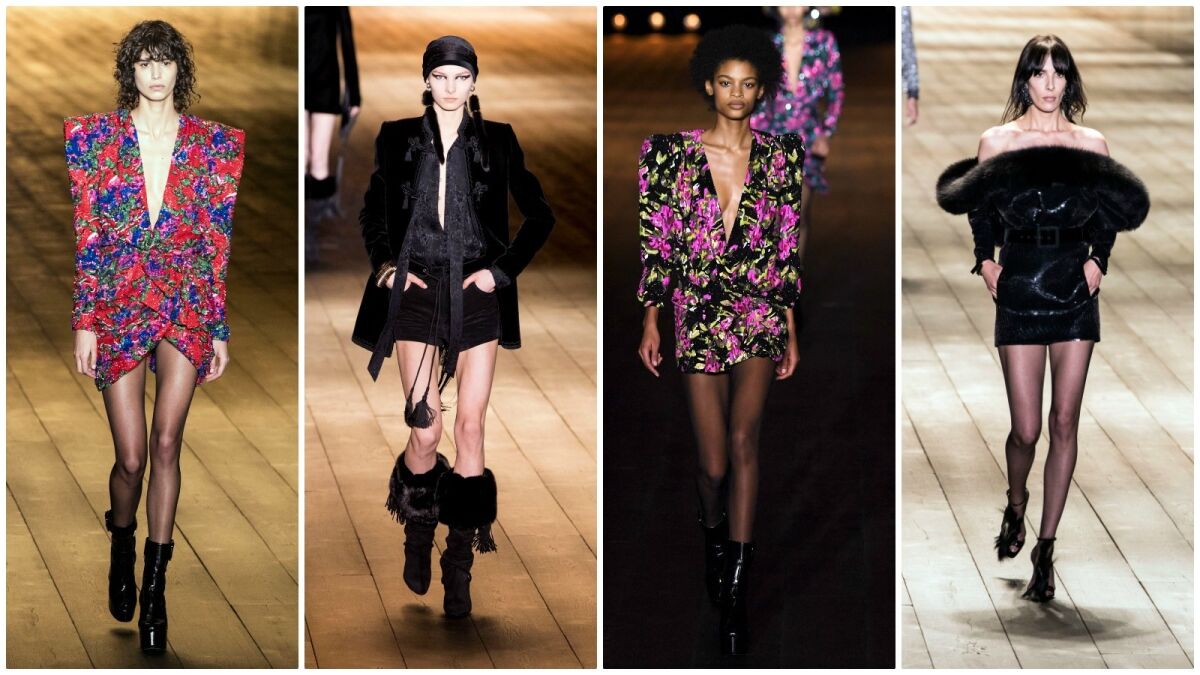 Several hours later, Saint Laurent closed out the first full day of the Paris Fashion Week shows by visiting the more recent past — the '80s to be precise — sending a series of strong-shouldered looks (for men and women) down the runway. Versions included bold-shouldered black velvet jackets paired with black leather dolphin shorts and mini-dresses in multicolored floral sequins with shoulders that looked sharp enough to grind an ax on.
The shoulder was also bared on many a look; sometimes just one, other times both — in the latter case, framed by either a simple scoop of a neckline or an immense ring of jet black fur that appeared to almost undulate around the model's upper body like an immense woolly bear caterpillar.
Some of last season's quivering feather-festooned footwear was back on the Saint Laurent runway for fall, but the statement kicks that caught our attention coming down the catwalk this time were the generously fur-trimmed black boots that had a swashbuckling lady pirate feel to them — a feeling that was heightened further when the models were also accessorized in black, silver-studded do-rags and fierce kohl-rimmed eyes.
With only day one in the rearview mirror, it's too soon to draw any conclusions about where this round of Paris Fashion Week shows is headed, but it sure feels like the recent past — the last 50 or so years — is a prelude to fashion's not-so-distant future.
For more musings on all things fashion and style, follow me at @ARTschorn.
---