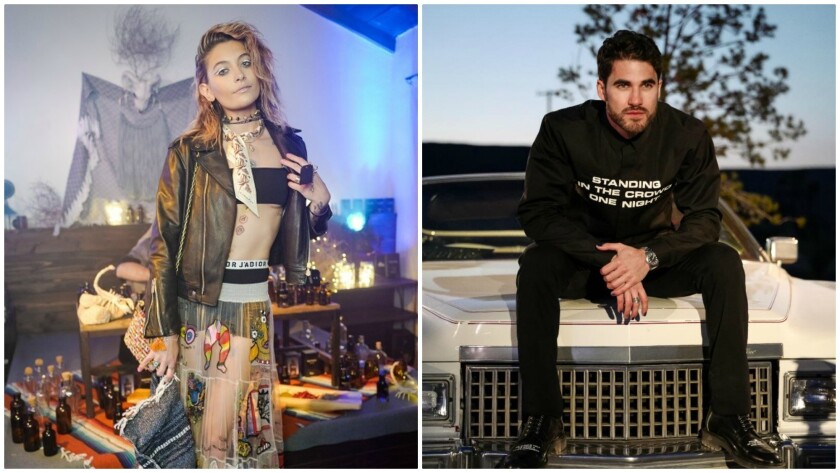 Coyote seemed to be up to his old tricks in Pioneertown on Thursday evening. The trickster of Southwestern mythology conjured up gusts of wind and a drop in temperatures that threatened to scuttle Dior Parfums' magic hour celebration of its Sauvage Eau de Parfum men's fragrance.
The locale — the rustic Pioneertown Motel a peyote button's throw from Pappy & Harriet's Pioneertown Palace a few miles northeast of Yucca Valley — was chosen only partly for its proximity to the Coachella Valley Music and Arts Festival that starts Friday in Indio, according to Dior reps of the ad campaign for the fragrance, which features Johnny Depp driving around the desert in a white convertible and burying something (we know not what) in the heat-blistered ground. It was shot in nearby Joshua Tree. (The original ad was released in support of the fragrance's eau de toilette formulation, and the April 12 dinner was to mark the launch of the eau de parfum — if that makes scents.)
Depp wasn't present in the flesh, but his voice could be heard narrating the newest ad for the fragrance that was being screened for guests in one of the motel's rooms. He was also there in spirit — kind of — thanks to a low-talking shaman camped out cross-legged in another rooms, who spun tales of the coyote trickster while crushing chile peppers, pink peppercorns and sage (some of the scent notes found in the new fragrance) in a molcajete while surrounded by bottles of the Sauvage Eau de Parfum.
The fragrance campaign — and dinner schedule — was centered on the idea of magic hour, which the not-Depp shaman said (in a gravelly sotto voce): "This magical hour is the very moment everything changes. Deep blue, the heavy scent of burning sage; ready to lure everybody, just as it lured black God ..."
Due to the unexpectedly cold temperatures and brisk winds that seemed to kick up out of nowhere, the medicine man's quarters became a refuge for a handful of guests who huddled and listened to him spin tales of the trickster battling the gods of the sky, while the long outdoor tables where dinner was supposed to take place were relocated to a nearby barn. By the time dinner was ready, attendees were gamely howling along — coyote-like — with the shaman.
The guest list was heavy on the influencer/stylist set with two of the most notable names turning out to Dior's desert dinner being actor-model-brand ambassador Paris Jackson and actor Darren Criss and fiancee Mia Swier (who, on a side note, were taking the first night away from their recently opened Hollywood piano bar Tramp Stamp Granny's, which opened just a week ago).
Other attendees spotted in the mix for the fragrance launch included models Alessandra Ambrosio and Olivia Culpo and actress Britt Robertson.
For more musings on all things fashion and style, follow me at @ARTschorn.
---