The Dodgers' annual blue-hued shindig-at-the-diamond hammers home $2.2 million for charity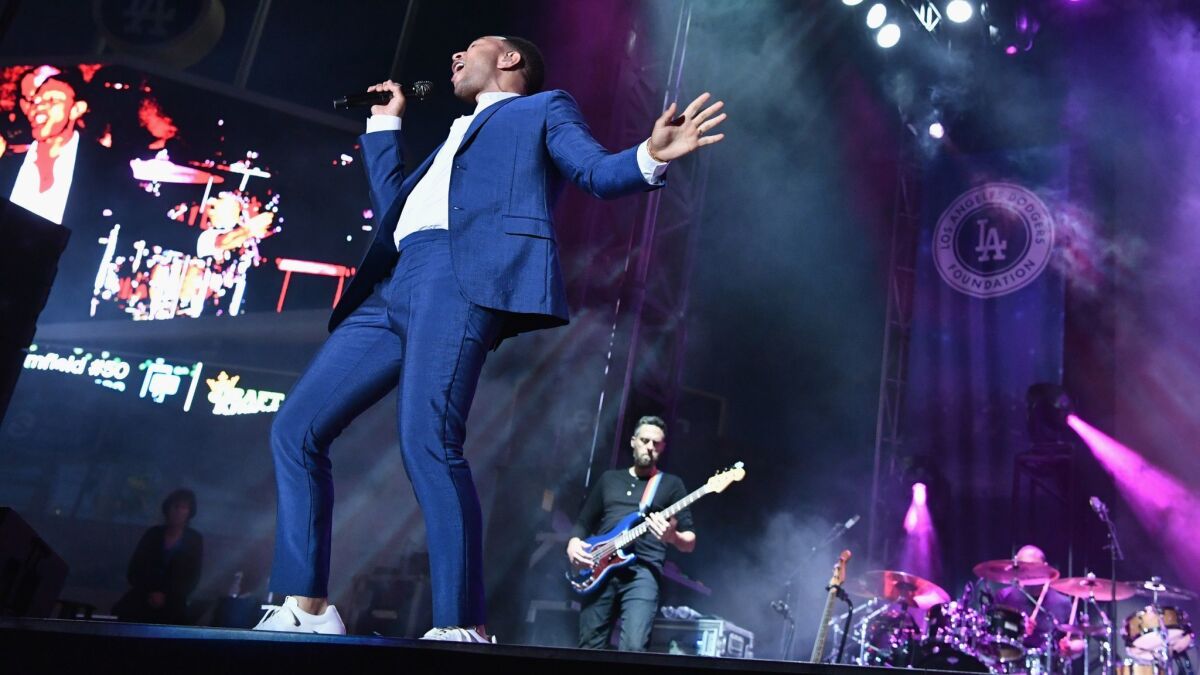 "The coolest thing I could do right now is say the two words that will make your heart melt," said event co-host Arsenio Hall at the Los Angeles Dodgers Foundation Blue Diamond Gala.
Hall then said, "John Legend," bringing the Oscar, Tony and 10-time Grammy winning singer-songwriter to the stage.
"What's up, Dodger nation," Legend said after performing his first number, rousing the 1,700-person audience to its feet, and then delivering a 90-minute concert.
The event
Co-hosted by Hall and George Lopez at Dodger Stadium, the gala on Monday raised $2.2 million to support the expansion of the Dodgers RBI, i.e., Reviving Baseball in Inner Cities, and Dodgers Dreamfields programs, which this year will include building the Los Angeles Dodgers Foundation's (LADF) 50th playing field.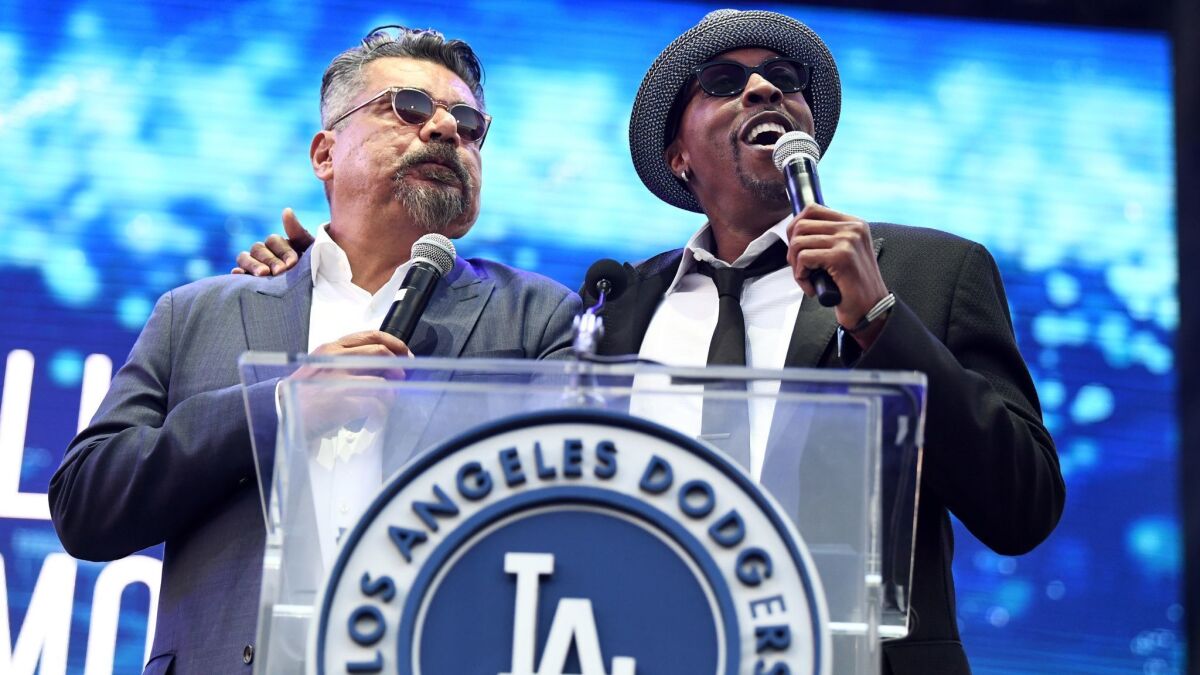 The scene
Before the intimate concert-on-the-diamond, celebrities, players and VIP guests mixed and mingled over cocktails, hors d'oeuvres and a buffet dinner under a tent, appearing in a sea of sapphire, navy, ultramarine and other related hues -- since the dress code was "blue attire."
The crowd
Legend and wife Chrissy Teigen, Terry Crews, Holly Robinson Peete, Carrie Ann Inaba, Chord Overstreet, Loni Love, Emily Osment, Haley Joel Osment, Josh Henderson, Marque Richardson, Timothy Granaderos, Anne Winters and Greg Louganis mixed with Dodgers Scott Alexander, Austin Barnes, Cody Bellinger, Walker Buehler, Tony Cingrani, Daniel Corcino, Josh Fields, Logan Forsythe, Erik Goeddel, Yasmani Grandal, Enrique Hernandez, Rich Hill, Daniel Hudson, Hyun-Jin Ryu, Kenley Jansen, Matt Kemp, Clayton Kershaw, Max Muncy, Edward Paredes, Joc Pederson, Yasiel Puig, Corey Seager, Ross Stripling, Chris Taylor, Justin Turner, Chase Utley, Breyvic Valera, and Alex Wood, former players Nomar Garciaparra, Steve Garvey, Orel Hershiser, Rick Monday, Manny Mota, Fernando Valenzuela, and others.
The quotes
"We really believe that there's more to the Dodger brand than the game on the home field 81 times a year," said LADF executive director Nichol Whiteman, citing two of the foundation's key phrases, "bigger than baseball" and "the power of baseball."
Said Clayton Kershaw: "What the Dodgers Foundation does off the field for kids is awesome."
"I've been a fan of the Dodgers for years and my wife (Rebecca King-Crews) has sung two national anthems," said Terry Crews of "Brooklyn Nine-Nine." "One of the most beautiful moments in my life was watching her sing the national anthem, as the sun was going down and the game was about to start. Coming here has always been a beautiful family experience and I'm glad to be here to support the gala."
"Obviously I'm biased because I'm a baseball player, but I believe all kids should try baseball," said Chase Utley, speaking of the foundation's RBI program. "They learn the value of teamwork, skills like hand-eye coordination, and they gain a respect for the game."
Kenley Jansen, accompanied by his wife Gianni Jansen — seven months pregnant in a glamorous white gown complete with train – called the foundation "unbelievable" for its contributions to children in Curacao, the couple's country of birth.
"Another first-class Dodger event," said Anthony Lynn, just after stopping to chat with legendary Dodger manager Tommy Lasorda. The Los Angeles Chargers' head coach then added, "A great event for a good cause."
The numbers
Tickets began at $1,000 with sponsorship packages ranging up to $100,000. The official team charity for the Los Angeles Dodgers, LADF benefits children and families in need throughout greater Los Angeles by focusing on programs in sports, recreation, education, literacy, health and wellness.
Ellen Olivier is the founder of Society News LA.
For fashion news, follow us at @latimesimage on Twitter.