Back in the spring of 2016, while Hillary Clinton was in the throes of campaigning as the first female presidential candidate of a major party, Los Angeles-based sisters Margaret and Katherine Kleveland were busy putting their own stamp on the female empowerment landscape with the launch of their women-backed label, Dôen.
Disenchanted with male-dominated workplaces that didn't foster collaboration or support mothers, the sisters — both fashion industry veterans — teamed up with a collective of like-minded women to found and fund a direct-to-consumer line of bohemian-tinged pieces. (Dresses, for example, range from $145 to $558.)
"I really knew I wanted to start a company with women. I didn't want to start it alone. I didn't want that power hierarchy," said Katherine, former executive vice president of design for contemporary brand Joie, while seated next to Margaret in their shared office at the brand's North Hollywood headquarters.
In the summer of 2015, Katherine approached Margaret, who was then pregnant and worked in footwear design and development for Joie and various private-label clients, with the idea. "I wanted to join up with the people who inspire me most and who had the most talent," Katherine said.
The sisters assembled six founding partners with varied work backgrounds, including childhood friends Hilary Tisch, a gemologist, and philanthropist Allie Furlotti. (The group has grown to 10 — "and most of us are in every single fitting," Margaret said.)
As Dôen began to take shape, motherhood proved to be an unexpected creative catalyst for the sisters. "Once we gave birth, we felt beautiful and feminine. We wanted to own that," said Margaret, mother to 4-year-old Julian. "We didn't want to squeeze back into leather pants and wear 5-inch heels to work anymore." (For proof, look no further than Katherine, mother to Wilder, 7; Shepard, 5; and Prairie, 11 months. Dressed in the brand's bestselling $305 Sol dress, she casually nursed Prairie during this interview.)
The Kleveland sisters, who were born and raised in Santa Barbara, credit their outdoorsy upbringing with informing their brand's nostalgia-driven aesthetic. Beloved by the likes of actress Michelle Monaghan and model Lily Aldridge, Dôen's romantic silhouettes such as the ruffled silk Saffron dress ($558) and vintage-inspired crocheted Talia sweater ($298) have become the adopted uniform of free-spirited women from Topanga Canyon to the Hamptons.
Launched out of a 400-square-foot guest house in Toluca Lake, the label, designed by Katherine and manufactured in female-owned, socially compliant factories around the world, has since expanded to include denim, footwear and tees as well as collaborations with brands such as Reformation and model Alyssa Miller's handbag line, Pilgrim. Yearling by Dôen, a children's spinoff, offers pint-size riffs in the same soft, patterned fabrics for which the brand is known.
On March 26, Dôen will debut its celebration dresses ($298-$498), geared toward special occasions, including weddings.
"We started to see our customers wearing our dresses for their weddings and celebratory life moments via social media and through our customer service portal," said Katherine of the reasoning behind the collection, which encompasses slips adorned with lace to embroidered ramie pieces. (After a pop-up at the Brentwood Country Mart that ended last summer, the Klevelands are eyeing a permanent retail space in Los Angeles.)
Visual presentation is an essential component to the Dôen experience and it starts with the lookbooks photographed by founding partner and creative consultant Hilary Walsh in bucolic destinations around the world (such as Byron Bay in Australia and Washington's Orcas Island). Curated by content director and partner Phoebe Dean, an online journal and newsletter spotlight women of the Dôen community who embody the brand's ethos of female empowerment.
From the beginning, Dôen's mission to raise up and support women has extended beyond its clientele. The label regularly donates a percentage of proceeds to Planned Parenthood, while sales from certain styles benefit Room to Read, an organization that works with communities and governments across Africa and Asia to develop literacy skills and support girls in completing secondary school.
"Our success lies in creating a product that doesn't have a large place in our current market — clothing designed for women by women," Margaret said. "Also, the modern consumer is smart. They are choosing to spend their money on products and companies they can get behind."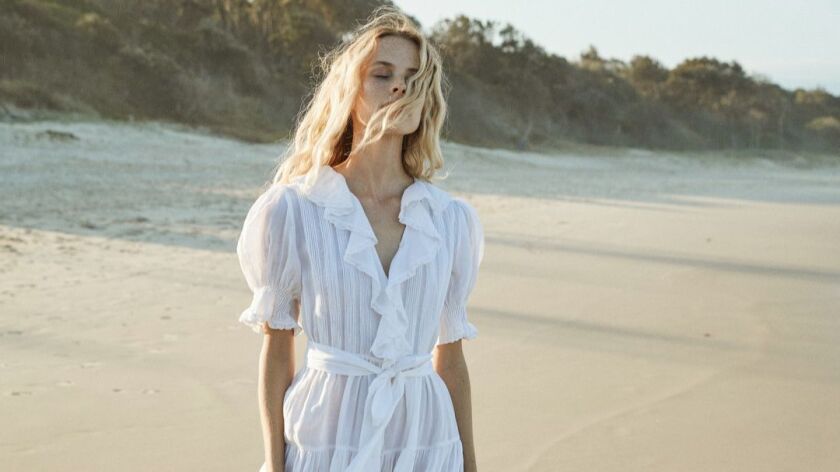 For fashion news, follow us at @latimesimage on Twitter.
---