Hippos and dinosaurs but no windows at this new luxury clothes market in Los Angeles Arts District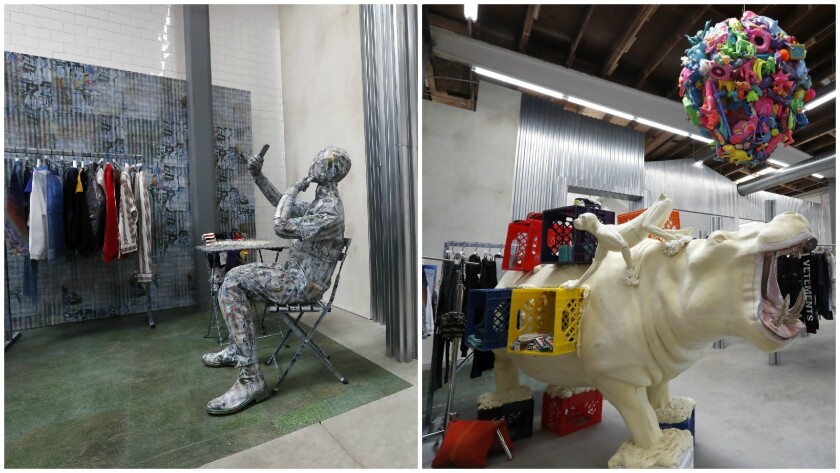 In a sprawling former meat warehouse in downtown L.A., a lifesize hippo sculpture stands guard — mouth agape and milk crates embedded in its side — merchandised with jars of jam. Around the corner, an out-of-print book about ikebana, the Japanese art of flower arranging, sits on a shelf next to screen-printed T-shirts bearing images plucked from its pages. One street address away, but in the same building, a Paris-based designer's fall and winter 2018 apparel collection hangs from pieces of repurposed fitness equipment. The space in between is a rabbit warren of retail spaces delineated by yards of chain link fence, gracefully curving galvanized metal and bone-white walls of hand-placed ceramic subway tiles.
Welcome to Dover Street Market Los Angeles, the latest cabinet of retail curiosities from the folks behind the Comme des Garçons label. Officially open as of Nov. 3, it's an ambitious, 15,000-square-foot bid to coax luxury shoppers out of their internet-spun cocoons and into an actual bricks-and-mortar space — and one in downtown's Arts District without a single street-level window at that.
"She hates windows," says Comme des Garçons Chief ExecutiveAdrian Joffe on a recent tour of the space — she being Joffe's wife, Comme des Garçons designer Rei Kawakubo, who conceptualized the space. "So our windows are going to be two event spaces." Those two 150-foot-square spaces, he explains, will house rotating art installations (at opening one is a dressed-up assortment of dinosaurs — a collaboration between Kawakubo and artist Shimoda Masakatsu, the other has a Basquiat theme). Don't worry, though, the space isn't devoid of sunlight, which streams in through skylights high up in the vaulted ceiling.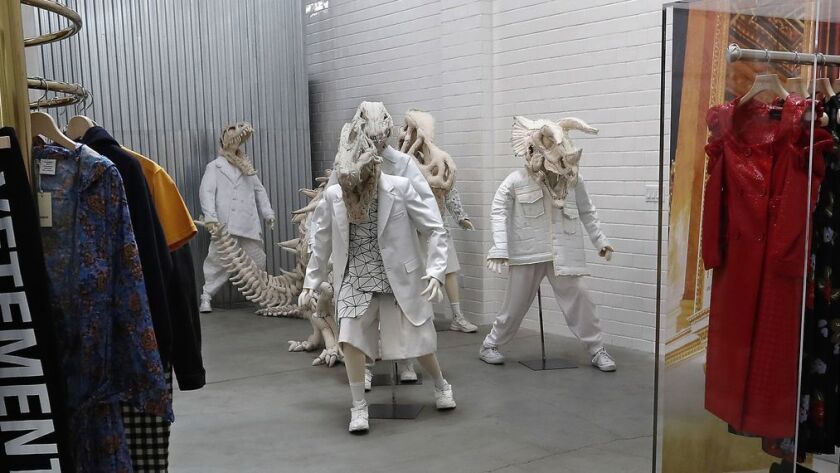 In a pre-opening interview at the company's Paris headquarters last month, and again on last week's tour, Joffe takes great pains to highlight what he calls a "trans-sectional hut" — a massive wall-like structure that runs through the middle of the two conjoined buildings. He says Kawakubo envisioned the swath of corrugated metal, bleached-white wood and white subway tile as "connective tissue." "They aren't walls," he says emphatically, "but you're probably going to call them walls, aren't you?"
Not-window windows, not-wall walls and an off-the-beaten path location so random that it all but requires the use of a mapping app (even if you think you can navigate to the corner of Imperial and 6th streets by yourself) may sound like a recipe for retail disaster, but Joffe and Kawakubo have built their stable of Comme des Garçons brands (currently numbering more than a dozen) and five other Dover Street Market retail spaces worldwide (the first opened in London in 2004, the only other U.S. outpost opened in New York in 2013) on being staunchly and creatively oppositional.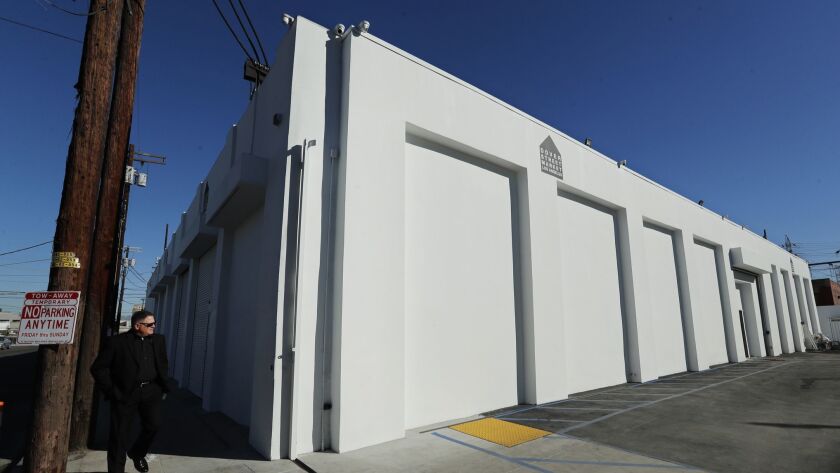 That means a retail mix that ranges from some of the best-known luxury labels on the planet (Prada and a cabinet full of Chanel jewelry for starters, with Gucci's Chateau Marmont capsule collection set to drop soon) to under-the-radar streetwear brands like Brain Dead (the Los Angeles label responsible for the aforementioned hippo sculpture and jars of jam — the latter a quince-flavored collaboration with Sqirl's Jessica Koslow that debuted at the store opening) and Doublet, a Tokyo-based label whose designer, Masayuki Ino, landed the 2018 LVMH Prize earlier this year and whose playful, gender-fluid pieces include things like screen-printed T-shirts that riff on the Hollywood sign using re-arrangable Velcro letters.
Other labels in the mix include Maison Margiela, Stussy, Sacai, Raf Simons, Virgil Abloh's white-hot Off-White label and Thom Browne (and that's barely — and we mean barely — the tip of the DSM iceberg), as well as brands that are marking the opening of their first L.A. retail space like Brendon Babenzien's New York-based menswear label Noah and British skate brand Palace.
Other notable spaces waiting to be discovered include Idea Books (they of the ikebana books and T-shirts as well as tote bags emblazoned with the word "drugs" or "talent"), a collaboration between Nike and Eli Russell Linnetz (a photographer and director who's worked with the likes of Kim Kardashian, Kanye West and Lady Gaga) that's heavy on the lime green corduroy button-front shirts, and a West Coast outpost of Rose Bakery, a popular eatery that's taken up residence inside several other Dover Street Market locations.
The art-meets-retail emphasis means there's something beautifully bizarre around just about every corner (and even above — in the form of artist-commissioned chandeliers). At opening that includes furry, gaping-mouthed pillars standing watch over the wares of French clothing label Jacquemus like totem poles designed by Sid and Marty Krofft, the first permanent space worldwide for Marine Serre — the French designer who won the 2017 LVMH Prize — which consists of the fitness equipment mentioned above — with a video monitor looping the label's latest campaign tacked on for good measure serving as the backdrop for an assortment of khaki-colored safari jackets, dresses fashioned from draped up-cycled silk scarves and mint-green rib-knit sweaters.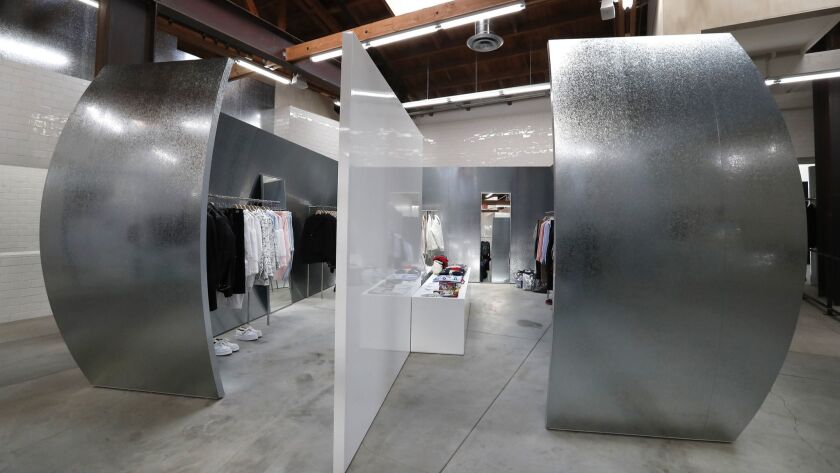 Kyle Ng, co-founder of the 4-year-old Brain Dead label, which is also carried in other Dover Street Market (DSM) locations, says that having the freedom to create what he wanted on site was a big part of the draw.
"DSM has always really supported us and let us do our own thing. We're really into art and sculptural stuff," he said, pointing to the hippo in the room. "The clothes are secondary to us … so it's amazing to get an opportunity to execute things the way you want." (As for the hippo, Ng explains that as a result of his longtime fascination with taxidermy. The milk crates, he says, are a callback to the Brain Dead studio space, which is filled with them.)
Those unfamiliar with the ways of Dover Street Markets around the globe should note that everything described above might well disappear in a matter of months. That's because, in keeping with the overarching theme of "beautiful chaos," all of the stores close for several days each January and June for a biannual "new beginning," during which the interior and the assorted designer spaces evolve, reboot and restock.
As to the larger question of whether customers will seek out the emporium of all things eclectic — and open their wallets if they do — the Nov. 2 press and VIP event the day before the official store opening (which drew Diane Keaton and Tommy Hilfiger, among others) saw three of the store's cash wraps with lines at least nine people deep, each customer queued up with an armload of merchandise to purchase.
Dover Street Market Los Angeles, open Monday through Saturday from 11 a.m. to 7 p.m. and Sunday from noon to 6 p.m., 606-608 Imperial St., Los Angeles
For more musings on all things fashion and style, follow me at @ARTschorn
---