Pin it on you: 16 brooches, badges and stick pins to add instant personality to outfits
Dust off those vintage brooches and lapel pins. Whether a flea market find, a family heirloom or a new treasure from the likes of Chanel or Louis Vuitton, decorative pins are back as the accessory of the moment for both ladies and gentlemen. They come in numerous shapes and forms: badges, brooches and stick pins in classic bows and crests, modern florals, animal silhouettes, arty graphics and symbols. For a simple styling trick, pins add instant personality to an outfit, particularly neutral basics, coats and suiting.
And more is more. Wearing them in multiple looks fresh, as does unexpected placement — in the hair (as at Prada's presentation for fall), on a handbag (as at Dolce & Gabbana) or on both jacket lapels (as on the Dior Homme runway). Beyond ornamentation, brooches function as pretty fasteners on pieces such as the season's cool new capes.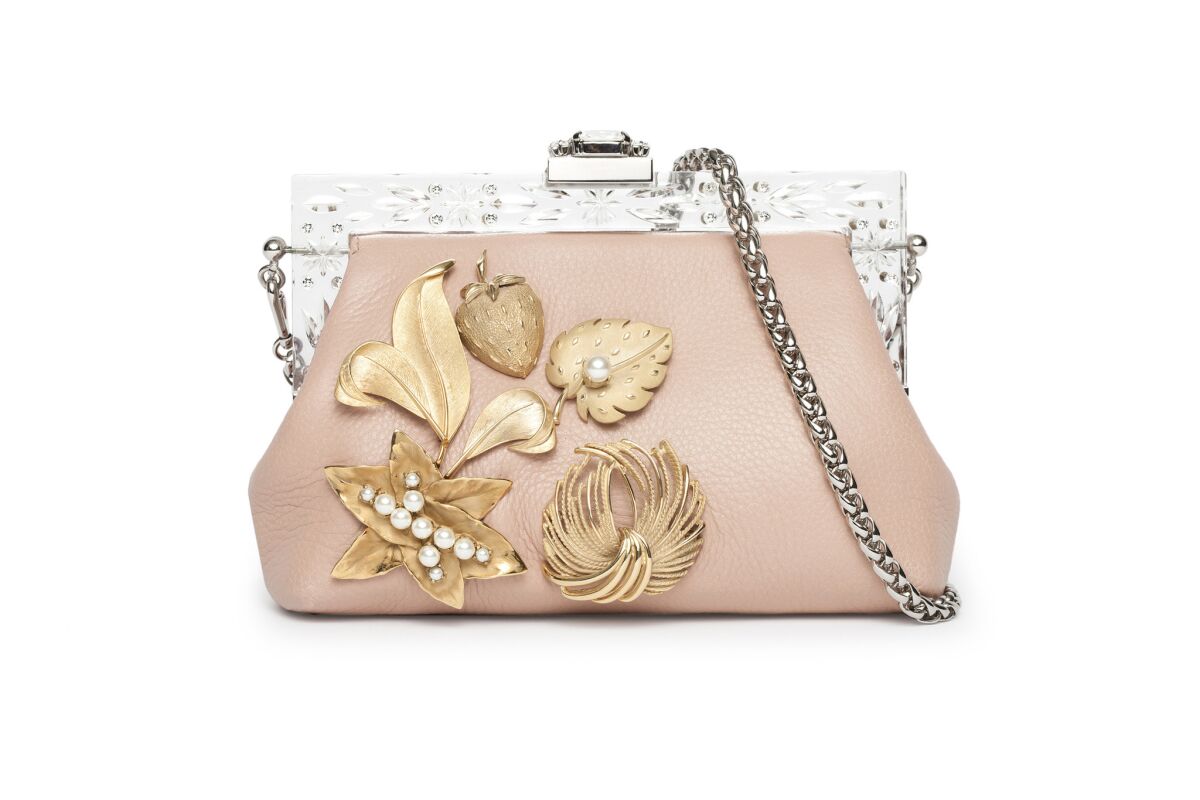 Dolce & Gabbana leather clutch with brooch trim, $3,995 at Dolce & Gabbana in Beverly Hills, (310) 888-8701, www.dolcegabbana.it
Louis Vuitton brass and plexiglass Solaris Brooch, $875 at Louis Vuitton in Beverly Hills, (310) 859-0457
See the most-read stories in Life & Style this hour >>
Free Plan by Napoleon Merana mirrored plexiglass acrylic animal pin handcrafted in Los Angeles, $12 exclusively at LACAUSA in Silver Lake, email to hello@lacausaclothing.com
Vhernier 18-karat white gold Scorpione brooch with green mother of pearl, diamonds and rock crystal, $63,700 at Vhernier in Beverly Hills, (310) 273-2444
Oscar de la Renta resin and crystal ivy brooch, $390 at Saks Fifth Avenue stores, (877) 551-7257
Fausto Puglisi gold brass Iconic Sun pin, $290 at Curve in West Hollywood, (310) 360-8008
Les Copains dragonfly brooch with beads and crystals, $365 at Saks Fifth Avenue stores and starting Sept. 30 at www.lescopains.com
Alexis Bittar crystal-encrusted Black Cherry Broken Heart Pin with golden pin detailing, $295 at Alexis Bittar boutiques in Venice, Malibu and West Hollywood, www.alexisbittar.com
Erickson Beamon brooch with vermeil, Swarovski crystals and Japanese glass pearls, $593 at Laura Gambucci boutique in La Jolla, (858) 551-0214
Chanel resin, plexiglass and golden metal chain brooch with strass crystals and glass pearls, $2,550 at Chanel in Beverly Hills, (310) 278-5500
Hermès brooch with rainbow jasper, dumortierite and palladium metal, $435 at Hermès in Beverly Hills, (310) 278-6440, hermes.com
Gabriella Kiss drusy quartz leaf pin with 18-karat gold branch and beetle, $2,400 at August in West Hollywood, (323) 653-2600, augustla.com
Dior Homme natural dried flower pin with palladium finish, available in 14 styles, price upon request at Dior Homme in Beverly Hills, (310) 247-8003, diorhomme.com
Saint Laurent by Hedi Slimane brass, enamel and crystal pin set, $995 at Saint Laurent in Beverly Hills (310) 271-5051, www.ysl.com
Prada plexiglass and crystal brooch, $850 at Prada in Beverly Hills, (310) 278-8661
Balenciaga silver-tone Pearl Bow Brooch with flower pearl drop in brass, $885 at Balenciaga in West Hollywood, (310) 854-0557
ALSO:
Jeremy Scott cements pop-culture legacy alongside Katy Perry at documentary premiere
Eva Amurri Martino addresses joy, sorrow, fashion in lifestyle blog
Lululemon will soon have a new way to sell pants
---