Jeremy Scott cements pop-culture legacy alongside Katy Perry at documentary premiere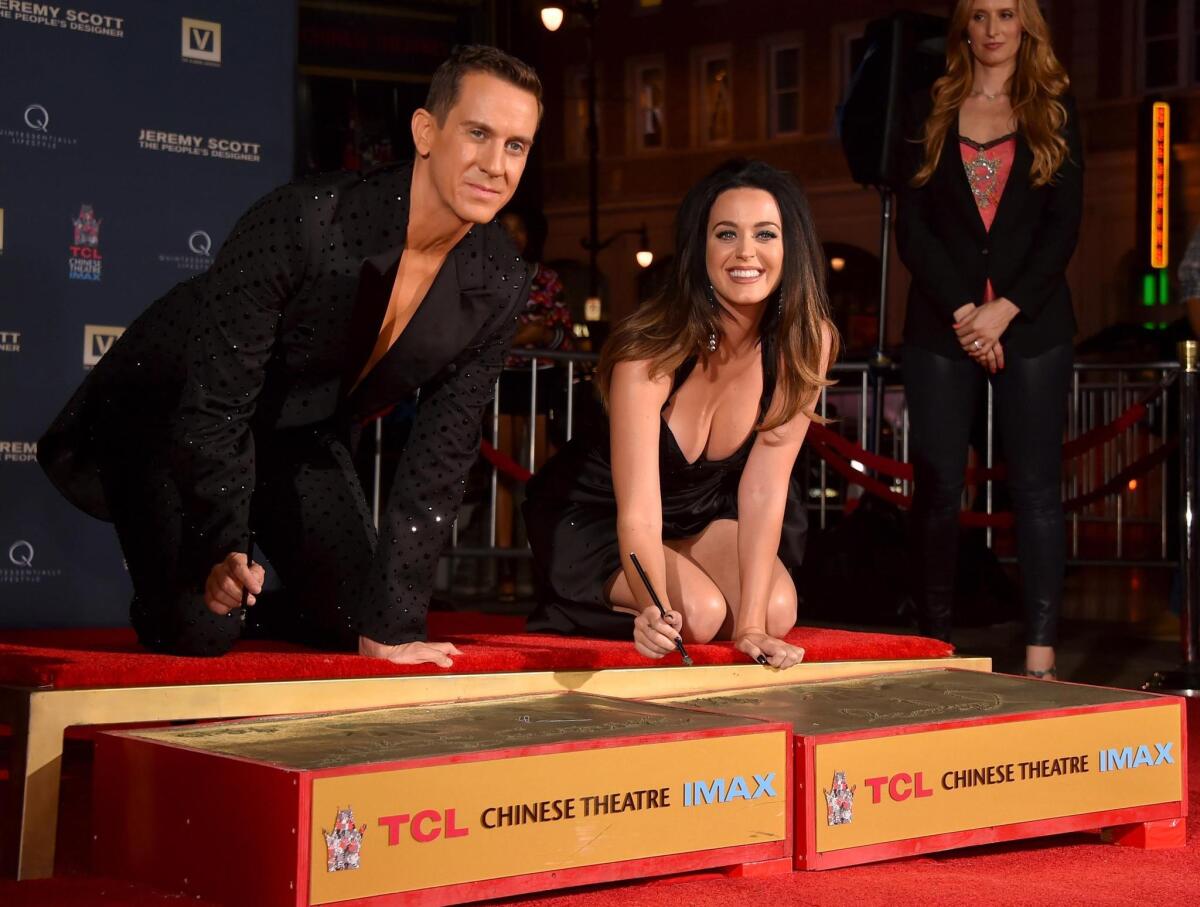 Jeremy Scott cemented his connection to the entertainment industry Tuesday night — literally — when he pressed his hands into cement in the forecourt of the TCL Grauman's Chinese Theatre in Hollywood alongside singer Katy Perry.
"I'm so honored to be the first fashion designer to ever do this," Scott said to the crowd. "It's such an honor to imagine that my hands are going to be immortalized where I've been so inspired by so many of the icons of cinema and pop culture who have graced this amazing theater — and to do it with my best friend, who I love and adore."
With that, the designer, clad in a sparkly black, pailleté-covered tailcoat kneeled alongside the singer (who was wearing a black Moschino gown with a high leg slit and black bow detail), and the pair signed their names and then pressed their hands into slabs of wet cement.
The handprint ceremony was done in advance of the world premiere of Vlad Yudin's documentary "Jeremy Scott: The People's Designer," set for global theatrical release on Sept. 18. Perry is one of Scott's many celebrity fans who appear in the film, which includes backstage footage of the two in advance of Perry's Super Bowl halftime appearance (for which Scott created the costumes).
Given that Scott has his own namesake line in addition to serving as creative director of Italian luxury label Moschino since 2013, celebrity clients, friends and fans hit the red carpet in both brands.
Among the high-profile folks heading into the premiere were actress Lily Collins in a blue, graffiti-covered Moschino dress ("It's from the [season] Katy Perry is in," Collins told us, referring to the singer's role as the face of Moschino's fall and winter 2015 campaign). We also spotted Rita Ora (in a red leather jacket, crop top and shorts ensemble by Moschino), Dita Von Teese, Liz Goldwyn, Skrillex, Liberty Ross and Vanessa Hudgens.
For the latest in fashion and style news, follow me @ARTschorn
ALSO:
Jeremy Scott gives the MTV moonman a makeover
Upcoming Madonna tour to include costumes by Jeremy Scott
---