Wearing faux fur offers you a chance to look festive this season without the guilt
Faux fur is no longer the fashionista's poor-stepsister-style option. With increased interest in responsibly sourced, animal-friendly clothes coupled with ever-more ingenious fabrics and colors from which to choose, designers have embraced faux fur as a compelling sartorial category.
"More and more designers are incorporating faux fur," Los Angeles designer Clemmie Watson says, "because it provides the same feeling of luxuriousness and social prowess [as real fur] yet allows us to be more responsible toward our fellow furry friends."
She says because she's texturally driven and inspired by all things organic, it was important for her to have faux fur as a replacement or alternative for the real thing. Plus, she adds, "I love the puffiness of it."
Here are some creative takes on faux fur for the holidays and this winter.
---
Rejina Pyo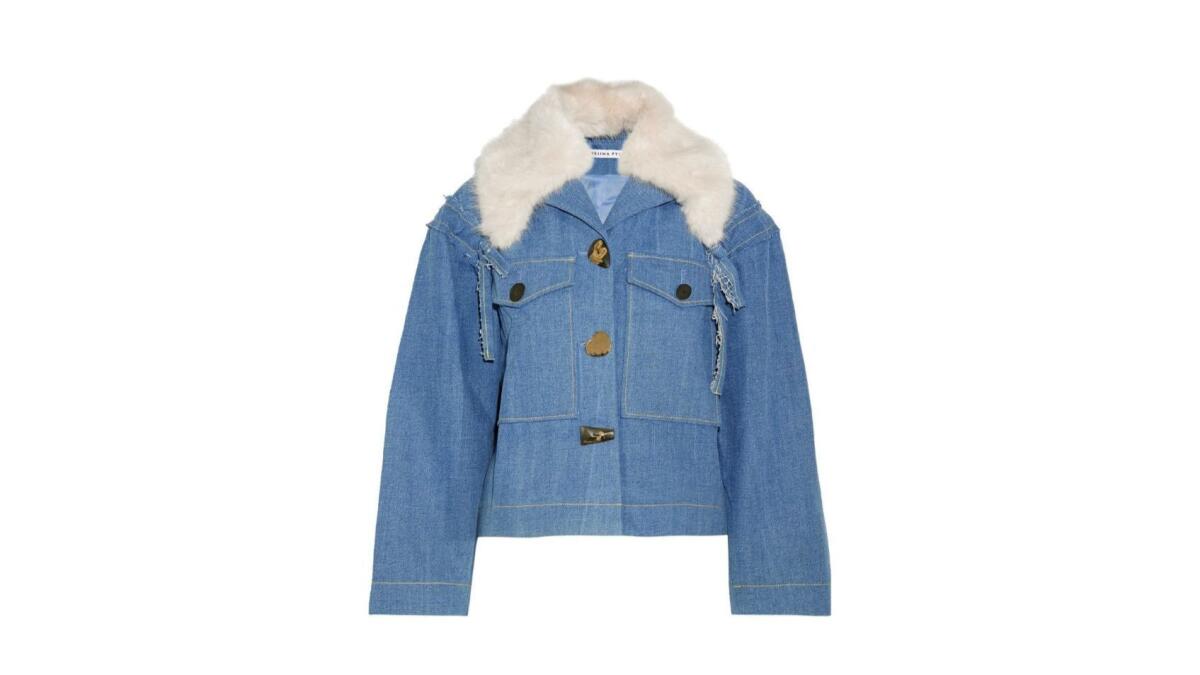 This modern-styled Daphne denim jacket has back drawstring shoulder ties, mismatched buttons and a removable faux-fur collar. $670. Available at www.Net-a-Porter.com.
Izaak Azanei
This traditional charcoal gray cashmere-and-merino-wool sweater has long sleeves with thick bands of burgundy faux fur for a festive Los Angeles look. $278. Available at www.Farfetch.com.
Clemmie Watson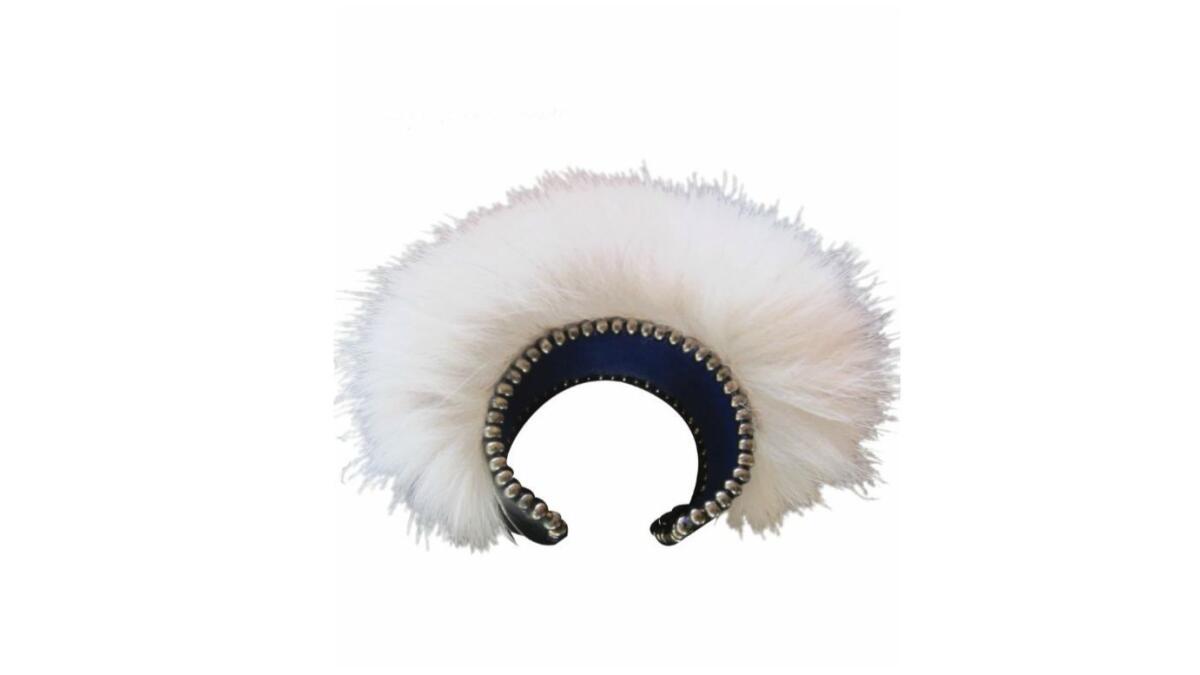 Los Angeles-based designer Clemmie Watson's fluffy adjustable white faux-fur brass cuff bracelet is edged with antiqued brass studs and lined underneath with faux black leather. $425. Available at www.ClemmieWatson.com.
McQ by Alexander McQueen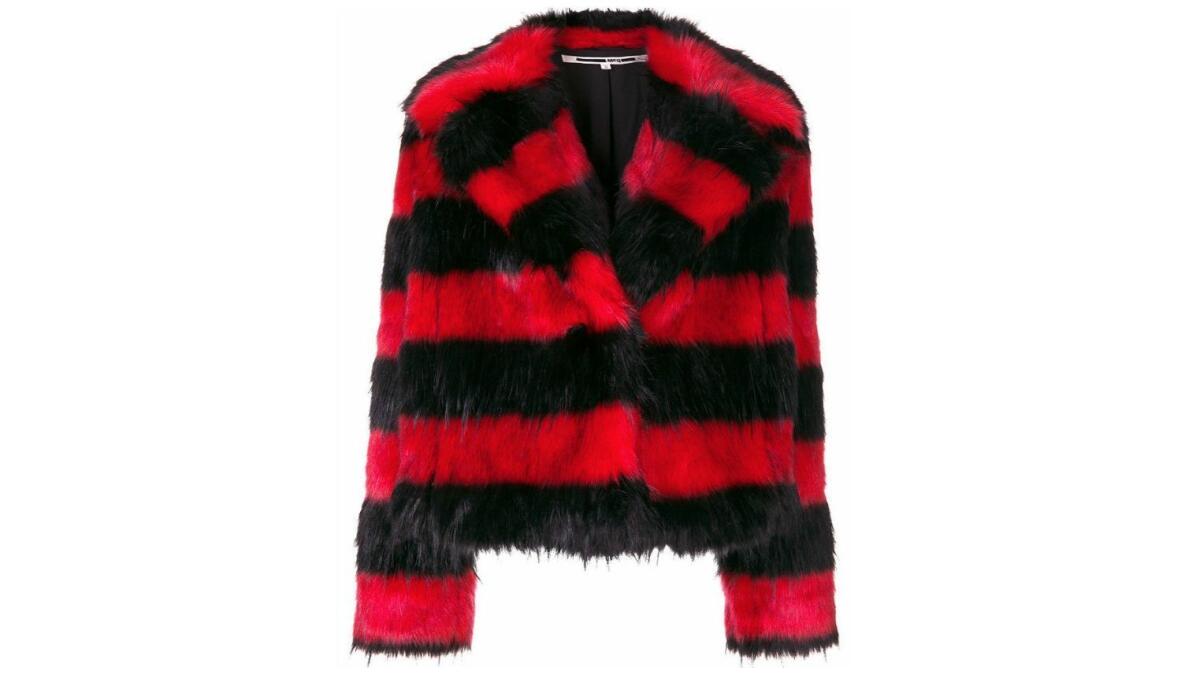 This mod black-and-red-striped faux fur peacoat has a generous loose fit, long sleeves and a hook-and-eye closure. $695. Available at www.Farfetch.com.
Mui Mui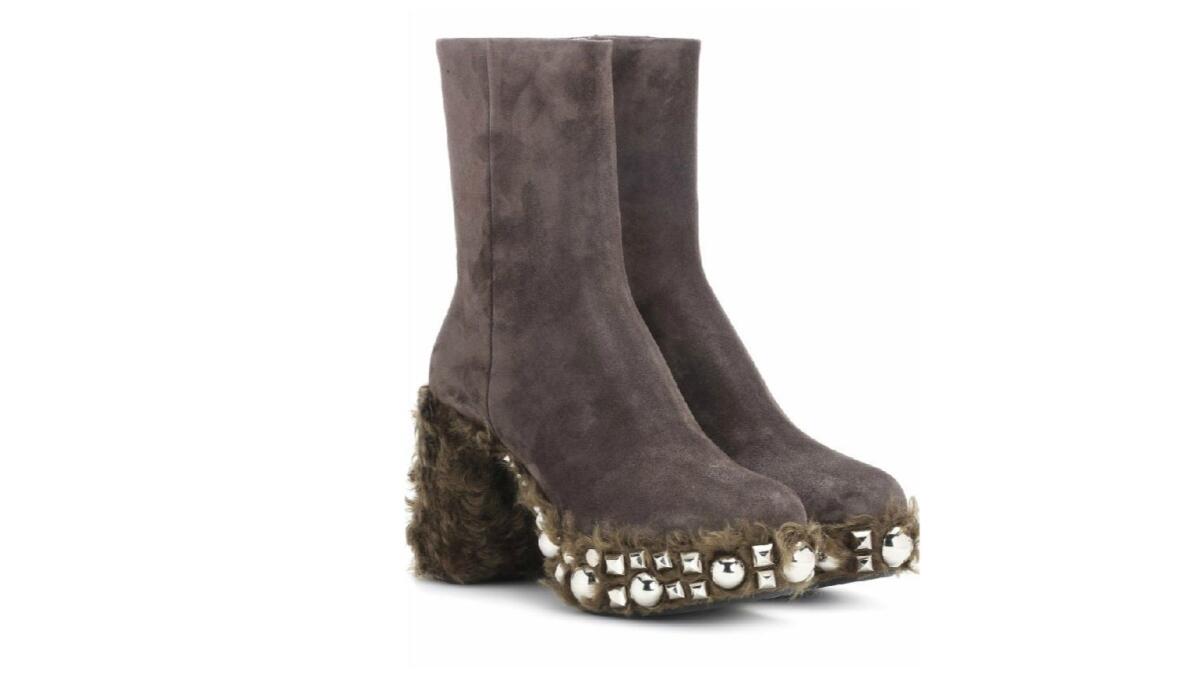 These retro-inspired '70s brown suede ankle boots sport a platform and shiny dome studs with tone-on-tone faux fur. $1,250. Available at www.MyTheresa.com.
MM6 Maison Margiela​​​​​​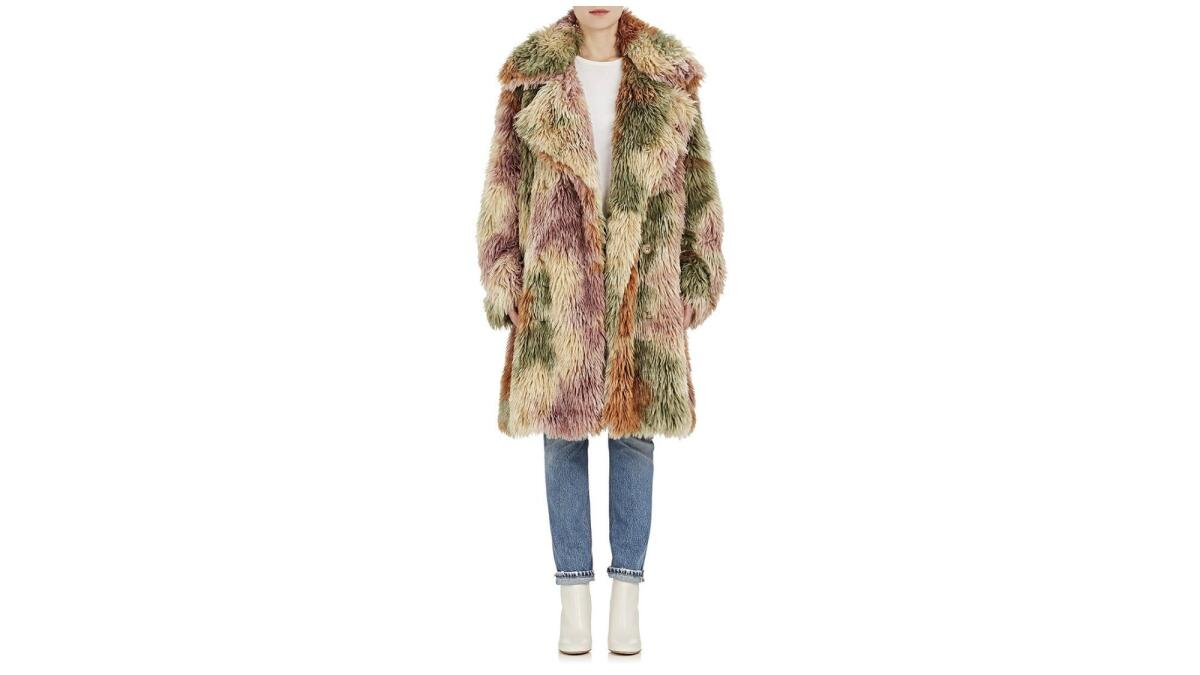 MM6 Maison Margiela's resplendent oversized sherbet-colored, double-breasted faux-fur coat has a fold-over pointed lapel, hidden side pockets and white satin lining. $1,360. Available at www.Barneys.com.
R13
New York's R13's hip tan-and-brown leopard-print faux fur hunting peacoat has a notched faux-shearling collar, drop shoulders, long sleeves and oversized flap pockets. $895. Available at www.Barneys.com.
Suecomma Bonnie
Cult Korean label Suecomma Bonnie's playful bright blue suede Birkenstock-style, slip-on sandals are lined with blue-dyed faux fur and oversized faux pearls. $375. Available at www.Selfridges.com.
Tory Burch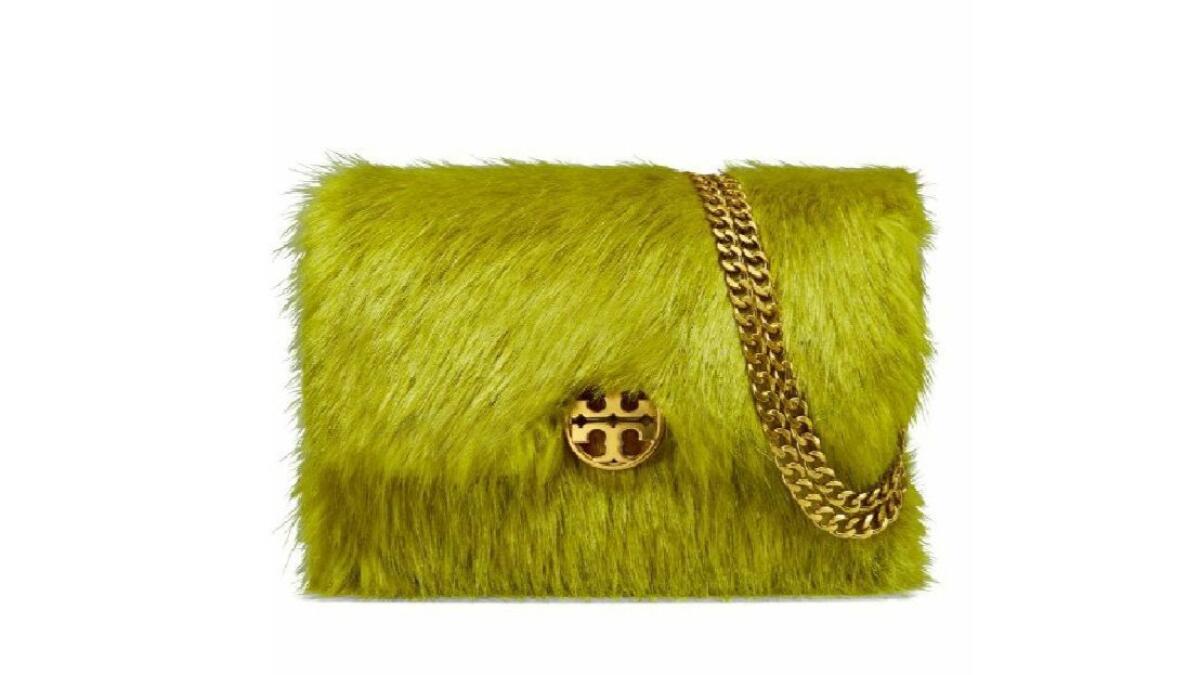 This enchanting mossy-chartreuse Chelsea faux-fur mini-cross-body handbag has an antiqued signature brass logo and pull-through chain strap that can also be worn as a shoulder bag. $328. Available at www.ToryBurch.com.
For fashion news, follow us at @latimesimage on Twitter.