Exclusive: Kim Kardashian on managing life as a newfound social justice activist and cosmetics queen
Kim Kardashian West appears to be winning right now. Following her late May visit to the Oval Office, President Trump granted clemency last week to Alice Marie Johnson, a nonviolent drug offender for whom Kardashian West has been advocating during the last seven months.
The reality TV star-turned-philanthropist also celebrated husband Kanye West's new album releases as well as his 41st birthday on Friday. And to top it all off, Kardashian West told The Times that she's opening her first KKW Beauty pop-up shop on June 20 at Westfield Century City shopping center in Los Angeles.
"I'm so excited," she said during a phone interview Friday afternoon on her way home to see her children.
So how's the social media mogul celebrating? "I'm cooking dinner," Kardashian West, 37, said, adding: "Me and the kids are cooking dinner. So I'm on my way there now to get started." She also said she had plans for a Saturday dinner party with West's friends at their house in honor of his birthday.
Sounds like a low-key event for someone who appears to live a larger-than-life existence. However, things aren't what they once were for the TV personality. Having recently shared that shopping doesn't satisfy her the way it once did, Kardashian West said her perspective changed "when I got robbed, honestly."
After being held up at gunpoint at a Paris hotel in 2016, Kardashian West said she began to re-evaluate her lifestyle and desire for material things. "You realize, in those moments, that what they're there for means nothing," she said. "You would trade it all for your life. So I think after that. … When you get home and you come back to your life and you see all this stuff, you realize that it just doesn't really mean anything, and it doesn't really matter. I almost felt uncomfortable wearing things that were super-expensive. I think that's what really changed in me, honestly."
As part of her personal growth and evolution, Kardashian West has turned her attention to being an advocate for criminal justice reform. "It's just an amazing feeling to know that you can do something that can really change someone's life," Kardashian West said, while admitting her path to activism was a bit of a fluke.
"I really wasn't thinking about politics," she said. "I was on Twitter and I saw something that touched my heart and I felt like I wanted to do what I could and do the right thing to try to save someone's life."
She surprised fans and Washington insiders when she turned up at the White House last month advocating on behalf of Johnson, who spent 21 years behind bars in Alabama. In 1996, Johnson was convicted on eight criminal counts related to a Memphis, Tenn.-based multimillion-dollar cocaine trafficking operation and sentenced in 1997 to life in prison. Kardashian West said she learned about Johnson's story and was impressed by how Johnson had turned her life around. Then she decided to get involved.
Kardashian West received flak in the media, but her meeting with Trump led to Johnson's release from prison Wednesday.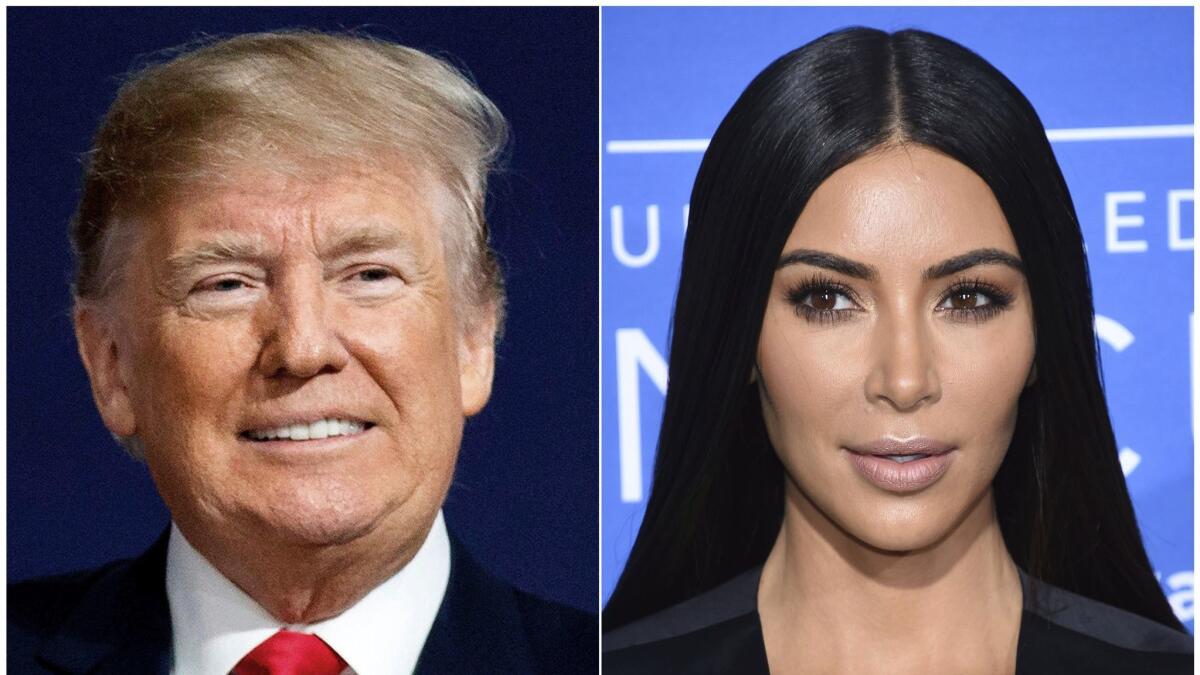 Kardashian West said Johnson's case has inspired her to become more philanthropic. "This was such a success, and it made me feel so good to know that we did this," she said. "It was such a great thing for her, and it's changed her life. I really do want to stay in this place of continuing" this type of advocacy.
"I spoke to the White House today," Kardashian West continued. "It's my understanding that the president is very compassionate about this and is learning more about it and wants to continue to do this. So if I can help in that way, we're continuing the conversation."
Kardashian West said she spoke with Trump's son-in-law Jared Kushner as recently as Friday about her mission. "He's really passionate about prison reform and bringing this subject to the attention of the president," Kardashian West said. "I saw a clip where [Trump] mentioned that he wanted to pardon more people and would be seeking advice from different people for that. And so we connected because we, obviously, had just been through that this week.… We're going to continue to work with organizations that have been fighting this way longer than I have and have really amazing, deserving people that have been in the same situation as Alice. We're continuing. We're not stopping. It's going to be an ongoing conversation."
Kardashian West has also had a busy month on the home front. Her husband recently released a new album, "Ye," in which he revealed he was diagnosed with bipolar disorder when he was 39. "I'm proud of him," Kardashian West said. "I know that he's been through a lot and, you know, he feels his best when he's creating. So I'm happy that it has been so well-received and has been No. 1 everywhere. That must be such a good feeling."
The couple also celebrated West's collaboration with Kid Cudi on the joint album, "Kids See Ghosts," during a listening party Thursday night in Santa Clarita. They were surrounded by friends including Courtney Love, Ariana Grande and artist Takashi Murakami. "It's so exciting to see him set a goal to release five albums," Kardashian West said. "One every week produced by other artists and then two for himself. … [It's nice] to see that goal come to life."
As for her own ventures, Kardashian West and sisters Kourtney and Khloé recently decided to close their DASH clothing stores after nearly 12 years. "I really do want to focus on beauty and fragrance for right now," Kardashian West said of the decision. "We love the stores. That's our history. That's where we started. It's amazing, but we can't be there every day like we used to be. We love to be involved 100% in the projects that we're attached to. And we just couldn't do that. So we thought it was best to close the stores, and I think that was a really good decision."
She's now completely focused on her successful and often sold-out cosmetic and fragrance line, KKW Beauty, which will celebrate its first anniversary this month. "I love working with different makeup artists and I love transforming," Kardashian West said of focusing on building a beauty brand as opposed to one in fashion. "I've always loved makeup. So I thought it was a natural space."
She said she'd previously "dabbled in the beauty business before, but never really on my own terms and never by myself."
The upcoming KKW Beauty pop-up shop in the Atrium of Westfield Century City shopping center will be all her own. KKW Beauty fanatics will be able to shop for the brand's concealer kits, crème contour and highlight kits, crème contour sticks, highlighter palettes, ultra light beams, the KKW X Mario collection, various fragrances and new crème lipsticks and lip liners. (Shoppers who make a purchase during the pop-up's first week will be entered into a raffle to win an invitation to a private opening party with Kardashian West and makeup artist Mario Dedivanovic on June 30.)
Kardashian West said she also plans to have some fun products available for summer, including a new eye shadow palette with more browns and bronzy tones in addition to a new fragrance launching in July. It will be exclusive to the pop-up shop and available later online. "It is a Kimoji fragrance," she said. "It's three different fragrances. One is a peach bottle with the dripping cream on it. One is a cherry with the cream dripping on it. And one is a bottle that says 'Vibes.' They're really cute and fun.
"Our Kimoji Hearts did really well," she continued. "Every launch can have a different personality and can be so different. I think there are two sides of me. One is the crystal and the body and really sculptural bottles that look really cool on your counter, and then there's that fun side, which is the hearts and these fruits."
The pop-up will stay open through July 27. Kardashian West said she selected the L.A. location based on nostalgia. "I grew up right near there," she said. "I'd always gone to the Century City mall. That was the spot. I remember I got my ears pierced there. They had Judy's and Contempo [Casuals, which were trendy clothing stores for teens]. It was the coolest mall ever. It's a place that reminds me of my teenage years. I thought it would [be nice to have it] come full circle and be a really beautiful place that's fun and safe to have my first pop-up."
Kardashian West said a pop-up boutique seemed like a natural next step for her brand. "I think when you have a direct-to-consumer business, it is really difficult to sell products that people have never felt, tried [or] tested color-wise [or] formula-wise," she said. "We do a really good job at explaining our product through our campaigns and our tutorials, but it'll be really exciting for people to touch it and feel it for the first time in person and test it before they buy it."
She said she hasn't ruled out a permanent location in Los Angeles or, potentially, elsewhere. "I would love to be in stores as well and have my own beauty stores — either/or," she said. "I think the first step is starting with the pop-up and seeing the reaction [from consumers]. It's going on for a month, so that's a really good time for people to check it out and to see the response."
As for what she hopes to teach her own young daughters, Chicago and North, about beauty, Kardashian West said, "I think they [will learn] naturally … like how I naturally learned from my mom and my grandma tricks and things." She said North already has a fascination with the family business. "She loves to experiment with makeup," Kardashian West said. "She has a little vanity in her room. A fun thing for her and her friends to do is give makeovers."
Kardashian West said beauty has always been a staple of family bonding. "My Dad gave me makeup lessons by a professional when I was 14," she said. "He was like, 'OK, you're wearing makeup now, and I want you to know how to do it appropriately.' So I had to take these makeup lessons, and it was helpful. I definitely have those resources. So I can help my kids out and teach them. I guess there's YouTube now. So you don't really need that, but it would be fun to share that with them."
For fashion news, follow us at @latimesimage on Twitter.