Celebrities rally around Kim Kardashian West after robbery at gunpoint during Paris Fashion Week
Reporting from Paris —
Designers and celebrities took to social media today to express their sympathy for Kim Kardashian West after she was robbed at gunpoint of millions of dollars worth of jewelry. The robbery took place at her apartment here by gunmen dressed as Paris police officers.
"I sent a message because it must be horrible for her," said Karl Lagerfeld, also warning that the heist does not bode well for the French capital's safety reputation following the terrorist attack late last year. "A very bad thing for Paris."
Anne Hidalgo, the mayor of Paris, condemned the assault on Kardashian West and expressed her support for the reality TV star, saying she will "always be welcome in Paris."
Although badly shaken, Kardashian West hasn't reported any injuries. The police are on the hunt for the criminals and husband Kanye West ended his performance in New York Sunday night to support his family.
Model Chrissy Teigen, while condemning the criminal act, went against all the trolls and haters who have been flooding social media with ironic posts making fun of Kardashian: "Fame is interesting. Celebs are supposed to love you guys while also knowing you'd make a meme of our dead bodies to get retweets," she tweeted. Then added: "Please do not think that I think celebrities are special snowflakes. I just miss empathy, in general, for everyone."
American television host Wendy Williams had just one word: "Scary."
Makeup artist Georgia Cutts tweeted: "Even if you're not a Kim Kardashian fan, there is nothing remotely funny about a woman of two children being tied and held at gunpoint."
Social media personality and singer Simonna, wrote: "What has happened to Kim Kardashian in #Paris is terrifying! What the hell is going on with our society?!"
Perez Hilton tweeted: "Truly terrifying!! This is traumatizing!!"
Actor Aidan Alexander wrote: "Stop making jokes about Kim Kardashian being held at gun point pls. Get over your dislike for her and acknowledge how scary that would be," then shortly after he engaged in an exchange with a follower who was making fun of the situation and being offensive; Alexander replied to him "@LordDixick Stfu p—y because I'm sympathizing for someone who just bound, gagged and robbed? Get out of here you're vile." Then he finally added: "Idc if someone u know has had it worse…I'm not asking you to wire Kim Kardashian money I'm asking you to be a decent person."
James Corden was among those who rejected the hateful comments that are pervading social media after the news spread out: "People making jokes about @KimKardashian tonight would do well to remember that she's a mother, a daughter, a wife, a friend. Be nice or shut up."
Steve Harvey on the other hand, who's also in town for Paris Fashion Week, commented with a laconic, "Wow, this is crazy. Hope everyone's OK."
Jamie Lee Curtis tweeted: "Relieved @KimKardashian was unharmed. Public people deserve private, safe lives. A horrific moment 4 her family. Twitterverse silence thee." Charlie Puth followed suit: "I feel so bad for @KimKardashian. I'm so sorry this happened to you."
British singer Leona Lewis shared her sympathy for Kardashian, writing: "Years later I'm still personally dealing with trauma after being attacked. We should be sending love to @KimKardashian it's an awful ordeal." While American comedian Seth MacFarlane commented in a caustic way: "I wonder how long before Trump accuses Hillary of robbing Kim Kardashian."
Finally, singer Azealia Banks took to Facebook to express her feelings, saying she felt horrible about what happened to the reality star: "That is soooooo scary and unfair. Absolutely no one deserves that. My only question is where the f–k was her security guard and why did he let anyone in her room?" She then added: "It's sooooooo p—y of those men to rob a woman. This type of stuff makes me super angry. I don't like nor do I find humor in men abusing women, in any capacity. Sidebar, her style these days is slaying. Good on her…"
The robbery is the latest trauma to hit the Kardashian-Jenner clan during their European trip for fashion weeks. In Milan, Gigi Hadid was accosted walking out of the MaxMara show by prankster Vitalii Sediuk, who picked her up from behind only to receive an elbow in the face. Hadid took to her social media to defend her action, which received widespread support.
Last week, Kardashian West also was set upon by Sediuk when she walked out of the offices of Balmain in Paris, only to be pinned to the ground by her bodyguards.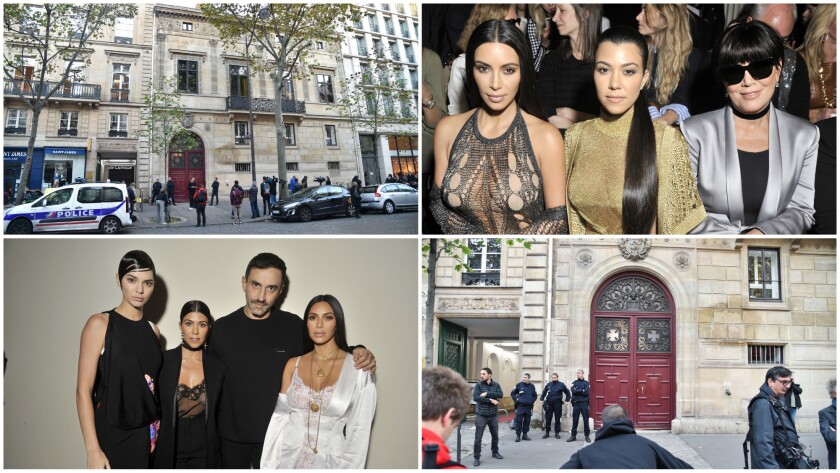 On Sunday night, Kim Kardashian West, her sister Kourtney Kardashian and mother Kris Jenner were on hand to watch younger sibling Kendall Jenner model in the Givenchy show. Later that night, Kim and Kourtney Kardashian attended a dinner at Azzedine Alaïa's residence for Surface Magazine.
West was performing at the Meadows Festival in New York but abruptly ended his set, telling concertgoers he had a "family emergency."
"Due to a family emergency, Kanye West was forced to end his performance towards the end of his set. We appreciate the great show he put on for fans to close out the inaugural Meadows Festival. Our thoughts are with West and his family," organizers said in a statement on Twitter.
It was the second security scare for Kardashian West at Paris Fashion Week after an incident last Wednesday in which serial prankster Vitalii Sediuk lunged at her as she arrived at a restaurant. Her security team rapidly mastered Sediuk.
Earlier on Sunday, Kardashian West posted an image to her Twitter account showing her walking with Duvier behind her. "This guy is always in my shot!" she wrote alongside it. It was not clear if Kardashian West's bodyguards were present in her room at the time of the attack.
Kris Jenner addressed the family's ongoing security concerns at the Givenchy show before the hotel robbery. "We always have a lot of security that most people don't even see, you know, always around, so the minute that [Sediuk] approached Kim, our guys shut him down," she explained.
"He does that to everyone, apparently, and it's a shame that somebody thinks that sort of thing in this day and age is funny because, you know, your personal well-being is so important and you want to feel safe, especially in Paris, where there's already been a lot of unrest," she added.
She did not confirm whether Kardashian West and Kanye West had taken out a restraining order or pressed charges against Sediuk, who had already targeted Kardashian West at Paris Fashion Week two years ago. "I'm sure that they have done something, I'm not sure what it is yet," Jenner said.
The event immediately took on political overtones. Nathalie Kosciusko-Morizet, a conservative politician who failed in her bid to become mayor of Paris in 2014, said it was disastrous for the city at a time when tourists are staying away due to the ongoing threat of terrorist attacks and repeated strikes.
"Our thoughts are with her because clearly, what happened to her is violent and traumatizing. But you also think of the image of Paris. This morning, on every news channel in the world, probably, and definitely in the United States, this news will be played in a loop," she said on Europe 1 radio.
"Do you realize the negative publicity this represents?" the politician continued. "You can spend a lot of money on advertisements about 'I Love Paris,' the image of Paris, 'Come to Paris,' tourism. All these ads have now been brutally cancelled out by the Kim Kardashian affair," she said.
In a statement, Paris mayor Anne Hidalgo called on politicians not to exploit the incident for electoral purposes.
"I condemn the assault on Kim Kardashian last night in her hotel. I support her and would like to assure her she will always be welcome in Paris. I fully trust the police, in the framework of the ongoing inquiry, to identify and rapidly catch those responsible," she said.
"This very rare act, which took place in a private venue, in no way calls into question the work of the police and public security in Paris," Hidalgo added, noting that Saturday's White Night festival — when museums and other venues stayed open all night — drew more than 2 million participants and went off without incident.
"It is possible to visit the French capital and enjoy leisure time under safe conditions. As such, I call on politicians from the right and left alike to show responsibility in the run-up to presidential elections, a period that is sometimes rife for soundbites," she said.
"At a complicated time for tourism, when boosting visitor numbers should be everyone's priority, using this incident as food for controversy would be tantamount to directly harming the tourism sector and the 500,000 jobs it represents in the Ile-de-France region," Hidalgo said.
---