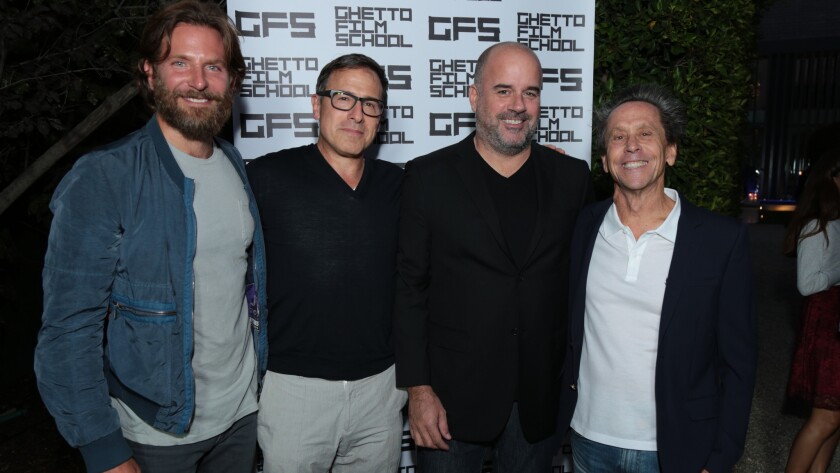 As an honorary co-chairman of the Ghetto Film School's fall benefit, director David O. Russell settled into a cozy conversation area beside a fireplace at the far end of Veronica and Brian Grazer's backyard in Santa Monica. He recalled an early Ghetto Film School fundraiser at a New York restaurant, where the nonprofit organization managed to raise $15,000 to pay for video cameras.
By contrast, Oct. 6's elegant affair, which honored James Murdoch, chief executive officer of 21st Century Fox, and Tony Brown, executive director of Heart of Los Angeles, raised $500,000 from a by-invitation-only guest list of 150 Hollywood VIPs, including actors Bradley Cooper, Virginia Madsen ("Designated Survivor"), Terry Crews ("Brooklyn Nine-Nine"), Sterling K. Brown ("People v. O.J. Simpson"), Alyssa Milano ("Mistresses"), Hannah Simone ("New Girl"), Jon Huertas and Ryan Michelle Bathe ("This Is Us") and Nick Holmes ("Guardians of the Galaxy").
Also in attendance were fashion designer Rachel Roy and entertainment notables such as Academy of Motion Picture Arts and Sciences president Cheryl Boone Isaacs, J.J. Abrams, Stacey Snider, Gary Newman, Elizabeth Gabler, Jon Feltheimer and Brett Ratner.
Based in the South Bronx, N.Y., and the MacArthur Park section of Los Angeles, the nonprofit offers free educational programs in filmmaking to high school students; some were in attendance at the soirée with their films played on a sizable screen as guests mingled on the manicured grass.
If you'd been there, here are seven conversations you might have overheard.
1.) "What I love is that these kids come into our business and tell their own stories," said Russell, an Academy Award nominee for "American Hustle," "Silver Linings Playbook" and "The Wrestler." "The most unlikely student may do some kind of 'Star Wars' thing or some kind of fantasy thing. That's what I love."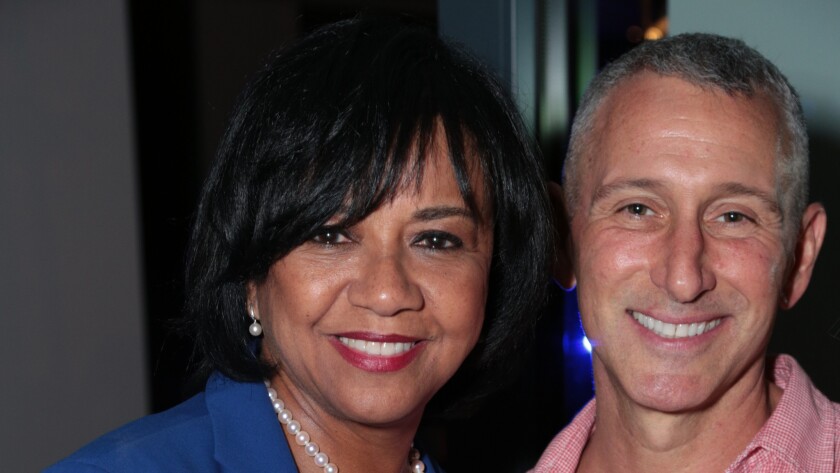 2.) Crews said he relates well to the cause because his objective as a young artist in Flint, Mich., was "to get out of Flint, Mich. … I knew I wasn't going to get a scholarship for my drawing. So I'm thinking football was going to be my way out. But then this magical thing happened. I got a scholarship to Interlochen Arts Academy, and it changed my life. It gave me confidence. … The hard part in life is seeing the way, but something has to lead the way."
3.) Said Brown of the students, "It's chilling to think about having this kind of opportunity at their age. They are teenagers who got to travel to London, to Tokyo, to make a film. … What a wonderful sense of empowerment."
4.) Abrams said the program's interns were "kicking ..." at his company that very day, doing "everything from a nonstop list of things," which also includes working on film sets and occasionally appearing as extras.
"A number of our interns were Stormtroopers," said Abrams, director of "Star Wars: The Force Awakens."
5.) Said Madsen, "I started out when I was very young and I had some excellent people helping out. What's important is getting a foot in the door, and the Ghetto Film School helps kids do that."
6.) "[The school] hits so close to home for me because basically there's power — superpower — in a fresh narrative, in having the understanding and control of your own truth," said Grazer, co-author of "A Curious Mind: The Secret to a Bigger Life" with Charles Fishman (Simon & Schuster, 2015). "So here are young filmmakers that hopefully are able to understand that their sensibility is a unique sensibility, and if they have the tools from GFS, then they will then have the way to get that fresh narrative out into the world."
7.) In his remarks, James Murdoch described "the magic of the Ghetto Film School," saying, "It's something extraordinary about magic that it takes an enormous amount of work to make it look so easy."
Ellen Olivier is the founder of Society News L.A.
---