Grammy fashion trends: It's a new brand of sophisticated, flaunting-it femininity for 2019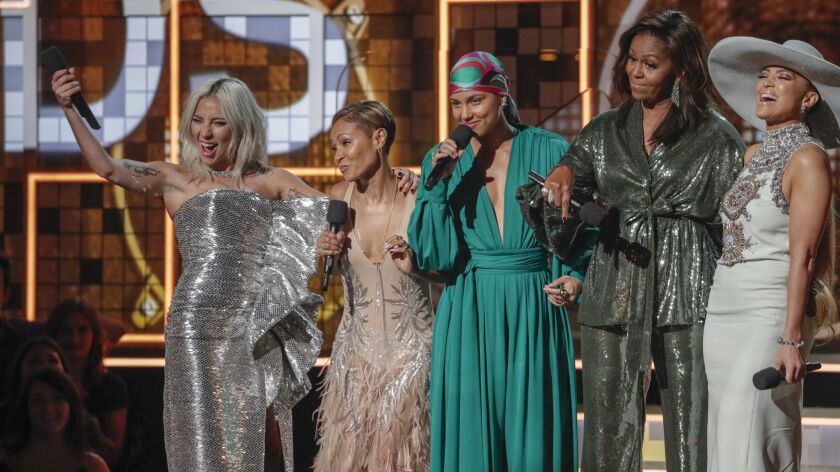 Modern red-carpet watchers can almost play a drinking game to the tropes often displayed during each awards season, year after year (outlandish meat or safety pin or credit card dresses or an overt political statement — check). And that's why the Grammy Awards typically provide a sartorial reprieve from the monotony, giving observers the opportunity to witness the ahead-of-the-curve creativity and unflinching spirit that can only be served by a musician.
Although the style Sunday felt slightly safer than years past (with a few notable exceptions — Cardi B), it also kind of worked as a somewhat inoffensive safe haven set against the world's current mood. And, in a contrast to last year's #MeToo launch setting a more somber sartorial tone, this Grammys red carpet showed off a new brand of sophisticated, flaunting-it femininity that felt perfectly right on time.
There was trusty and comforting nostalgia that ran deep in a variety of ways — from the smooth, sherbet-hued blazers worn by a yacht-rock-ready Weezer (which nearly matched the album art on its new collection of mostly '80s covers); the circa-1990 "Pretty Woman"-appropriate clavicle-skimming diamond necklaces seen on host Alicia Keys, Ella Mai, Dua Lipa (in Bulgari) and Lady Gaga (in Tiffany & Co.); and the profusion of sequins, strong shoulders and ruffles that remind of (or, perhaps, celebrate) the Reagan era's end.
Grammys 2019 red carpet: Showstopping looks and jaw-dropping attires »
Festive beading and sequins, which were spotted on Camila Cabello (in custom magenta Armani Privé), again on Lady Gaga (in custom Celine) and Lipa, with tones ranging from something that could have fit into "Casino's" costume department to a modern update on a mother-of-the-bride ensemble at a black-tie hotel ballroom wedding.
However, the biggest moment of the night belonged to Michelle Obama, who helped open the show in a custom unstructured Sachin & Babi sequin suit. Standing next to Keys, Jada Pinkett Smith, J.Lo and Gaga, the former first lady and bestselling author talked about the commonality of music before Keys, in her second outfit — which included a Pucci headscarf — seemed awestruck of her assembled girl group. ("Who runs the world?" Keys asked, referring to the iconic Beyoncé lyric.)
Instead of last year's more demure and conservative showing of suits and slightly less-structured frocks, this season brought sexy back in a way that felt powerful, strong, modern and in step with the times.
Not every look served a plunging V or an up-to-there side slit — though there was no shortage of either, with Tori Kelly opting for a black Paule Ka gown that put her left leg on par with Angelina Jolie's right one. Janelle Monáe stayed true to her brand of style with a sculptural Jean Paul Gaultier Haute Couture dress that showed skin but with two razor-sharp shoulders rising like talons.
Country music darling Margo Price, who has come under fire within her fan base for her left-leaning viewpoints, walked the carpet pregnant. She, too, proudly displayed her gams while wearing a romantic red gown by Los Angeles-based designer Kimberly Parker.
Sexy came out in ways other than skin — with Miley Cyrus providing the first exciting update to the femme tuxedo in ages with a satin-paneled Mugler pre-fall '19 piece that created a strong and sexy silhouette through an unlikely combo — an oversize jacket and cropped flared trousers. Most of the women of country opted for soft, sophisticated ensembles that felt very Old Hollywood — especially Kacey Musgraves in a blush and red tulle Valentino couture confection. Her look felt about as far away from the stereotypes of Nashville as could be.
There was a sea of strong red dresses from Keys; Bebe Rexha, who made headlines after posting a video saying that no one would dress her size 8 figure for the event (she ended up in Monsoori); and tribute recipient Dolly Parton. But an unlikely color story emerged — pink.
This light pink felt interesting in this time of gender fluidity. This pink also felt strong with Kylie Jenner's futuristic Balmain suit; Katy Perry's couture metallic bubble skirt number also by the French house; and — the evening's theatrical pièce de résistance — Cardi B emerging from a pink and black 1995-era Mugler shell a la Venus.
The thematic takeaway? "We're in such a fun time of everyone accepting and appreciating each other for what they are and who they are," said stylist M.E. Clark, who, along with her styling partner Ryann Redman, dressed Margo Price for the evening. "People are wearing things that they want." That empowerment is comfort in itself.
For fashion news, follow us at @latimesimage on Twitter.
---