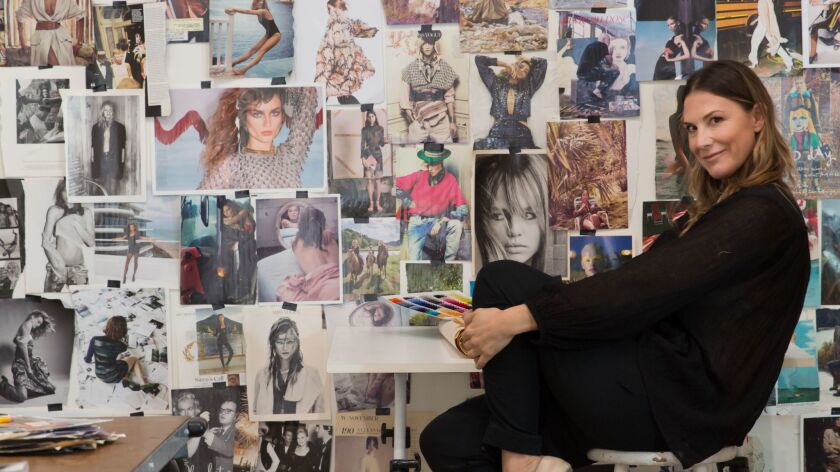 In celebration of her fashion brand's 10th anniversary, designer Heidi Merrick opened the doors to her flagship H. Merrick of California boutique last month at 115 W. 9th St. in downtown Los Angeles.
"I did not intend to do this with my life," said Merrick, who pretty much grew up at Channel Island Surfboards, the ultimately California-cool Santa Barbara business founded in 1969 by her parents, Al and Terry Merrick.
"When they opened the shop, there was a sign that said, 'Custom-Made Surfboards & Clothing,'" said the 41-year-old designer who lives in Silver Lake with her husband and two children and owns a 55-acre apple farm close to surf spot Rincon Pointe, where she enjoys riding the waves. "My mom sat in front sewing board shorts and Hawaiian-print shirts, while my dad was in the back shaping surfboards. Starting when I was 9 years old until I went to college, I did the buying with my mom, ordering from [brands like] Quiksilver."
While Merrick didn't ever design for Channel Island, she did collaborate with her mother to create her own prom dress and, in 2003, her wedding gown.
"At my wedding, my friends said, 'You are totally wasting your life; you need to make dresses,'" said Merrick. "So I went to Los Angeles Trade Tech College to learn how to make patterns and sew. I started out as Heidi Merrick Dresses in a closet-sized [300-square-foot] office in the Cooper [Design Space] building [in L.A.], and then I moved to an upper floor in this [other] building eight years ago."
Merrick runs production entirely in-house despite the high costs of making clothes in the U.S. and uses leftover fabric for her home decor pieces. Every item from her label is created on-site in the downtown studio by herself and a team of six, including three sewers and a cutter.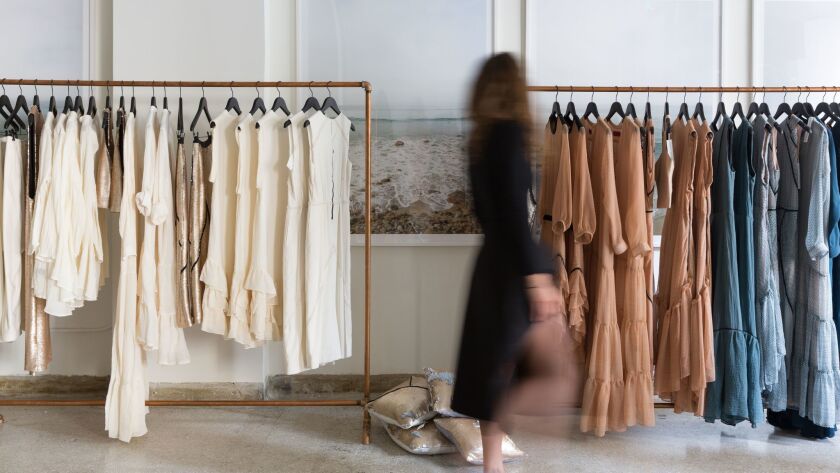 "I realize that the margins for 'made in America' just don't compete; what I make for $70 cost, others make for $10.50 and sell at a higher price point," said Merrick. "Something needs to change. My parents taught me to run a sleek, honest business and do things from the ground up. So I've tried to put that same sort of ethic into what I do."
Merrick's line has a relaxed vibe; think sequined sweatshirts, easy oversized "muscle tee" sleeves on dresses, and button-free blazers designed to be worn open.
The brand has expanded into a full ready-to-wear collection including T-shirts and blouses, skirts, trousers, swimwear and outerwear (from $75 for a tank top to $935 for a long wool flannel coat) as well as home and beauty items.
The new home collection features sequined, embroidered or vegan leather pillows ($95 to $225), tea towels (two for $25), beach towels ($65) and napkins (four or five for $25, depending on size) — all crafted from leftover fashion fabrics. Silk pajama sets ($295) and robes ($550), also cut from repurposed fabrics, can be monogrammed in the store during atelier hours (1 to 3 p.m. Tuesdays and Thursdays), when Merrick is available for fittings and custom gown orders. The boutique also peddles vintage Moroccan wedding blankets ($550 each) and a made-to-order teak canopy bed by L.A.-based MASHstudios ($4,400).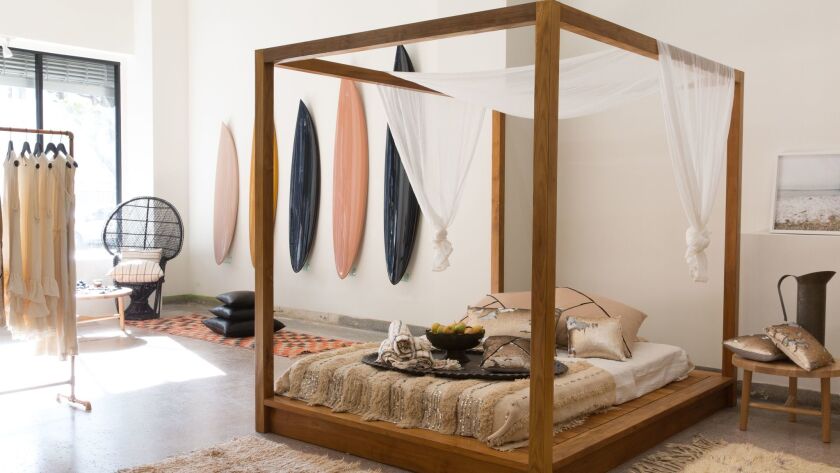 Merrick will soon introduce a signature soy candle ($45) with notes of sage, lavender and wood that smells like California chaparral. Up next are 2017 collaborations with California-based natural beauty brands Sea Bottle and Earth Tu Face. Menswear pieces, board shorts and T-shirts, are also in the works.
The aesthetic of the store circles back to Merrick's surfer roots. Her brother, Britt, who has taken over design at Channel Island Surfboards from their father, created a series of sculptural, lacquered surfboards ($1,750 to $1,850), mimicking a shape originally designed for pro surfer Dane Reynolds and in colors to match Merrick's fall/winter 2016 fashion collection, a boutique exclusive. Walls are also adorned with blown-up photos of Merrick's favorite Pacific beach haunts (framed prints start at $350), a collaboration with local photographer Sharon Montrose.
"Surfing is understanding the cadence of the ocean — when to paddle out and when to paddle in," said Merrick, who is teaching her 6-year-old daughter the sport. "When you're riding a wave, it's like life. It's all intuitive."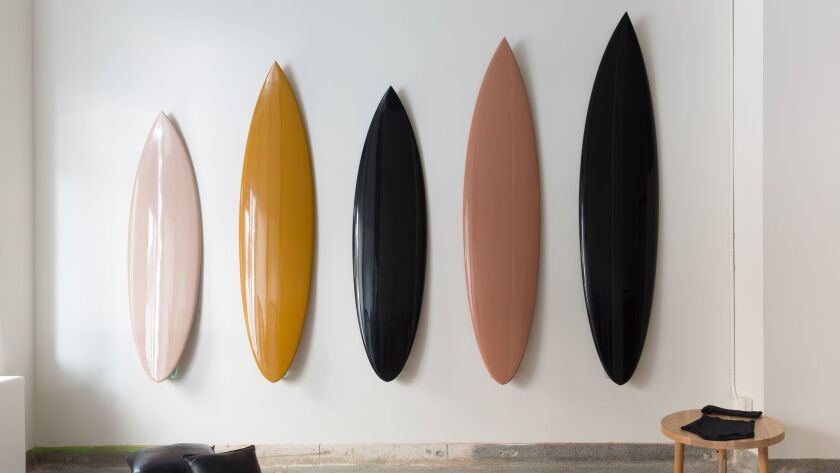 ---