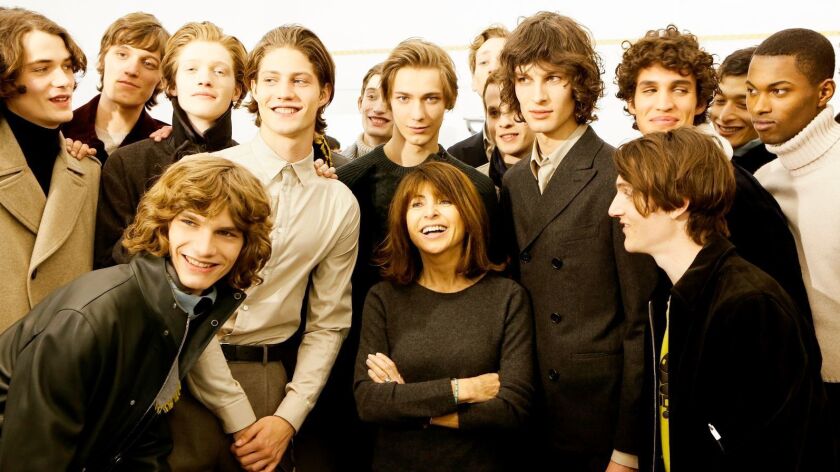 Reporting from Paris —
Three days before traveling from the City of Light to the City of Angels, Hermès' men's artistic director Véronique Nichanian sat down in her office above the luxury label's Rue du Faubourg Saint-Honoré flagship store. Busy putting the finishing touches on the brand's first West Coast menswear show, she stopped to talk about the March 9 event, how men have changed over the years and how her 29-year tenure at the house is like having a love affair.
Here are excerpts from the conversation with Nichanian:
You have been Hermès' artistic director of men's ready-to-wear since 1988 and the entire men's "universe" of apparel and accessories since 2009. What's the biggest change you've seen in menswear during that period?
I think men have more confidence in themselves than before, and now they are much more likely to express who they really are because in society there is not as much judgment like, "Oh, he's not wearing a tie so he's not serious." You can be a credible gentleman in denim or sneakers.
How do you explain what — for the fashion industry anyway — is an unusually long tenure?
It's like having a love affair. I'm happy with them. They are happy with me, and time flies. … My friends at different [fashion] houses dream of my job because nobody is saying to me, "Véronique, don't do that" or "Véronique, make more ties." From the beginning, I've had carte blanche. And when you are a creative person at a beautiful house and can do everything you want, why not? When you're happy, you don't want to go anywhere.
Speaking of being happy, the collection you're showing at the DWNTWN MEN event in Los Angeles is the spring/summer 2017 collection you showed here in Paris in June, and it has a pretty upbeat vibe to it thanks to some bright pops of yellow and fun tie-dye patterns on shirts, jackets and sweaters. What's the backstory there?
It's been such a strange and bizarre time with the economic problems and everything. I wanted to provide some lightness, some happiness and positivity. The future should be beautiful. That's why I absolutely wanted to have the Beatles' "All You Need Is Love" play at the end.
How important is the music in your shows?
It is very important. That's why I [put the soundtracks together] myself. I have been working with the same guy for 15 years. Sometimes I will tell him exactly what I want, and sometimes he will propose things. But all of the elements are important. It creates the emotion you want and links everything together.
That's why the Los Angeles event includes a room set up like a music store to play all of our music from past shows. Hermès prints from each show will be [printed on the sleeves] of vinyl record albums, and when you choose an album, it will play the music from the corresponding show.
The house is really pulling out all the stops for the Los Angeles event. In addition to the fashion show, you've taken over a huge warehouse space in Chinatown, you're hosting a dinner, you're staging a concert and a fashion show and you've commissioned graphic artist and printmaker Anthony Burrill to create posters and slogans. What's the purpose of it all? And why choose Los Angeles in particular?
It's about talking directly to the California people because I realize maybe they don't know the entire [Hermès] men's universe — the shoes, the bags, the clothes, the ties … Also, it's a big, fun party for friends, customers and journalists. We did this in a different way in Japan in October. But we want to talk to the Americans in an American way.
And we've had events in New York and Chicago before but never anything on the West Coast. There's such a great energy in Los Angeles, and there are so many things going on. I want to be part of that.
For more musings on all things fashion and style, follow me at @ARTschorn.
ALSO
Greg Lauren and Moncler team up for a scruffy meets puffy capsule collection
Pastor tunics, revolutionary berets and a sea of navy blue at Dior
---