Commentary: Inauguration fashion: From Ralph Lauren's Melania and Hillary two-fer to Kellyanne Conway's military cats
For Inauguration Day, Melania Trump chose a sky blue double-faced cashmere jacket and double-faced cashmere mock turtleneck dress, both from the Ralph Lauren Collection.
(From left: Patrick Semansky / AP; Jim Lo Scalzo / EPA; Pablo Martinez Monsivais / AP)
Melania Trump arrives at Joint Base Andrews in Maryland wearing designer Norisol Ferrari.
(REX/Shutterstock / WWD)
President-elect Donald Trump and his wife, Melania, arrive at a pre-Inaugural "Make America Great Again! Welcome Celebration" at the Lincoln Memorial on Jan. 19.
(David J. Phillip / Associated Press)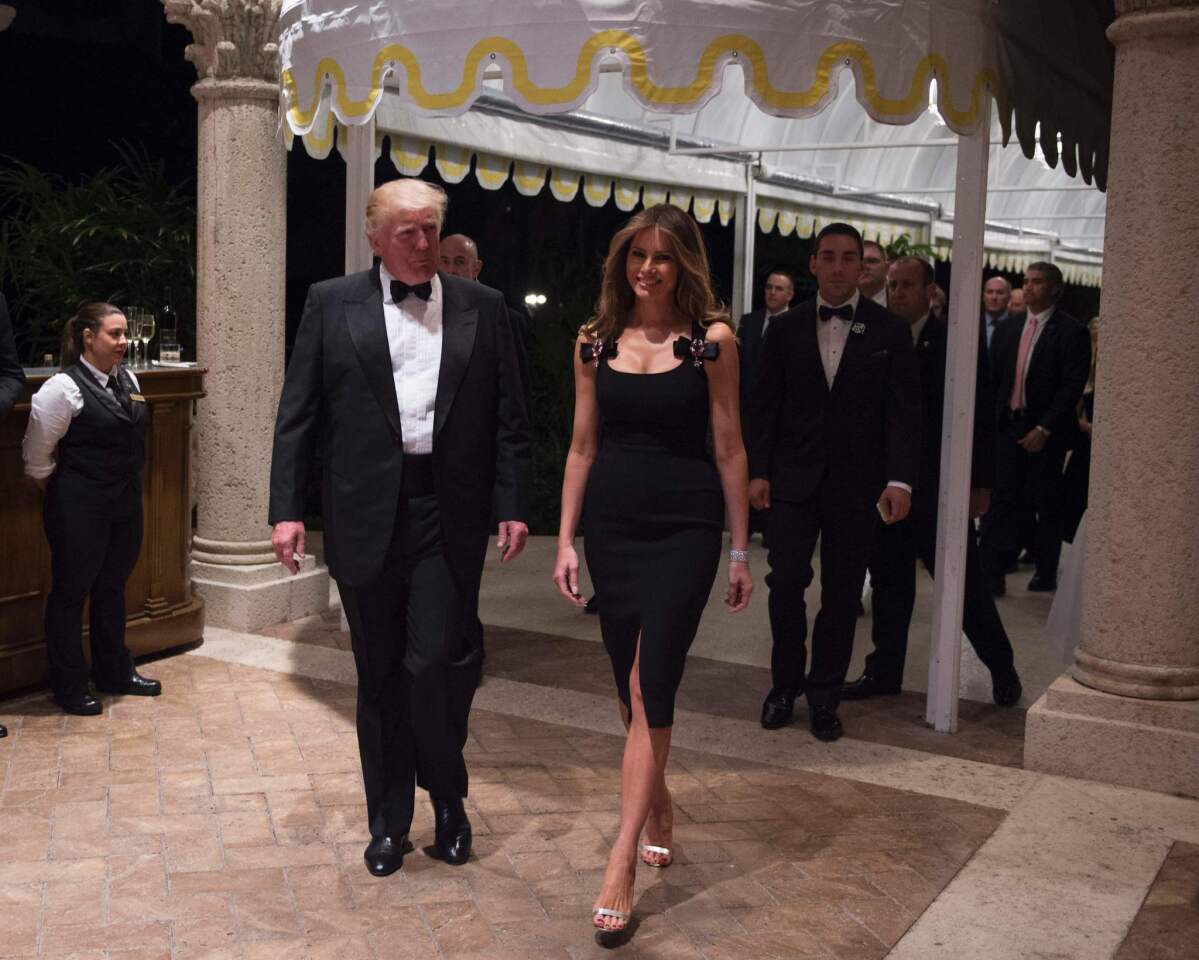 Donald and Melania Trump arrive for a New Year's Eve party on Dec. 31, 2016 at Mar-a-Lago. Melania is wearing a black Dolce & Gabbana cocktail dress with bows on each shoulder.
(Don Emmert / AFP/Getty Images)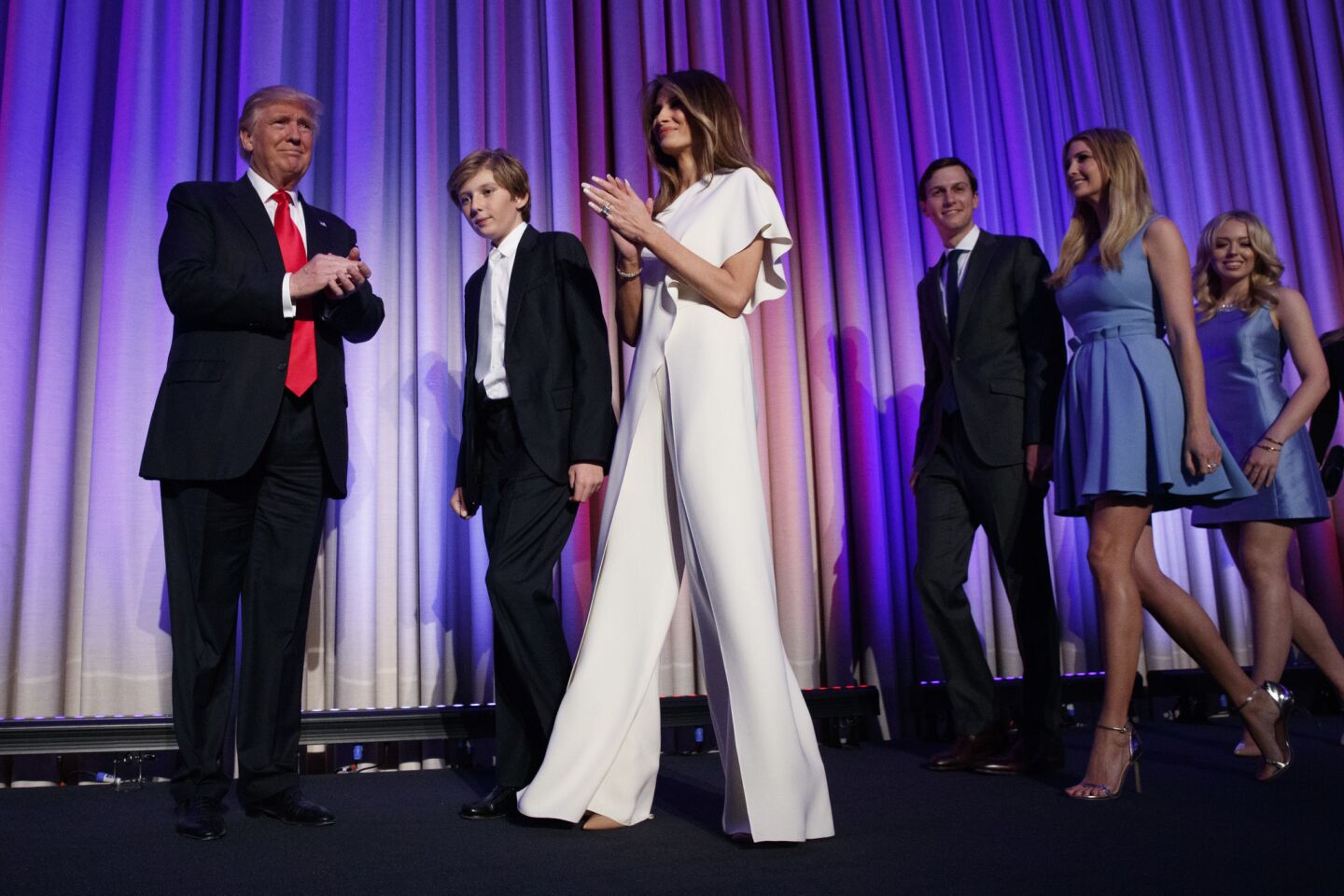 Melania Trump wears an Italian-made, ruffled, one-shoulder Ralph Lauren jumpsuit with an asymmetrical ruffled overlay to her husband's acceptance speech in New York City in the early morning hours of Nov. 9, 2016.
(Evan Vucci / Associated Press)
On Election Day, Melania Trump wore a virgin wool camel-colored Balmain coat with embossed buttons.
(Chip Somodevilla / Getty Images)
Melania Trump, wearing a pink blouse, on the campaign trail to deliver a speech in Berwyn, Pa., on Nov. 3, 2016.
(Patrick Semansky / Associated Press)
Melania Trump during the final presidential debate in a black, sleeveless Ralph Lauren jumpsuit with pussy bow detail
(Evan Vucci / Associated Press)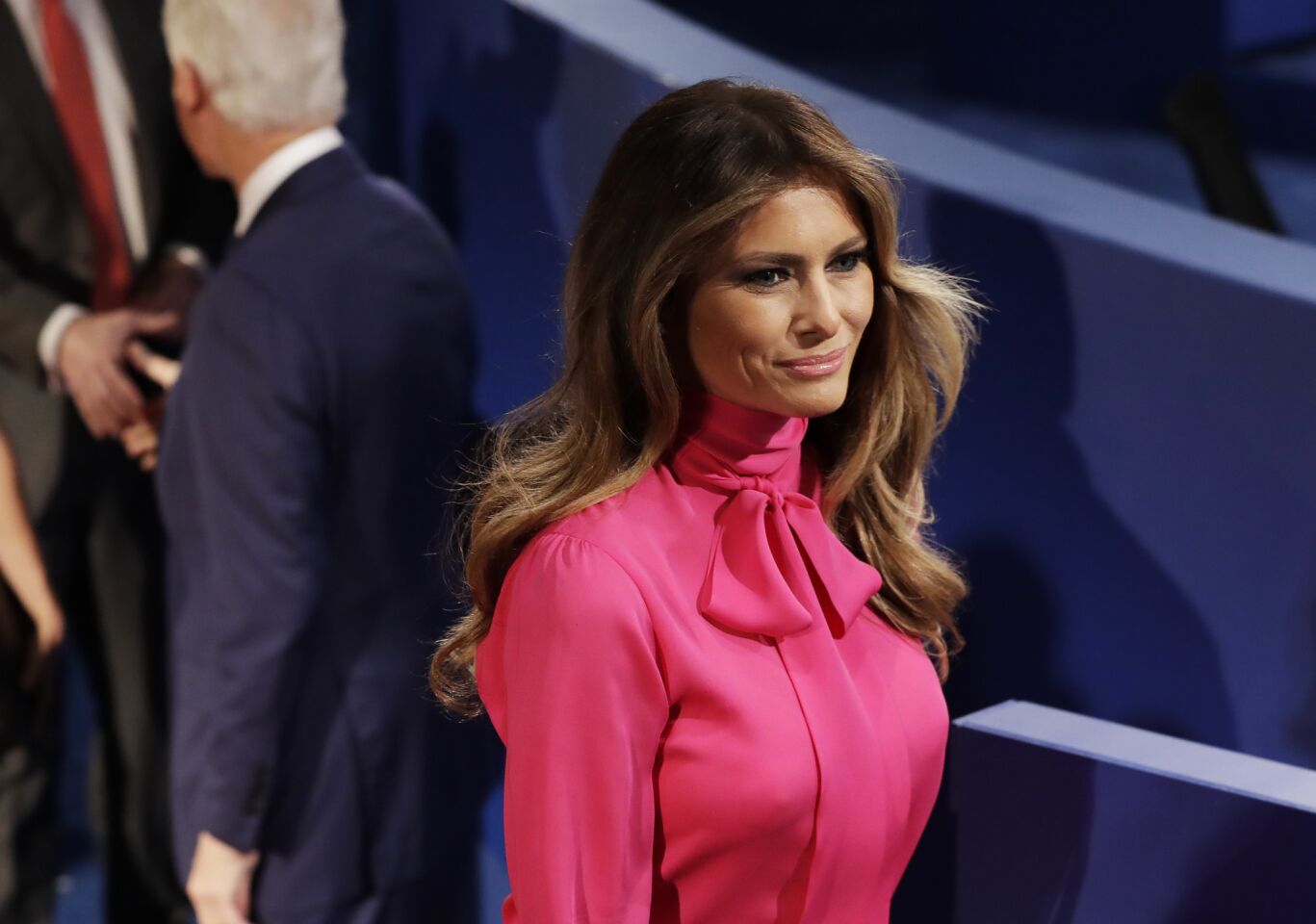 Melania Trump wears a fuchsia silk crepe de chine blouse from Gucci to a presidential debate on Oct. 9, 2016.
(Patrick Semansky / Associated Press)
Melania Trump arriving on stage on the first day of the Republican National Convention wearing a white, pouf-sleeved dress designed by London-based, Serbian-born designer Roksanda Ilincic.
(Timothy A. Clary / AFP/Getty Images)
Melania Trump, listening as her husband delivers remarks at Trump National Golf Club Westchester in Briarcliff Manor, N.Y., on June 6, 2016.
(Kena Betancur / AFP/Getty Images)
Donald and Melania Trump at the Time 100 Gala at Lincoln Center in New York on April 26, 2016.
(Timothy A. Clary / AFP/Getty Images)
Donald and Melania Trump after the debate at the University of Miami on March 10, 2016.
(Carolyn Cole / Los Angeles Times)
Republican presidential candidate Donald Trump stands with his wife Melania Trump as he concedes defeat in the Iowa Caucus on Feb. 1, 2016 in Des Moines, Iowa.
(Joe Raedle / Getty Images)
First Lady Melania Trump with President Donald Trump at different events during their courtship and engagement. From left: in New York City in 2004; at the 2004 Emmys red carpet; at the the Marc Bouwer/Peta Fall/Winter 2002 Collection show; at the 2001 Academy Awards.
(From left: Scott Gries/Getty Images; Anne Cusack / Los Angeles Times; George De Sota/Getty Images; Kirk McKoy/Los Angeles Times)
When it came to assessing who wore what on Inauguration Day, there was a whole lot of sartorial symbolism going. Not to mention a freaky fashion confluence that resulted in the incoming first lady and her husband's bitter rival for the presidency wearing the same label, as well as two high-profile pantsuits, both in white, and the sight of Mrs. Obama, Mrs. Clinton and Mrs. Trump clad in the colors of the American flag — red, white and blue, respectively.
The biggest reveal of the day came early, with incoming First Lady Melania Trump stepping out for the day's events clad in a sky-blue double-faced cashmere Ralph Lauren Collection ensemble that included a cropped cutaway jacket and a mock turtleneck dress. Taken together with the suede gloves and stiletto heels — in the same shade of blue — and upswept hairstyle, the first impression of the new first lady was one of elegance and poise.
The monochrome outfit's slightly '60s vibe — thanks to the mock turtleneck collar and sleeves cropped to mid-forearm — instantly drew comparisons to the most memorable looks of Jackie Kennedy's time as first lady. At the same time, the cut of the cropped cutaway jacket lent a little futuristic-airline-stewardess feel to the whole thing.
The choice of Ralph Lauren was hardly a surprise — the label had been one of the odds-on favorites since the fashion handicapping began earlier this week and it had been Melania Trump's go-to for several high-profile appearances during the campaign season. It was also, as many have pointed out, the source of many a Hillary Clinton pantsuit during the 2016 campaign, a fact of which we were reminded when Clinton arrived for the ceremony also clad in Ralph Lauren — an off-white pantsuit with a white jacket draped over her shoulders.
While the first ladies past and future found themselves united by a brand that's positioned itself as America's symbolic clothier (Ralph Lauren, need we remind you, is the longtime official outfitter of the U.S. Olympic team), Clinton and Ivanka Trump found themselves sharing the white pantsuit look — the latter in a version by Oscar de la Renta, which included a long, asymmetrical-cut jacket accessorized with an American flag pin. (Her half-sister Tiffany also chose an all-white outfit for the occasion.)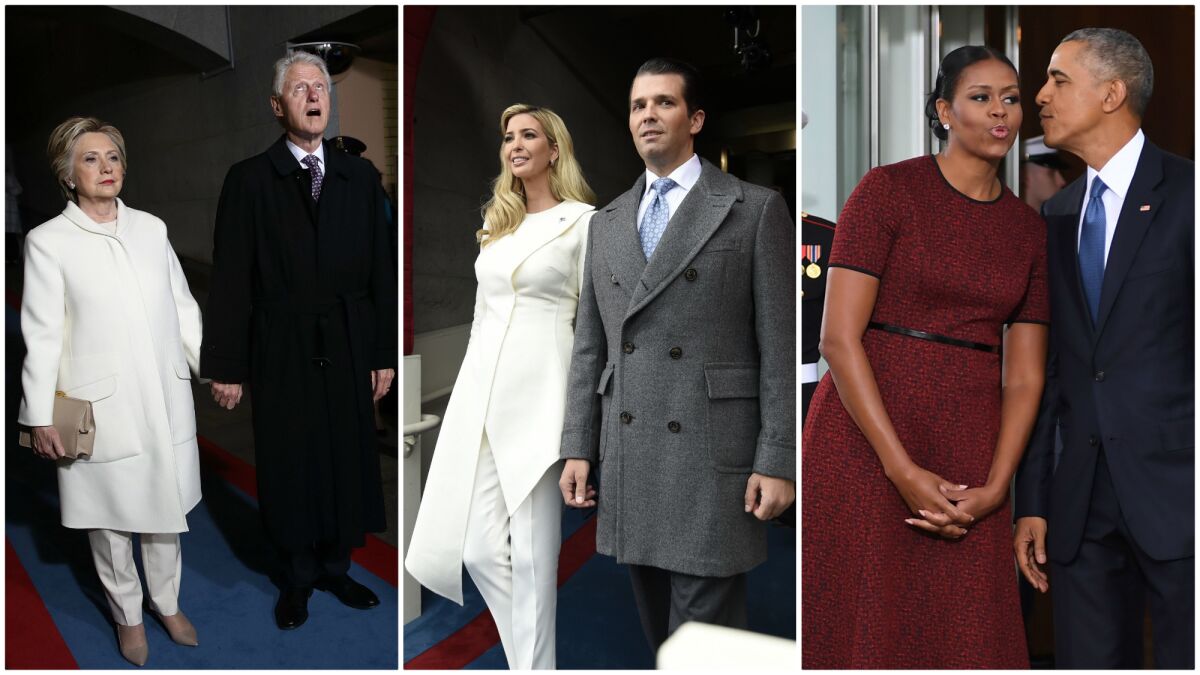 As if that wasn't enough fodder for the fashion machine, outgoing First Lady Michelle Obama attended the festivities in a red dress (provenance unknown) with a fit-and-flare silhouette and accessorized with a thin black belt. Together, these three women literally represented the colors of the American flag.
There's one more red, white and blue combination that bears mentioning: the Inauguration Day outfit of Trump's special advisor Kellyanne Conway, who turned out for her boss' big day in a military-inspired coat from Alessandro Michele's 2017 resort collection for Italian luxury label Gucci. The red, off-white and blue wool A-line look (which she accessorized with a red cloche hat, red gloves and red handbag) was studded with 10 metal buttons with feline-shaped heads.
While the buttons certainly could have been lions, tigers, pumas, it didn't take much heavy lifting to draw a connection between the cat motif and the litter of cat references that have been ping-ponging through the political landscape for the last several months.
Of course, there was the comment by Trump on an "Access Hollywood" bus about grabbing women, caught on video and released before the election. Then Melania Trump turned up not once but twice wearing outfits with the distinct neck detail known as a "pussy bow."
This was catnip to fashion sleuths (this one included), who mused that perhaps it was a calculated nose-thumb to critics and reference to the incident.
That in turn spawned the knit pink "pussyhats," which have become the de facto sartorial symbol of Saturday's upcoming women's marches nationwide.
From where we're sitting, it's almost impossible not to see Conway's choice as a kind of catty callback and final commentary on the whole situation.
To which we have to say: "Meow, meow."
Melania Trump turned up twice wearing outfits with what is called a pussy bow, and fasion sleuths mused that perhaps it was a calculated nose-thumb to critics. (Jan. 20, 2017)
First Ladies of the United States of America
For more musings on all things fashion and style, follow me at @ARTschorn.
ALSO:
The defining looks of Michelle Obama's White House Years
Melania Trump's election-night style: clueless or calculated?
Dear President-elect Trump: Here's a four-point-plan to make America (look) great again
---