Incredible Women Gala celebrates major strides amid upheaval of Time's Up and #MeToo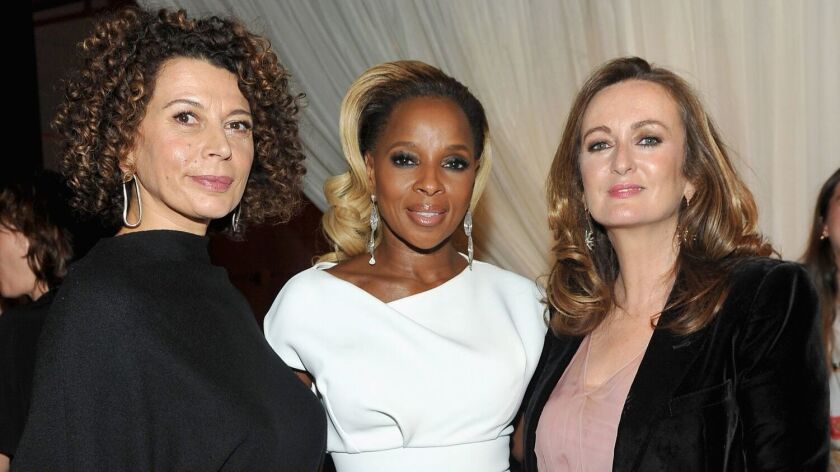 It has been a year since the sexual misconduct story about movie mogul Harvey Weinstein broke and nearly a year since the inception of the Time's Up organization. As the Time's Up and #MeToo movements have gained traction in Hollywood and elsewhere, the third annual Incredible Women's Gala proves to be particularly relevant this year.
Porter magazine's editor-in-chief Lucy Yeomans and Universal Pictures chairman Donna Langley will be the hosts for Tuesday's affair, which is being held at the Ebell of Los Angeles.

For the record:
11:40 a.m. Oct. 9, 2018An earlier version of this report incorrectly identified Universal Pictures chairman Donna Langley as a founder of Time's Up.
The star-studded gala is being held in honor of Porter's fourth annual "Incredible Women" list, which is featured in the global fashion magazine's winter issue. "Four years ago, we decided it would be amazing to make a list of women who'd change the way we live, think or entertain," Yeomans said, adding that this year's list was significant in light of current events.
Time's Up — and the 300 powerful Hollywood women who formed the organization — are singled out in the magazine.
Yeomans said major strides have been made in the entertainment and fashion industries since the list launched in 2015. "I think in some aspects of society, [women] haven't always been listened to," she said, noting there has been a recent shift as more women tell their own stories and report incidents of sexual harassment, abuse and other misconduct.
"When an actress or a model speaks out right now, someone isn't going to push that under the carpet. They're going to listen," Yeomans said.
"There is a sense of community and of networking where women are really going out of their way to lift each other up."
Donna Langley, Universal Pictures chairman
Langley echoed the sentiment, saying she has seen a noticeable change in the way women are using their voices and coming forward to support one another. "There is a sense of community and of networking where women are really going out of their way to lift each other up," she said.
With actress Julianne Moore on Porter's winter cover, the issue's Incredible Women list features former First Lady Michelle Obama; Oprah Winfrey; Meghan Markle, Duchess of Sussex; lawyer Tina Tchen; fashion designer Stella McCartney; and New York Times journalists Megan Twohey and Jodi Kantor, alongside other top female leaders including chief executives, writers, scientists and activists who've made a difference in their respective fields. The issue also features inspiring open letters from actresses Meryl Streep, Tiffany Haddish and Emma Watson and model Cameron Russell.
A list of guests for Tuesday's gala includes Charlize Theron, Annie Lennox, Anna Kendrick, Amber Heard, Judd Apatow and Leslie Mann, Kumail Nanjiani, Alison Brie, Mahershala Ali, Miranda Kerr, Sam Taylor-Johnson, Suki Waterhouse, Minnie Driver, Busy Philipps, Alice Eve, Aaron Taylor-Johnson and Storm Reid.
This year's theme for both the list and gala is One Year Stronger, a nod to the Weinstein scandal, which started a dialogue surrounding sexual harassment in the workplace. "We thought to ourselves, 'Why don't we really celebrate the good that's come out of it?'" said Yeomans, who launched Porter in 2014. "We wanted to take that and celebrate the people who've risen up because of this. We wanted to take the conversation forward."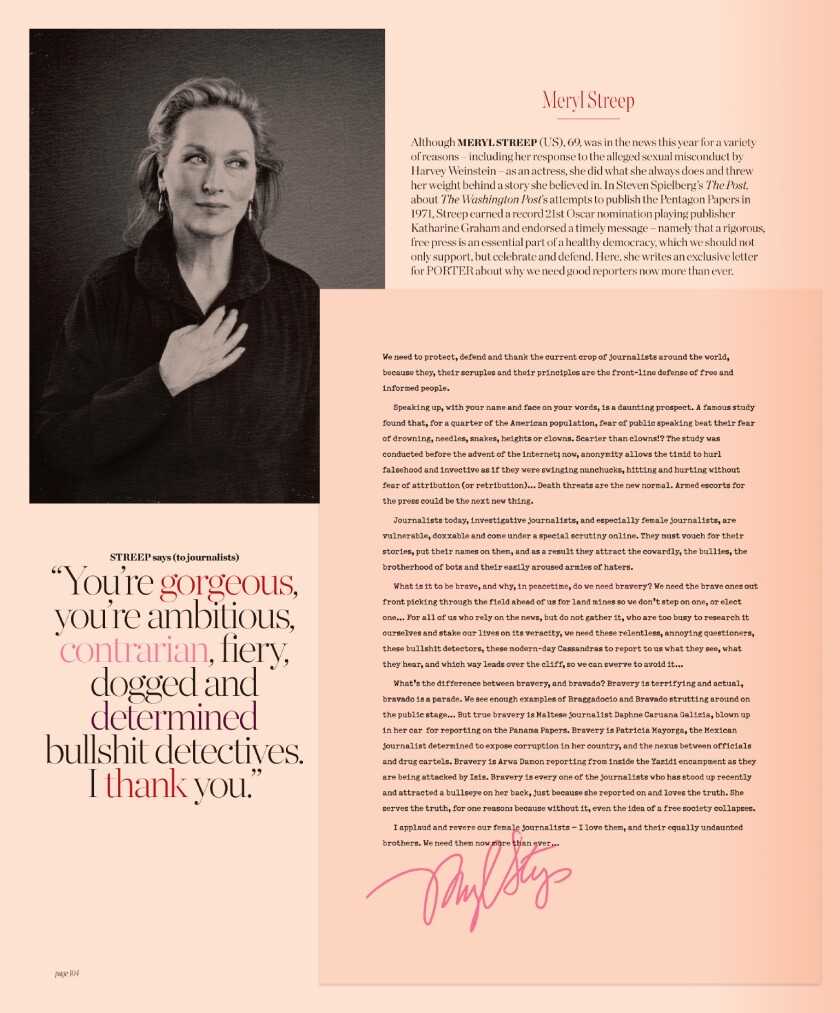 The evening will be presented by Estée Lauder and benefit Vital Voices, a bipartisan Washington, D.C.-based nonprofit organization that provides mentoring and improves economic empowerment and human rights for women. "We felt like it was such a beautiful synergy between Vital Voices and Porter," Yeomans said about the organization, of which Langley is a board member.
Langley was introduced to Vital Voices in 2012 while on a trip to Doha, Qatar, to mentor women there. "We mentored them from business plans to helping them with policy work," Langley said.
The gala will include a cocktail reception followed by dinner and a special show with appearances from a variety of artists. The presentation will feature a musical homage as well as spoken-word performances. "I don't want to jinx anything by saying who we have reading and performing," Yeomans said, though she hinted that many names on the guest list would be involved.
"This evening is a conversation provoker, and that's what this year has been about," said Yeomans, who flew in for the affair from London. "Amazing conversations have been provoked after something that is terrible. Out of a bad situation, it just shows that ability for us to move forward — to be one year stronger."
Melissa Magsaysay contributed to this report.
For fashion news, follow us at @latimesimage on Twitter.
---