Designers behind James Banks Design label want to show that 'jewelry is a beautiful piece of poetry'
Designers Adam Shulman and Heidi Nahser Fink are known for creating one-of-a-kind conversation pieces for their fine jewelry company, James Banks Design.
"Jewelry is a beautiful piece of poetry," Shulman said during a recent interview. "It's a love letter that someone has given you or that you've written yourself."
James Banks Design's fall collection, the Code, takes this lyrical concept to the next level. The delicate hand-crafted bangle bracelets feature four different designs and are available in various metals (18-karat white gold, yellow gold, rose gold or black rhodium) and precious stones (white diamonds, rubies, emeralds or sapphires) in pavé bevel, half pavé or full pavé.
Each individual customized code locks and unlocks each bespoke bracelet. "We all have our own DNA, our own code," Nahser Fink said, discussing the idea behind the collection, which retails for $10,800 to $100,000 and is available at Roseark, Bergdorf Goodman and JamesBanks.com.
The bracelets' aesthetic, which evokes a sense of luxurious nostalgia, was inspired by a vintage combination-lock briefcase. The intricate mechanisms took two years for the designers to perfect.
Shulman said customers are involved in the actual design process by selecting their own setting, stones, numbers, letters or symbols. "We allow the wearer to participate in the story," he said. "It gives people a chance to say, 'These are the things that are important to me. It's the coordinates of where I met my loved one or it's the birthstone of my child.'"
Shulman and Nahser Fink also share an origin story as intriguing as their wearable works of art. The duo met on the set of 2010's "Alice in Wonderland," which starred Shulman's now-wife, Anne Hathaway. "I was making props and jewelry for movies," Nahser Fink explained. "Annie and Adam were dating, and she wanted to have a locket made [for Shulman]. And the prop master said, 'Call Heidi. She can make anything.' It brings me to tears when I think about that locket."
Shulman and Nahser Fink then collaborated shortly after on what became the company's signature Lightkeeper necklace, which started as a custom gift for Hathaway. From there, they decided to go into business together. "We push each other," Shulman said. "Her skill allows me to dream up new obstacles that she can traverse, and those ideas inspire her to be an even more incredible metalsmith and fabricator."
The duo have an unusual work arrangement. Nahser Fink's studio is based in the Bay Area, while Shulman designs from the Los Angeles home he shares with his wife. The designers only see each other about five times a year. "But we text and talk most of the day," Shulman said. "And there's FaceTime," laughed Nahser Fink, adding that technology allows them to be in constant contact during the design process. "There's something useful about the distance," said Shulman, explaining that it allows each of them to view their projects "through another lens."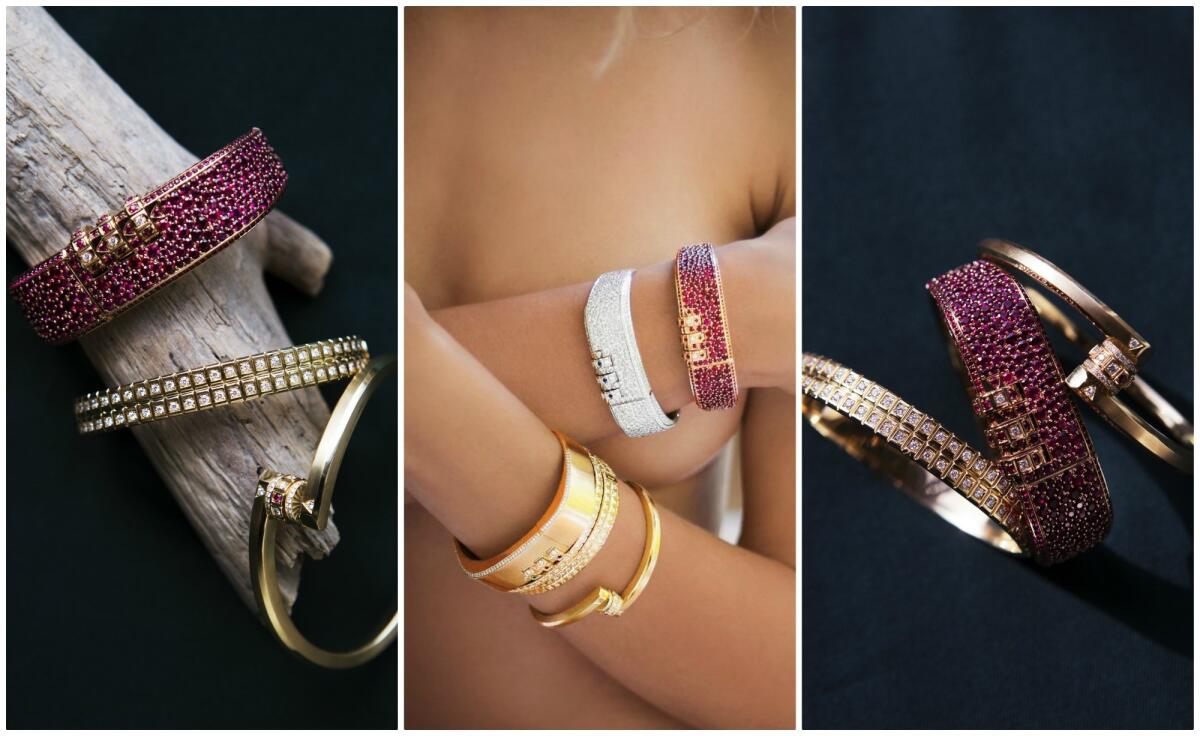 James Banks Design is admittedly a family affair. (The label, which launched in 2011, is named after Shulman's grandfather, who often created jewelry for his grandmother.) "And it's all hands on deck," said Nahser Fink, whose husband, Jeff, a carpenter, has been known to assist in creating the label's boxes in addition to providing feedback. "After Adam and I are in our bubble, he can come in and look at it with a fresh perspective." The same goes for Hathaway. "She's very honest," Shulman said. "Your partners are your inspiration. And they're your sounding board. Nobody keeps it more real."
What does Shulman's wife think of their new collection? "I think she loves it," he chuckled. "My family is my biggest inspiration. They support you. I don't think I could wait for a big reveal, you know? As I'm drawing it, it's like, 'What do you think of this? What do you think of that?' Step by step."
Shulman and Nahser Fink are already fast at work on their spring collection, which will be flower-themed with an equally complex design. "The flowers are going to bloom and open," said Shulman, who personally answers all of the company's emails. "One of the best parts of the job is hearing who got the piece, what they did with it and what the moment meant to them."
Nahser Fink agreed. "We care about the people who wear the jewelry," she said. "It's not just an object. It's a connection."
For fashion news, follow us at @latimesimage on Twitter.
ALSO
Nicolas Bijan Pakzad focuses on a new generation of super-wealthy shoppers with his boutique at the Waldorf Astoria
Having stylish, colorful and fashion-worthy luggage is all the rage for holiday travel
Beauty can be skin-deep — and more affordable — with these high-tech devices you can use at home