Having stylish, colorful and fashion-worthy luggage is all the rage for holiday travel
A few years ago, headphones were the must-have travel accessory that came in every color and style imaginable, dangling from carry-ons at the Los Angeles International Airport.
But this busy season isn't just about the accessories you take with you on your upcoming holiday trip. It's about what you're using to pack all of your clothes in. The new chic-traveler essential is having fabulous luggage that's beyond the basic black suitcases of the past decade.
The options are sophisticated and whimsical and come in a variety of colors, shapes, sizes and price points — not to mention patterns and fabrics. The one thing they have in common? They all prove it's about the journey, not the destination.
---
Arlo Skye x Sight Unseen
Arlo Skye teamed up with the founders of online magazine Sight Unseen for a limited-edition collection of pieces constructed with a lightweight polycarbonate shell and rendered in this sage shade. $395 (27-by-17.6-by-11.1 inches). Available at arloskye.com.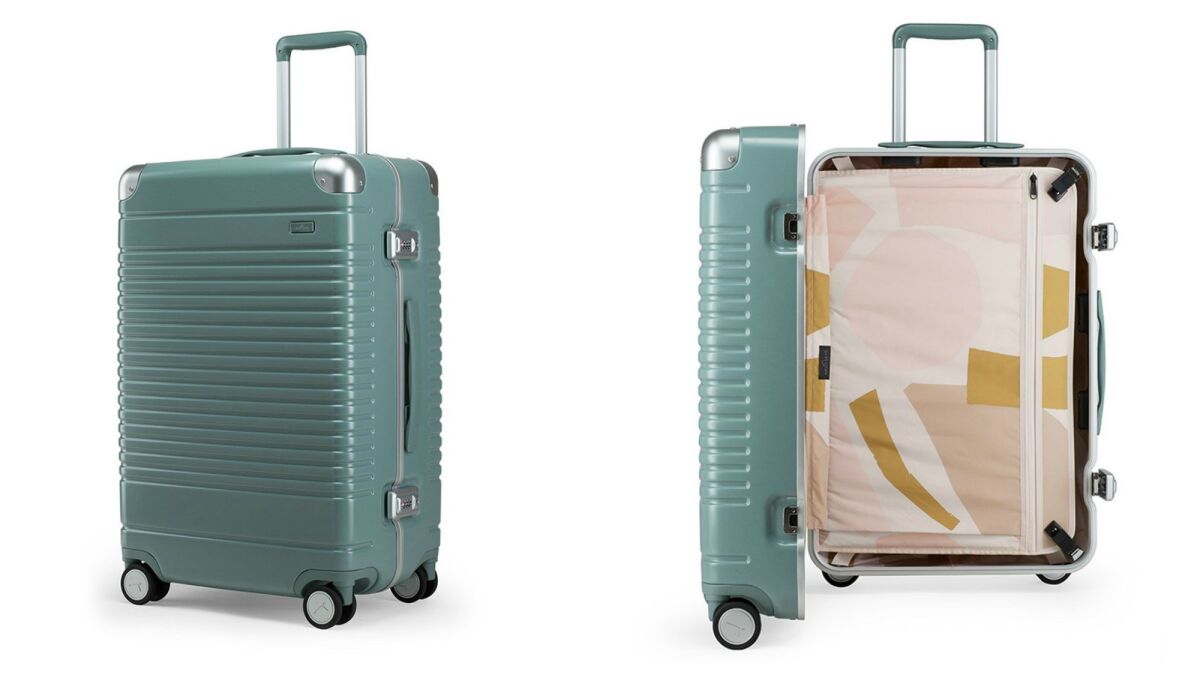 Away x Gray Malin
"It" travel brand Away teamed up with photographer Gray Malin on this Bigger Carry-On in coral, lined with an aerial image of sunbathers at Australia's Bondi Beach. $245. Available at Away stores and at www.awaytravel.com/graymalin.
Calpak
Calpak's new TRNK Collection features a modern take on the vintage trunk, including this nude carry-on option with eight multidirectional wheels to help make getting through the airport a breeze. $145. Available at www.calpaktravel.com.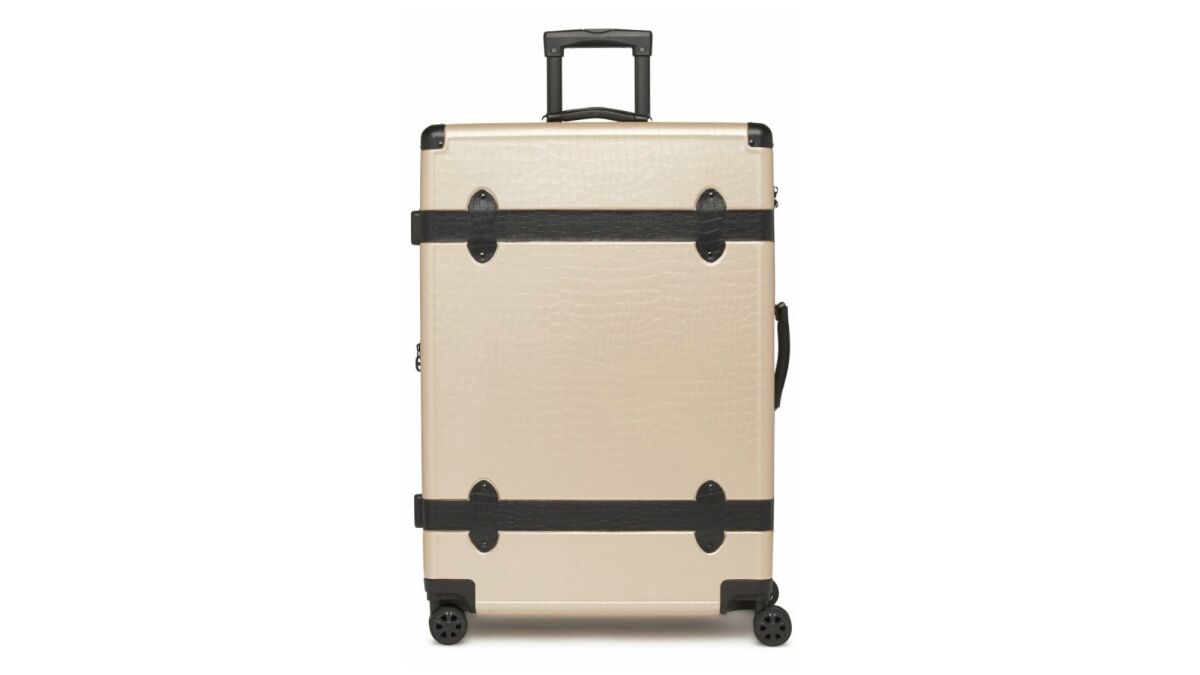 Chanel
The Chanel Blue Quilted Velvet Trolley from the Paris Cosmopolite Métiers D'Art Collection turns any trip into a serious fashion statement. $6,250. Available at select Chanel boutiques including South Coast Plaza and Beverly Hills.
Rimowa x Fendi
Rimowa and Fendi have come together for a one-of-a-kind piece of luggage fusing the two brands' sensibilities using a multi-wheel system, the double F logo subtly brushed on the aluminum, leather handles at the top and side, a yellow-and-black web belt that binds the case and a neoprene lining inside. $2,350. Available at select Rimowa and Fendi boutiques and at www.fendi.com.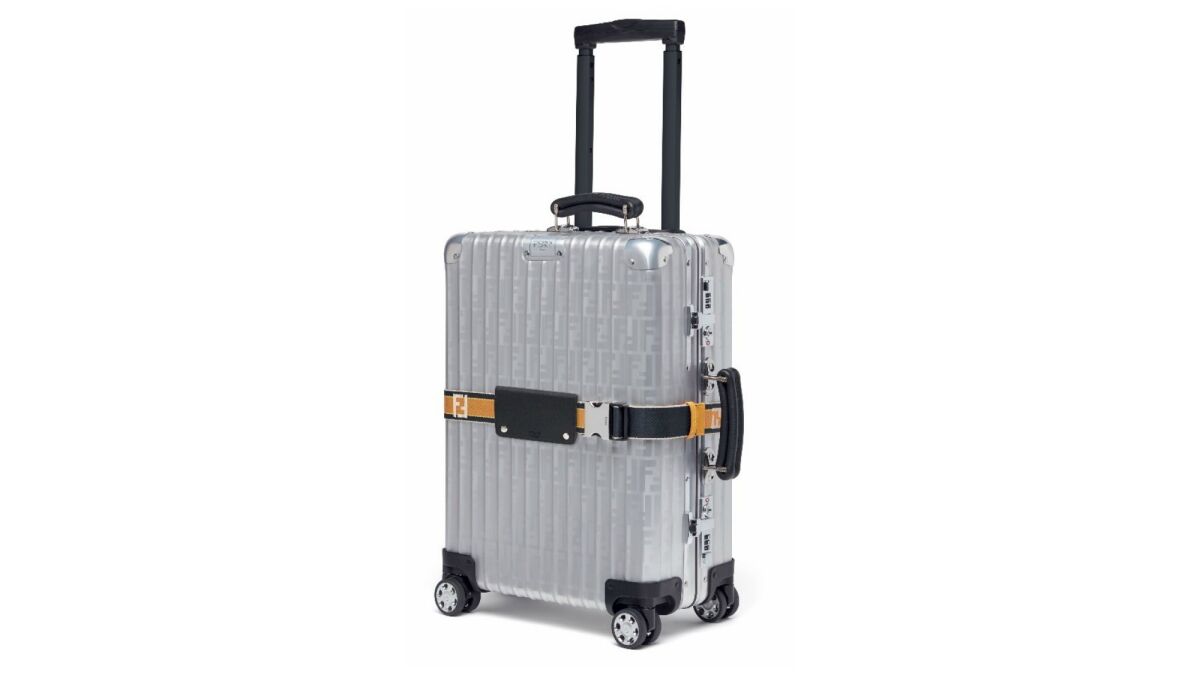 Stuart & Lau
The new Monaco Weekender from Stuart & Lau is lightweight, weatherproof and chock-full of thoughtful details, including a passport sleeve, a strap to secure the bag to a suitcase, cord organizers and a zippered pouch for valuables. $385. Available at stuartandlau.com.
Coach
Coach's Explorer Bag is crafted from pebble leather and has everything you need to make travel easy, including an interior zipper pocket, two slip pockets, an exterior luggage tag, a detachable shoulder strap and a padlock on the closure. $695. Available at Coach stores and www.coach.com.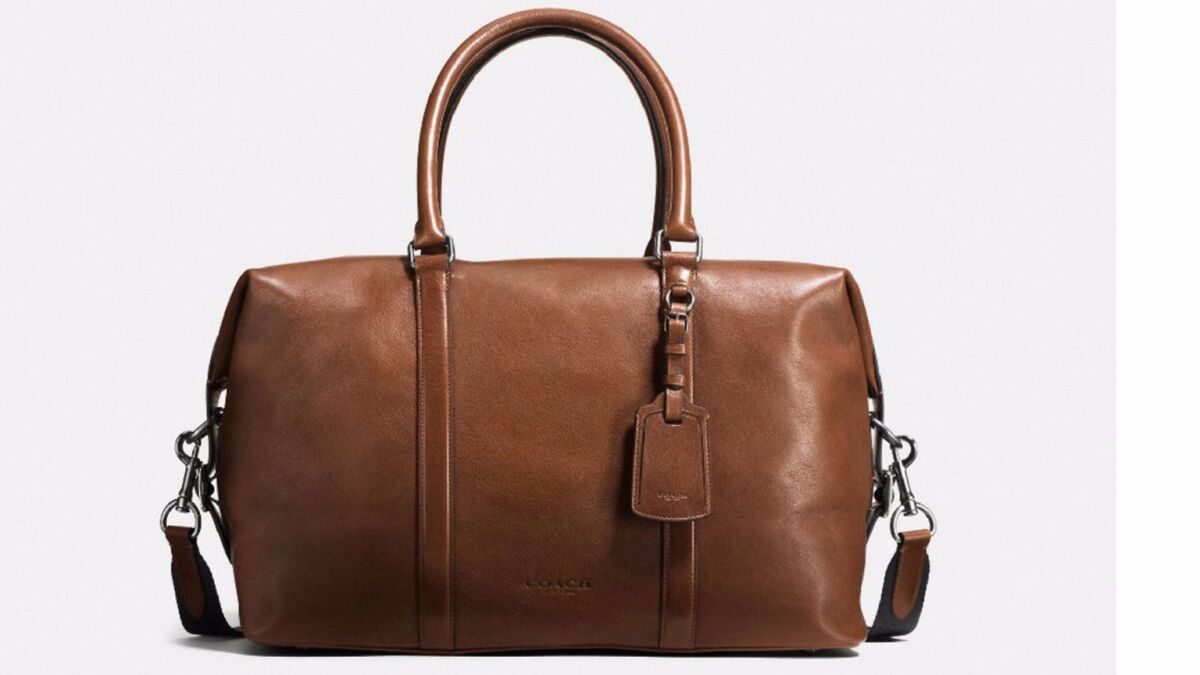 Mark & Graham
Mark & Graham's durable Terminal 1 collection is monogrammable and features a fun black-and-white striped nylon lining. $199. www.markandgraham.com.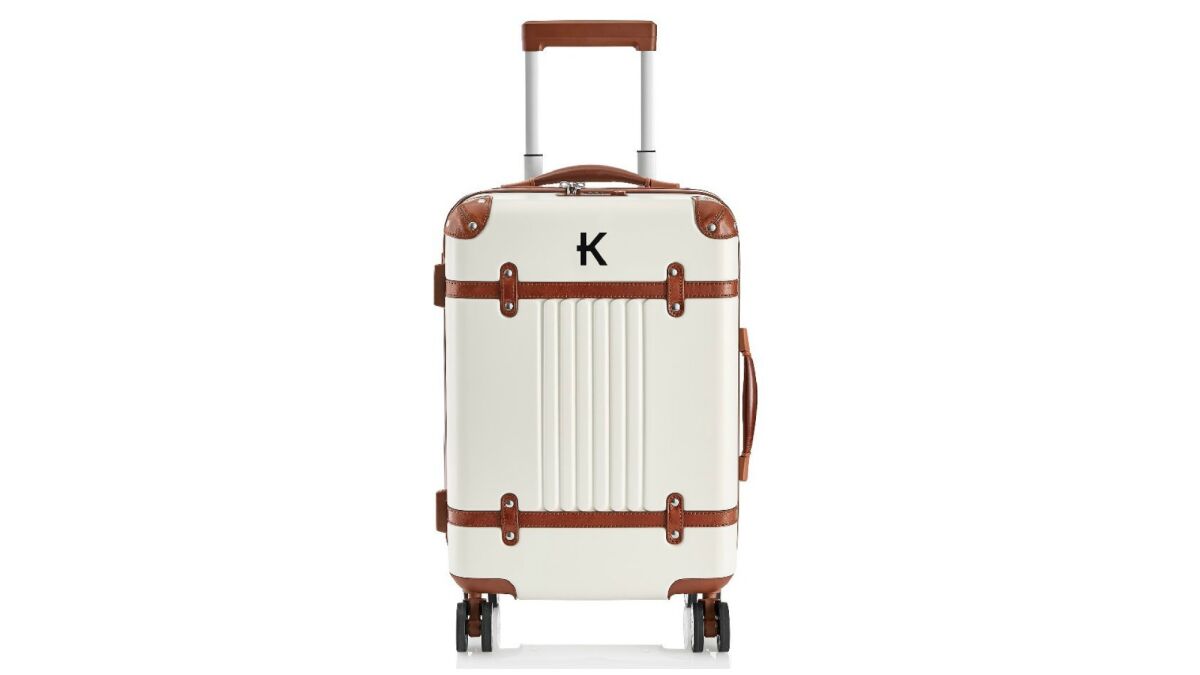 Tumi
Inspired by nature and architecture, Tumi's aluminum carry-on from its 19 Degree collection comes in a special holiday black-and-silver colorway and boasts four dual-spinning recessed wheels that not only help with maneuverability but also allow for more stuff to fit inside. $995. Available at Tumi stores and www.tumi.com.
Steamline
Steamline's new Anthropologist collection promises to stand out from the crowd thanks to its rich leather color palette and patterned liner. $850. www.steamlineluggage.com.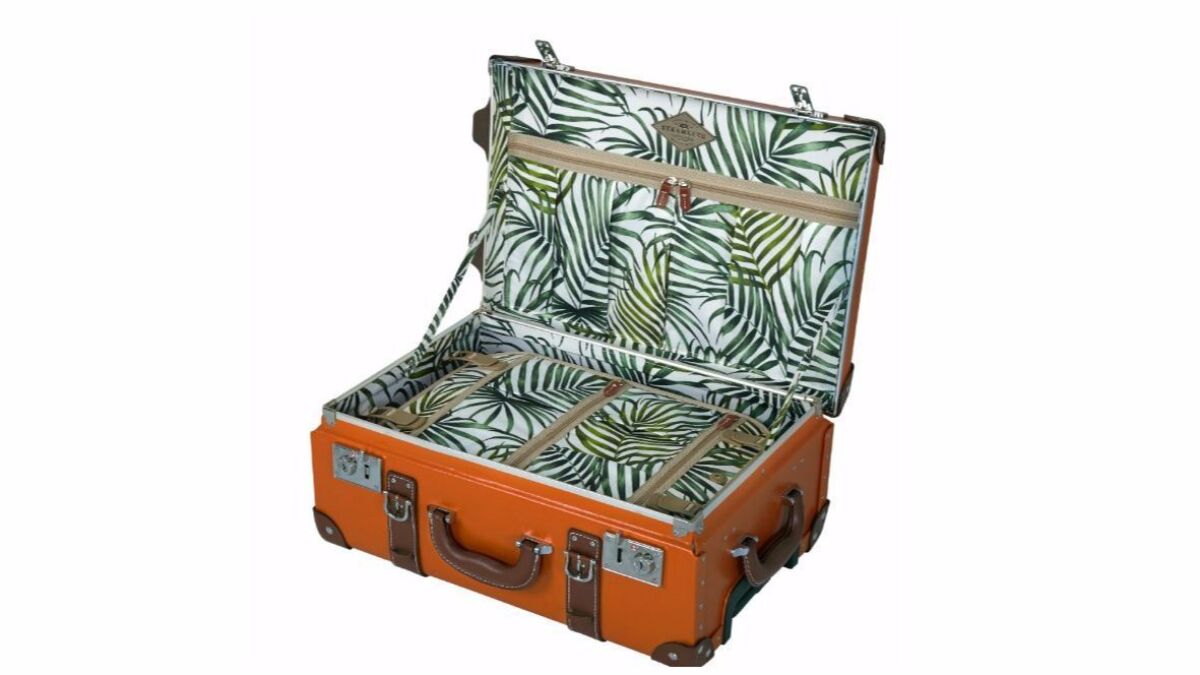 Freya
Handmade in Tuscany and constructed from premium Italian leather, Freya's Poppy Hat Case stores up to four hats in addition to a laptop, sunglasses and other accessories, and is lined in a custom camel-print silk. $890. Available at www.thefreyabrand.com.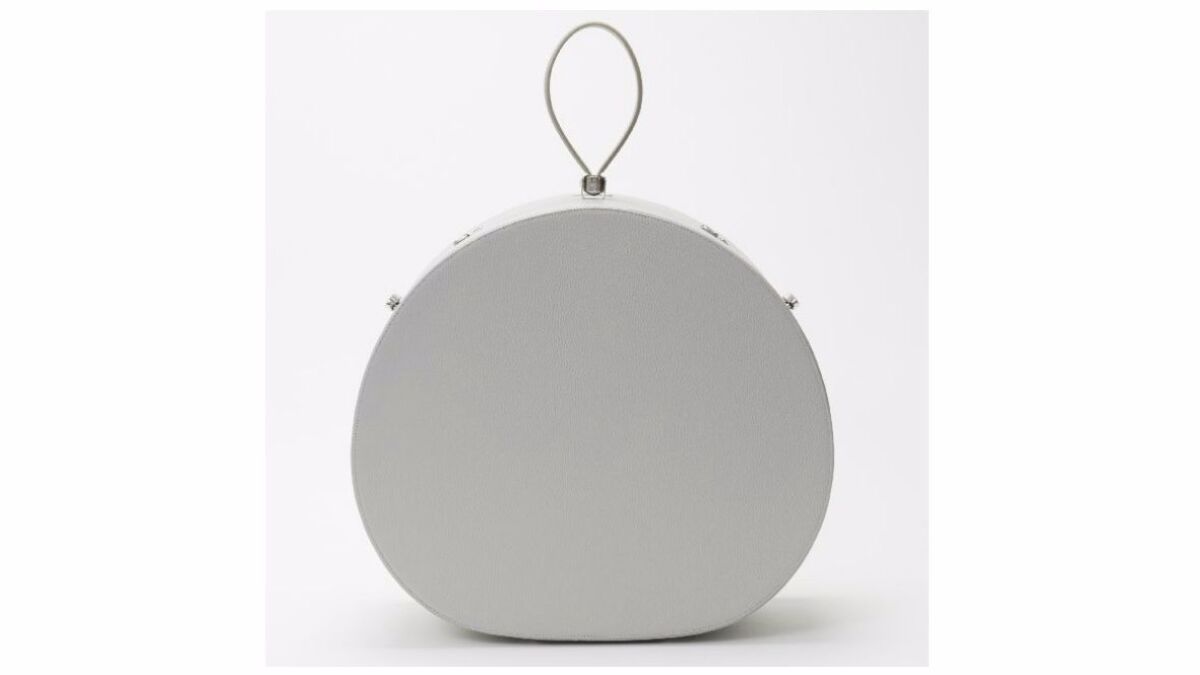 Louis Vuitton x Marc Newson
The result of a collaboration between Louis Vuitton and industrial designer Marc Newson, the new Horizon 55 rolling luggage was designed to create as much interior space as possible. $3,850. Available at select Louis Vuitton stores and at www.louisvuitton.com.
MCM
MCM's Cabin Trolley is crafted from a printed and coated canvas and comes with an interior with compartments and a bonded nappa lining that makes it lightweight. $1,480. Available at us.mcmworldwide.com.
Rimowa
Rimowa's Topas Titanium Business Multiwheel is made from aluminum and has a place for a laptop as well as a removable partition to keep your packing organized. $1,375. Available at Rimowa boutiques and www.rimowa.com.
For fashion news, follow us at @latimesimage on Twitter.
ALSO
The Standard Hollywood and cannabis brand Lord Jones to open an in-hotel boutique early next year
The Christian Louboutin x Sabyasachi footwear collaboration brings a taste of Bollywood to Hollywood
Chrissy Metz, Minnie Driver, Zoey Deutch named celebrity ambassadors for Nov. 30 charity shopping event
---