Meet Jason Bolden, the Hollywood stylist Yara Shahidi, Gabrielle Union and Wiz Khalifa turn to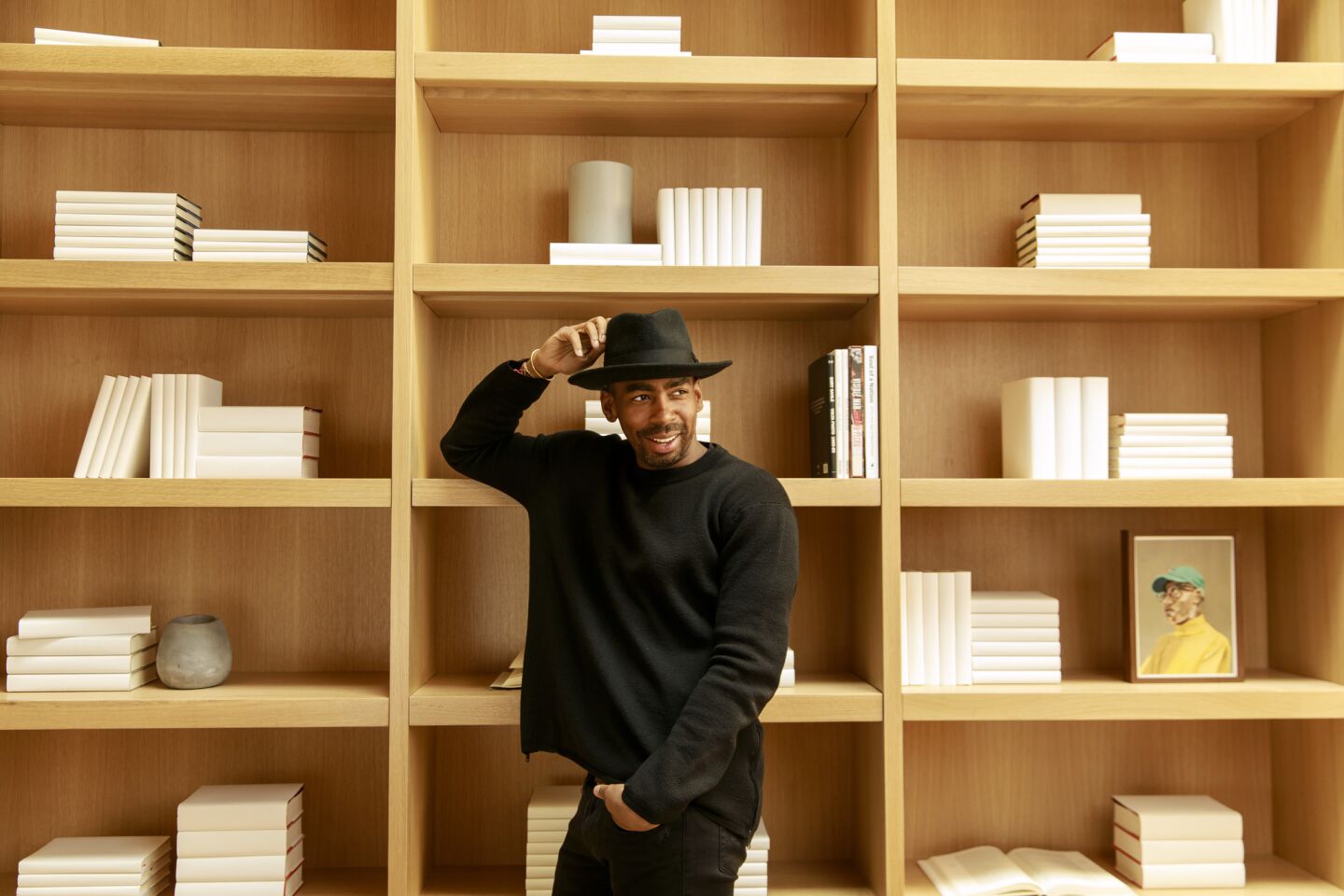 Jason Bolden is a stylist who works with a host of celebrities. Here's a quick look at some of his clients and the clothes he put them in.
(Marcus Yam / Los Angeles Times)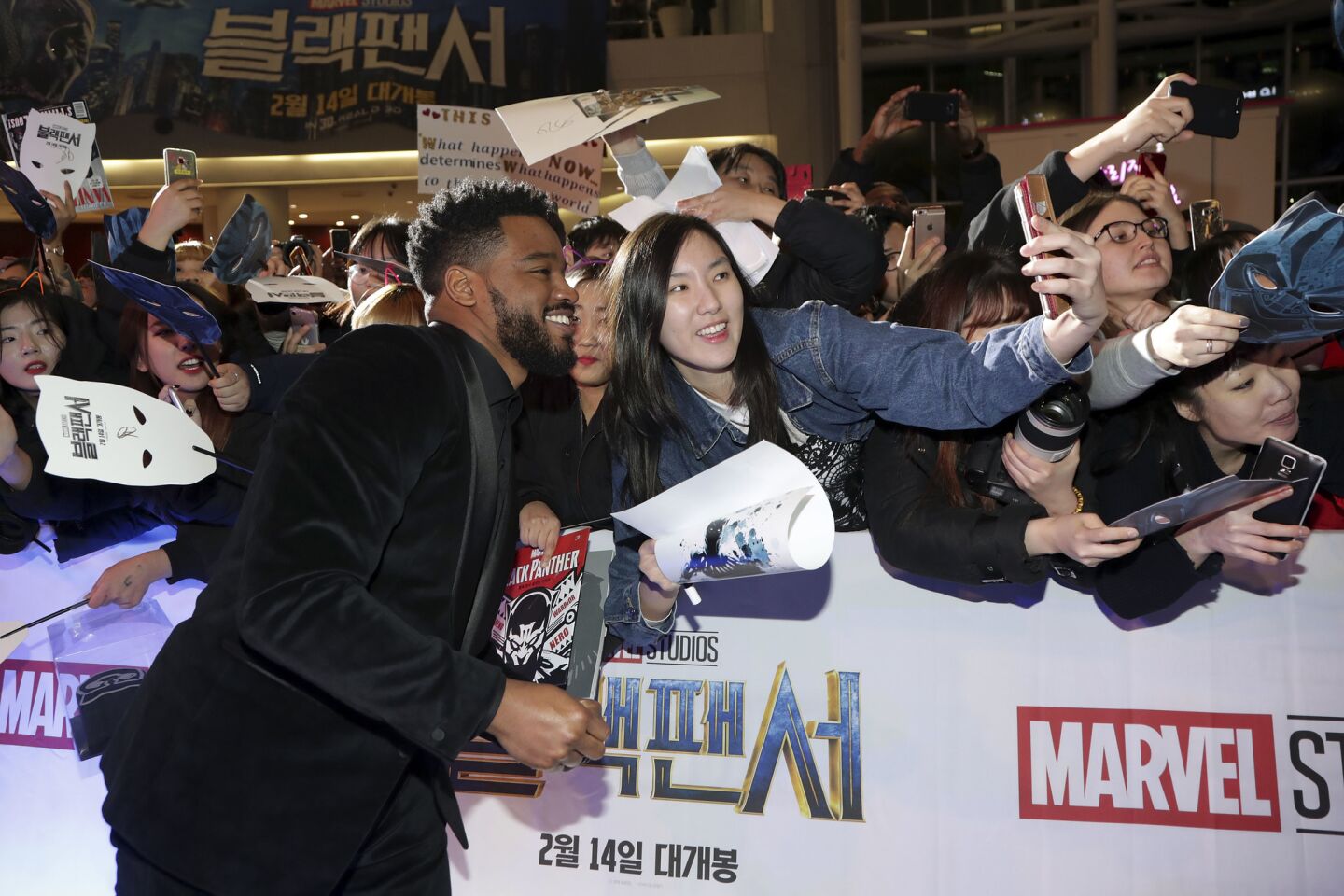 Director Ryan Coogler arrives at the red carpet of the Seoul premiere of "Black Panther" on Feb. 5.
(Han Myung-Gu / Getty Images for Disney)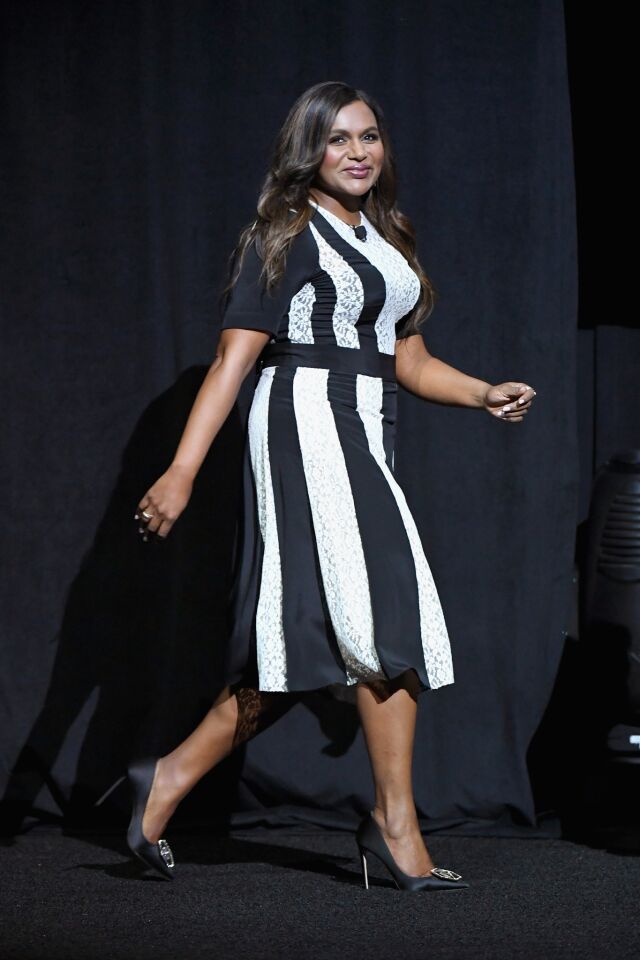 Mindy Kaling onstage during CinemaCon 2018.
(Ethan Miller / Getty Images for CinemaCon)
Gabrielle Union attends Evenings in Vogue with Angela Missoni and Vittorio Missoni at Casa de Suenos in Miami Beach on Dec. 3, 2011.
(Andrew H. Walker / Getty Images for Vogue)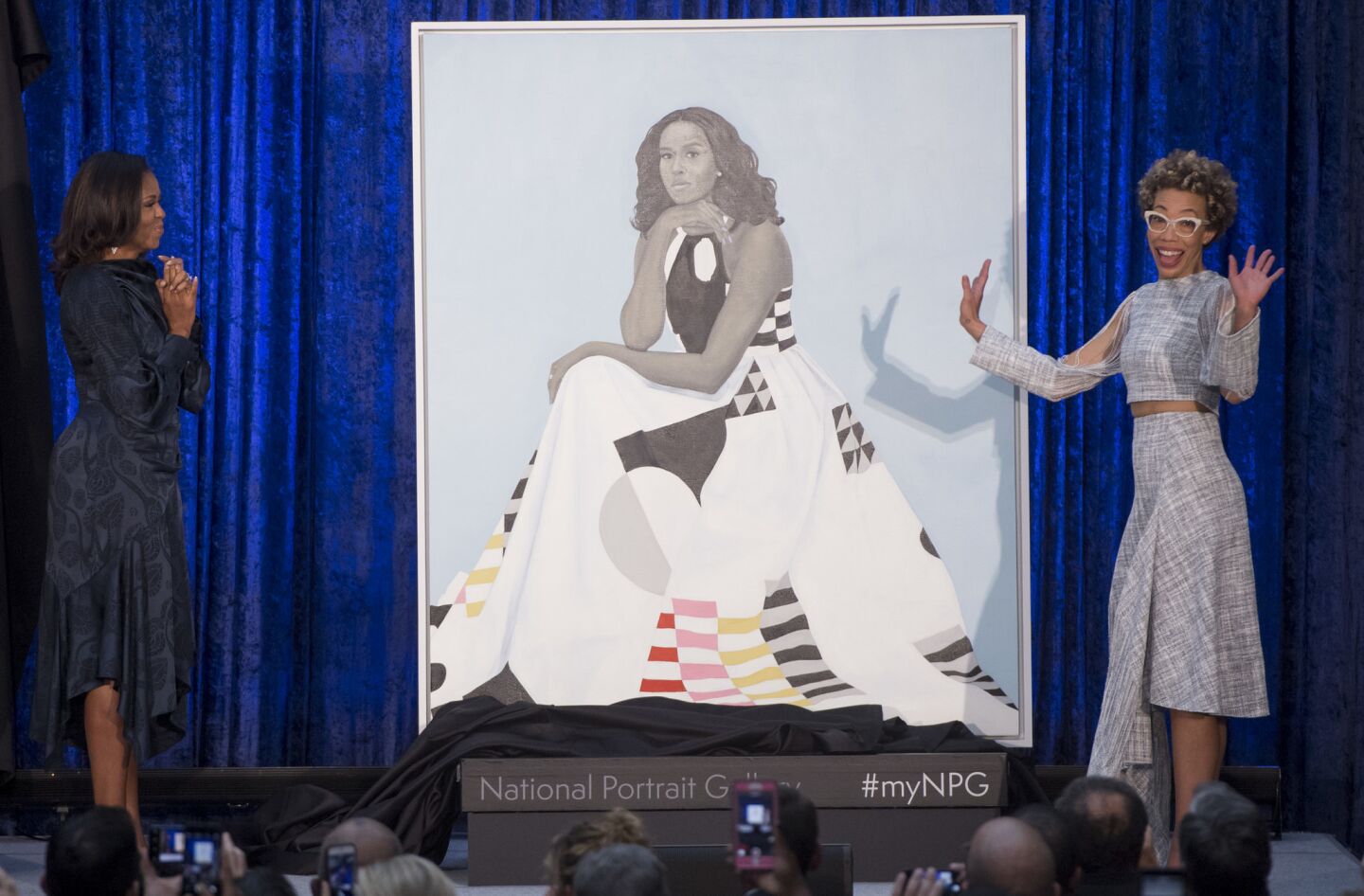 Former U.S. First Lady Michelle Obama, left, and artist Amy Sherald unveil Obama's portrait at the Smithsonian's National Portrait Gallery in Washington, D.C., on Feb. 12.
(Saul Loeb / AFP/Getty Images)
When it comes to the skills necessary to become a successful fashion stylist, Jason Bolden possesses more than a great eye. Some might call him a visionary as he turns Hollywood star after star into an elegant red-carpet standout. (After all, consider the first four letters of his last name.)
Right now, he's on a roll. Earlier this month, Bolden composed a trio of distinctive looks for Metropolitan Museum of Art's annual Met Gala in New York, which has been heralded as the fashion scene's equivalent to the Oscars.
Bolden guided "Grown-ish" star Yara Shahidi out of her comfort zone for her debut at the exclusive Anna Wintour-touched affair, for which Amal Clooney, Rihanna and Donatella Versace served as this year's hosts. The gala's theme, which was on full sartorial display on May 7, was "Heavenly Bodies: Fashion and the Catholic Imagination," the title of the museum's Costume Institute exhibition.
Shahidi ended up wearing a whimsical tulle dress, adorned with a dramatic beaded bib from Chanel's current couture collection. Despite his nickname for the actress, Baby Couture Custom, Bolden said Shahidi usually doesn't pick "poufy" designs. "She's not a cupcake kind of girl," he said.
The stylist also collaborated with designer Tory Burch to create a gauzy white gown for Sasha Lane, fulfilling, he said, the actress' wish "to look like an angel." And he styled Wiz Khalifa in a bespoke camel-colored Dior Homme suit, which fit so well that the rapper is said to have exclaimed, "I feel like Superman."
When it comes to styling, Bolden said, it's "about finding out what people's points of view are. Your inspiration is people being happy and doing things that you love."
That approach has helped Bolden, a former skater kid from St. Louis, to finesse the images of artists and entertainers influencing American culture today including Oscar-nominated director Ava DuVernay, "Empire" star Taraji P. Henson, "Ocean's 8" star Mindy Kaling, "A Wrinkle in Time" ingénue Storm Reid, "Black Panther" director Ryan Coogler and Amy Sherald, former First Lady Michelle Obama's official portraitist.
With his husband, interior designer Adair Curtis, who previously managed businesses for hip-hop mogul Russell Simmons, Bolden also produces minimalist furniture, juxtaposing unexpected materials such as velvet and linen. The couple also has designed the interiors of homes for "Breaking In" star Gabrielle Union and her husband, NBA champion Dwyane Wade, among others.
"He kind of connects with his clients' sensibilities," Sherald said of Bolden. At the widely publicized ceremony unveiling Sherald's Obama portrait in February, the Baltimore-based artist donned a long-sleeve crop top and high-waisted asymmetrical skirt, fringed to expose her arms and knees, by Australian fashion designer Dion Lee. "It was artsy," Sherald said of the look. She also listed other fashion pieces Bolden had put her in such as a Co trench-dress and an off-white Monse gown, accentuated by a cutout and a high slit, that she had worn to noteworthy soirées.
"He pulls things that match how I want to feel when I'm feeling my best self," the artist said of Bolden.
As for his sartorial successes, Bolden, 36, said, "I've been lucky enough to work with people who are shifting the culture." He said he generally assumes a bigger responsibility in the outcome than simply steering celebrities toward best-dressed lists. Considering the growing profiles of his clientele, many of whom are women of color spanning generations and different sizes, Bolden also has played a role in amplifying the message for inclusion in the fashion industry.
"I want to be in the front of that battle," he said, "to say at the end of the day that everybody deserves a chance."
Bolden chanced into fashion. While enrolled at Northwestern University as a pre-med major, he landed a job at the Cynthia Rowley boutique in Chicago. Bolden left school but stayed in the Windy City to study fashion merchandising and work at Nicole Miller. While working there, Bolden would take phone orders from country singer Martina McBride, who purchased silk parachute pants and other clothes simply because Bolden said he loved them.
After leaving the designer's company, Bolden moved to Miami before returning to Chicago, where he opened a vintage store, the Garment Room. He later relocated his store to New York.
In 2011, Gabrielle Union called in a friend favor, requesting dresses from Bolden to wear to Art Basel in Miami Beach. One item he offered was a sleeveless Lanvin column dress bursting with a kaleidoscopic print. It was a colorful start to Bolden's new styling career. Two years later, Union commissioned Bolden's first interior design project with the renovation of her modern Spanish mansion in Miami.
Describing his aesthetic as "casual luxury," Bolden said interior design is symbiotic with fashion. As he sees it, "A beautiful dress — where do you hang a beautiful dress? Beautiful shoes — where do you put these beautiful, expensive shoes?" (Of course, in a space he has designed.)
Bolden, tall and trim with a bright personality, will embark on another enterprise this September: the filming of a Netflix reality show centered on his marriage with Curtis and their company, L.A.-based JSN Studio. Their venture encompasses interior design and fashion projects, including their collection of Italian-made mod sunglasses ($108 and $258, available at www.jsn.studio/shopnow). "Jason is a really big dreamer," Curtis said about his husband's future.
For Bolden, it's really all about creating an emotional connection. "It doesn't feel like work a lot of times," he said. "I curated joy."
Please consider subscribing today to support stories like this one. Get full access to our signature journalism for just 99 cents for the first four weeks. Already a subscriber? Your support makes our work possible. Thank you.
For fashion news, follow us at @latimesimage on Twitter.
---