Fashion advice for real guys from the woman who dresses Hollywood's most stylish men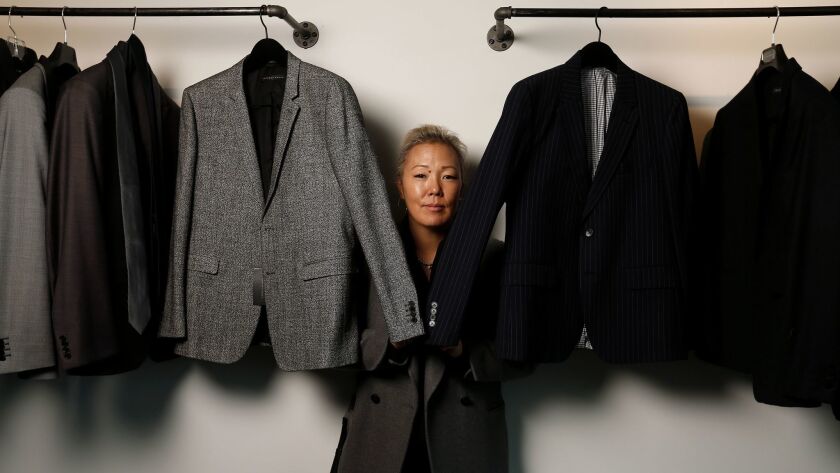 Stylist Jeanne Yang is responsible for making sure that some of Hollywood's most recognizable men — that would be George Clooney, Robert Downey Jr., Jamie Dornan, Terrence Howard and Diego Luna, among others — look like the stars that they are.
The Los Angeles native has become known for mixing equal parts modernity and old-world flair for the red carpet. But Yang, who's in her late 40s, got her start about 20 years ago, doing styling for music videos for bands such as Blink-182 and 311 and helping Weezer's Rivers Cuomo cement his signature geek chic look. "Basically, any band that had a number in [its name], I did the music video," she jokes.
It was on the set of "The Matrix" that Yang met Keanu Reeves, whose interest in tailoring dovetailed with her own work, and the actor taught her about suiting from revered Italian brands such as Kiton, Borrelli and Isaia. "That was a type of boot camp — going from skater culture all the way across the world to proper tailoring," she says. Those two extremes helped forge her signature look of elevated classics. She's known for making suits look laid-back and cool and turning up the volume on more casual sartorial fare.
With awards season underway, Yang is at her busiest, but there are some trade secrets she's willing to share so regular guys can get a touch of A-list in their lives too.
Tailored clothes matter
Yang's biggest piece of advice is simple: Have your clothes tailored to fit you.
"Every piece that you're wearing was made for at least 1,000 to 10,000 people. So the fit is probably not going to look perfect," Yang says of buying off the rack. She recommends buying the nicest pieces you can afford and then taking them to a tailor to have them made to fit you specifically. "It can take off pounds," she says. "It can take off years of age. It can literally add two inches of height. It can do everything."
She recommends Wild Lotus on Sunset Boulevard and Crown Cleaners on Fairfax Avenue for alterations.
The perfect-fitting jacket
It may sound obvious, but Yang notes that most men wear their jackets too big, meaning the shoulders tend to drape, and their pants are too long, meaning they pool. "It just makes you look shorter," she says.
Speaking of proportion, Yang prefers a shorter suit jacket. "For an average height guy, the jacket shouldn't go too much farther past your hips. If it's too long, you're two-thirds jacket and one-third leg. It just looks like you're wearing a zoot suit," she says. "The ideal proportion to be is a little less than one-half should be your jacket and then the rest should be your pant. It never hurts to look like your have longer legs."
Although a trip to the tailor might seem like an extra stop between the store and your closet, it's crucial. "You can make a $190 Topshop jacket look like a $3,000 Saint Laurent jacket by tailoring it properly," she says.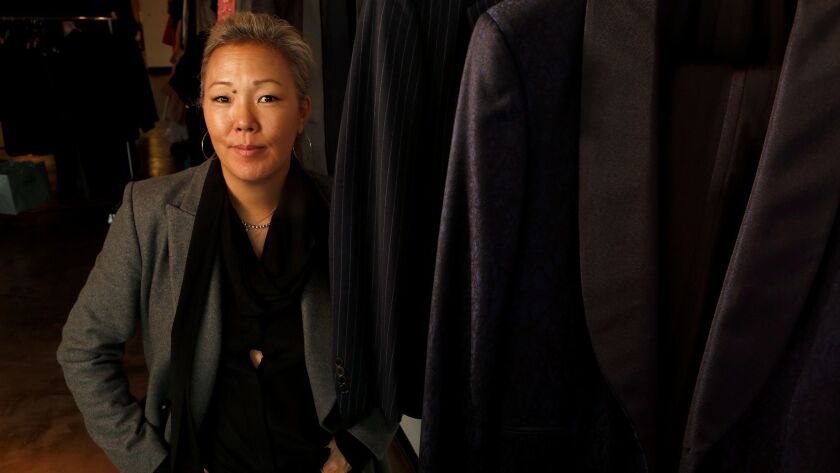 Be comfortable with being uncomfortable
Yang also has a bit of tough love when it comes to formal clothing. "It shouldn't be comfortable," she says. "Sweats are comfortable. Suits shouldn't be comfortable."
That's why your suit jacket should hug your shoulders. "If you have a rope shoulder, it should drop straight down," she says. "It shouldn't sag. It should sit right on your shoulder and drop straight down."
Try something new
Once guys have mastered the basics of fit, Yang encourages them to move a little out of their comfort zone and experiment: Go to a store and try on something unexpected. "Try a different silhouette, like a double-breasted jacket. Or just baby steps, like a fun tie or a pocket square," she says. "Throw on a turtleneck with a suit instead of a [collared] shirt."
The easiest thing to do, she says, is to go to the store and try on some pieces and take pictures. "You know, it's free to try things on. Go into the store and try something crazy on," she says. "Don't buy it; just try it on. Take a picture. Everybody takes a picture nowadays and everybody has a camera on them. Look at the look and think about it. If it looks good in the picture, it'll probably be great on. People feel so self-conscious taking a picture of themselves, like it's so narcissistic, but it's not."
Mix things up
For guys looking to add some excitement to their more casual outfits, Yang stresses the important of mixing things up. "I like to juxtapose things. If you're going to wear a T-shirt, wear a nice pair of trousers. Then go with a sneaker," she says.
She doesn't like guys to look too done up in a suit, button-up shirt, tie and pocket square. Yang prefers having a casual piece such as a crewneck sweater or turtleneck instead a collared shirt with a suit or adding a more formal fashion element to a casual look. "I think it's good to kind of screw it up," she says.
After all, just because you're not actually walking a red carpet doesn't mean nobody's watching you. Or, as Yang says, "That first impression is usually based on how you dress."
To read this article in Spanish, click here.
ALSO
Last chance to see Daft Punk's West Hollywood pop-up shop
5 major fashion trends you should know about for fall and winter
Tom Ford, Jason Derulo, Isla Fisher, Chris Martin and others gather for An Unforgettable Evening
---