Tom Ford, Jason Derulo, Isla Fisher, Chris Martin and others gather for An Unforgettable Evening
As if appearances by singer Jason Derulo, comedian Tig Notaro and actors Tom Hanks, Rita Wilson, Isla Fisher and Elizabeth Hurley didn't provide enough star power to make the charity event An Unforgettable Evening live up to its name, another celebrity made an entrance.
Chris Martin of Coldplay turned up for a surprise performance.
"Normally, I play here every Thursday," he joked, sitting at a piano onstage.
Held at the Beverly Wilshire Hotel, the Feb. 16 bash presented by Saks Fifth Avenue raised $1.8 million for the Women's Cancer Research Fund and celebrated the charity's partnership with the Breast Cancer Research Foundation.
Martin began his set after philanthropists Judy and Leonard Lauder accepted the night's first award. The Coldplay frontman sang Wham's 1984 hit "Wake Me Up Before You Go-Go," then continued his tribute to George Michael, Leonard Cohen, Prince and David Bowie as guests dined on pan-seared chicken breast.
As he descended the stage, Martin assured guests his performance really was last-minute, saying he'd received the request earlier that day.
It was an upbeat evening, with Hanks popping up to fill unexpected downtime with some humor when a video about the charities' work suddenly stopped working. He also appeared onstage to offer Martin a tip jar stuffed with money.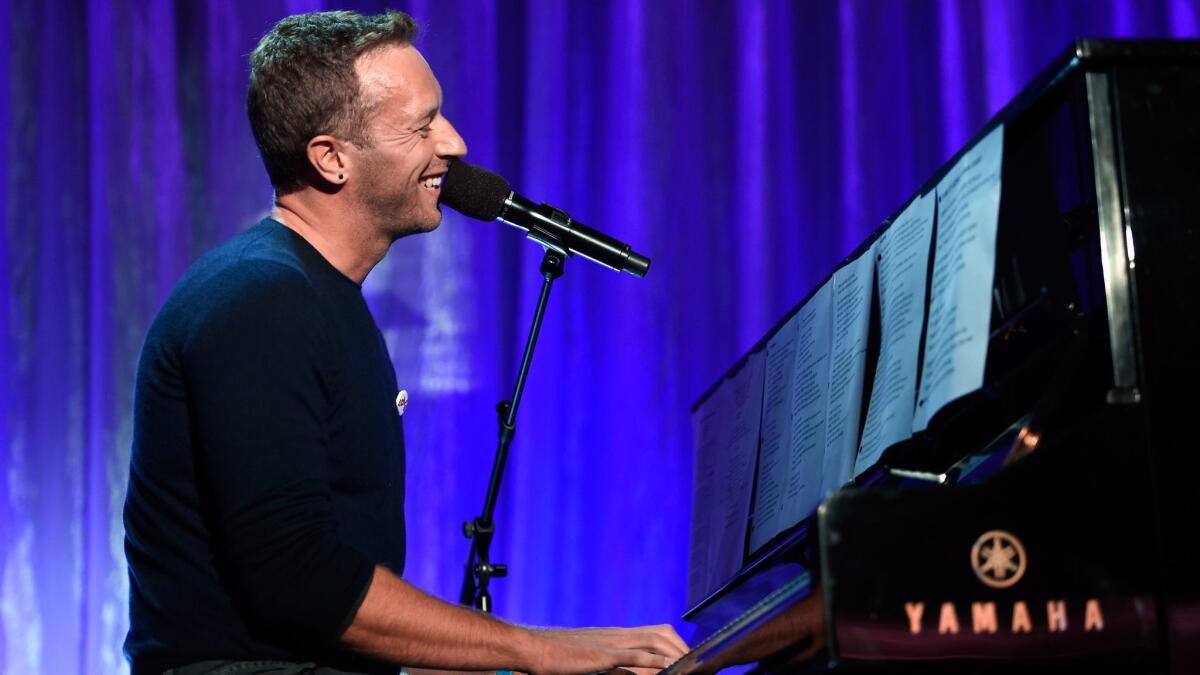 "Nice to see Tom come out of his shell," deadpanned Notaro, the "One Mississippi" star.
While accepting his award, Leonard Lauder praised the partnership between the Women's Cancer Research Fund and the Breast Cancer Research Foundation, the latter cause founded by his late wife, Evelyn.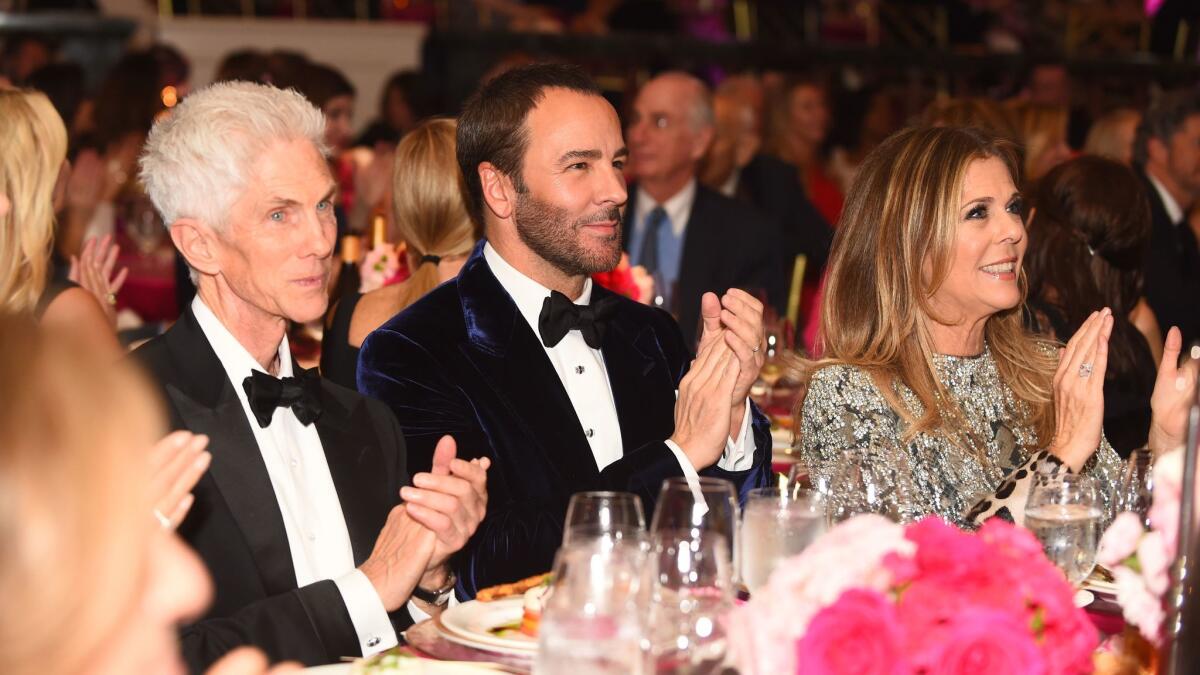 "Breast cancer knows no political boundaries, knows no political parties. Everyone gets it," continued the chairman emeritus of Estee Lauder. "My pledge to my family — and you are all my family tonight — is that we are going to prevent and cure breast cancer in our lifetime thanks to all of you."
During his turn at the podium, fashion designer and Golden Globe-nominated director Tom Ford said, "I've lost two close friends in just the last three months, and that's two too many.
"Let all of us have the courage to stand up for the things that really matter in life and in this country and in this world, including healthcare, because all women and — yes, of course, men too — deserve the best chance to live their lives as freely, openly and as courageously and as unforgettably for as long as humanly possible," Ford added.
Closing out the evening, Derulo delivered a four-song set of "Trumpets," "Wiggle," "Talk Dirty" and "Want to Want Me."
Women's Cancer Research Fund co-founders Rita Wilson (also an honorary chair), Quinn Ezralow, Marion Laurie, Kelly Chapman Meyer and Jamie Tisch welcomed more than 500 guests, with tickets priced from $1,500 to $15,000.
Among the guests were Victoria Justice, Amber Valletta, Martin Short, Eugene Levy, Erin Andrews, Gina Gershon, Jessica Hart, Lisa Kudrow and Tom Arnold.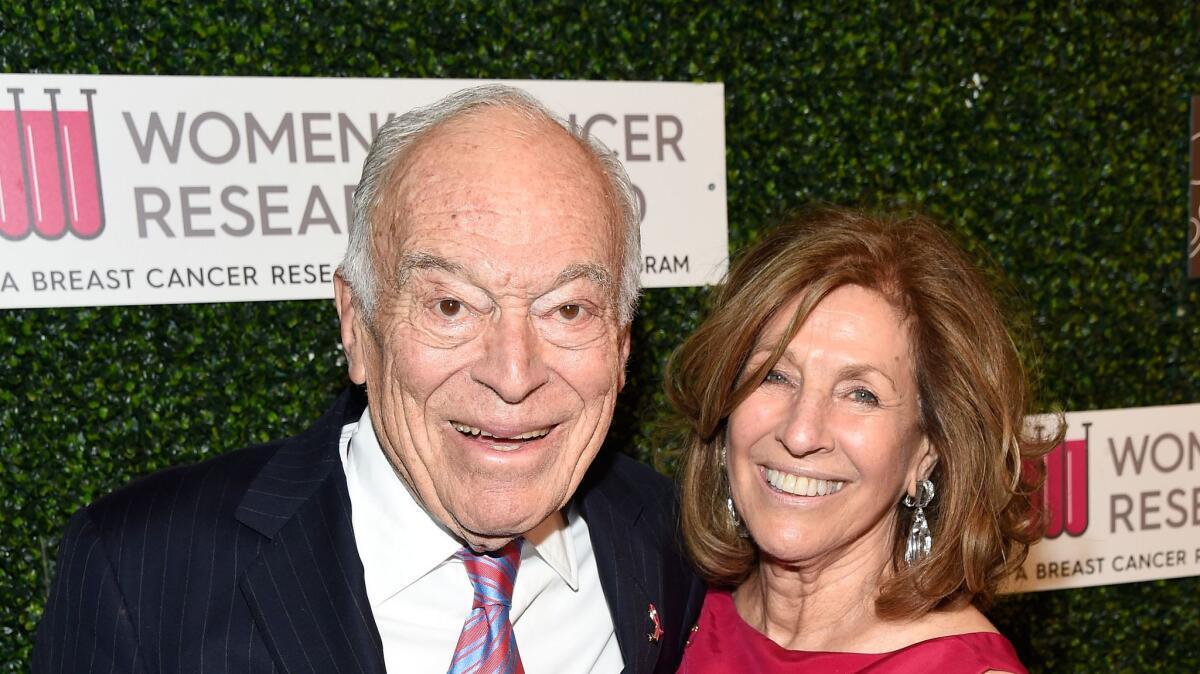 Ellen Olivier is the founder of SocietyNewsLA.