Jennifer Aniston offers friendly advice on beauty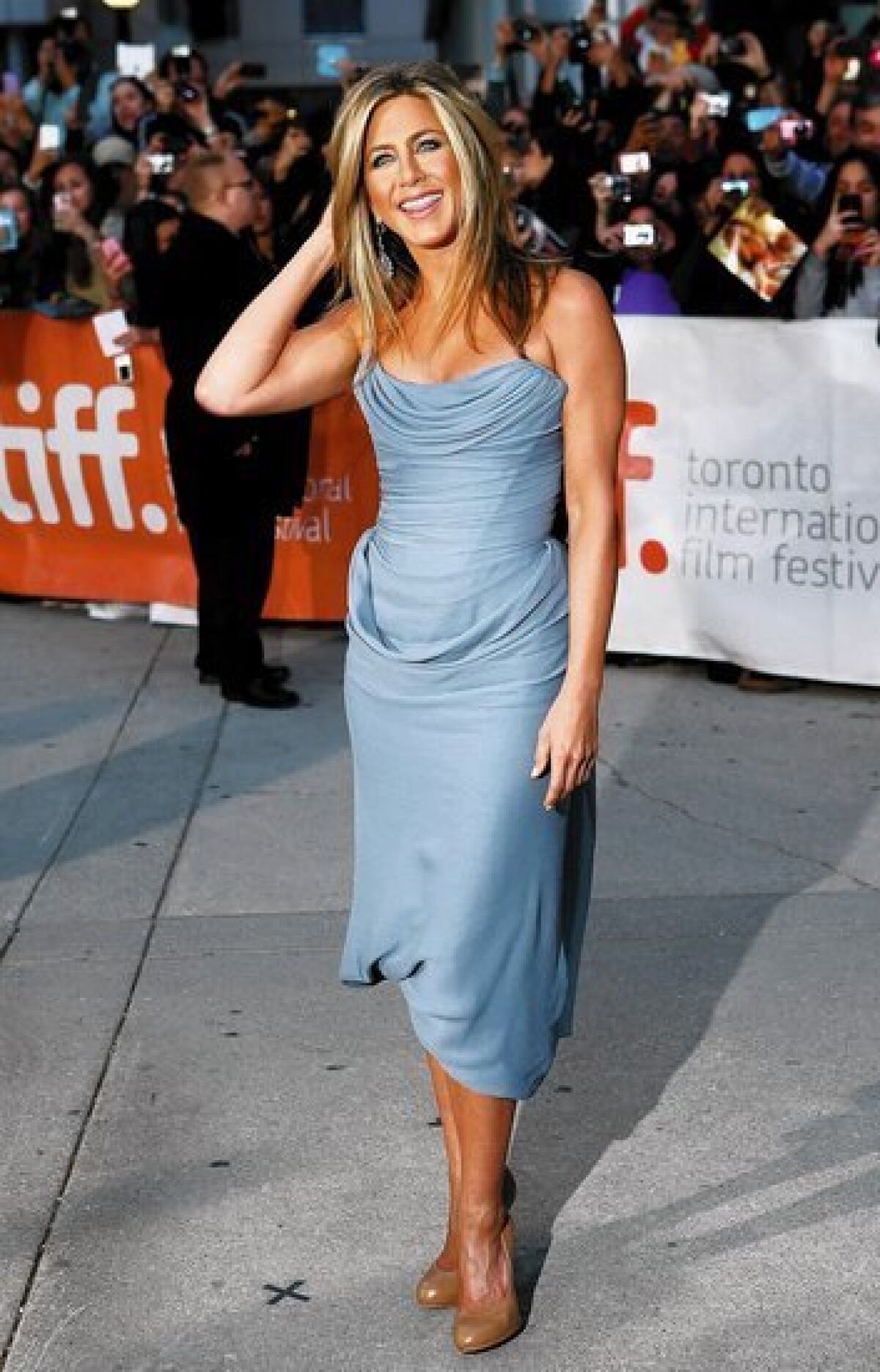 Many moons after the "Rachel" haircut hysteria, much ado is still being made about Jennifer Aniston's hair. The 44-year-old "Friends" and "Horrible Bosses" star recently cut her long tresses into a bob, and it made headlines across the planet. We went to Aniston, who has joined the ranks of beauty entrepreneurs as co-owner of Living Proof hair care, to find out how she stays serene and beautiful in the spotlight.
On the red carpet, you don't significantly change your beauty look. What can women learn from your streamlined choices?
Well, I think you have to be completely comfortable, whether it's a red carpet, birthday party, wedding or out to dinner. Whatever makes you feel beautiful. Don't pressure yourself to try to be something that's not in your comfort zone because it shows, don't you think? …You won't see a French twist on me that often, or a beehive. Some people look great with their hair in a 'do, but I think it's more fun just to be relaxed, simple and carefree.
What's your secret to such thick, glossy hair?
Living Proof, honestly, has been a game changer for me … anything I've associated myself with, I have to have used it, believe in it, so I can organically go out there and tell people this is a product that really works …Women, you know, we love our hair... We want it to look good, feel good and not get weighted down over time from heavy silicones, oils and all of that stuff … it sounds shamelessly plugging, but it's an amazing product.
You rarely wear red lipstick. When and how did you decide that look wasn't for you?
Red lipstick just doesn't look good on me. I've tried it and think it's so pretty on girls when I see it. I just can't pull it off … unless I do no makeup at all and just wear red lipstick, but it's not my thing.
Do you like being called a natural, girl-next-door beauty? Or one day are you going to burst onto the scene wearing a pink wig, hot pants and 5-inch stilettos?
As for doing that now, I think I missed my window to do that [laughing]. … If I do it, it's because I'm playing something in a movie.
Who were your beauty icons growing up?
I always thought Julie Christie was pretty exquisite. … Lauren Hutton is pretty exquisite.
What's the most important beauty advice you can share with up-and-coming actresses — or other young women?
Don't grow up so fast. When you're in your 20s, look in your 20s. I mean, how do I say this and sound eloquent? Girls in their 20s now are looking like they're in their 30s … I would say enjoy your age. Enjoy the age that you're at. It flies by.
ALSO:
Gift guide: Accessories that sparkle

'Gone With the Wind' costumes headed for auction
American Apparel line to benefit Russian LGBT community
---